(Last Updated On: June 19, 2022)
Redbubble is an online Print-on-demand platform, designed to help artists sell their work on products including T-shirts, stickers, phone cases, pillows, or posters. 
The great thing about Redbubble is that it handles all of the printing, shipping, and customer services, so you have more time for creating your artwork. 
I've been selling on RedBubble for two years. Although I don't upload a huge number of designs every day, I am still making money on this platform every single month.
To be honest, I am not a good designer, and I don't have all my spare time allocated to creating designs for print-on-demand sites.  
However, in this article, I want to share with you my experience on how to sell on Redbubble.
Is Selling on Redbubble Worth It?
If you are thinking about selling on RedBubble, then you are at the right place. I have experience with this marketplace, so I can definitely say you if Redbubble is good for artists to sell their work.
My Story
I'm not a professional or good designer, but I love to design and creating money-making opportunities.
I'm still working my 9-5 job, I own 3 websites, few Youtube channels, and I am starting to create low content books for Amazon's KDP.  
I have over 8 years of experience buying and selling websites, even when my biggest handicap is that English is not my main language because I'm from Central Europe. 
When I've first heard about print on demand, I loved the idea. You create and upload a design on a website, and allow the design on some products, and voila… you can make money with each sale. 
Back then when I started, I had heard that Redbubble is the best POD platform, because it is free, good for beginners and everyone can join it.  
Right now, I have over 200 designs on RedBubble, some are just simple text designs, some of them took a lot of time to create. 
But if you expect, I am making hundreds of dollars from these 200 designs, you will be surprised. On Redbubble, there is a huge competition, over 500k artists, and making sales is harder each day.
Making a few sales a month, as I am, can be demotivating, but if you want to succeed in any part of life, consistency is the key. 
So, I still upload around 20 designs per month, and I am still hoping to get more sales. 
If you still want to start selling on Redbubble, here are the pros and cons of this POD platform.
Pros of Redbubble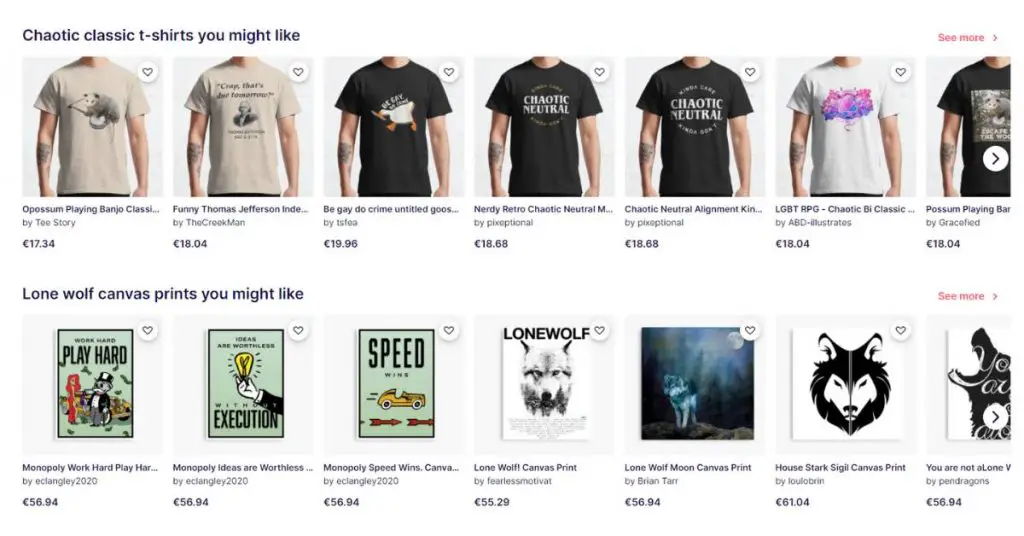 It Is FREE To Join Redbubble
Starting your own shop on Redbubble is completely free. You simply join Redbubble via your email, fill in some important stuff about yourself and upload a logo and banner for the shop. 
Once the shop is ready, you can upload your first design. The process is quite intuitive, everyone can do it. 
Thanks to the easy-to-use interface almost everyone can make money on Redbubble by setting up their own shop and uploading their artwork.
You Are In Control
A great thing about Redbubble is that you can choose the profit margin for each product.
Unlike TeePublic or Spreadshirt, where the prices are fixed, Redbubble has a standard fee for each of their products, then the seller can add the commission they want from each sale. 
Tons of Products
RedBubble has at least 75 different types of products that you can put your design on. And a cool thing is that you only need one jpeg of your art and the platform will put that art on all of their products.
I am talking about t-shirts, pillows, phone cases, puzzles, tote bags, or stickers. 
Cons of Redbubble
Small Commissions
Though you can set your profit margins, the commissions are still small and it takes hundreds of sales to earn a significant amount of money.
The best selling products on Redbubble are stickers and t-shirts, and with an average 2 dollar commission for a classic t-shirt, don't expect big income.
Extreme Competition
A couple of years ago there were not many artists on Redbubble, but this has changed drastically when a lot of people suddenly discovered print on demand.
The competition on RedBubble is really extreme, but you can still make money here. 
While there are hundreds of thousands of competing designs on RedBubble, most of them are not of high quality.
There are plenty of people trying to sell a few designs and then quickly giving up. Most people who discovered how easy the print-on-demand model is, do not stick it out long enough to see results. 
The marketplace is saturated, however, there are tons of niches that need artists to fill the customer's needs.
Is Redbubble Worth It?
RedBubble is a big player in the print-on-demand space. It gets tons of traffic and hungry buyers. 
However, if you are looking for a get-rich-quick scheme, then RedBubble is not worth your time. It will not make you rich, but it can still help you generate good money from your artwork.
I am still making a few sales per month, and the income I get from those sales is paying me for software I am using in other online ventures. 
But if you are looking to slowly build passive income over time that can last for years to come, and you have the patience and discipline, then RedBubble is definitely worth your time.
And the beauty of print on demand is that you are keeping all rights to the artwork, and you can license the same design on other POD platforms such as Teepublic, Spreadshirt, or Mech by Amazon. 
For me, Redbubble is a zero-risk way to create a new income stream for myself and to improve my design skills.
BONUS FOR YOU: Unleash your potential as a print-on-demand entrepreneur with this free guide – download now!
Here Are Some of My Favorite Tools For Print-on-demand
DESIGNS: For getting started, I like Kittl. It is a fantastic place with highly professional templates, that can be edited and used for print-on-demand. In my opinion, it is a go-to place for any person, who wants to make money with POD.
Another of my favorites is Creative Fabrica. They have millions of cheap graphics that can elevate your t-shirt design. If you are not the most skillful designer, then try Placeit or Vexels. These are platforms, where you can find thousands of pre-made t-shirt designs you can easily edit and publish on any print-on-demand platform. I recommend Placeit for beginners and after you get some sales move to Vexels.
I also use a platform called Simplified, which is an all-in-one tool that combines an AI writer, design editor, video editor, and social content planner into one simple platform. I love it. Just like Canva, Simplified has a free version, so you can try it here.
FREE DESIGNS: I love Canva. I'm using this platform almost every day. With Canva, you can create stunning t-shirt designs, they already have an entire section, where you can make your artwork from scratch or use some pre-made templates and edit them. Canva comes with two main pricing plans: FREE and PRO. And if you are a beginner, then I recommend the free plan, it should be enough for you.
SELL YOUR ART – Start selling your graphics, vectors, or photography on Wirestock to save time and make more money. Its Wirestock Program allows you to submit to multiple stock agencies and marketplaces in a single click. It is currently partnered with Shutterstock, Adobe, Alamy, Dreamstime, Pond5, and Depositphotos. Get a FREE account.
SELLING LOW-CONTENT BOOKS – Selling low-content and no-content books on Amazon can be a great way to boost your online income. Im using Book Bolt to do the research, get pre-made interiors, and create covers. And you can try the platform for free.
Take your POD business to the next level. If you are serious about selling your designs on t-shirts, mugs, and other products, you need to sell them on the biggest marketplaces like Etsy or Amazon. You should also sell for the best prices through on-demand fulfillment companies like Printul or Printify.
Disclosure: Some of the links above may contain affiliate partnerships, meaning, at no additional cost to you, NechEmpire may earn a commission if you click through to make a purchase.