I'm Miroslav, a passionate graphic designer and AI enthusiast. At NechEmpire, I'm here to equip you with the knowledge and skills to turn your design...Read more
(Last Updated On: November 20, 2021)
While there are many print-on-demand services available today, there are plenty of reasons to choose RedBubble as a platform to sell your designs.
Redbubble is a popular marketplace with over 15 million unique visitors per month, visitors with a buyer's intent, which means, they go to the Redbubble to buy something. 
Redbubble has its own in-house search engine, so your artwork has a chance of showing up in their search results.
But this platform with its high domain authority is also getting organic traffic from Google, so your designs can also show up in Google's organic results.  
How to Get Organic Traffic from Google to Redbubble Shop
When you are selling on a free platform such as Redbubble, you want both, to be found on the marketplace and to be high in the search results on Google. You can also promote your artwork on Pinterest or Instagram to get more exposure. 
As an owner of content websites, I have years of experience with SEO optimization of the articles I write for those sites, and I am using the same SEO approach for my designs on Redbubble and Spreadshirt. 
It is a little bit time-consuming, but you have a higher chance to get free organic traffic from Google.
And this can be a game-changer for your POD effort because Google is indexing the product listing from Redbubble in many ways. 
And this is important to understand. Your design can be found as a single page result, it can be part of a tag or category that is indexed on Google, it can also be a part of the shopping listing feature, and your artwork would be also shown in the Google Image section. 
So, this is why you should follow simple guidelines when uploading your art on Redbubble. Here are all the instructions your listing needs to have.
Do Your Keyword Research
You don't want to spend hours on design, upload it and then realize that there are over 100 thousand competing artworks for this particular keyword. 
One important thing I learned from my website business is that I need to find a good niche and choose a long tail keyword for a better chance of ranking. 
If you are not a skillful artist, keyword research is extremely important. And you should also focus on more niches than one, to increase your chance for a sale. 
Before you start designing, use keyword tools such as free Ubersugest, Google Keyword Planner, or some paid ones like Ahrefs or KeySearch which is an inexpensive software I am currently using. 
Keywords are important in Google SEO, and they will help consumers outside of the RedBubble platform find you. 
So, if you find a good long-tail keyword with lesser competition, you need to create a compelling title where you put this keyword and have a well-written description.
It is important to also put this keyword in the description. Here is an example I am using for my listings on RedBubble. 
Optimizing Product Title For Higher Google Ranking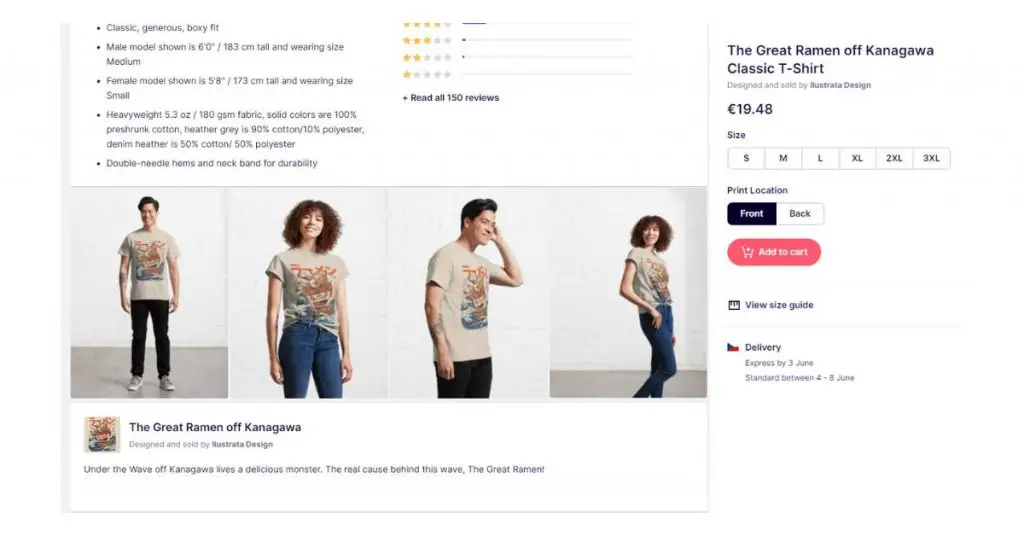 On RedBubble, it is important to use a descriptive title that exactly explains your artwork. Try to use words people would use to describe such a design if searching for it online. 
A clever idea is to search Google as if your design were already available online, and then check the titles of the best-ranked artworks. Use some of the keywords you are seeing in these titles because they are already ranking. 
While Redbubble suggests you should use four to eight words to describe your design, in my experience, if you are trying to rank on Google and get organic traffic from this search engine, you should ideally use 40 or 5o characters. This is because Google is showing the first 50 to 60 characters for product page titles. 
But before you describe your artwork, it is important to know that on Redbubble, the title of your artwork will automatically become the title for each single product page.
In other words, a design titled "Painting of Stormy Blue Ocean Waves" will also become "Painting of Stormy Blue Ocean Waves T-Shirt", and "Painting of Stormy Blue Ocean Waves Sticker", and so on. There are over 80 products available on RedBubble, so use your imagination. 
Optimizing Product Description For Better Google Ranking
Google does not only pick up the title but also a product description. So, it is also an incredibly useful well-written description for your artwork. 
The description is key for getting more traffic outside of Redbubble. And because this POD platform is investing a lot of resources into SEO, you have a big chance that your artwork will appear at the top of relevant searches. So, take advantage of this by writing a good description. 
To get the most targeted traffic possible, you need to use long-tail keywords on Redbubble for your design listing. It is optimal to use 3-6 keywords in the title to see the most benefits.
Optimizing Product Tags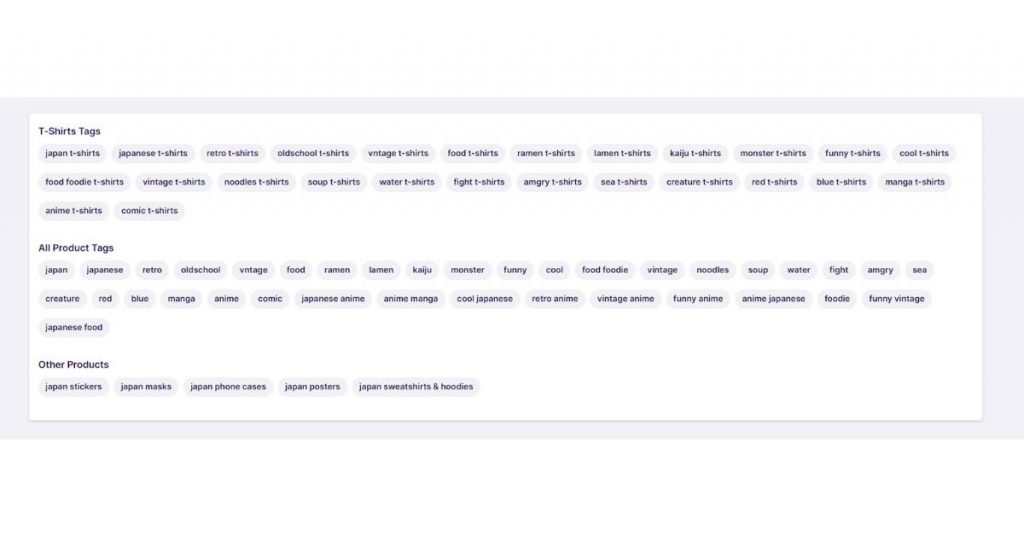 Adding tags to individual images makes them easier for people to find when searching for artwork. They also work alongside big search engines to make searches more precise. 
But what tags should you use? First, take a look at the best-selling design in your niche and get inspired by that.  Second, avoid sentences and use one or two-word tags. 
Currently, Redbubble recommends having at least 15 relevant tags separated by a comma to get more exposure for your artwork. 
Add keywords that describe your design – subject, topic, the technique used to create the design, word features in the actual artwork, and a few synonyms.  
Don't include any keywords that describe product types like stickers, t-shirts or posters, because this will be added to your tags automatically by Redbubble's engine. 
Tag Mistakes to Avoid
Grammar and Punctuation: Because people are searching on Google using just one or two words, usually all in lowercase with no punctuation.
Hyphens: Redbubble counts hyphens as spaces.
Other Languages: Only use words in English, unless you will manually fill out the fields for German, French, or Spanish. This is because Redbubble will do the translation automatically using Google Translate.
Products: It is useless to add product types in your tags because Redbubble will do it also automatically.
Spamming: Avoid adding irrelevant words to your tags or using popular tags that don't relate to what is shown in your artwork.
Conclusion
Many artists on Redbubble are not optimizing their titles, tags, and descriptions at all. And this is a huge mistake.
I know, it takes time to come with good tags, titles and write a long description for the product listing, but in a long run, you have a better chance to get more traffic from Google search.
BONUS FOR YOU: Unleash your potential as a print-on-demand entrepreneur with this free guide – download now!
Here Are Some of My Favorite Tools For Print-on-demand
DESIGNS: For getting started, I like Kittl. It is a fantastic place with highly professional templates, that can be edited and used for print-on-demand. In my opinion, it is a go-to place for anyone who wants to make money with POD.
Another of my favorites is Creative Fabrica. They have millions of cheap graphics that can elevate your t-shirt design. If you are not the most skillful designer, then try Placeit or Vexels. These are platforms, where you can find thousands of pre-made t-shirt designs you can easily edit and publish on any print-on-demand platform. I recommend Placeit for beginners and after you get some sales move to Vexels.
GET UNLIMITED DIGITAL ASSETS – Envato Elements is a subscription-based digital assets platform that provides a wide range of digital assets. Whether you're in need of fonts, stock videos, photos, motion graphics, mock-ups, overlays, or brushes – you name it – Envato Elements is likely to have it. It's your one-stop service for all types of creative resources.
SELLING GRAPHIC DESIGNS – Freepik makes it simple to get your design in front of a huge audience of paying customers. It's a set-it-and-forget-it source of passive income. The earnings per download may seem small, but they can compound into decent money over time. And they are also accepting AI designs. Try it for free.
SELLING LOW-CONTENT BOOKS – Selling low-content and no-content books on Amazon can be a great way to boost your online income. I'm using Book Bolt to do the research, get pre-made interiors, and create covers. And you can try the platform for free.
Take your POD business to the next level. If you are serious about selling your designs on t-shirts, mugs, and other products, you need to sell them on the most significant marketplaces like Etsy or Amazon. It would be best if you also sold for the best prices through on-demand fulfillment companies like Printul or Printify.
Disclosure: Some of the links above may contain affiliate partnerships, meaning, at no additional cost to you, NechEmpire may earn a commission if you click through to make a purchase.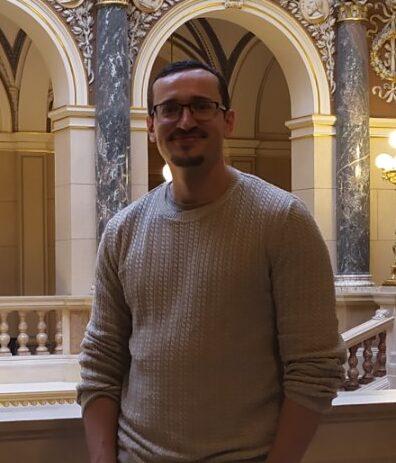 I'm Miroslav, a passionate graphic designer and AI enthusiast. At NechEmpire, I'm here to equip you with the knowledge and skills to turn your design passion into a thriving online business.
More Posts