(Last Updated On: December 5, 2021)
Hi everyone, Miroslav from NechEmpire, and in this article, I will show you the proof of how the popular trending tools are killing Redbubble right now.
I will also show you a simple method that is better than any tool others are using to find trending tags and keywords.  
Finding Trending Tags on Redbubble With Tools
When you are trying to find a trend on Redbubble, most of us, including me, are using tools that help us save time and find trending tags.
These tools are convenient and easy to use and can find trending tags in just a few seconds.
And that's exactly the problem.
When everyone who is chasing trends is using these tools, then these trends will not only become oversaturated, but they will also attract people who are looking for quick money.
These people are using tactics that are against the rules of the platform they are selling their designs. 
I want to say in advance that this article will not be about how I complain about this behavior.
This will only be in the first part, in the second part of the article I will show you an interesting tactic on how to find a trend before it becomes a trend.  
In the SEO world, we have three levels of approaches to make your websites successful. 
We white hat, grey hat, and black hat methods.
Where white hat means you are following the rules, you are using only ethical tactics. 
The grey hat is a combination of the white and black hat methods. It is a tactic that is currently legal but could become the opposite in the future.
And the black hat methods are tactics that can work until they don't. These tactics are not illegal to use, but they are against the guidelines of the platform you are on.
Tag Spamming on Redbubble is Killing This Marketplace
When talking about Redbubble, tag spamming is a black hat tactic.
It is a disapproved practice that increases Redbubble´s search page ranking of your design and it is against the terms of service of this company.
When doing tag spamming, you may dominate the search page on Redbubble for a certain search term and if the trend attracts a lot of visitors, you can make tons of money.
But you are risking your account getting banned. And you will be prohibited from opening a new account on this platform.
In my eyes, it is not worth it to risk a Redbubble account for a quick profit. 
I'm always looking for strategies and tactics that will lead me to a long-term profitable business.
My Experience With Tag Spamming on Redbubble
When I recently searched for trending keywords with the Redbubble Popular Tags tool, I have found 10 interesting keywords without trademark and with low competition, in most cases under 700 results.
This is relatively low competition, and you can beat other designers and rank your designs on page one.
But for 9 of these keywords, it is not worth creating designs. There is no point in wasting time at all.
I will show you what I mean.
Let's go to Redbubble and search for My Gaming Skills Are Scary which is one of the trends
As you can see, these designs are ugly. I'm pretty sure, you can make a better design in one minute than what you see here.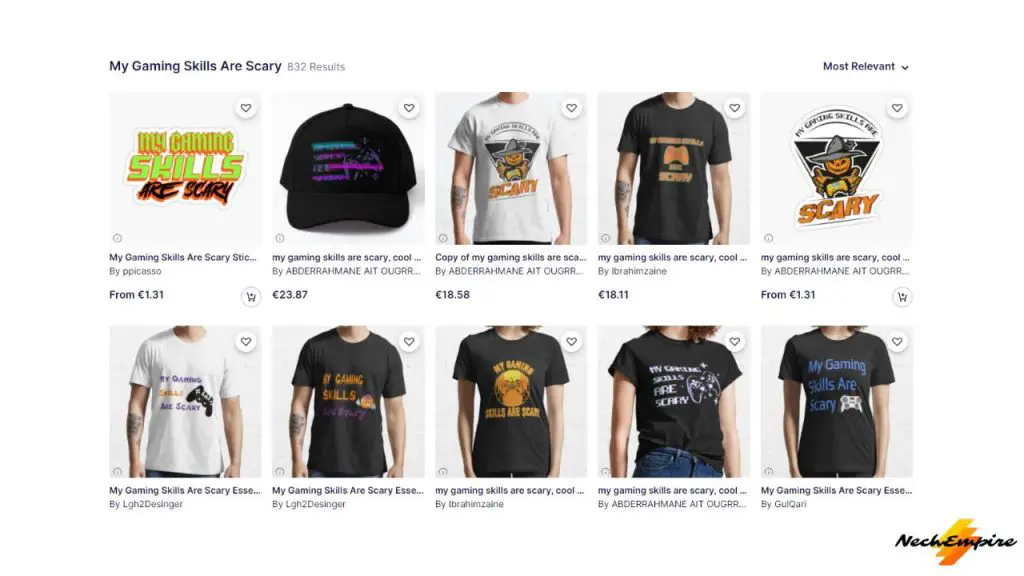 The first thing you should always pay attention to is when you are seeing the same few shop names on the first positions. 
If you follow the Redbubble rules, there is no way you can have multiple designs ranking so high in the search. 
These people are using tag spamming for sure, and when I open any of these designs, you can see, they don't also have any description at all. These people are only looking for fast goals, for quick cash. 
Let's open the first five designs to check if I was right. 
The design in the first position is ugly, has no description because you need at least 130 characters to rank on Google, and when I scroll down, you see… it is a spammer.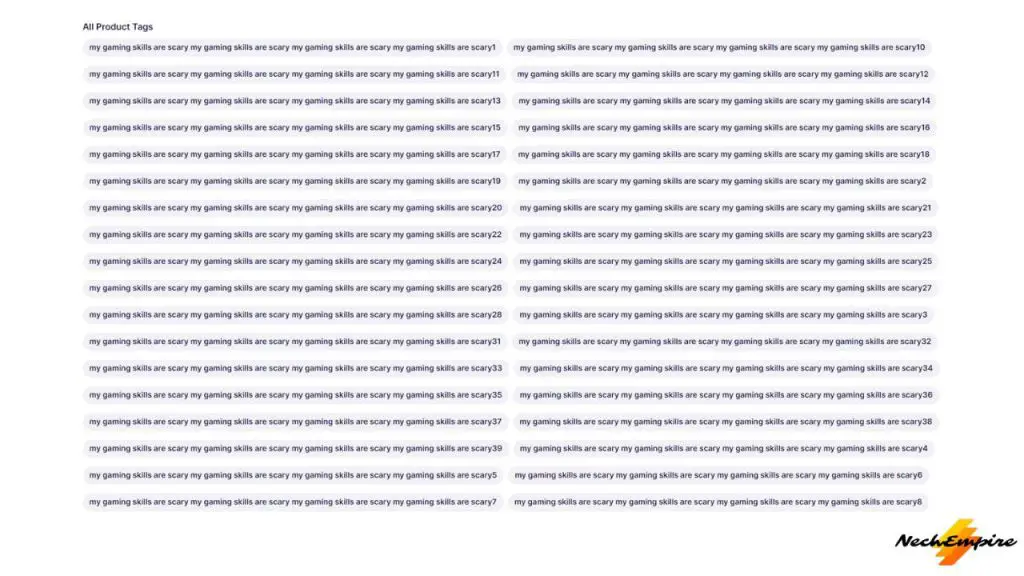 The next design is a pretty cool-looking art, but when I scroll down… then again, tag spammer. 
I can do it for most of the designs on the first page on Redbubble for any keywords I found with the tools everyone is using. 
I was so angry, that 9 of 10 keywords I found were full of people who are using black hat tactics, that I had reported few such designs for inappropriate tag spamming.
I have never done this before and I do not intend to continue. I even wrote an email to Redbubble support and want to know if they are doing something with this commonly used practice. 
I get an answer, but it is so generic that I don't have too much hope in Redbubble at this point.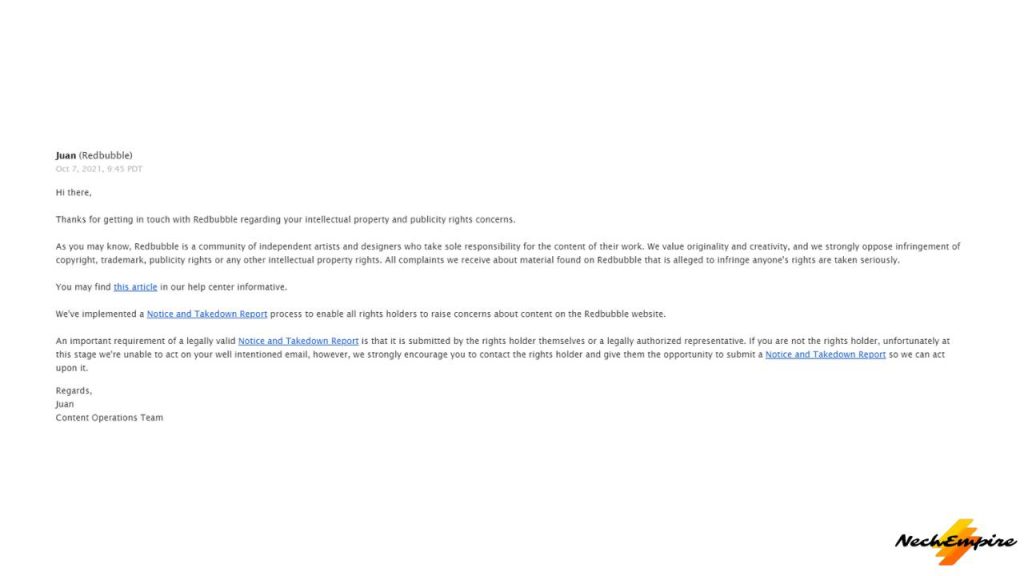 Luckily, I'm a positive person, I'm always looking for ways to get out of trouble. 
How to Avoid Tag Spammers on Redbubble
When talking about trends and print-on-demand, then the best way I found is to get ahead of the trending tools everyone is using and go for keywords with low competition, keywords that are starting to rank on Google.  
And in this part of the article, I want to show you a free method of how to find keywords on Redbubble, keywords without spammers, keywords that are starting to rank on Google.
While having a lot of experience in SEO, I'm using Google search operators to analyze competitions and my websites, but I have never used them for Redbubble.
A search operator is a character or string of characters used in a search engine query to narrow the focus of the search. 
It allows you to find exactly what you are looking for on Google. 
I want to give a huge thanks to a fellow YouTuber Hammish from Income stream surfers, who showed me that I can use search operators to find low competitive keywords even on Redbubble.
Let's go to Google and put this search operator which can be found in the description of the video, to the search bar. 
site:redbubble.com inurl:shop -people intext:"20 results"
The last part with the intext and the number of results is optional because it narrows down the search only to tags with 20 results or less. 
But it is a great way to find keywords with almost no competing designs.
As you can see Google gives us around 12000 results. To make things even better, click on the Tools tab and then select the time period of the past week or past month.
This will show you results that are no older than a month. In other words, the Google search will display keywords that are starting to rank in the last month period. 
Here is a list of all the ranking Redbubble search pages that have been indexed in the last 30 days. 
Because lots of these keywords will be copyrighted, I always recommend checking the trademark for each tag or keyword. 
Let's open this page. Ying Yang Meaning Love.  
As you can see, just over 20 results, and when I open any of the designs, I can bet that there is no tag spamming. 
Do you see…  This is proof that the trending tools are killing Redbubble. 
I know this method is not a time-saver, it takes a lot of time to find a good long-tail keyword, but it can help you beat the tag spammers until Redbubble solves the issue.
BONUS FOR YOU: Unleash your potential as a print-on-demand entrepreneur with this free guide – download now!
Here Are Some of My Favorite Tools For Print-on-demand
DESIGNS: For getting started, I like Kittl. It is a fantastic place with highly professional templates, that can be edited and used for print-on-demand. In my opinion, it is a go-to place for any person, who wants to make money with POD.
Another of my favorites is Creative Fabrica. They have millions of cheap graphics that can elevate your t-shirt design. If you are not the most skillful designer, then try Placeit or Vexels. These are platforms, where you can find thousands of pre-made t-shirt designs you can easily edit and publish on any print-on-demand platform. I recommend Placeit for beginners and after you get some sales move to Vexels.
I also use a platform called Simplified, which is an all-in-one tool that combines an AI writer, design editor, video editor, and social content planner into one simple platform. I love it. Just like Canva, Simplified has a free version, so you can try it here.
FREE DESIGNS: I love Canva. I'm using this platform almost every day. With Canva, you can create stunning t-shirt designs, they already have an entire section, where you can make your artwork from scratch or use some pre-made templates and edit them. Canva comes with two main pricing plans: FREE and PRO. And if you are a beginner, then I recommend the free plan, it should be enough for you.
SELL YOUR ART – Start selling your graphics, vectors, or photography on Wirestock to save time and make more money. Its Wirestock Program allows you to submit to multiple stock agencies and marketplaces in a single click. It is currently partnered with Shutterstock, Adobe, Alamy, Dreamstime, Pond5, and Depositphotos. Get a FREE account.
SELLING LOW-CONTENT BOOKS – Selling low-content and no-content books on Amazon can be a great way to boost your online income. Im using Book Bolt to do the research, get pre-made interiors, and create covers. And you can try the platform for free.
Take your POD business to the next level. If you are serious about selling your designs on t-shirts, mugs, and other products, you need to sell them on the biggest marketplaces like Etsy or Amazon. You should also sell for the best prices through on-demand fulfillment companies like Printul or Printify.
Disclosure: Some of the links above may contain affiliate partnerships, meaning, at no additional cost to you, NechEmpire may earn a commission if you click through to make a purchase.