(Last Updated On: December 5, 2021)
Many artists have a hard time getting their art noticed.
They can't be found on search engines or any other marketplaces because they are making their designs hard to be found on.
These days, being a designer on any print-on-demand platform is not all about the art, it is also about getting your design to the right audience.
How could your design possibly be seen?
You've been doing all the right things, but it's just not working. You're spending hours every day creating something that people may never see.
As a creator who knows a lot about search engine optimization, I know the value of long-tail keywords.
I know how they can help your designs on Redbubble rank better on the Google search result page.
That is why, in this article, I'll provide you with tips that will help you reach your goal of getting more traffic to your designs on Redbubble.
What Is a Long-tail Keyword?
Long-tail keywords are longer and more specific keyword phrases that visitors are more likely to use when they're closer to a point-of-purchase.
A long-tail keyword is a phrase that describes a very specific topic. The more specific the phrase, the more likely it is to generate traffic. They are great for targeting your product marketing and content marketing strategies to attract the right audience.
Long-tail keywords are often used when advertisers want to target consumers online but don't want to pay for more expensive, less targeted keywords.
Long-Tail Keywords: The Untapped Gold Mine
On Redbubble, one of the most popular online shops for custom designs, you should always be focusing on the long-tail keywords.
You should focus on high-volume terms that have also low competition and then make sure to optimize your content with these keywords in mind.
The long-tail keywords, when used correctly, can be a goldmine for your business. With these phrases, you can target a very specific, niche audience.
They also provide powerful SEO benefits, which means you'll have a larger presence on the internet and will rank higher in search engines for such phrases.
How to Use Long Tail Keywords on Redbubble (Optimize Your Listing For Best Results)
A quick and free method to find out what kinds of words people are using when they search on Google is by typing a word or two into the search bar and then hitting enter.
This will bring up a list of keyword suggestions that are given us by Google's autocompleting feature.
Google's autocompleting tool is a great way to find new keywords and it is also a great way to generate new ideas for your designs.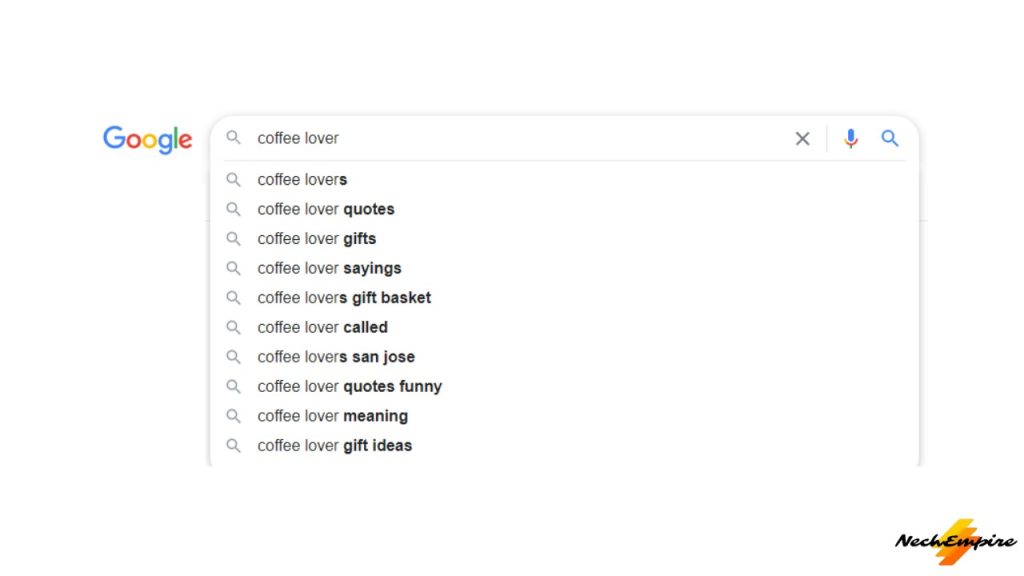 Those suggestions are a big clue, are FREE, and come directly from Google's search algorithm.
And not only Google, but most marketplaces are also using their own algorithms and autocomplete features.
As you probably know, Redbubble is an online marketplace with over 1 million artists from around the world.
And to get sales on this marketplace, you need to be found.
You need to get your design noticed not only on Redbubble but also on Google to get the full potential of your effort.
To make sure, your design will be seen by other people, you have to optimize your listings on Redbubble to help search engines to rank your listing.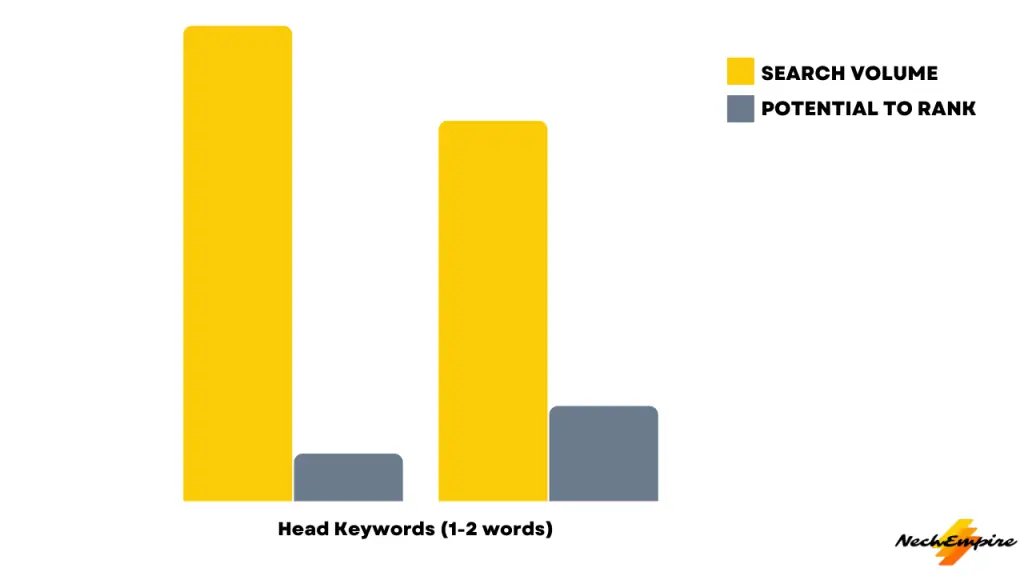 To make the most out of your design listing, you should use 3 – 6 keywords for long-tail keywords but I like to use more keywords to combine more niches.
However, the sweet spot seems to be 3 keywords, for example, funny motivational quote, funny black cat, I love dogs.
But in most cases, I'm trying to go for more than 3 keywords in my listing.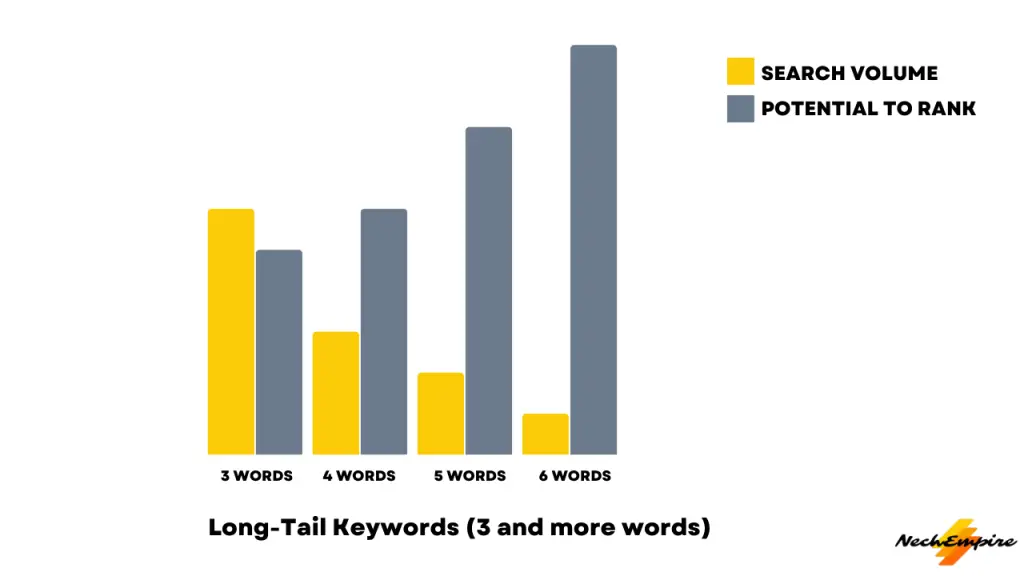 I choose keywords that are related to my design and make up a couple of long-tail keywords from it.
How Important Is Title on Redbubble
The title is the strongest SEO word by word. You have to put your main keywords in the title. This action will help Redbubble and Google to find what your design is about.
The longer the title is, the better.
But don't put the product type into the title.
Redbubble is putting product types automatically, so if the title is I love pink dogs, and somebody is seeing the design on the sticker, then the full title will be I love pink dogs sticker.
On the t-shirt, it will be I love pink dogs t-shirt. This practice becomes valid for all products you are putting your design on.
As I already described, the title is the most important place to put your keywords for both Redbubble and Google.
How Important Is Description for Redbubble SEO
As far as I know, the description does not affect Redbubble search page ranking in any way.
However, the description is what users see on Google, so you need to have something there.
I like to use the title of my design in the description to help Google to rank my design and then I'm using some helpers that people would use to search for my design.
These helpers are secondary keywords and I'm putting them into the description to target a more specific audience.
Tags and Redbubble SEO
The last thing you need to focus on when optimizing your listings are tags.
Tags are used by Redbubble to categorize your design and rank it on the marketplace for a specific keyword. They are primarily indexed only by Redbubble, not Google.
However, a great fact is that Redbubble categories are indexed by Google, so if you are ranking high on the Redbubble search page for a certain tag, you have a huge chance to get traffic also from Google.
Examples of SEO-optimized Redbubble Listings
To make things easier, I will show you some examples of SEO-optimized Redbubble listings.
But before I will do it, let's create a fictional listing for my pink dog design.
Title: I love small pink dogs
Description: I love small pink dogs. Here is a minimalistic design of a cute puppy in pink color. A great gift for any dog lover's birthday or Christmas. Are you a proud dog owner? Then grab this doggo art as a present for yourself.
Tags: dog, small, pink, I love, I love small pink dogs, pink dog, owner, lover, doggo, dog mom, dog dad, doggy, animal lover, funny dog, pets, puppy, I love dogs, dog person
Let's talk more in detail about what you see.
While my primary long-tail keyword is I love small pink dogs, I also want to rank for another keyword that has a higher search volume.
This is why you need to use secondary keywords or helpers.
In this case, my helpers are dog owner, gift, present, doggo, cute puppy, dog lover, Christmas, and birthday.
When I put these keywords in the description, I have a chance to rank on Google for combinations of these words. I can rank for a cute pink puppy, gifts for dog owners, Christmas gifts for dog lovers, and much more.
This is the beauty of long-tail keywords. You are ranking for a combination of them.
The tags section is important for Redbubble ranking so I use tags that have been suggested to me when I was searching for a term dog lover.
I also like to use long-tail keywords in the tags section as you see in this example.
So, let's take a look at some interesting examples of well-optimized Redbubble listings.
The first design has the title Cute Dachshund Puppy Dog With Valentine Hearts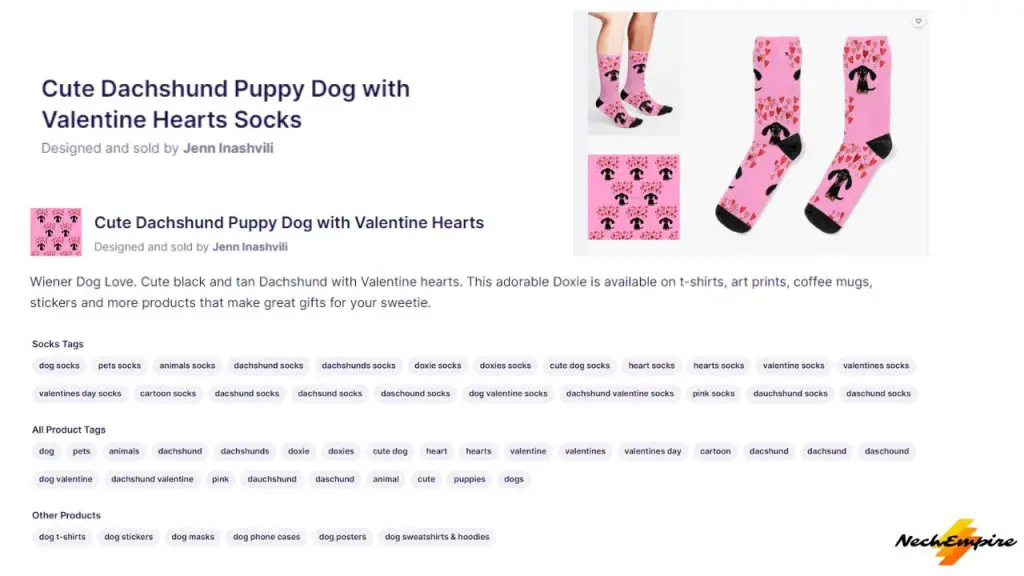 This is an awesome title that combines different niches, so you can get even more traffic to this listing.
I also like the description. The artist is using a lot of secondary keywords here to get a boost in the rankings. Wiener dog, adorable Doxie, gifts for your sweetie.
This is a well-done job.
Even the tags section is looking good, but it will be better when the artist puts more specific tags here, like wiener dog, puppy with valentine hearts, dog for your Valentine, and so on. Be creative, choose words that people use to find such a design.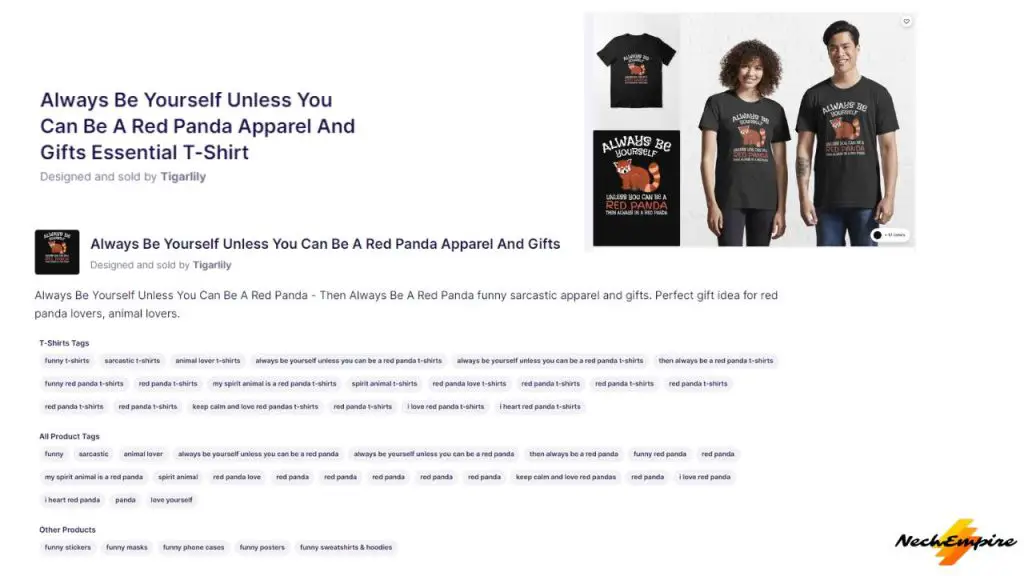 Another great example of a long-tail keyword on the listing is this design.
The person behind this design is using a pretty long title which is good, but don't forget that Google will use only the first 50 or 60 characters, so put your main keywords always at the beginning of the title.
This is a cute motivational design and the description is targeting animal lovers, people who are looking for funny or sarcastic gifts, and more.
The tags section is great. The artist is using a combination of single keywords and long-tail keyword variants to improve the design ranking.
As you can see, optimizing your listing on Redbubble is not hard. While it takes time, you can only benefit from it.
Doing SEO for Redbubble design listing is always a good idea because 50% of all traffic to Redbubble is going through search engines.
So, if you want to increase sales on Redbubble you have to spend some time on keyword research and creating an SEO-optimized listing.
BONUS FOR YOU: Unleash your potential as a print-on-demand entrepreneur with this free guide – download now!
Here Are Some of My Favorite Tools For Print-on-demand
DESIGNS: For getting started, I like Kittl. It is a fantastic place with highly professional templates, that can be edited and used for print-on-demand. In my opinion, it is a go-to place for any person, who wants to make money with POD.
Another of my favorites is Creative Fabrica. They have millions of cheap graphics that can elevate your t-shirt design. If you are not the most skillful designer, then try Placeit or Vexels. These are platforms, where you can find thousands of pre-made t-shirt designs you can easily edit and publish on any print-on-demand platform. I recommend Placeit for beginners and after you get some sales move to Vexels.
I also use a platform called Simplified, which is an all-in-one tool that combines an AI writer, design editor, video editor, and social content planner into one simple platform. I love it. Just like Canva, Simplified has a free version, so you can try it here.
FREE DESIGNS: I love Canva. I'm using this platform almost every day. With Canva, you can create stunning t-shirt designs, they already have an entire section, where you can make your artwork from scratch or use some pre-made templates and edit them. Canva comes with two main pricing plans: FREE and PRO. And if you are a beginner, then I recommend the free plan, it should be enough for you.
SELL YOUR ART – Start selling your graphics, vectors, or photography on Wirestock to save time and make more money. Its Wirestock Program allows you to submit to multiple stock agencies and marketplaces in a single click. It is currently partnered with Shutterstock, Adobe, Alamy, Dreamstime, Pond5, and Depositphotos. Get a FREE account.
SELLING LOW-CONTENT BOOKS – Selling low-content and no-content books on Amazon can be a great way to boost your online income. Im using Book Bolt to do the research, get pre-made interiors, and create covers. And you can try the platform for free.
Take your POD business to the next level. If you are serious about selling your designs on t-shirts, mugs, and other products, you need to sell them on the biggest marketplaces like Etsy or Amazon. You should also sell for the best prices through on-demand fulfillment companies like Printul or Printify.
Disclosure: Some of the links above may contain affiliate partnerships, meaning, at no additional cost to you, NechEmpire may earn a commission if you click through to make a purchase.