(Last Updated On: July 3, 2022)
You want to get more sales on Redbubble, but you don't know how.
As a designer on Redbubble, it can be hard to stand out, yet that's exactly what you need to do to succeed.
I know how hard it is to gain visibility on Redbubble, so you can get more people to see your design.
All it takes is a single visit to Redbubble to find out that there are plenty of designs that look just like yours already.
You create something new, but it's immediately lost in the mix.
It's super frustrating, and you feel like you're fighting an uphill battle with no end in sight.
Optimize Your Redbubble Listing With Tags
The best way to get your design ranking higher on Redbubble is to optimize the listing with tags.
Tags are important because they give Redbubble an idea of what to expect in a listing.
Redbubble is using tags to organize designs in searchable categories and to get your designs noticed, you need to learn how to use tags the right way.
While there is a huge debate about what tags strategy you should use, I like to mention one of the most basic, yet powerful methods to find tags that work. Tags that can get you sales.
Steal Tags From Your Competition
This strategy is simple, you need to spy on other people's design tags.
And don't worry, there is nothing illegal with this method, spying on your competitors is a widely used strategy to get traffic in an SEO world.
It functions on a simple principle.
Go ahead to Redbubble and click on any product category.
Because the best selling product on Redbubble are stickers, I like to open this category,
Then type any keyword into the search box.
For this example, I'm using sheep as a keyword.
As you can see, there are almost 60 thousand results which is a very high number. The key to success is to find keywords that will have one thousand and fewer results.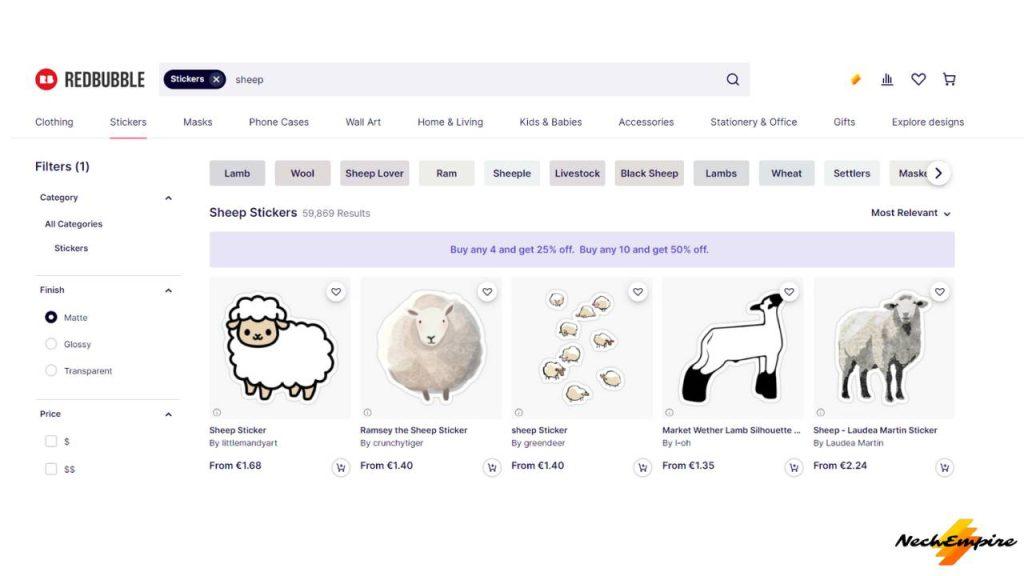 So, we need to niche down and find a better keyword related to sheep.
The first thing I like to do is to set the filter on the most relevant.
While many people are setting this on bestselling the most relevant is in my opinion showing you results with recent sales.
These are selling designs on Redbubble.
The second thing is to use the tags that Redbubble is suggesting.
Just open any of these tags to check if you found a keyword with lower competition.
For this example, I want to use the keyword I found, sheep lover. 
In the next step, you need to open first designs that are related to the sheep keyword.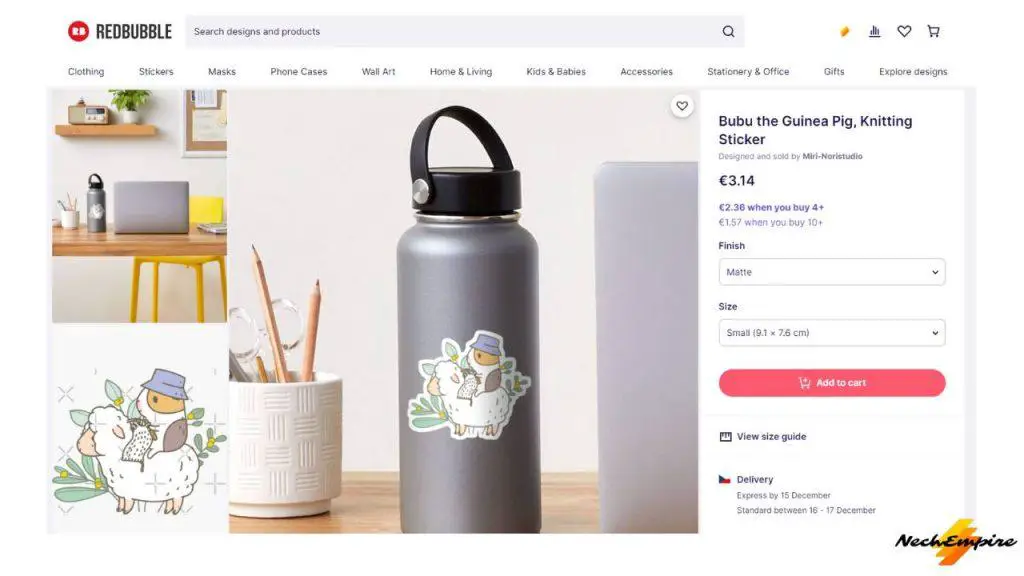 For the sheep lover, I have opened these two designs. Now, I need to scroll down and see the tag section.
I'm always looking for tags that are related to the keyword I want to rank but still have low competition.
Here, I found two interesting keywords… kawaii sheep and guinea pig and sheep. When I open any of these keywords, you can see they have a pretty low number of results.
So, when I make a sheep design, I will include these tags, because they can help me rank higher in the search results. It is not 100%, but I will have a good chance to get my design noticed on Redbubble.
The next design I have opened for the sheep lover keyword is this.
And to be honest, this design is a gold mine when talking about tags. Just take a closer look at these keywords. Sheep mom, sheep for girls, sheep for women, for teens, sheep stuff, I love sheeps.
These keyword combinations have relatively low competition and I would like to use all these keywords in the tag section for my sheep design.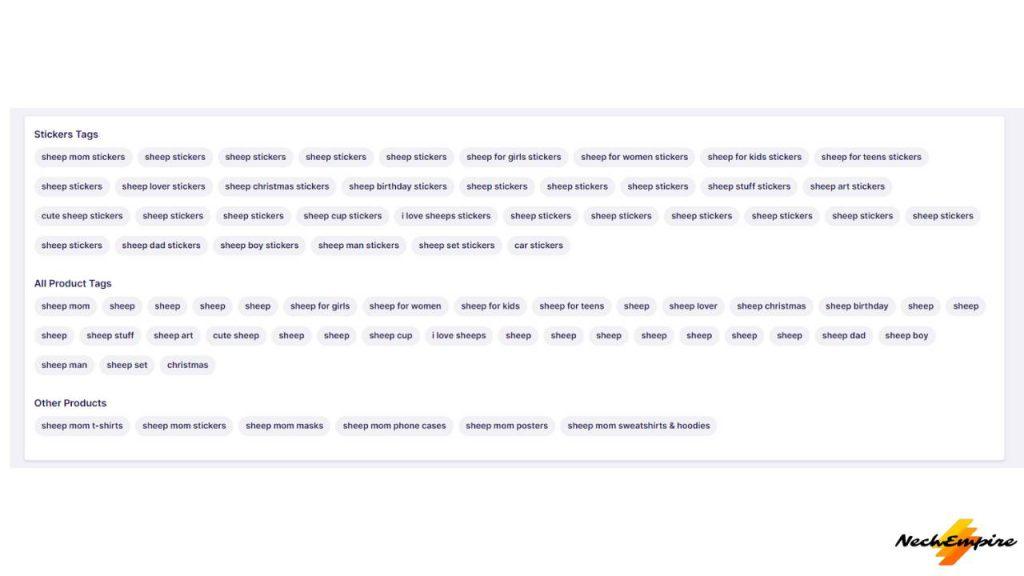 As you can see, this is a relatively simple method to find tags that can be used to optimize your design listing.
I like to open at least 5 designs that are related to the keyword I want to rank and steal the best tags I found on these designs.
I'm always creating design listings that are full of long-tail keyword tags with low competition. I'm also using one-word tags with higher search volume to help Redbubble categorize my artwork.
The combination of tags with one keyword and tags with multiple keywords is in my opinion the best way to get more people to see your design.
BONUS FOR YOU: Unleash your potential as a print-on-demand entrepreneur with this free guide – download now!
Here Are Some of My Favorite Tools For Print-on-demand
DESIGNS: For getting started, I like Kittl. It is a fantastic place with highly professional templates, that can be edited and used for print-on-demand. In my opinion, it is a go-to place for any person, who wants to make money with POD.
Another of my favorites is Creative Fabrica. They have millions of cheap graphics that can elevate your t-shirt design. If you are not the most skillful designer, then try Placeit or Vexels. These are platforms, where you can find thousands of pre-made t-shirt designs you can easily edit and publish on any print-on-demand platform. I recommend Placeit for beginners and after you get some sales move to Vexels.
I also use a platform called Simplified, which is an all-in-one tool that combines an AI writer, design editor, video editor, and social content planner into one simple platform. I love it. Just like Canva, Simplified has a free version, so you can try it here.
FREE DESIGNS: I love Canva. I'm using this platform almost every day. With Canva, you can create stunning t-shirt designs, they already have an entire section, where you can make your artwork from scratch or use some pre-made templates and edit them. Canva comes with two main pricing plans: FREE and PRO. And if you are a beginner, then I recommend the free plan, it should be enough for you.
SELLING LOW-CONTENT BOOKS – Selling low-content and no-content books on Amazon can be a great way to boost your online income. Im using Book Bolt to do the research, get pre-made interiors, and create covers. And you can try the platform for free.
Take your POD business to the next level. If you are serious about selling your designs on t-shirts, mugs, and other products, you need to sell them on the biggest marketplaces like Etsy or Amazon. You should also sell for the best prices through on-demand fulfillment companies like Printul or Printify.
Disclosure: Some of the links above may contain affiliate partnerships, meaning, at no additional cost to you, NechEmpire may earn a commission if you click through to make a purchase.