I'm Miroslav, a passionate graphic designer and AI enthusiast. At NechEmpire, I'm here to equip you with the knowledge and skills to turn your design...Read more
(Last Updated On: July 26, 2022)
Tags on Redbubble are more important than you think. They are a huge ranking factor in your designs and can make a difference between a successful and failing shop.
In this article, I will show you the exact strategy I'm using to make the most of my design listings.
But before I reveal my research method and strategy, I need to explain why tags are so important on Redbubble and why mastering them can make you sales on a daily basis.
The Importance of Tags on Redbubble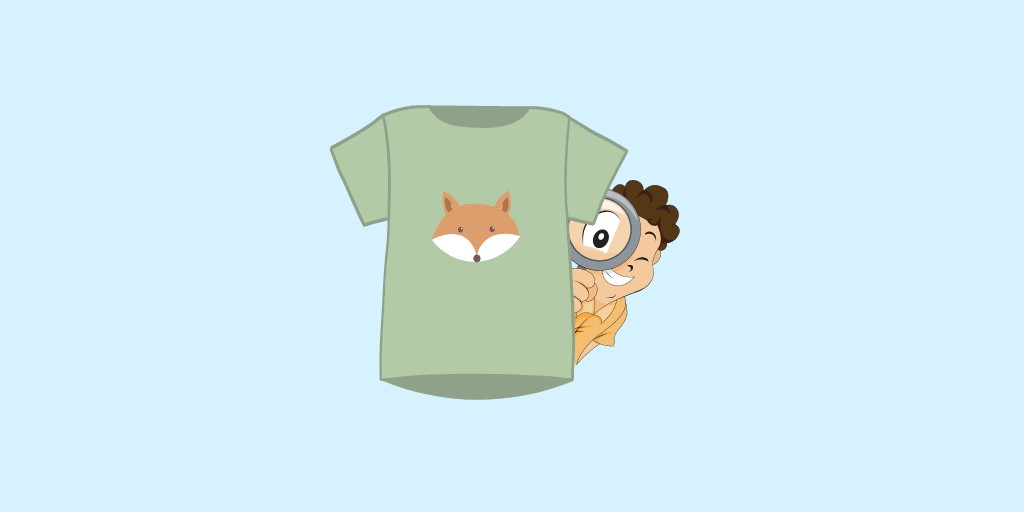 If you don't want your artwork to be buried under the others on Redbubble, it's important to tag it. Proper tagging practices will make your artwork rank higher on this print-on-demand platform and give you more exposure which can lead to more sales.
In simple terms, tags are just single keywords or long-tail keywords that Redbubble uses to index your design into categories and show them when people are searching for particular keywords.
The common misconception about tags is that they help you rank on search engines like Google or Bing, but this is not exactly the truth.
How Tags Work on Redbubble
The main ranking factor on Google is the title and description. So. let's say you want to rank for the keyword "cute seal", then this keyword needs to be in the title and you need to mention this keyword also at the beginning of the description.
This way, Google may index your design, and it may associate your artwork with this keyword. The great thing about Google is that it is putting your indexed design not only on the standard search pages but also in the image and shopping sections.
Tags, on the other hand, are not primarily indexed on Google and are used by Redbubble to sort designs and put them in categories.
However, these categories are indexed on Google, so if you rank high for some tags, you can get traffic to these listings.
In other words, if you're lucky enough and rank higher on Redbubble for a targeted keyword, you can get tons of traffic not only from Redbubble but also from search engines.
The Best Way to Use Tags on Redbubble for More Sales
Tagging is a crucial component that is often overlooked.
When it comes to promoting artwork, tagging is one of the most important elements.
It's imperative for artists to be consistent with their tags so that people can find their work and have the best chance of purchasing it. A good tag can help your artwork get noticed by new potential clients and expand your audience.
Here are some tips that will definitely help your designs get more exposure.
In the first place, you should understand that tags are keywords, so if you want to target for example the keyword "cute seal", then "cute", "seal" and "cute seal" should be mentioned in the tag section of your design.
Since Redbubble is using a smart algorithm, it combines single-word tags with multi-keyword combinations. There is no need to use the entire title as a tag, just divide the title into single or two-word keywords.
It is also important to remember that you should use at least 15 tags in your design listing.
The best way to get most of your tags, is by avoiding using the product or item type. For example, do not use a t-shirt, tote bag, or mug in your tag section because Redbubble is adding this automatically.
You should also use more long-tail keyword tags, for example, the blue cute seal is a long-tail keyword, and the reason behind this is that Redbubble will index your design not only for the blue cute seal keyword but also for the combination of them. I mean, your design will be indexed for tags like blue, seal, cute, cute seal, blue seal, and so on.
This way, you can get the best of both worlds, and you can keep your tags to a minimum.
But these are known facts, that you must master if you want to get noticed on Redbubble. But, now, I want to mention something important, too.
In blogging, there is something called an internal linking silo. It means, trying to cluster a set of pages together and isolate them into topics. It refers to a pattern in which multiple pages link internally to other important pages based on relevance.
And this silo structure also works excellent on Redbubble.
Let's assume you want to rank your design for the keyword "cute seal". This is your targeted keyword with high search volume and lots of potential buyers.
Then you should create a silo of tags that can improve the ranking of your main keyword.
A good practice is to spy on competitors' designs that are ranking for your targeted keyword and use some of their tags. Then sort these tags in a silo structure, that is designed to help each other tags rank.
chubby seal
harp seal
cute baby animals
harbor seal
cute cartoon animal
cute baby sea animal
Aquatic Animal
Ocean Lover
Sea Life
Marine Lover
Seal Painting
Here is the list of keywords I get from my competitors. And let me show you why I chose them, in a simple silo structure.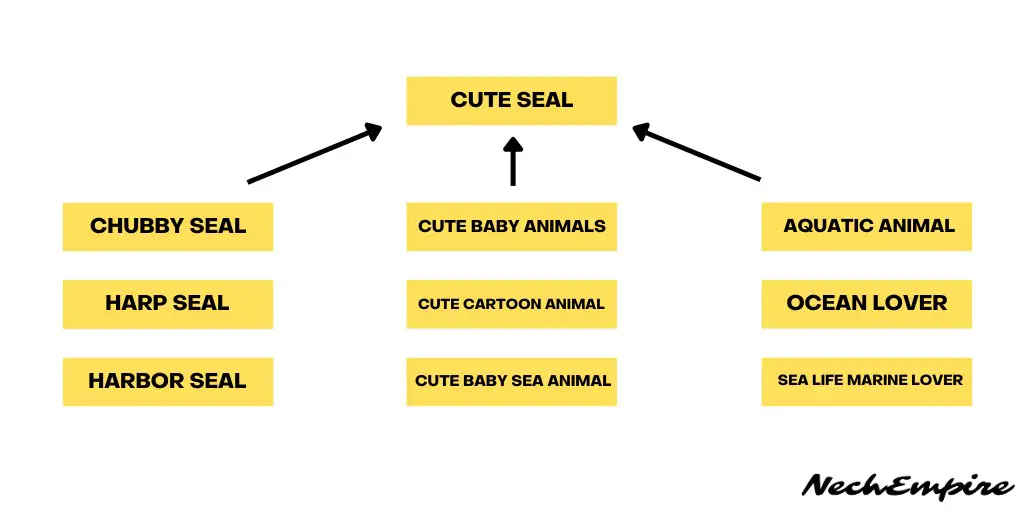 The main reason I choose these keywords is that they can be easily connected and help each other to rank.
For example, if you start ranking for chubby seal, it will also boost the ranking for harp seal or harbor seal. If you improve your ranking for cute baby seal animal, it may also improve your ranking for the tag cute baby animals or cute cartoon animals.
The important thing about this method is that each long-tail keyword tag can help rank other related tags and also boost search ranking for the main keyword.
And when you start ranking for more and more tags, your main keywords will get higher on search pages on Redbubble.
At least, this is my theory.
You should try to find related tags and keywords, find some synonyms, and use them in your design listing to get your main keyword a boost in ranking.
Conclusion
It can seem difficult to sell on Redbubble, but it's not.
Once you figure out how the algorithm works, at least in theory, you can use it to your advantage.
I always recommend targeting long-tail keywords, at least three or four keyword combinations. And I also highly recommend avoiding keyword spamming.
It may work now, but in the future, Redbubble will catch you and delete your account. And this is not worth it.
BONUS FOR YOU: Unleash your potential as a print-on-demand entrepreneur with this free guide – download now!
Here Are Some of My Favorite Tools For Print-on-demand
DESIGNS: For getting started, I like Kittl. It is a fantastic place with highly professional templates, that can be edited and used for print-on-demand. In my opinion, it is a go-to place for anyone who wants to make money with POD.
Another of my favorites is Creative Fabrica. They have millions of cheap graphics that can elevate your t-shirt design. If you are not the most skillful designer, then try Placeit or Vexels. These are platforms, where you can find thousands of pre-made t-shirt designs you can easily edit and publish on any print-on-demand platform. I recommend Placeit for beginners and after you get some sales move to Vexels.
GET UNLIMITED DIGITAL ASSETS – Envato Elements is a subscription-based digital assets platform that provides a wide range of digital assets. Whether you're in need of fonts, stock videos, photos, motion graphics, mock-ups, overlays, or brushes – you name it – Envato Elements is likely to have it. It's your one-stop service for all types of creative resources.
SELLING GRAPHIC DESIGNS – Freepik makes it simple to get your design in front of a huge audience of paying customers. It's a set-it-and-forget-it source of passive income. The earnings per download may seem small, but they can compound into decent money over time. And they are also accepting AI designs. Try it for free.
SELLING LOW-CONTENT BOOKS – Selling low-content and no-content books on Amazon can be a great way to boost your online income. I'm using Book Bolt to do the research, get pre-made interiors, and create covers. And you can try the platform for free.
Take your POD business to the next level. If you are serious about selling your designs on t-shirts, mugs, and other products, you need to sell them on the most significant marketplaces like Etsy or Amazon. It would be best if you also sold for the best prices through on-demand fulfillment companies like Printul or Printify.
Disclosure: Some of the links above may contain affiliate partnerships, meaning, at no additional cost to you, NechEmpire may earn a commission if you click through to make a purchase.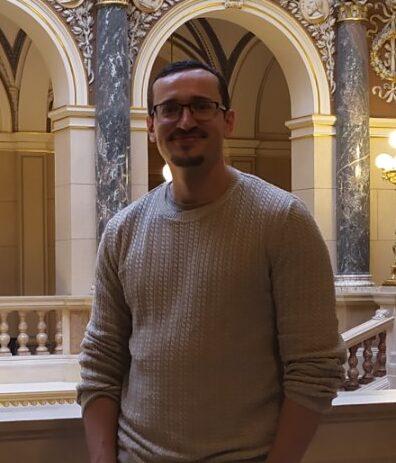 I'm Miroslav, a passionate graphic designer and AI enthusiast. At NechEmpire, I'm here to equip you with the knowledge and skills to turn your design passion into a thriving online business.
More Posts