I'm Miroslav, a passionate graphic designer and AI enthusiast. At NechEmpire, I'm here to equip you with the knowledge and skills to turn your design...Read more
(Last Updated On: January 6, 2023)
Nowadays, most people are looking to become Amazon bestsellers.
And with a powerful tool like Book Bolt, it's easy to find a low content book niche in your field or of your interest, create a journal or notebook, and start earning money.
As an Amazon KDP seller, I know the struggle of creating covers and interiors for low and no content books, and tools like Book Bolt are helping me with this effort.
To help you decide if this tool is ideal for you, read this short review and check out the latest Book Bolt coupon code, which will save you 20% on their plans.
Check Out the Latest Deals
Book Bolt Review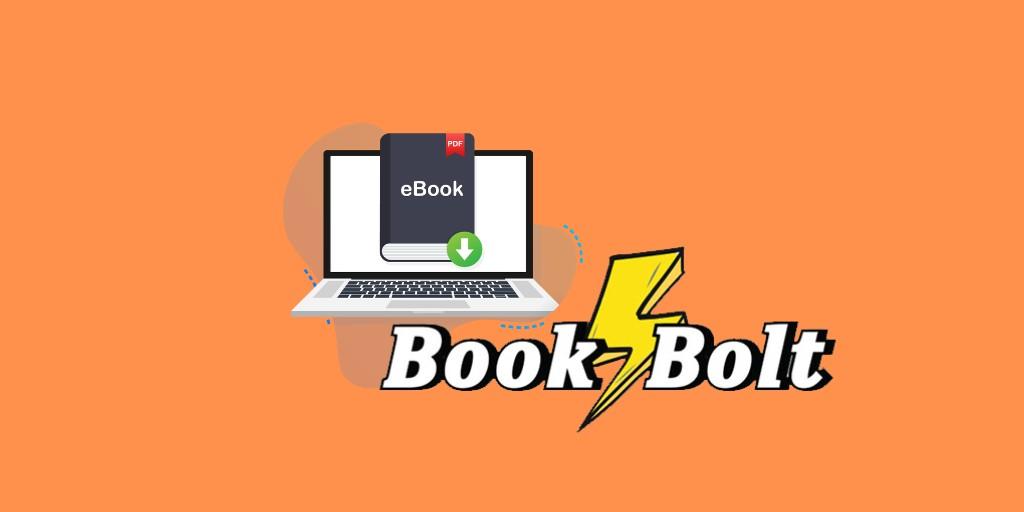 Book Bolt is an innovative tool for the publishing world that is designed for Amazon KDP sellers to provide a fast and easy way to create their books faster.
This is the reason, why Book Bolt is one of the most popular online tools for Amazon KDP. Its editor allows you to use pre-made interior templates or create your own interior from scratch. In a few seconds, you can download your interior in PDF format and upload it to Amazon.
And of course, the editor will help you create an amazing-looking book cover that will definitely get attention in the marketplace.
What's more, with the Puzzle Wizard, you can create engaging puzzles for all ages. The software allows you to create customized coloring pages, mazes, word searches and so much more. You can even upload your own puzzle images.
This online tool is great for both beginners and advanced designers.
And if you need help, all Book Bolt members get access to private training sessions, webinars, and a Facebook group where you can enjoy hours of content geared toward both newbies and pros.
Book Bolt Features
As I mentioned above, Book Bolt is an online tool designed specifically for Amazon KDP. And it is logical that it is packed with features book publishers will find useful and helpful.
Success in saturated marketplaces like Amazon is mostly achieved through research. You have to find a low competitive niche, target the right keywords, and spy on competitors.
In this category, Book Bolt offers a few tools that you find useful.
Search products
Search seller
Favorites
Cloud
Keywords Finder
Lister Plugin
Book Scout
After you find the right niche and keyword you want to target, it's time to make your cover and interior. To help you with this task, there is a tool called the Book Bolt Designer. A simple drag-and-drop editor that will help you create book covers in minutes.
The next step is to make the interior. One look at the Amazon marketplace, and you can see that you need over 100 pages for your low content books. Even here, Book Bolt has you covered.
Book Bolt Interior Wizard is full of different interior designs: from line to geometric pages, from logbooks to activity books. With a few clicks, you can create an interior with the number of pages you want.
You can choose from:
Blank (with page numbers)
College Ruled
Journal
Music Sheet
Wide Ruled
Recipe Book
Scuba Diving Journal
Hexagon Paper Large
Hexagon Paper Small
Fishing Log Book
Dot Graph Paper
Comic Book #1
Comic Book #2
Graph Paper 1cm
Graph Paper 4X4
Graph Paper 5X5
Graph Paper 1cm/0.5cm
Guitar Tabs
Mileage Log
Polar Coordinate Paper
Personal Expense Tracker
Pitman
1/2 Picture 1/2 Wide Ruled
1/2 Picture 1/2 College Ruled
1/2 Graph 4×4 1/2 College Ruled
1/2 Graph 5×5 1/2 College Ruled
1/2 Graph 4×4 1/2 Wide Ruled
1/2 Graph 5×5 1/2 Wide Ruled
1/2 Picture 1/2 Graph 4×4
1/2 Picture 1/2 Graph 5×5
Hand Writing Paper
Storyboard
Sketch Book #1
Sketch Book #2
Blood Pressure Log
Blush Notes
Dream Journal
Food Journal
Gratitude Journal
Guest List Wedding Planner
Monthly Planner
Password Tracker Wide
Password Tracker Narrow
Prayer Journal
Running Jogging Log
Weekly Diabetes Record
Workout 5 Day Log
Workout Log
What's more, most of them you can download for free.
Book Bolt Pricing
If you find this article interesting, and you wish to know how much the Book Bolt costs. In fact, you need to choose between two plans: Newbie and Pro.
The main difference between these pricing plans is simple: the Pro plan comes with puzzle creation software, which allows you to create mazes, word puzzles, sudoku, and more.
And what is the Book Bolt Pricing? The Newbie plan is $9.99 and the Pro plan is $19.99.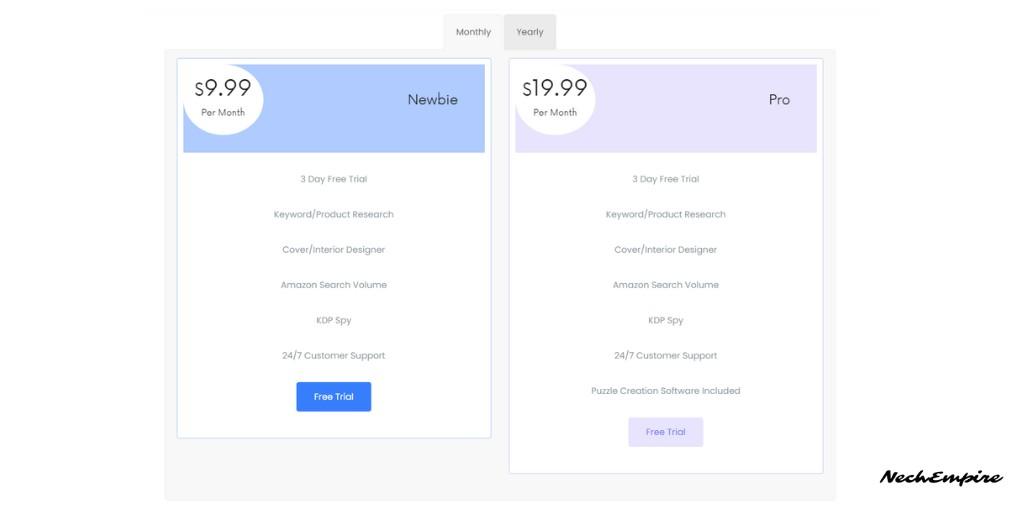 Book Bolt Coupon Code
If you want to try this online tool, you can use this link and try any plan for a 3-day trial for free.
However, this is not all. You can also use my special Book Bolt coupon code, which will give you 20% off.
It doesn't matter which plan you choose, the discount of 20% is valid on both pricing plans.
How To Apply Your Book Bolt Discount Code
Here's how to apply a Book Bolt discount code:
Copy this code: NechEmpire
When you're ready to check out on the Book Bolt website, click on Checkout or View cart to start the checkout process. When you get to the payment step, look for the Promo code box, and paste the code.
Click Apply to add the discount to your order.
Conclusion
Not everyone is a designer. And not everyone can afford to outsource the creation of the book.
Luckily, tools like Book Bolt are here to help with the process and simplify things for you.
With this tool, you'll be able to create a lower content book in less time without sacrificing quality.
Book Bolt Coupon Code – FAQs
Can I Test a Book Bolt Before Purchasing it?
You can get Book Bolt at a monthly subscription that starts at $9.99 with three days of free trial and you can also get a yearly subscription of $89.99 with three days of a free trial.
Is This The Best Book Bolt discount that I can use?
This is a standard 20% off discount that is offered by the Book Bolt all year round. However, on Black Friday or Cyber Monday, you can sometimes find better deals.
Can I use More Than one Book Bolt Coupon for my Order?
No. This Book Bolt coupon code can be used only once.
How Much Can I Save with Book Bolt Coupon Code?
This Book Bolt coupon code will save you 20% off any plan you choose. Just copy and paste NechEmpire into the promo box on the checkout page.
BONUS FOR YOU: Unleash your potential as a print-on-demand entrepreneur with this free guide – download now!
Here Are Some of My Favorite Tools For Print-on-demand
DESIGNS: For getting started, I like Kittl. It is a fantastic place with highly professional templates, that can be edited and used for print-on-demand. In my opinion, it is a go-to place for anyone who wants to make money with POD.
Another of my favorites is Creative Fabrica. They have millions of cheap graphics that can elevate your t-shirt design. If you are not the most skillful designer, then try Placeit or Vexels. These are platforms, where you can find thousands of pre-made t-shirt designs you can easily edit and publish on any print-on-demand platform. I recommend Placeit for beginners and after you get some sales move to Vexels.
GET UNLIMITED DIGITAL ASSETS – Envato Elements is a subscription-based digital assets platform that provides a wide range of digital assets. Whether you're in need of fonts, stock videos, photos, motion graphics, mock-ups, overlays, or brushes – you name it – Envato Elements is likely to have it. It's your one-stop service for all types of creative resources.
SELLING GRAPHIC DESIGNS – Freepik makes it simple to get your design in front of a huge audience of paying customers. It's a set-it-and-forget-it source of passive income. The earnings per download may seem small, but they can compound into decent money over time. And they are also accepting AI designs. Try it for free.
SELLING LOW-CONTENT BOOKS – Selling low-content and no-content books on Amazon can be a great way to boost your online income. I'm using Book Bolt to do the research, get pre-made interiors, and create covers. And you can try the platform for free.
Take your POD business to the next level. If you are serious about selling your designs on t-shirts, mugs, and other products, you need to sell them on the most significant marketplaces like Etsy or Amazon. It would be best if you also sold for the best prices through on-demand fulfillment companies like Printul or Printify.
Disclosure: Some of the links above may contain affiliate partnerships, meaning, at no additional cost to you, NechEmpire may earn a commission if you click through to make a purchase.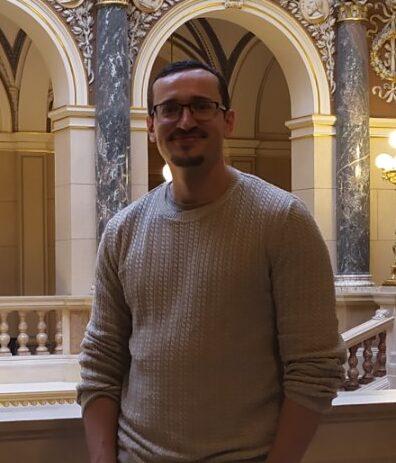 I'm Miroslav, a passionate graphic designer and AI enthusiast. At NechEmpire, I'm here to equip you with the knowledge and skills to turn your design passion into a thriving online business.
More Posts