I'm Miroslav, a passionate graphic designer and AI enthusiast. At NechEmpire, I'm here to equip you with the knowledge and skills to turn your design...Read more
(Last Updated On: July 10, 2023)
Have you ever considered selling low content books on Amazon, but got overwhelmed with the idea of creating it from scratch?
Well, there is a simple solution for you: low-content book templates!
These templates are perfect for anyone who wants to get their book to market quickly without breaking the bank.
One of the great things I love about these templates is their versatility; they can be used to create a wide range of book types and styles, from journals and planners to coloring books, puzzle books, and even recipe books.
The best part? Using a low-content book template can save you a lot of time and effort. This simply means that you can publish many of these books in a short period of time.
Instead of spending hours formatting your notebooks or journals, these templates come with pre-designed pages and layouts that you can easily customize to your liking.
Even if you have little to no design experience, these templates are user-friendly and straightforward to use.
But where you can get those templates?
Luckily, I have made a list of my favorite places to get low content book templates for Amazon KDP.
And some of them are even offering free stuff.
Types of Low Content Book Templates
Before I show you those places, let's talk about the types of low-content book templates you can use.
No Content Books
First up, we have the no content books. They come in various styles – from ruled paper to sketch paper and even-numbered paper. Plus, they make it easier to map out tasks and goals or record thoughts in a dot grid journal.
Ruled paper
Grid paper
Sketch paper
Numbered paper
Blank journal paper
Task list paper
Dot grid paper
Coloring Books
Next, we have coloring books. Coloring books give readers the freedom to showcase their creative skills by coloring black and white line drawings. It takes a bit of extra effort but creating high-quality templates for coloring pages is totally doable.
Logbooks
Another type of low content book template is the logbook. Logbooks are a great way to track relevant information.
Whether it be recording details of a journey, measuring the progress of a project, or monitoring exercise and diet activities – logbooks can be incredibly helpful in capturing data.
Food logs
Exercise logs
Activity Performance logs
Finance logs
Meditation logs
Journals
Journals are another popular type of low content book template. They are just a way to document your thoughts and ideas.
They can be used for daily reflection, gratitude, recording meals, and much more! There's a range of options for anyone to choose from – including blank books, ones that have prompts, and even five-year journals.
Daily journals
Prompt notebooks
Affirmation notebooks
Gratitude journals
Food journals
Five year journals
Planners
Planners are books that are designed to schedule your day, whether it be daily, weekly, or monthly. They're perfect for keeping track of important dates, events, and appointments.
Puzzle Books
Lastly, we have activities and puzzle books. These books are filled with specific activities that people can use to entertain themselves.
Guest Books
Oh, and don't forget about guest books! These books are similar to lined notebooks and can be used at events for people to input their names as they arrive.
Check Out the Latest Deals
Places to Get Low Content Book Templates
As I already mentioned, low content books are one of the most popular types of books in the publishing industry today.
They are perfect for those who want to get into Amazon KDP publishing because they are quick and easy to create.
And with pre-made templates, you can be even faster.
Creative Fabrica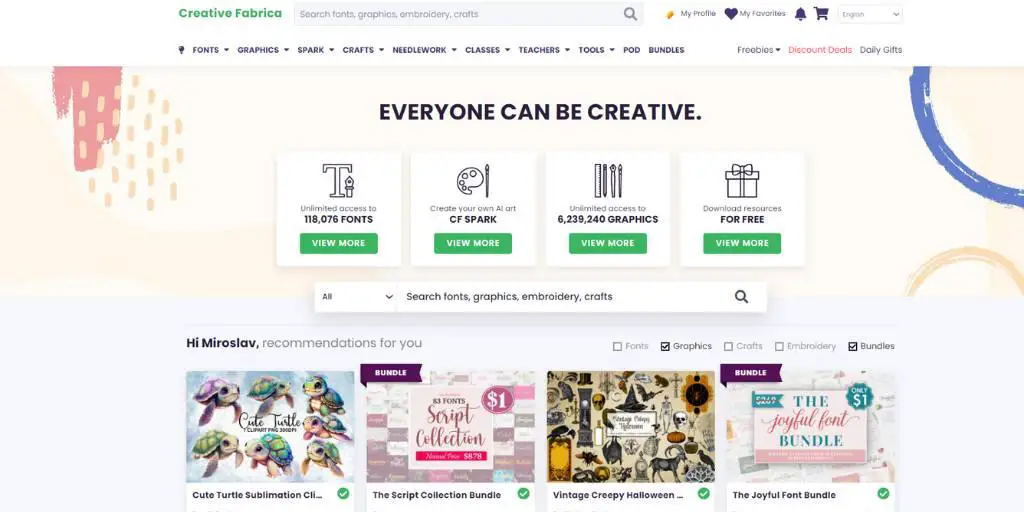 First up, we have Creative Fabrica, which I think is the best overall resource for purchasing low content book interiors.
Not only do they offer a wide variety of graphics and fonts, but they also have a dedicated section for KDP Interiors. As of the time I'm writing this, there are over 100,000 available KDP interiors on their website – that's a crazy amount!
Creative Fabrica's subscription-based model is a great way to get access to all the graphics, fonts, and KDP interiors you need to create and sell your low content books. It's an amazing offer, as it gives you everything you need all in one place!
I have an entire article dedicated to the Creative Fabrica All Access subscription, and if you wish, you can try it for just $1 for the first month.
Etsy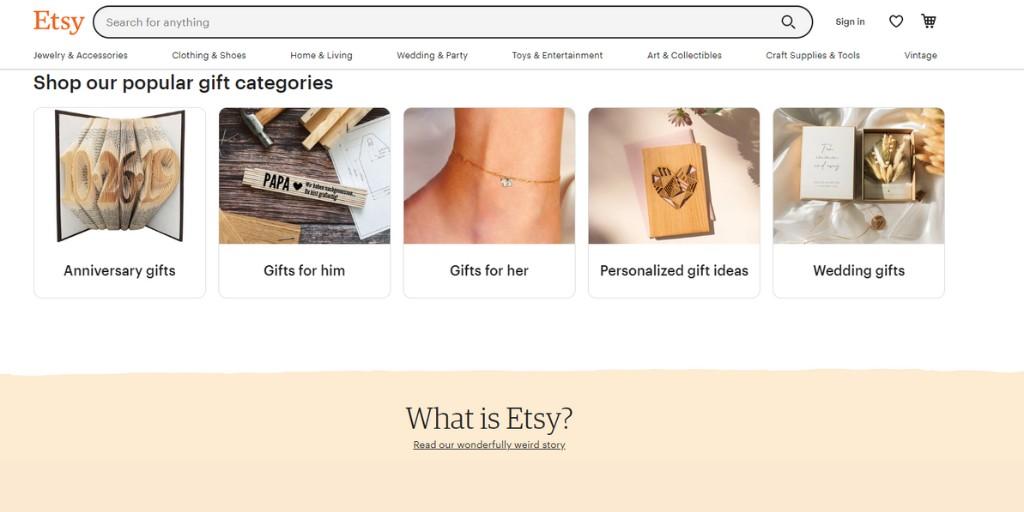 Next on the list is Etsy, my favorite marketplace where I sell my designs and digital products. Etsy is rapidly gaining popularity as the go-to online marketplace for independent designers wanting to showcase and sell their art, templates, and even KDP book interiors.
There's a huge selection of designs from designers who are experts in different fields, so you're sure to find something perfect for your needs.
And because independent designers create the designs, you'll have access to unique and original templates that you won't find anywhere else.
Book Bolt
Another service on this list is Book Bolt, which is a great choice for those looking for high-quality designs and affordability.
They offer a range of professionally-designed low content book templates, which you can access in multiple formats like PDF and Google Slides. This means you can use the templates without having to pay for additional software.
However, it is a paid service that will cost approximately $10 per month.
Another wonderful thing about Book Bolt is that they have acquired the licenses to provide you with their templates.
Now, you can use these templates without any worries as they are highly professional in design. I can vouch for this as I have used a few of them and I would definitely suggest them.
Canva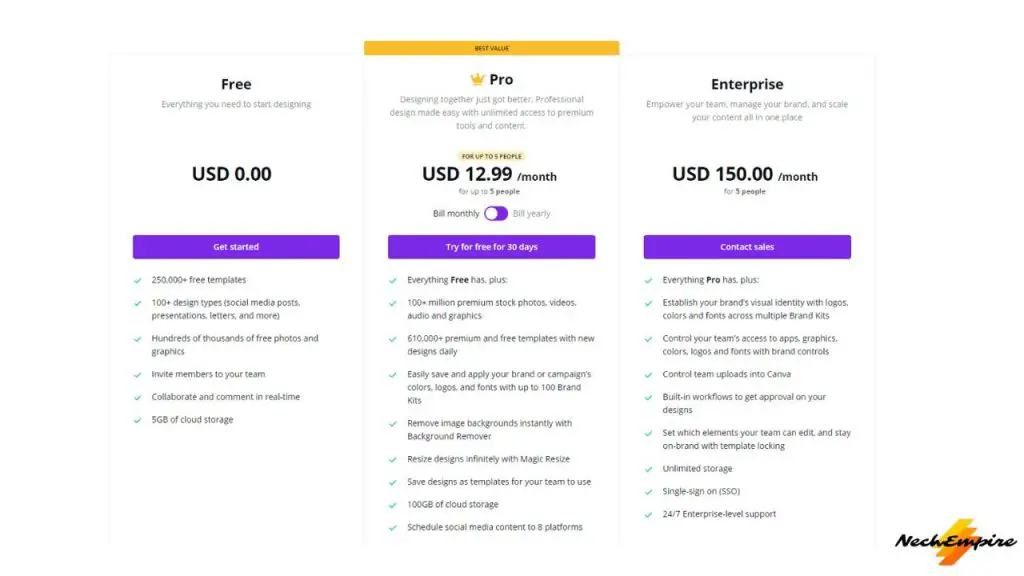 Canva is an incredible design platform, offering anyone tons of templates and resources even for low content books.
It has amazing education-specific templates like worksheets, lesson planners, and coloring pages, which are perfect for low content book creators!
Canva's user-friendly interface makes it also easy to create professional-looking designs without any prior design experience.
One of the things that Canva stands out, is the huge library of customizable templates. Forget spending long hours designing a new layout every time, you can choose one of the ready-made templates and tailor it to your needs.
Canva is free to use, but it also comes with a Pro plan, which is a more advanced version of its platform that offers more features and resources.
Though the Pro subscription images and elements can be used for other purposes, using them in books on Amazon KDP is impossible because of the stringent copyright and trademark violations regulations.
Tangent Templates
Another excellent resource for low content book creators. They offer a variety of high-quality interior designs, including planners, journals, and coloring books.
What makes Tangent Templates stand out is their pricing structure. You pay once and get lifetime access to all the resources, plus all future updates!
This is a great deal because it means you can create and publish your low content books without worrying about ongoing costs.
Tangent Templates are an asset to any self-publisher, providing a multitude of helpful tools. Their guide on Amazon KDP upload and cover design generation can be extremely advantageous for authors who are new to the process.
Gumroad
Gumroad is a marketplace very similar to Creative Fabrica. They offer a variety of low content book templates, including some of the best planner templates available.
Templates you can find on this marketplace are an absolute blessing for businesses. Not only are they beautifully designed, but also highly customizable and versatile.
Anyone who is starting with Amazon KDP will find interesting templates here.
Fiverr
While Fiverr is primarily known for offering services, there are also many sellers who offer low content book templates on the platform.
Fiverr is a great platform to find custom designs, but it's essential to be cautious when selecting the seller. Ensure you're buying from a genuine source and that they are authorized to sell or resell whatever graphics they're offering.
To ensure safe and secure purchases, it's important to send a message to the seller prior to purchasing their product in order to confirm that they are legally allowed to sell the product.
Conclusion
When it comes to producing low content books, there are a variety of resources available to meet your needs. From customizable templates and quality interiors to affordable design services – you can find something suitable for all your creative endeavors.
This makes it possible for anyone to bring their ideas into reality!
BONUS FOR YOU: Unleash your potential as a print-on-demand entrepreneur with this free guide – download now!
Here Are Some of My Favorite Tools For Print-on-demand
DESIGNS: For getting started, I like Kittl. It is a fantastic place with highly professional templates, that can be edited and used for print-on-demand. In my opinion, it is a go-to place for anyone who wants to make money with POD.
Another of my favorites is Creative Fabrica. They have millions of cheap graphics that can elevate your t-shirt design. If you are not the most skillful designer, then try Placeit or Vexels. These are platforms, where you can find thousands of pre-made t-shirt designs you can easily edit and publish on any print-on-demand platform. I recommend Placeit for beginners and after you get some sales move to Vexels.
GET UNLIMITED DIGITAL ASSETS – Envato Elements is a subscription-based digital assets platform that provides a wide range of digital assets. Whether you're in need of fonts, stock videos, photos, motion graphics, mock-ups, overlays, or brushes – you name it – Envato Elements is likely to have it. It's your one-stop service for all types of creative resources.
SELLING GRAPHIC DESIGNS – Freepik makes it simple to get your design in front of a huge audience of paying customers. It's a set-it-and-forget-it source of passive income. The earnings per download may seem small, but they can compound into decent money over time. And they are also accepting AI designs. Try it for free.
SELLING LOW-CONTENT BOOKS – Selling low-content and no-content books on Amazon can be a great way to boost your online income. I'm using Book Bolt to do the research, get pre-made interiors, and create covers. And you can try the platform for free.
Take your POD business to the next level. If you are serious about selling your designs on t-shirts, mugs, and other products, you need to sell them on the most significant marketplaces like Etsy or Amazon. It would be best if you also sold for the best prices through on-demand fulfillment companies like Printul or Printify.
Disclosure: Some of the links above may contain affiliate partnerships, meaning, at no additional cost to you, NechEmpire may earn a commission if you click through to make a purchase.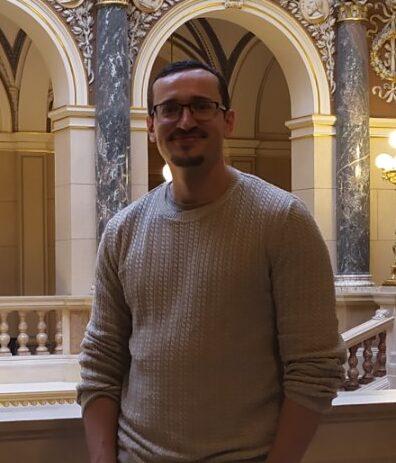 I'm Miroslav, a passionate graphic designer and AI enthusiast. At NechEmpire, I'm here to equip you with the knowledge and skills to turn your design passion into a thriving online business.
More Posts