(Last Updated On: November 20, 2021)
Find keywords with low competition and a decent search volume, put these keywords into the title, description, and tags, and you have a huge chance to rank on Google.
You've probably heard this from me many times.
And I'm pretty sure you often ask yourself questions like: Does it work at all? or Can I check which of my designs are ranking on Google?
I often read similar comments on the NechEmpire YouTube channel and that is why I decided to make this video.
I also know, this type of article is not for everyone who is using Redbubble for selling artworks, it is full of technical SEO stuff, but it can help you understand why I'm always talking about keywords and ranking on Google.  
To begin with, let me explain a few important things.
What Are Keywords on Redbubble
Keywords, also known as key phrases, are terms added to your design listing in order to improve search engine rankings for those terms.
Keywords you are using in the title and description of your Redbubble design are indexed by Google and can be found on the search engine result page of Google.
On the other hand, keywords you are using in the tags section are ranking only on the Redbubble search page. 
For example, if I type a funny orca sticker in the Google search bar, then in a few seconds, you will see a Google search result page. 
Simply put, this is what is ranking on Google for the funny orca sticker. All the images, and all the web pages. 
But when I open the first link from Redbubble, then what you see is a Redbubble search result page and the designs on this page are ranking because they are using the funny orca keyword in the tag section. 
This is proof that Google ranks Redbubble´s search pages.
To put it simply, when you use the same keyphrase in the tags, title and description then you have a chance to rank on the Redbubble search page and also on the Google search result page, and in the image and shopping search section. 
Which is insane, and creates many sales opportunities.
That's why I'm such a supporter of keywords and search-optimized listings on Redbubble.
And that's why you should always invest a few minutes to create a keyword-rich listing.
Find Out Which of Your Redbubble Designs are Ranking
If you already have a similar mindset, then you probably want to know how to check if Google is ranking some of your Redbubble designs.
And here comes a little complication. 
I assume you don't have a hundred dollars per month to use sophisticated SEO tools like Ahrefs or Semrush, and using free methods will not show you how high your designs are ranking.
The issue is, that you need to verify the ownership of the domain, or subdomain, in this case, your shop URL, to see the keyword rankings.
And that is not possible. 
But there is still a way to know which of your designs are indexed by Google. In other words, you can find designs that are on Google in some form. 
Let's go to Google and use this search operator – site:redbubble.com inurl:name of your shop
But don't forget to use your shop name in this section.
Then press enter.
For my shop on Redbubble, I'm using a search operator in this form – site:redbubble.com inurl:nechempire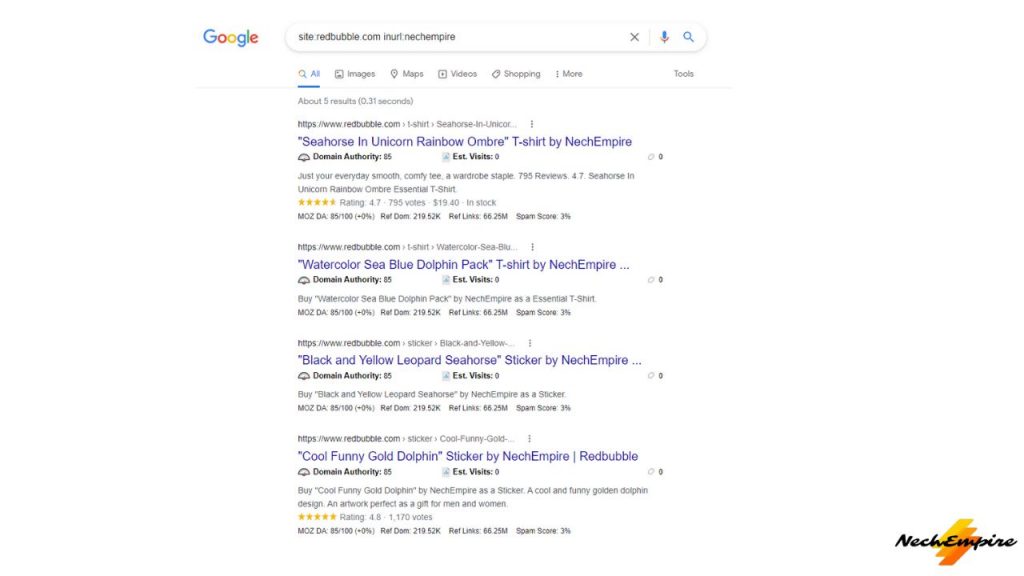 Since this search operator is set up for my shop, a shop on Redbubble I have created for tutorials only, there are not many designs on it.
But still, I have five indexed designs. 
However, these results are not correct. There are more designs from this shop that are indexed by Google. But for some reason, maybe because of the age of the shop, it is showing only 5 designs.
However, in the quotation marks, we can always see the ranking keywords. 
So, let's take, for example, this keyword… gold dolphin, and let's check if I'm ranking for this keyphrase.
Go to the incognito mode in Google, because you want to see the most relevant results and type golden dolphin. You can also add the product type like sticker or t-shirt after the keyword to get more relevant results.
On the Google search result page, we see Etsy, Amazon, and here is my listing. 
I'm already ranking for the gold dolphin keyword. This is because I used it in the title of the design listing and also in the description. 
Here, you can see, Google has picked up the part of the description I used on Redbubble and the bold words here are the keyphrases I have used. 
Let's open the link, and here we are. This is my design of a gold dolphin. 
You can check that I used a long-tail keyword in the title. So, I have an opportunity to rank not only for gold dolphin but also for funny dolphin, cool dolphin, and other combinations of these words.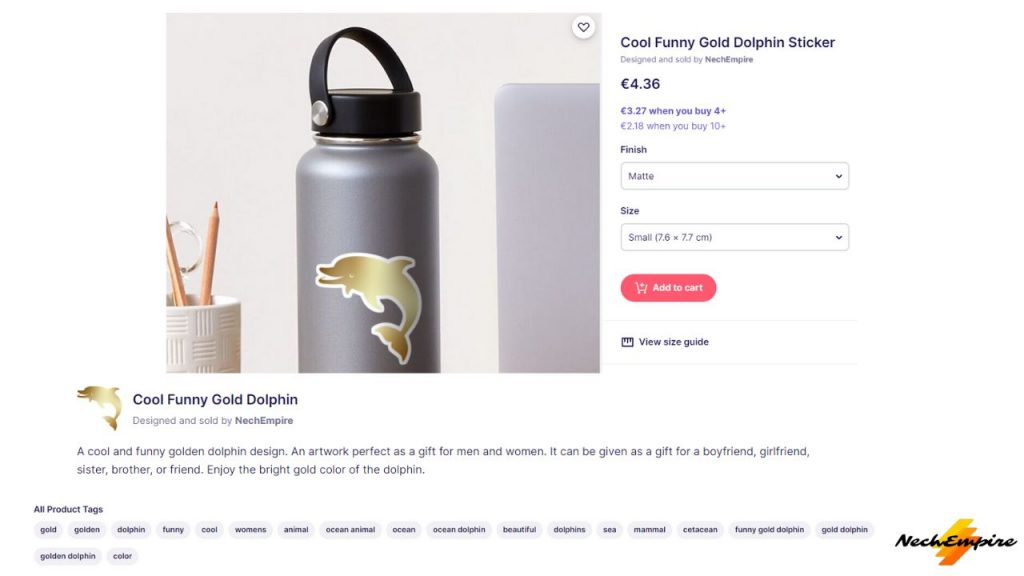 When I scroll down, you can see the description format. Here I have also used these keywords.
And when I scroll down into the tag section, it shows that I also used the same keywords as in the title and description. 
I understand, this is a time-consuming method to check ranking designs, but it is a free method. There is absolutely no need to pay for expensive keyword tools.
And a bonus tip.
Use Ahrefs Keywords Generator to See the Seach Volume
If you find a keyword you want to use, there is a free way to check if this keyphrase will have some traffic and can make you sales.
Go to the incognito mode, and type Ahrefs keyword generator, or use the link I put in the description.
Paste the keyword into the box field. This will actually tell us if it is worth making the design or not.
Here is a list of keyword ideas for the gold dolphin.
On the left side, is the long-tail keyword, and on the right side, there is the keyword difficulty score, where lower is better, and the monthly search volume.   
With this method, you are able to find some interesting keyword ideas for your new design. For example, the white gold dolphin keyword here is looking promising.
BONUS FOR YOU: Unleash your potential as a print-on-demand entrepreneur with this free guide – download now!
Here Are Some of My Favorite Tools For Print-on-demand
DESIGNS: For getting started, I like Kittl. It is a fantastic place with highly professional templates, that can be edited and used for print-on-demand. In my opinion, it is a go-to place for any person, who wants to make money with POD.
Another of my favorites is Creative Fabrica. They have millions of cheap graphics that can elevate your t-shirt design. If you are not the most skillful designer, then try Placeit or Vexels. These are platforms, where you can find thousands of pre-made t-shirt designs you can easily edit and publish on any print-on-demand platform. I recommend Placeit for beginners and after you get some sales move to Vexels.
I also use a platform called Simplified, which is an all-in-one tool that combines an AI writer, design editor, video editor, and social content planner into one simple platform. I love it. Just like Canva, Simplified has a free version, so you can try it here.
FREE DESIGNS: I love Canva. I'm using this platform almost every day. With Canva, you can create stunning t-shirt designs, they already have an entire section, where you can make your artwork from scratch or use some pre-made templates and edit them. Canva comes with two main pricing plans: FREE and PRO. And if you are a beginner, then I recommend the free plan, it should be enough for you.
SELL YOUR ART – Start selling your graphics, vectors, or photography on Wirestock to save time and make more money. Its Wirestock Program allows you to submit to multiple stock agencies and marketplaces in a single click. It is currently partnered with Shutterstock, Adobe, Alamy, Dreamstime, Pond5, and Depositphotos. Get a FREE account.
SELLING LOW-CONTENT BOOKS – Selling low-content and no-content books on Amazon can be a great way to boost your online income. Im using Book Bolt to do the research, get pre-made interiors, and create covers. And you can try the platform for free.
Take your POD business to the next level. If you are serious about selling your designs on t-shirts, mugs, and other products, you need to sell them on the biggest marketplaces like Etsy or Amazon. You should also sell for the best prices through on-demand fulfillment companies like Printul or Printify.
Disclosure: Some of the links above may contain affiliate partnerships, meaning, at no additional cost to you, NechEmpire may earn a commission if you click through to make a purchase.