I'm Miroslav, a passionate graphic designer and AI enthusiast. At NechEmpire, I'm here to equip you with the knowledge and skills to turn your design...Read more
(Last Updated On: September 27, 2021)
Redbubble is still a great platform for artists who want to make money from their designs. 
But to be successful on Redbubble doesn't mean you need to be a gifted designer. 
In my experience, you will make more sales and money when you start designing smarter.
What do I mean by this?
Before you create a design, do research, find what the customers are searching for and buying, and create a design around the niche or keywords you find.
So, in this article, I will show you how you can find niches without paying for tools, for free. 
How To Find What Sells on Redbubble
Let's go back to the Redbubble. 
Redbubble has hundreds of thousands of artists and millions of designs, and if you want to be found on this platform, keywords are a must. 
Redbubble is using its own algorithm and finding trending keywords is relatively easy. 
The simplest way to find what is trending on Redbubble is just by clicking inside the search box. Just click in the search box and type a letter and you will see trending searches.
While you can continue with this strategy and type another letter and look for a new search term, what if I tell you that it is even easier.
Yes, you can use a free tool called Redbubble Popular Tags. 
This is a completely free tool that can be used to boost your sales on Redbubble.
While the biggest downside of this tool is that it is updated only once a week, so the information is not the most accurate, it is still a free method to find a profitable niche and start selling designs in such a niche.
And you can always take advantage of this tool and get here on Monday, right after the update and be among the first to find something interesting. 
Let's take a closer look at this tool.
To get access to more information, I recommend changing the number of showing entries to the maximum. This little change can save you a ton of time.
As you see, there are four columns up here, and let me explain what each of the columns means and why they are so important for us.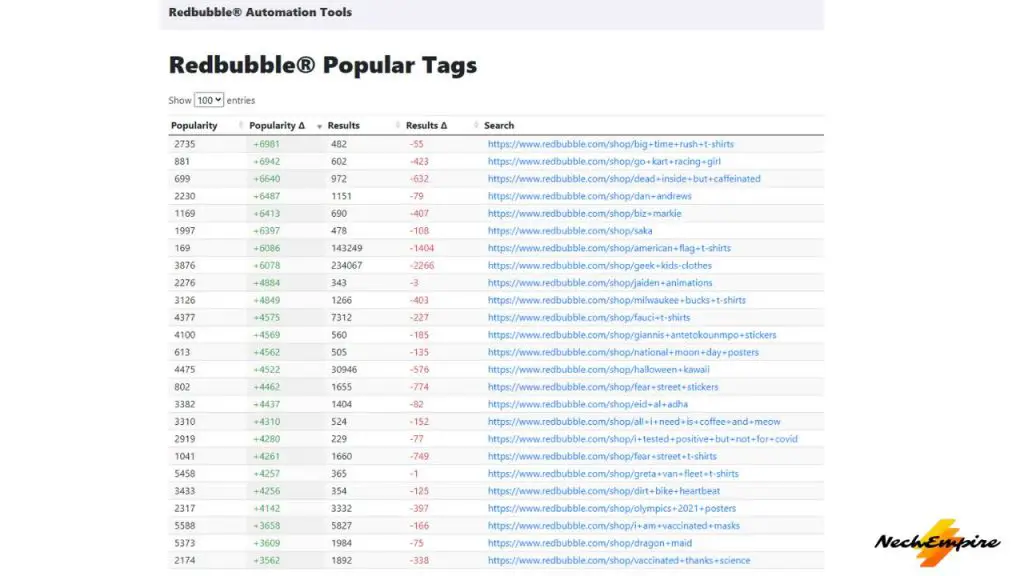 The first is popularity, which is showing the most popular item on Redbubble. In other words, the number one is the value of the most searched product on the entire website.
The next column is also a Popularity but it shows the change over the last week. If you click it, you can sort keywords by popularity. The red color for tags or search keywords that have lost popularity and the green color is for those who gained popularity.
The third column is for results and in my opinion, it is the most important thing you should focus on. 
The last one is also for results again, but it indicates the change over the last week. The red color in this column usually means how many designs have been removed by Redbubble or from designers. 
As I already mentioned, the third column is the most important for us.
Go ahead and sort the values in ascending order.
When I'm looking for a profitable tag or keyword, I like to find a keyword with less than 1000 results.
In my experience, such a keyword is less competitive, and is relatively easy to create a design that will show up on the first page. 
So, if you find a keyword with a low number of results, take a look, if it is gaining in popularity.
If it is something that meets all criteria, then check what it actually is. See if it is something you create a good design for and always, always make sure it is not copyright infringement or intellectual property theft.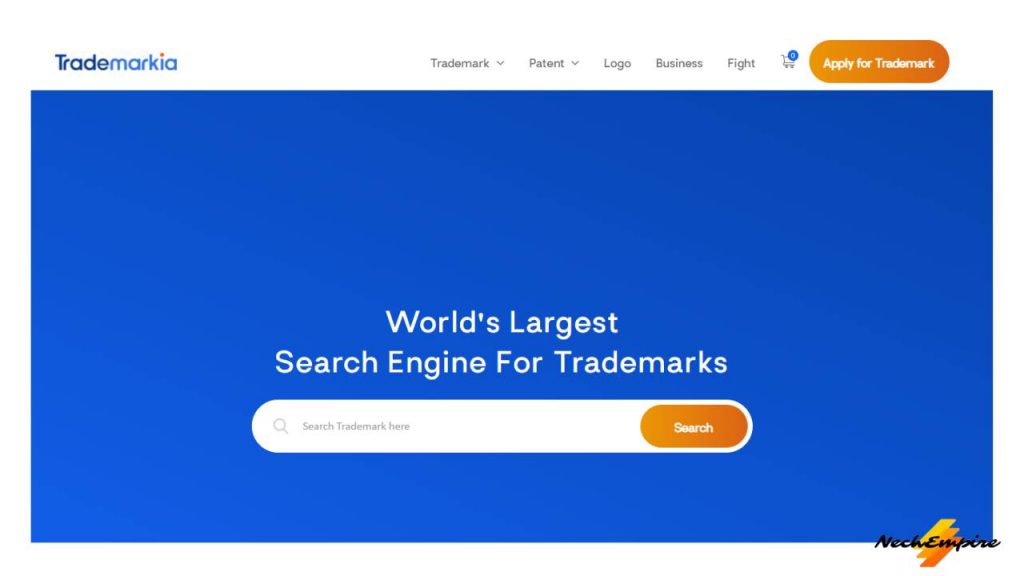 Because you don't want to get yourself in trouble and get banned from Redbubble or any other print-on-demand platform. 
When you scroll down the website, you can see that it is showing 1 to 100 of 10 000 entries. This is a lot of information to work with and you can definitely find something that you are interested in. 
This method can give you a huge advantage over most people who are using Redubble for selling their art. 
And the last thing at the end. 
For consistent sales, it is always better to create designs for evergreen niches. At least 80 percent of your work should consist of evergreen designs and just 20 percent should be trends.
Even though focusing on trends can be a quick income, I think it's an illusion, in most cases. 
While trends can earn you money fast, it's not going to last due to the competition, and spamming.
If you want to be successful with print-on-demand, try to focus on lower competition phrases and develop a long-time strategy.
Remember that selling on Print on Demand websites takes time and patience, most people have to wait a few months before they get that first sale.
BONUS FOR YOU: Unleash your potential as a print-on-demand entrepreneur with this free guide – download now!
Here Are Some of My Favorite Tools For Print-on-demand
DESIGNS: For getting started, I like Kittl. It is a fantastic place with highly professional templates, that can be edited and used for print-on-demand. In my opinion, it is a go-to place for anyone who wants to make money with POD.
Another of my favorites is Creative Fabrica. They have millions of cheap graphics that can elevate your t-shirt design. If you are not the most skillful designer, then try Placeit or Vexels. These are platforms, where you can find thousands of pre-made t-shirt designs you can easily edit and publish on any print-on-demand platform. I recommend Placeit for beginners and after you get some sales move to Vexels.
GET UNLIMITED DIGITAL ASSETS – Envato Elements is a subscription-based digital assets platform that provides a wide range of digital assets. Whether you're in need of fonts, stock videos, photos, motion graphics, mock-ups, overlays, or brushes – you name it – Envato Elements is likely to have it. It's your one-stop service for all types of creative resources.
SELLING GRAPHIC DESIGNS – Freepik makes it simple to get your design in front of a huge audience of paying customers. It's a set-it-and-forget-it source of passive income. The earnings per download may seem small, but they can compound into decent money over time. And they are also accepting AI designs. Try it for free.
SELLING LOW-CONTENT BOOKS – Selling low-content and no-content books on Amazon can be a great way to boost your online income. I'm using Book Bolt to do the research, get pre-made interiors, and create covers. And you can try the platform for free.
Take your POD business to the next level. If you are serious about selling your designs on t-shirts, mugs, and other products, you need to sell them on the most significant marketplaces like Etsy or Amazon. It would be best if you also sold for the best prices through on-demand fulfillment companies like Printul or Printify.
Disclosure: Some of the links above may contain affiliate partnerships, meaning, at no additional cost to you, NechEmpire may earn a commission if you click through to make a purchase.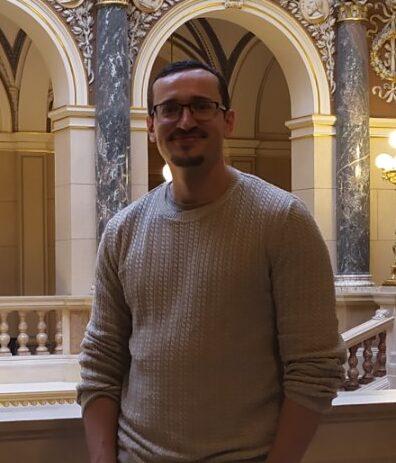 I'm Miroslav, a passionate graphic designer and AI enthusiast. At NechEmpire, I'm here to equip you with the knowledge and skills to turn your design passion into a thriving online business.
More Posts