(Last Updated On: November 20, 2021)
Hey everyone, it is me Miroslav, from NechEmpire, a website where you can learn a lot about the print-on-demand business.
Yes, business, because to be successful with print-on-demand, and it doesn't matter if we are talking about Redbubble, Spreadshirt, Etsy, or Merch by Amazon, you need to approach it like a business.
Then you can be successful, you need to have a long-term plan.
And in this article, I will talk about Redbubble traffic and explain to you what you should do to get more exposure, more customers, and maybe, more sales.
Redbubble Traffic Explained
While there are many methods to drive traffic to your Redbubble designs, not all traffic is suitable for it, and not all people become your customers. 
I've always been a big believer that at the beginning, you should only use free ways to generate traffic to your Redbubble shop.
However, the free method, in this case, means hard work, patience, and consistency. 
When something is free, then it is not free at all. It cost time and effort. 
In the beginning, there are two main ways you should focus on to promote your designs. 
Direct Traffic
The first method I like to use is direct traffic. Direct traffic means that you are actively promoting your designs on social media. I'm talking about Facebook, Instagram, Pinterest, or Tumblr. 
While the conversion of this traffic source is not the best, it is still a great way to find new customers. And it is free.
If you have a niche store on Redbubble, a store that is focusing only on one category, then you can easily create a theme page on Instagram, Pinterest, or Facebook, and create a community around such a page. 
While it sounds easy, it is not. 
You need to be active on social media, posting something interesting every single day. 
That is why you need to diversify your traffic. Don't put all eggs in one basket. 
Organic Traffic
So, let me explain to you the second and more important traffic source… It is called organic traffic, and we are talking about exposure through Google searches. 
The great thing about organic traffic is, when done correctly, it can drive targeted customers to your designs for months or years. 
And this is incredible. 
However, in order to get more organic traffic, you need to optimize your titles, descriptions, and tags.
It is called Search Engine Optimization, SEO in short, and it is a way to convince Google to rank your listings, images, or entire shop. 
Direct vs Organic Traffic on Redbubble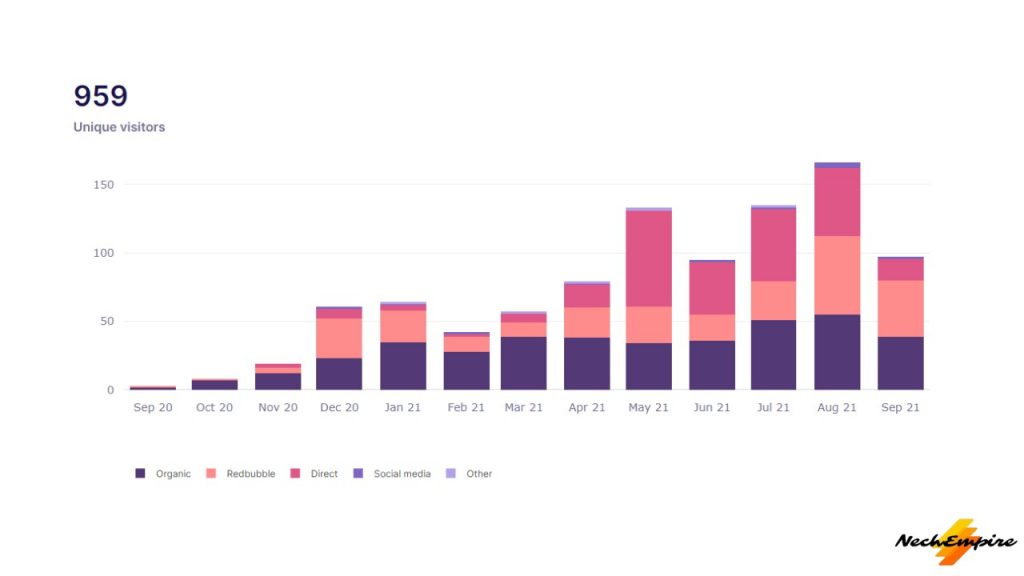 When choosing between direct and organic traffic, I like to use organic traffic as the main source of how people are finding my artwork. 
But you can do both at once, but be patient.
Gaining followers on social media or ranking on Google search takes time. 
In my world of authority websites, where I'm trying to rank articles, it takes up to 6 months to see if the article is ranking if it was written correctly with the right keywords.   
With Redbubble listings it is faster, but to see the full potential, you need to wait.
But still, trying to rank your designs on Google is the best way to get more exposure. And with the organic method, you can also get more traffic outside Google.
For example, somebody has a website about design and likes your artwork. So, he uses your image on his website and links back to the original image. 
This is called a backlink, and it can boost the ranking of your Redbubble listing and can also send a new audience to your design.
So, I think, you should spend time optimizing your design listings on Redbubble for search engines, creating keyword-rich titles, tags and descriptions.
Enough Traffic But No Sales on Redbubble
But what if you did everything correctly, and still not getting sales?
What are you doing wrong?
The best way is to check your traffic either on Redbubble or in Google Analytics. 
If you see, you are getting tons of traffic, but there are no sales, then the reason is that your designs are not good enough. 
Simply put, people don't like your designs. 
It is cruel, but it is true.
Customers on Redbubble are seeing tons of designs, they are choosing designs they like best. 
And maybe, your designs are not for them. 
If you have no sales, but you already uploaded over 100 hundred designs, then you need to get better at designing or in keyword research.
My advice is simple.
To get more sales on Redbubble, improve your designs, improve SEO of your listings and try to get more followers on social media. 
BONUS FOR YOU: Unleash your potential as a print-on-demand entrepreneur with this free guide – download now!
Here Are Some of My Favorite Tools For Print-on-demand
DESIGNS: For getting started, I like Kittl. It is a fantastic place with highly professional templates, that can be edited and used for print-on-demand. In my opinion, it is a go-to place for any person, who wants to make money with POD.
Another of my favorites is Creative Fabrica. They have millions of cheap graphics that can elevate your t-shirt design. If you are not the most skillful designer, then try Placeit or Vexels. These are platforms, where you can find thousands of pre-made t-shirt designs you can easily edit and publish on any print-on-demand platform. I recommend Placeit for beginners and after you get some sales move to Vexels.
I also use a platform called Simplified, which is an all-in-one tool that combines an AI writer, design editor, video editor, and social content planner into one simple platform. I love it. Just like Canva, Simplified has a free version, so you can try it here.
FREE DESIGNS: I love Canva. I'm using this platform almost every day. With Canva, you can create stunning t-shirt designs, they already have an entire section, where you can make your artwork from scratch or use some pre-made templates and edit them. Canva comes with two main pricing plans: FREE and PRO. And if you are a beginner, then I recommend the free plan, it should be enough for you.
SELL YOUR ART – Start selling your graphics, vectors, or photography on Wirestock to save time and make more money. Its Wirestock Program allows you to submit to multiple stock agencies and marketplaces in a single click. It is currently partnered with Shutterstock, Adobe, Alamy, Dreamstime, Pond5, and Depositphotos. Get a FREE account.
SELLING LOW-CONTENT BOOKS – Selling low-content and no-content books on Amazon can be a great way to boost your online income. Im using Book Bolt to do the research, get pre-made interiors, and create covers. And you can try the platform for free.
Take your POD business to the next level. If you are serious about selling your designs on t-shirts, mugs, and other products, you need to sell them on the biggest marketplaces like Etsy or Amazon. You should also sell for the best prices through on-demand fulfillment companies like Printul or Printify.
Disclosure: Some of the links above may contain affiliate partnerships, meaning, at no additional cost to you, NechEmpire may earn a commission if you click through to make a purchase.