(Last Updated On: January 9, 2022)
Getting your first sale on Redbubble is an important milestone for a new seller.
It is important because you will know that the print-on-demand model works. It is also important because a stranger is interested in your design.
And to that, it is also a great relief and a hint of future success with print-on-demand.
But the problem is that a lot of people won't get their first sale.
Whether because they are impatient, do not have enough quality designs, or focus on the bad niche.
I have been waiting for my first sale for almost 6 months.
How to Get Your First Sales on Redbubble
There were several reasons, but the worst part was that I didn't know what I was doing.
It wasn't until I realized I had to focus on a certain category, and started creating a lot of niche designs, then I started making sales.
The truth is that you have to focus on a niche. The niche is a category with a small, specific, and targeted audience. The more specific, the better.
It is important to have a niche that will give you consistent sales in the long run, but finding such a niche is insanely hard for new sellers.
Best Niches on Redbubble For Beginners
Compared to many people, I have the advantage of owning several authority websites for many years, so I'm knowing a bit about SEO and keyword research.
But I also understand that many people do not have such experience.
No worries!
In this article, I will show you 4 niches that bring me the most sales.
And I'm sure the first two places will surely surprise you.
Funny Workout Designs
The first category I want to mention is funny workout designs. If you have not decided your niche yet or you are a new seller on Redbubble, you could create a ton of designs around funny workout stuff. For ideas, I like to go to Pinterest, Tumblr, and meme pages.
The great thing is that you can find ideas almost everywhere. Every season there are new memes that come up, funny sayings that come up, there are new health categories that come up.
If you are new, then you should consider doing funny workout designs.
Christianity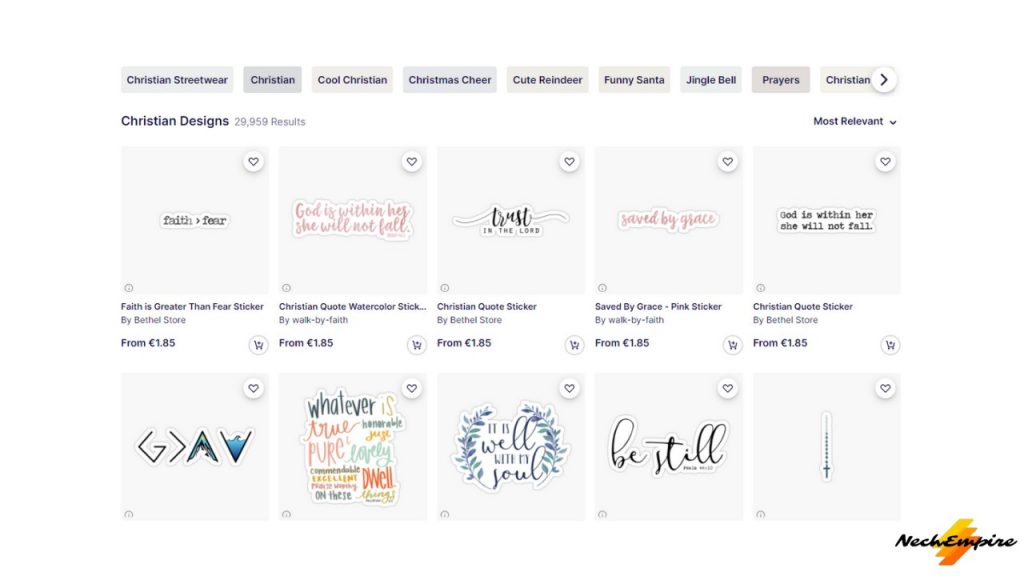 The next category I want to show you is Christianity.
Religious people are very passionate and they buy a lot of interesting stuff.
Your designs should be around positivity. About hope and faith
You can also take verses from the Bible and create a cool-looking design around it. And don't worry, sayings and quotes from the Bible are not copyrighted.
I like to create designs with Christian crosses, sometimes simple, sometimes with a little twist, but I can say you, they are selling pretty well.
Numbers
The next niche you should focus your effort on are numbers. Yes, you heard me write. For some reason, people like to buy numbers.
And when you go to Redbubble and search for example, for number 22, you can see just around 1000 results, which is great. The cool fact with numbers is that you can make 99 or 100 designs in a row.
Just scroll down the page, take notes, get inspired.
Be creative and make some interesting designs around numbers, and don't forget Roman numerals, they are also worth trying.
Letters and Alphabet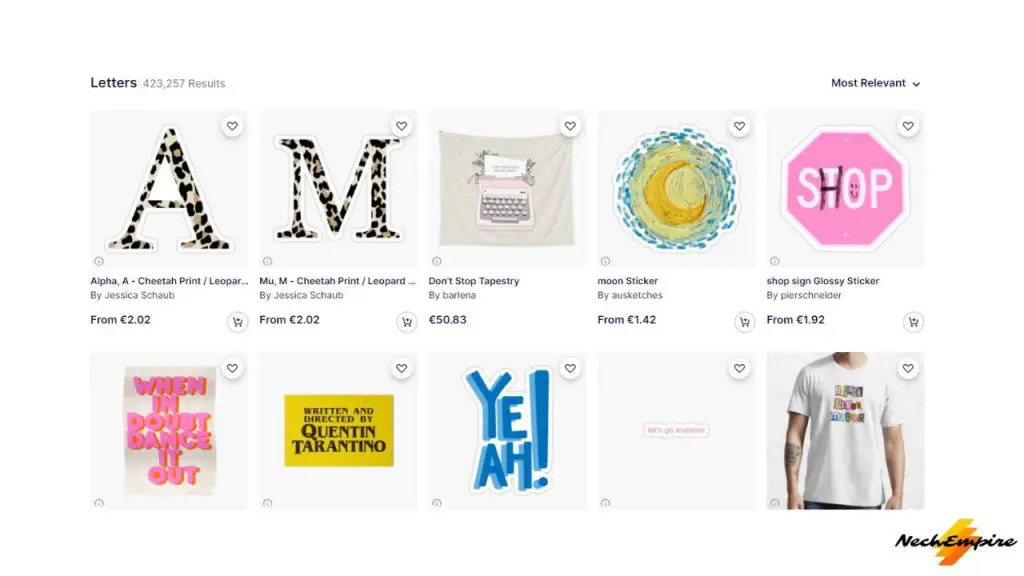 So, what is my best-selling niche on Redbubble?
It is a category that even a non-designer like me can make sales. I'm talking about the Alphabet or rather letters if you want.
I don't know why, but people on Redbubble and Spreadshirt, where I also sell my designs, are buying letters like crazy.
While these are mostly stickers, they are buying more than one letter.
Even recently, someone bought 10 stickers with X letter from me. This is crazy, and most ridiculous is that creating such a design takes about 10 seconds.
Let's go to Redbubble and search for Letter A. While there are over 50 thousand results, don't worry. Most designers that are selling alphabet letters are not using tags and SEO-optimized descriptions correctly, so you can outrank them at least on Google.
Just scroll down and take a look at a few designs. They are simple.
BONUS FOR YOU: Unleash your potential as a print-on-demand entrepreneur with this free guide – download now!
Here Are Some of My Favorite Tools For Print-on-demand
DESIGNS: For getting started, I like Kittl. It is a fantastic place with highly professional templates, that can be edited and used for print-on-demand. In my opinion, it is a go-to place for any person, who wants to make money with POD.
Another of my favorites is Creative Fabrica. They have millions of cheap graphics that can elevate your t-shirt design. If you are not the most skillful designer, then try Placeit or Vexels. These are platforms, where you can find thousands of pre-made t-shirt designs you can easily edit and publish on any print-on-demand platform. I recommend Placeit for beginners and after you get some sales move to Vexels.
I also use a platform called Simplified, which is an all-in-one tool that combines an AI writer, design editor, video editor, and social content planner into one simple platform. I love it. Just like Canva, Simplified has a free version, so you can try it here.
FREE DESIGNS: I love Canva. I'm using this platform almost every day. With Canva, you can create stunning t-shirt designs, they already have an entire section, where you can make your artwork from scratch or use some pre-made templates and edit them. Canva comes with two main pricing plans: FREE and PRO. And if you are a beginner, then I recommend the free plan, it should be enough for you.
SELL YOUR ART – Start selling your graphics, vectors, or photography on Wirestock to save time and make more money. Its Wirestock Program allows you to submit to multiple stock agencies and marketplaces in a single click. It is currently partnered with Shutterstock, Adobe, Alamy, Dreamstime, Pond5, and Depositphotos. Get a FREE account.
SELLING LOW-CONTENT BOOKS – Selling low-content and no-content books on Amazon can be a great way to boost your online income. Im using Book Bolt to do the research, get pre-made interiors, and create covers. And you can try the platform for free.
Take your POD business to the next level. If you are serious about selling your designs on t-shirts, mugs, and other products, you need to sell them on the biggest marketplaces like Etsy or Amazon. You should also sell for the best prices through on-demand fulfillment companies like Printul or Printify.
Disclosure: Some of the links above may contain affiliate partnerships, meaning, at no additional cost to you, NechEmpire may earn a commission if you click through to make a purchase.