(Last Updated On: September 27, 2021)
Redbubble is an awesome Print on Demand platform that enables users to monetize their designs by selling it on different products. 
I have already created over 200 designs and aim to upload hundreds of designs on the platform this year.
As the owner of many websites, I also know how important it is to analyze the traffic and most visited pages.
In this article, I will show you how to set up Google Analytics for your Redbubble shop. 
Connect Google Analytics to Redbubble Shop
With Google Analytics you can get a better insight into how your customers are interacting with the products you have already designed. 
You can get pretty valuable data such as number of visitors, page views, the most popular products and more. 
Starting in 2021, Google has updated the platform, so there is a new process to generate the UA tracking code.
So, let's go to your Google Analytics account to create a tracking code you can add to your Redbubble shop. 
The web address is analytics.google.com.
You have to log in with your Gmail account to get access to Google Analytics. If you don't have a Gmail account, you need to create one.   
Now, when you are in the dashboard, go down to the admin tab.
Here is where you can easily create your new account and property to generate the tracking code. 
To create the new UA tracking code, click on the blue Create Account button. 
Now, you will see a new account setup window, where you need to enter your account details. 
So, add an account name and then scroll down and click on next.
Now, it is time to create a property for your new account. Fill in the Property name, select your country, your time zone, and select the currency. 
In the next step, it is important to click on the Show advanced options link. 
This action will get you the option to create a UA property, which is your UA tracking code. 
Enable this by clicking the switch on the right hand side.  
After you enable this option, a few more options will appear. Under the website URL, enter the Redbubble.com 
You can then create both a Google Analytics 4 code and a Universal Analytics property code. Since you only need a UA tracking code for the Redbubble shop, you need to select the second one.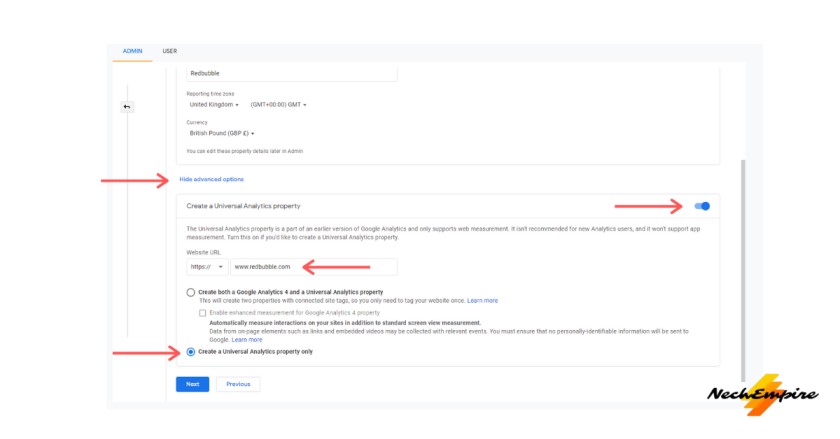 Click on Next and then fill out your business information. Once you're finished, go ahead and click on create. 
Accept all the terms of service in the pop-up window you see. 
Congratulations, you've just created your Google Analytics UA tracking code.   
How to add UA tracking code to Redbubble shop
Copy the tracking code and go to your Redbubble account. 
Under the Account Details, find the Google Analytics option, it is on the left side. 
Now paste the tracking code into the field for the Web Property ID and then click the Save Changes button.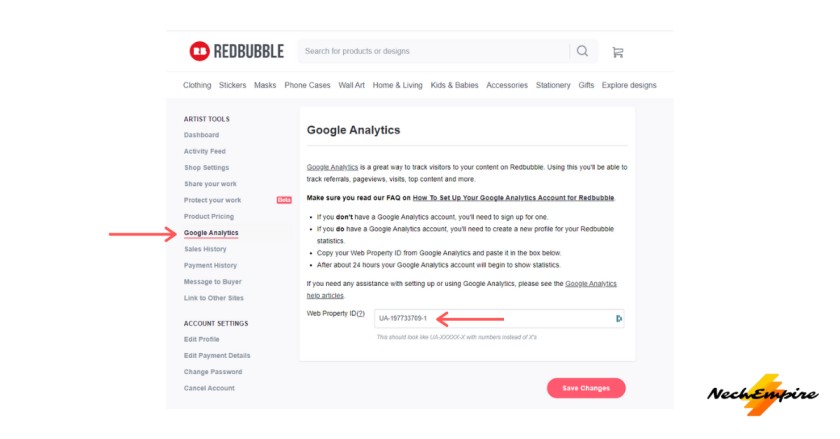 That's it. The Google Analytics Settings has been saved and after about 48 hours, your tracking code will start generating data about the Redbubble shop. 
When you want to look at them, you just go to the Google Analytics dashboard and click on all the website data.
Here, you can easily monitor all actions that people are taking when visiting your shop on Redbubble. 
Here Are Some of My Favorite Tools For Print-on-demand
Thank you for reading this article. I hope you found it helpful as you build your own print-on-demand business.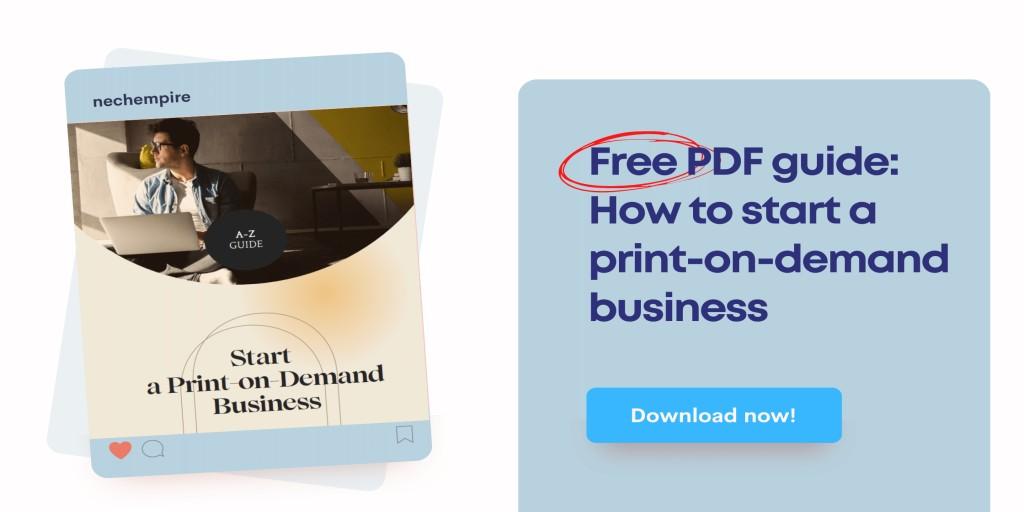 Here are also some tools I use as a designer that I hope you will also find helpful.
Designs: For getting started, I really like Kittl. It is a fantastic place with highly professional templates, that can be edited and used for print-on-demand. In my opinion, it is a go-to place for any person, who wants to make money with POD.
Another of my favorites is Creative Fabrica. They have millions of cheap graphics that can elevate your t-shirt design. If you are not the most skillful designer, then try Placeit or Vexels. These are platforms, where you can find thousands of pre-made t-shirt designs you can easily edit and publish on any print-on-demand platform. I recommend Placeit for beginners and after you get some sales move to Vexels.
Free Designs: I love Canva. I'm using this platform almost every day. With Canva, you can create stunning t-shirt designs, they already have an entire section, where you can make your artwork from scratch or use some pre-made templates and edit them. Canva comes with two main pricing plans: FREE and PRO. And if you are a beginner, then I recommend the free plan, it should be enough for you.
If you need a fast graphic tool for creating stunning designs, you should try Kitll. This is a next-generation design creation platform new online graphic design tool. It is an insanely fast and easy-to-use graphic tool similar to Canva.
Sell Your Art on Etsy for Free: Fear no more. Simply open an Etsy store via this link and you will receive 40 listings absolutely free of charge. This means 40 products you can sell for free. Once you click on the link for 40 free listings, you be walked through the process of opening your own store. It is fast, easy, and fun! (NOTE: Free listings are available only for Etsy members located in certain countries or using certain currencies.)
Take your POD business to the next level. If you are serious about selling your designs on t-shirts, mugs, and other products, you need to sell them on the biggest marketplaces like Etsy or Amazon. You should also sell for the best prices through on-demand fulfillment companies like Printul or Printify.
Disclosure: Some of the links above may contain affiliate partnerships, meaning, at no additional cost to you, NechEmpire may earn a commission if you click through to make a purchase.