I'm Miroslav, a passionate graphic designer and AI enthusiast. At NechEmpire, I'm here to equip you with the knowledge and skills to turn your design...Read more
(Last Updated On: October 18, 2022)
Redbubble is an online marketplace for independent artists and designers to sell their creations.
Artists can upload their designs to a wide range of products like clothing, phone cases, home decor, and other merchandise items.
They can also create their own shops on the website with their own branding where they can sell their products.
But the question is if you already have one shop on Redbubble, can you open another one, in a different niche?
In this article, I will try to explain to you all you need to know about this topic.
Can You Have More Than One Redbubble Store?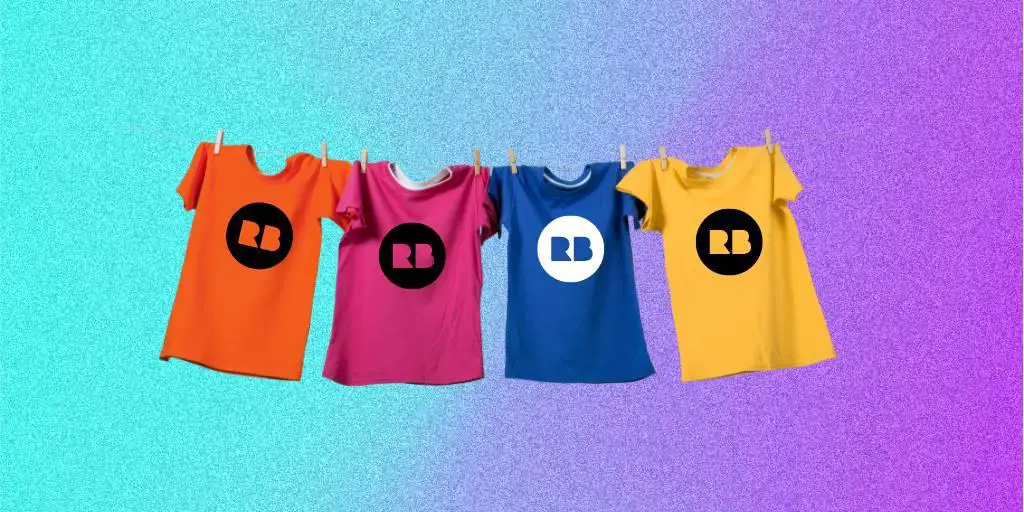 Redbubble has a longstanding history of supporting artists who want to start their own stores. Opening a store on this platform is relatively easy and all you need is a verified email address.
And comes is a catch.
One Redbubble account can have only one store, which is a strict policy of this company.
So, if you want to open a second store, you have created another account on Redbubble with a different email address.
It simply means each email address can only be registered to one store at a time.
However, you can use the same personal and billing information on each of these accounts, so when you make money, you can get paid to the same Paypal or bank account.
Is It Worth Opening Multiple Stores On Redbubble
The question here is why should you open another store on Redbubble? And the answer is quite simple: you can focus on another niche.
There is something really important about making money online. And this is not only about Redbubble but in general. If you want to be successful in selling items on the Internet, you have to find a niche and focus on it.
Most of us who open a store on Redbubble are creating a general store, where we showcase our art style.
And this is nothing bad; a general store with hundreds of designs can give you a few sales in a month, and it's also quite easy to get traffic to such a store because you can target every single keyword you found.
However, the conversion rate of general stores is low.
As a seller on Redbubble, I have a general store too. With my first Redbubble account, I created a store with over 700 designs in different niches, with the aim to get most of my designs to rank on Google and other search engines.
And this is a huge advantage of having a general store. You can easily create over 1,000 designs in different niches, test what works, try to rank, and make sales.
However, besides the general store on Redbubble, I have also two other niche-focused stores.
Having a store, that is focusing on one specific category can be surprisingly rewarding. This is because, you can build a brand around it, and you can attract buyers who are passionate about that particular style or product.
And this can be huge because the conversion rate for niche stores is higher than for general.
I recommend starting with a general, unfocused shop to test different styles and different niches, and then adding multiple niche stores to attract specific buyers.
Important: Do This Before You Open Another Account on Redbubble
Before you decide to open another account on Redbubble, I highly recommend that you keep these few things in mind.
Firstly, to be sure, contact Redbubble customer support and request confirmation that you can create multiple stores. When you receive the email from Redbubble that allows you to create another store, archive it for evidence in case your new store gets suspended.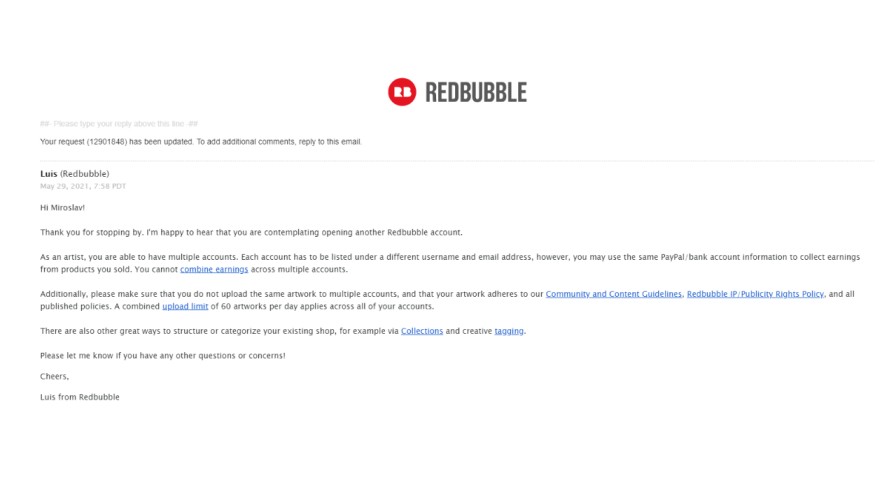 The next thing to keep in the mind is that you cannot upload the same designs on multiple stores. This would be considered duplicate content and Redbubble would definitely ban you from their platform.
The last important thing is that you cannot upload more than 60 designs per day across all your stores. Do not extend this limit, because it will result in a ban on every store you own.
Bottom Line
It is important to have a clear understanding of your goals before you start creating your store on Redbubble. If you are not sure about the audience you want to target, just create a general store, where you upload designs in different styles, and in different niches focusing on raking your designs on Redbubble and Google.
After you have a clear plan, open another store that is focused on a specific audience. This way you can build a niche authority and even a brand.
BONUS FOR YOU: Unleash your potential as a print-on-demand entrepreneur with this free guide – download now!
Here Are Some of My Favorite Tools For Print-on-demand
DESIGNS: For getting started, I like Kittl. It is a fantastic place with highly professional templates, that can be edited and used for print-on-demand. In my opinion, it is a go-to place for anyone who wants to make money with POD.
Another of my favorites is Creative Fabrica. They have millions of cheap graphics that can elevate your t-shirt design. If you are not the most skillful designer, then try Placeit or Vexels. These are platforms, where you can find thousands of pre-made t-shirt designs you can easily edit and publish on any print-on-demand platform. I recommend Placeit for beginners and after you get some sales move to Vexels.
GET UNLIMITED DIGITAL ASSETS – Envato Elements is a subscription-based digital assets platform that provides a wide range of digital assets. Whether you're in need of fonts, stock videos, photos, motion graphics, mock-ups, overlays, or brushes – you name it – Envato Elements is likely to have it. It's your one-stop service for all types of creative resources.
SELLING GRAPHIC DESIGNS – Freepik makes it simple to get your design in front of a huge audience of paying customers. It's a set-it-and-forget-it source of passive income. The earnings per download may seem small, but they can compound into decent money over time. And they are also accepting AI designs. Try it for free.
SELLING LOW-CONTENT BOOKS – Selling low-content and no-content books on Amazon can be a great way to boost your online income. I'm using Book Bolt to do the research, get pre-made interiors, and create covers. And you can try the platform for free.
Take your POD business to the next level. If you are serious about selling your designs on t-shirts, mugs, and other products, you need to sell them on the most significant marketplaces like Etsy or Amazon. It would be best if you also sold for the best prices through on-demand fulfillment companies like Printul or Printify.
Disclosure: Some of the links above may contain affiliate partnerships, meaning, at no additional cost to you, NechEmpire may earn a commission if you click through to make a purchase.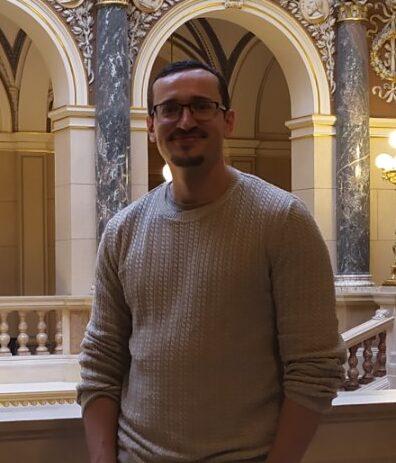 I'm Miroslav, a passionate graphic designer and AI enthusiast. At NechEmpire, I'm here to equip you with the knowledge and skills to turn your design passion into a thriving online business.
More Posts