I'm Miroslav, a passionate graphic designer and AI enthusiast. At NechEmpire, I'm here to equip you with the knowledge and skills to turn your design...Read more
(Last Updated On: May 2, 2022)
When considering selling your artwork on Redbubble, you need to make sure that you focus on your niche and identify the words and phrases that people would search for.
This is known as keyword research.
It can take a lot of time, but it will be worth the effort if you want to be successful on the site.
In my opinion, search engine optimization is crucial to high rankings on Redbubble.
Keyword research is the first step that you need to take. It will ensure that you will have a specific focus and be able to optimize your products with the right keywords.
And in this article, I want to share with you my favorite Google Chrome extensions for Redbubble that I'm using to find interesting long-tail keyword combinations.
And one great fact about all these extensions is that they are free to use.
I'm using these tools every time I need to find new keywords, but only one of these extensions is a real game-changer, that will definitely help you with your print-on-demand effort.
Ubersuggest Chrome Extension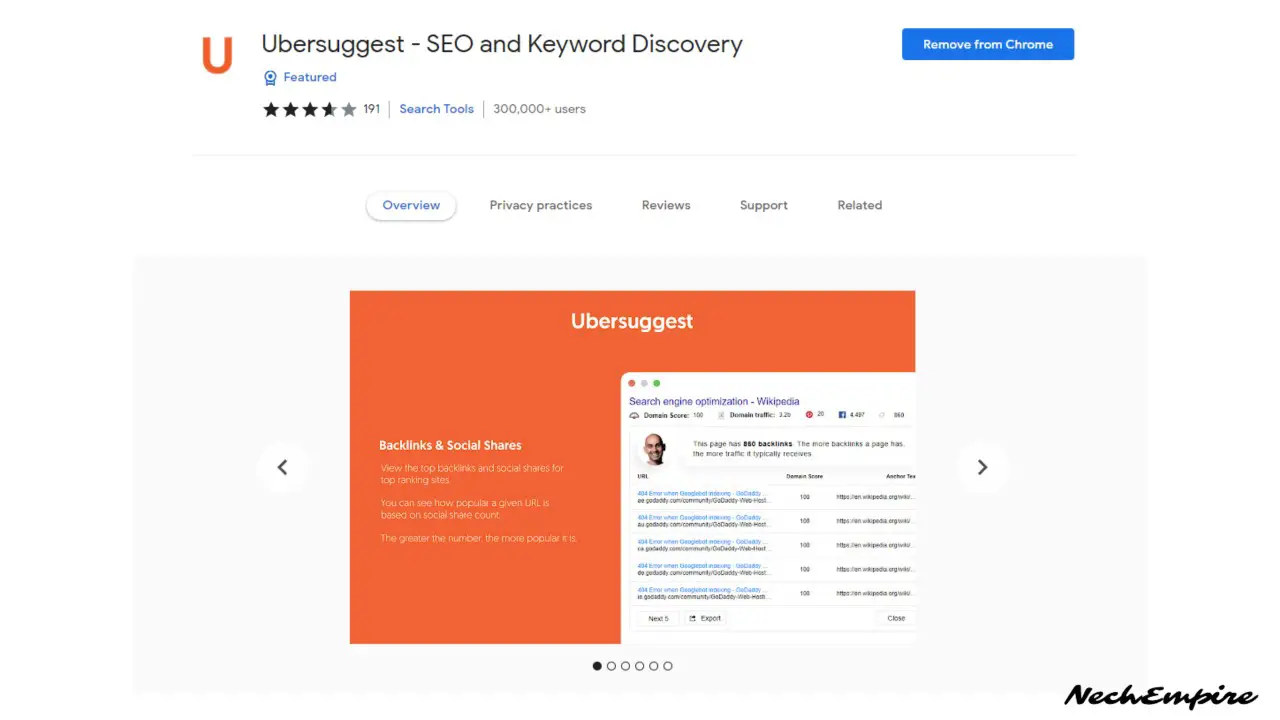 The founder of Ubersuggest, Neil Patel, is one of the leading personalities in the field of online marketing. Today, most people use Ubersuggest to find new keyword ideas for their online content, but it can also be used to find interesting keywords for Redbubble or any other print-on-demand platform.
While Ubersuggest is a paid tool, it comes with the Ubersuggest free Chrome extension that simplifies keyword research.
This extension allows you to search through the top related keyword suggestions or by the most popular, making it easy to find just what you are looking for. In other words, it allows you to find long-tail keywords by looking at the most popular searches in Google's autocomplete suggestions.
This can be truly helpful because Google's autocompleting feature is based on the most search terms and phrases by real people.
When you install the Ubersuggest extension into your Chrome browser, you get access to interesting data.
In this case, I will look for some related keywords for a dolphin t-shirt design.
The extension is adding a few interesting features to your Google search pages. The first is the ability to show you a monthly search volume for your keyword.
To see the search volume, simply click the Show Volume button in the search bar and you get some data in the form of monthly search volume, CPC, which is an advertising term for cost per click, and keyword difficulty, where the lower the number is, the better chance for ranking.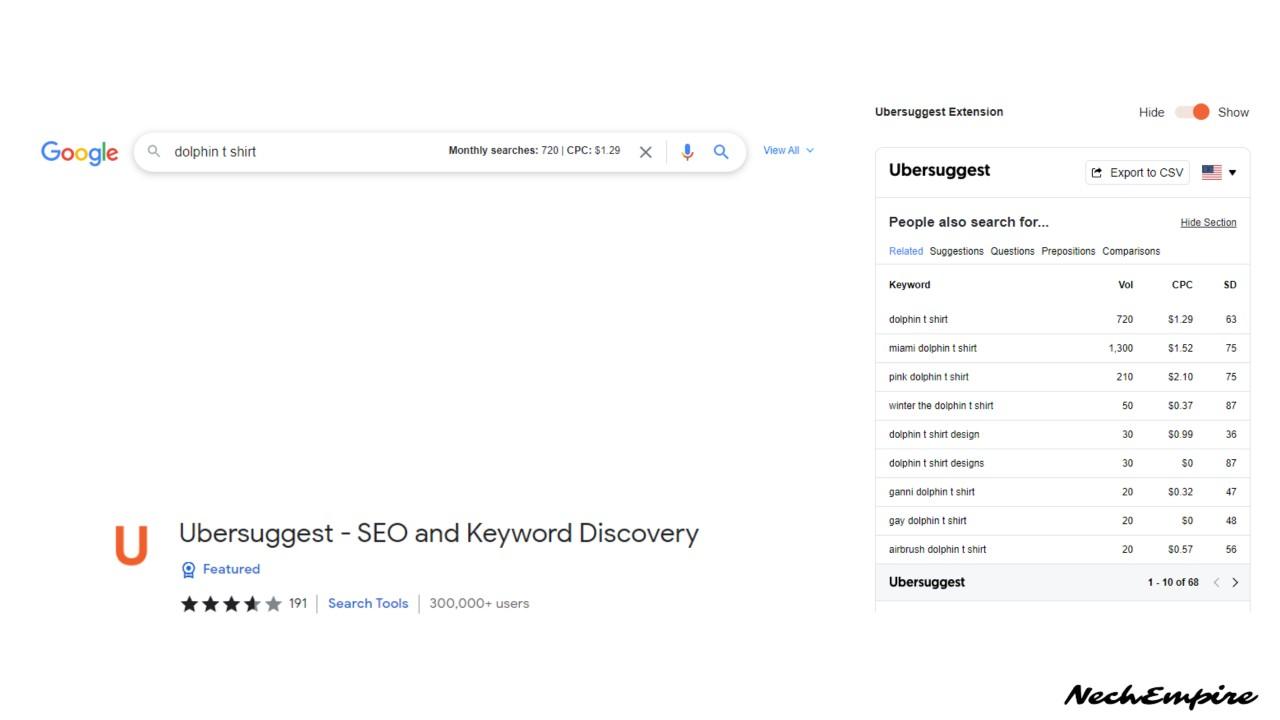 However, this is not all. When you scroll down, you should see a new table on the right side of your search page. I'm using another SEO extension in my browser, so the Ubersuggest table can be in a different place on your browser.
Let's take a closer look at the table. Here you can see the top related keywords people also search for on Google.
As you can see, there is not only the main keyword but also a few variations of this keyword with the monthly search volume and keyword difficulty.
In my opinion, when you find a good keyword for your next Redbubble design, you should always make sure that this keyword has some search traffic. In this case, extensions like Ubersuggest come in handy.
Keywords Everywhere Extension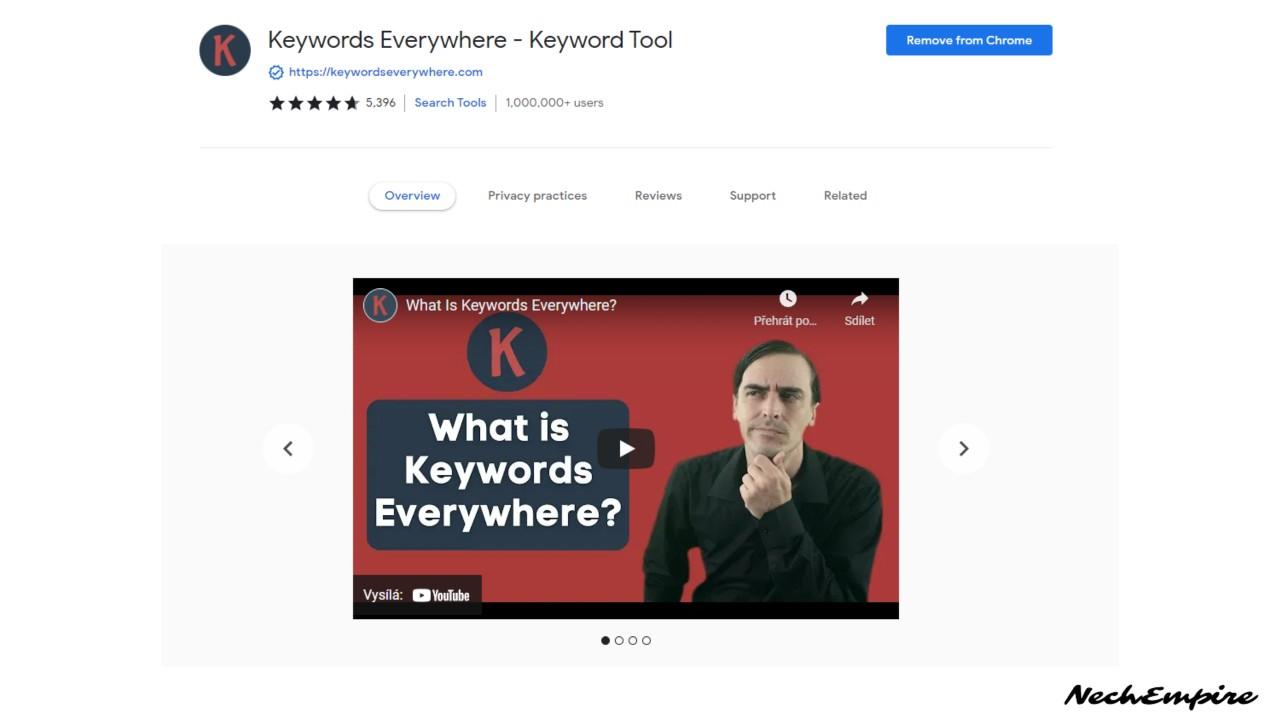 Another extension that can definitely help you to find interesting keywords is called Keywords Everywhere. This extension serves the same purpose as the Ubersuggest, but it gives you more free data on the search term you are looking for.
As you can see from the example of the dolphin t-shirt keyword, I have one table at the top of the right side of my Google search page.
The first table is all about the search keyword. I have an SEO difficulty score here and a detailed breakdown link that will give you additional information about your keyword.
When I scroll down, I get trending graphs for this keyword, and when I scroll down again, under the Ubersuggest table, I get a few additional tables with all the most searched related keywords.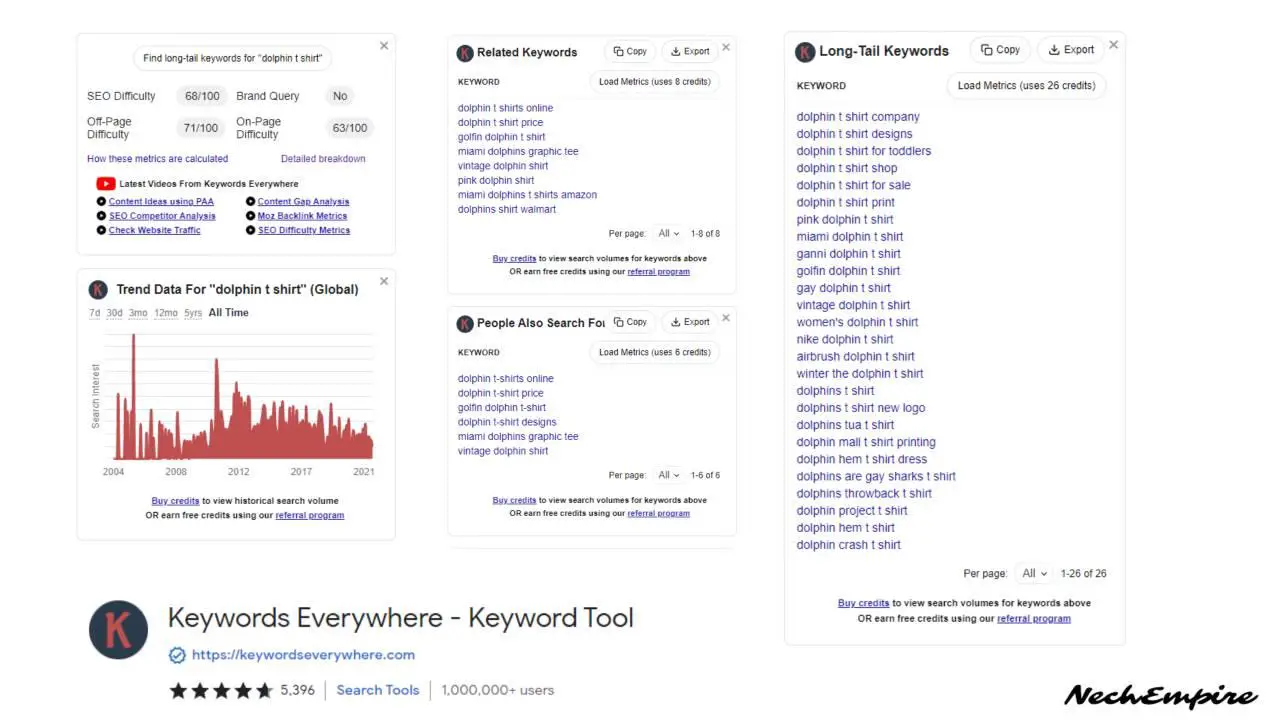 And here the fun begins. As you can see, I have a related keyword, people also search for keywords, and long-tail keyword variants for my search term.
This is why I love this extension. It's helping me find keywords I never thought of.
AMZ Suggestion Expander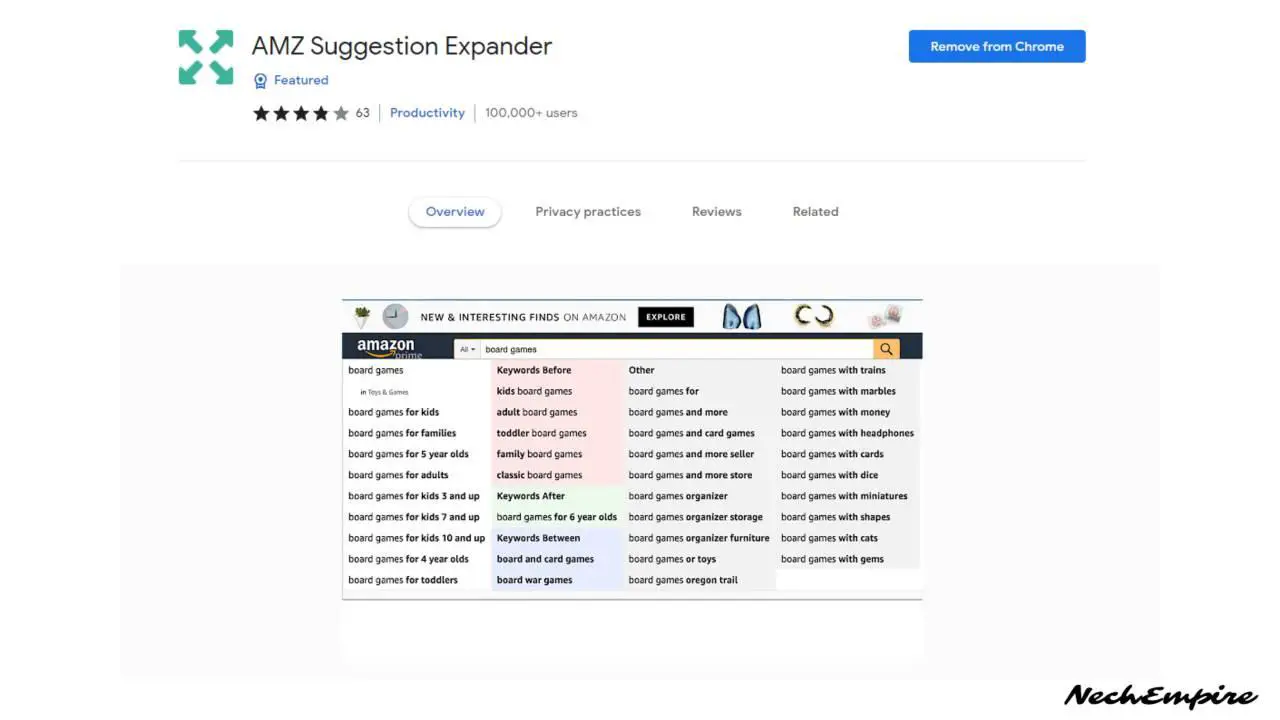 At the beginning of the article, I promised you an extension that may be a game-changer for your Redbubble keyword research.
AMZ Suggestion Expander is the tool.
We all know how popular the place Amazon is. It is the number one place to shop online that can help you find anything that you need. They have everything from clothes, to books, to gadgets, and even food!
You should also understand, that Amazon has a powerful search algorithm and the AMZ Expander is taking advantage of the Amazon search engine.
This Chrome extension works even if you don't have an Amazon account. You only need to install it into your browser and when you open the main Amazon page and type a keyword in the search bar, the extension will give you the most searched keyword combinations for that keyword.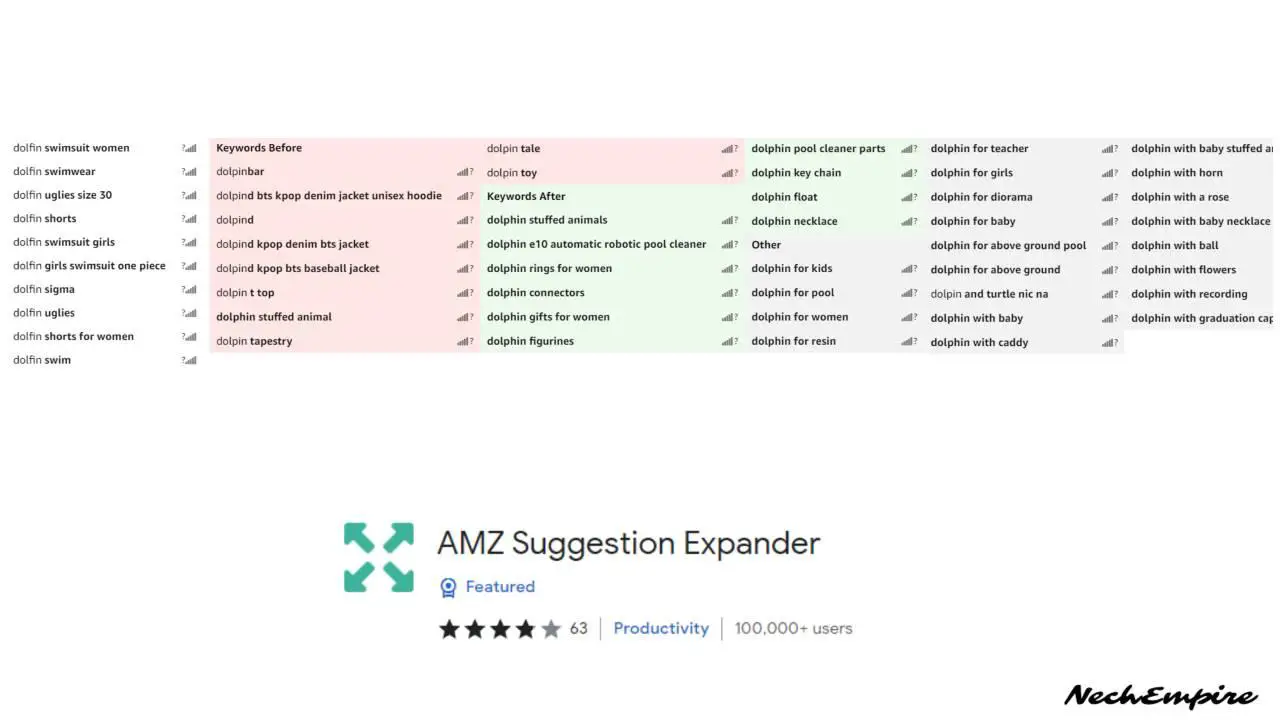 The most important thing is that all these searches are done by people who are looking to buy something.
So, let's put the dolphin keyword in the search bar, and in a few seconds, this tool gives me a ton of additional keywords I should focus on.
And as you can see, there are a few interesting combinations. Take a close look here, dolphin and turtle, dolphin with caddy, dolphin with baby, with horn, with a rose, with bunny ears. I hope you understand the power of this tool. It gives you so many ideas and can definitely help you with your keyword research. And you can apply it to any print-on-demand platform.
Final Thoughts
To have success on Redbubble, art is only part of the equation.
Choosing the right keywords for your design is an important factor in your print-on-demand strategy and can help ensure that you are getting the most out of it.
In fact, keywords are what search engines use to identify your product when people are searching for it. Optimizing your uploads with the right keyword will help you reach more potential customers who may be looking for what you offer.
I know how hard is to find good keywords for designs, that is why I have shared with you my favorite Chrome extensions that should help you with Redbubble keyword research.
With these tools, you can increase visibility not only on Redbubble but also on Google. 
BONUS FOR YOU: Unleash your potential as a print-on-demand entrepreneur with this free guide – download now!
Here Are Some of My Favorite Tools For Print-on-demand
DESIGNS: For getting started, I like Kittl. It is a fantastic place with highly professional templates, that can be edited and used for print-on-demand. In my opinion, it is a go-to place for anyone who wants to make money with POD.
Another of my favorites is Creative Fabrica. They have millions of cheap graphics that can elevate your t-shirt design. If you are not the most skillful designer, then try Placeit or Vexels. These are platforms, where you can find thousands of pre-made t-shirt designs you can easily edit and publish on any print-on-demand platform. I recommend Placeit for beginners and after you get some sales move to Vexels.
GET UNLIMITED DIGITAL ASSETS – Envato Elements is a subscription-based digital assets platform that provides a wide range of digital assets. Whether you're in need of fonts, stock videos, photos, motion graphics, mock-ups, overlays, or brushes – you name it – Envato Elements is likely to have it. It's your one-stop service for all types of creative resources.
SELLING GRAPHIC DESIGNS – Freepik makes it simple to get your design in front of a huge audience of paying customers. It's a set-it-and-forget-it source of passive income. The earnings per download may seem small, but they can compound into decent money over time. And they are also accepting AI designs. Try it for free.
SELLING LOW-CONTENT BOOKS – Selling low-content and no-content books on Amazon can be a great way to boost your online income. I'm using Book Bolt to do the research, get pre-made interiors, and create covers. And you can try the platform for free.
Take your POD business to the next level. If you are serious about selling your designs on t-shirts, mugs, and other products, you need to sell them on the most significant marketplaces like Etsy or Amazon. It would be best if you also sold for the best prices through on-demand fulfillment companies like Printul or Printify.
Disclosure: Some of the links above may contain affiliate partnerships, meaning, at no additional cost to you, NechEmpire may earn a commission if you click through to make a purchase.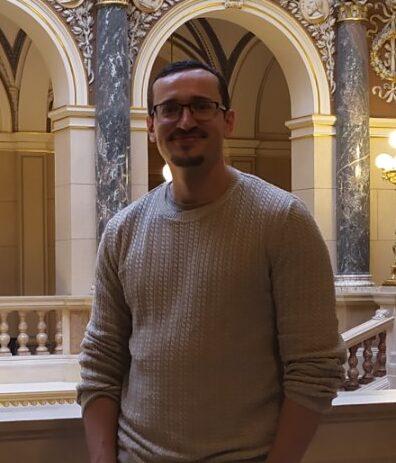 I'm Miroslav, a passionate graphic designer and AI enthusiast. At NechEmpire, I'm here to equip you with the knowledge and skills to turn your design passion into a thriving online business.
More Posts