(Last Updated On: January 6, 2023)
Can I have more than one account on Redbubble?
I know, lot of people are asking this question.
I have had the same question, so I went to the source. I mean to Redbubble.
And in this article, you will read what they said to me.
I messaged Redbubble and they got right back to me with a pretty clear email.
BONUS: In partnership with NechEmpire, Creative Fabrica gives you unlimited access to over 4 million fonts, graphics, & digital crafting resources for just $1! Get all access now.
The reason why I have to message them is that there is no clear information to be found on their blog and FAQs section, where it says you can only have one account.
Because I have a none niche shop on Redbubble, I had an idea to create a second account with designs from a single specific niche.
And because I didn't find any information about this topic, I messaged the Redbubble support team.
And I highly recommend for you email the Redbubble support team first.
Wait for the reaction, and if they give you permission, then create the second account.
Don't forget to archive the email from the Redbubble team, it can be useful in the future.
Because if something goes wrong, you can use this email as proof.
This is exactly the answer what I found on Reddit:
I see a lot of posts around here complaining about getting banned when they try to make more than one redbubble account. The trick is to talk to them first. My earnings from redbubble pay for my medication, so I was really nervous about creating another account to sell my own artwork. I got the go ahead from support AND STILL MANAGED TO GET BANNED.
Having the paper (in this case digital trail) helped me get both back. Just a heads up for those thinking about getting multiple accounts. Get everything in writing.
You can read the full discussion here.
With this experience in my mind, I message the Redbubble support team with a simple question… Is it possible having 2 different accounts on Redbubble?
Can I Have More Than One Account on Redbubble? – The Official Email
Here is a screenshot of the email that I received.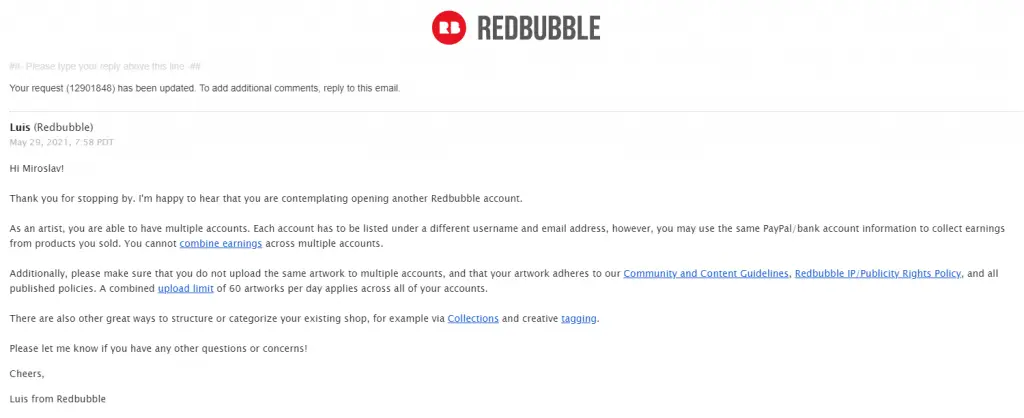 Below is a transcript of the email:
Hi Miroslav!
Thank you for stopping by. I'm happy to hear that you are contemplating opening another Redbubble account.
As an artist, you are able to have multiple accounts. Each account has to be listed under a different username and email address, however, you may use the same PayPal/bank account information to collect earnings from products you sold. You cannot combine earnings across multiple accounts.
Additionally, please make sure that you do not upload the same artwork to multiple accounts, and that your artwork adheres to our Community and Content Guidelines, Redbubble IP/Publicity Rights Policy, and all published policies. A combined upload limit of 60 artworks per day applies across all of your accounts.
There are also other great ways to structure or categorize your existing shop, for example via Collections and creative tagging.
Please let me know if you have any other questions or concerns!
Cheers,
Luis from Redbubble
Conclusion
So, for me, this is a straightforward answer.
As an artist, I can have more than one account, but each of my accounts has to be under a different username and has to be created with a different email address.
It is also important to use original designs, so you cannot upload any existing artwork that is live on your other Redbubble shop.
A nice thing is that you can have the same Paypal or Bank number to collect your payments, but those payments are separated from each other.
In other words, you cannot combine earnings across these accounts.
I hope this article was helpful, and if you have any questions, use the comment section below.
BONUS FOR YOU: Unleash your potential as a print-on-demand entrepreneur with this free guide – download now!
Here Are Some of My Favorite Tools For Print-on-demand
DESIGNS: For getting started, I like Kittl. It is a fantastic place with highly professional templates, that can be edited and used for print-on-demand. In my opinion, it is a go-to place for any person, who wants to make money with POD.
Another of my favorites is Creative Fabrica. They have millions of cheap graphics that can elevate your t-shirt design. If you are not the most skillful designer, then try Placeit or Vexels. These are platforms, where you can find thousands of pre-made t-shirt designs you can easily edit and publish on any print-on-demand platform. I recommend Placeit for beginners and after you get some sales move to Vexels.
I also use a platform called Simplified, which is an all-in-one tool that combines an AI writer, design editor, video editor, and social content planner into one simple platform. I love it. Just like Canva, Simplified has a free version, so you can try it here.
FREE DESIGNS: I love Canva. I'm using this platform almost every day. With Canva, you can create stunning t-shirt designs, they already have an entire section, where you can make your artwork from scratch or use some pre-made templates and edit them. Canva comes with two main pricing plans: FREE and PRO. And if you are a beginner, then I recommend the free plan, it should be enough for you.
SELL YOUR ART – Start selling your graphics, vectors, or photography on Wirestock to save time and make more money. Its Wirestock Program allows you to submit to multiple stock agencies and marketplaces in a single click. It is currently partnered with Shutterstock, Adobe, Alamy, Dreamstime, Pond5, and Depositphotos. Get a FREE account.
SELLING LOW-CONTENT BOOKS – Selling low-content and no-content books on Amazon can be a great way to boost your online income. Im using Book Bolt to do the research, get pre-made interiors, and create covers. And you can try the platform for free.
Take your POD business to the next level. If you are serious about selling your designs on t-shirts, mugs, and other products, you need to sell them on the biggest marketplaces like Etsy or Amazon. You should also sell for the best prices through on-demand fulfillment companies like Printul or Printify.
Disclosure: Some of the links above may contain affiliate partnerships, meaning, at no additional cost to you, NechEmpire may earn a commission if you click through to make a purchase.