(Last Updated On: April 2, 2023)
Text is one of the most important aspects of any design.
It can be boring, and sometimes even confusing which can make your design look like a mess.
As a designer for POD, you should always find a way to make your text look better. For example, you can change the font or add a background image or curve it.
Wondering how to curve text on Canva?
Don't worry, I have made an in-depth tutorial on how to make curved text in Canva on both, computer and mobile.
What's more, I will show you how to use such curved text and make money from it.
How To Curve Text In Canva on a PC
Canva is a great tool for designing graphics with text. It's more user-friendly than other design software like Photoshop, making it ideal for absolute beginners.
STEP 1: Create Your Design
Login to your Canva account, and create a design. It doesn't matter which template or dimension you choose, the text effects work everywhere on Canva.
STEP 2: Type Your Image Text
Logically, if you want to curve text, you have to type your text first.
Just click on the text icon in the left sidebar, and add a text block to your Canva design. Type your text into the text block.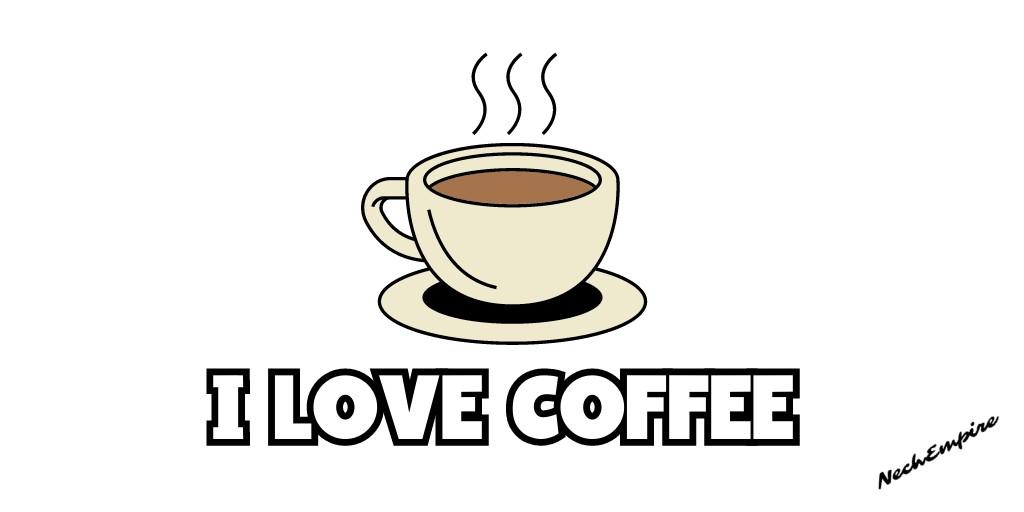 STEP 3: Add Curve Text Effect
In the next step, you need to click the effects button, while the text box is still active (it has a solid blue outline).
This action will open up the effects menu, where you can find and use various text effects.
You should be able to find the Shape section under the editing toolbox.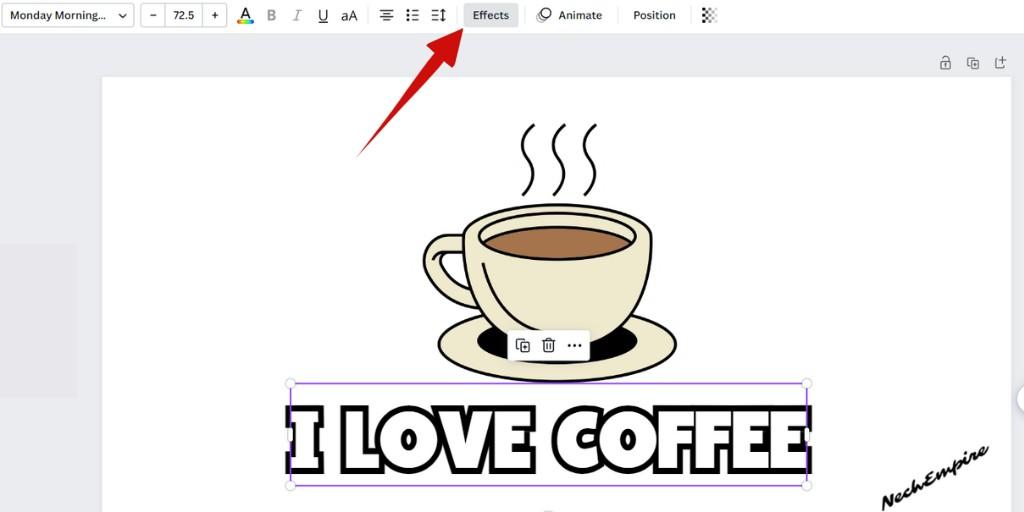 Select Curve in this section.
STEP 4: Adjust The Text Curve
After you select the curve button, you will see a value bar that you can adjust by dragging and dropping.
Just use your imagination and adjust the text as you want.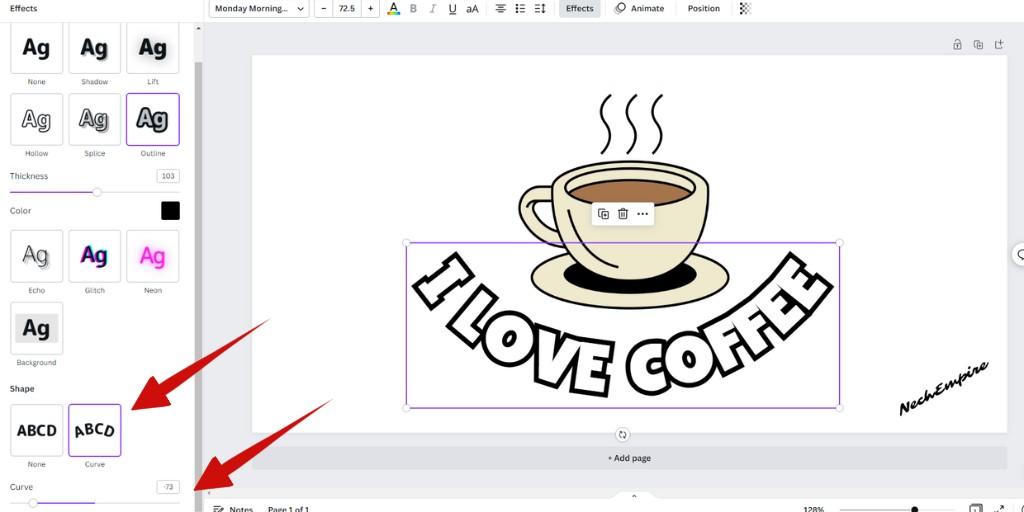 STEP 5: Edit the Curved Text
The cool thing about this text effect is that it will be active for any text you put into the text box to the effect that was applied.
To edit the curved text, just double-click on the text box, and after the typing cursor appears, just edit the text, change colors, font, or size, or add more text.
How to Make Curved Text in Canva on Mobile
As already said, Canva is user-friendly, and, logically, they have a mobile app with all the features you get on a desktop version.
So, to make curved text in Canva on a mobile phone or tablet, just follow these steps:
STEP 1: Open Canva on your smartphone and log in to your account.
STEP 2: To create a new design, press the purple circle with a plus sign at the bottom of the screen.
STEP 3: Add any text to the design and tap on the Effect at the bottom of your screen.
STEP 4: To expand the Effect bar, click on it and select Shape. You can then slide to adjust the shape of your curve.
That said, it is quite easy to use text effects in Canva on both PC and mobile.
How to Make Money With Curved Text Made in Canva
Curved text is used for logos and titles and it can be a very effective way to create a unique design.
So, why not create logos for clients? With websites like Fiverr or Upwork, it's easy to start freelancing as a graphic designer, and specialize in logo creation for example.
Or you can start selling your art on t-shirts, where curved text looks amazing.
For beginners, I would recommend sites like Redbubble or Spreadshirt, where you can upload your design and publish it.
For advanced sellers, I would recommend starting on Etsy and connecting your shop with Printful or Printify, to get more profits.
BONUS FOR YOU: Unleash your potential as a print-on-demand entrepreneur with this free guide – download now!
Here Are Some of My Favorite Tools For Print-on-demand
DESIGNS: For getting started, I like Kittl. It is a fantastic place with highly professional templates, that can be edited and used for print-on-demand. In my opinion, it is a go-to place for any person, who wants to make money with POD.
Another of my favorites is Creative Fabrica. They have millions of cheap graphics that can elevate your t-shirt design. If you are not the most skillful designer, then try Placeit or Vexels. These are platforms, where you can find thousands of pre-made t-shirt designs you can easily edit and publish on any print-on-demand platform. I recommend Placeit for beginners and after you get some sales move to Vexels.
I also use a platform called Simplified, which is an all-in-one tool that combines an AI writer, design editor, video editor, and social content planner into one simple platform. I love it. Just like Canva, Simplified has a free version, so you can try it here.
FREE DESIGNS: I love Canva. I'm using this platform almost every day. With Canva, you can create stunning t-shirt designs, they already have an entire section, where you can make your artwork from scratch or use some pre-made templates and edit them. Canva comes with two main pricing plans: FREE and PRO. And if you are a beginner, then I recommend the free plan, it should be enough for you.
SELL YOUR ART – Start selling your graphics, vectors, or photography on Wirestock to save time and make more money. Its Wirestock Program allows you to submit to multiple stock agencies and marketplaces in a single click. It is currently partnered with Shutterstock, Adobe, Alamy, Dreamstime, Pond5, and Depositphotos. Get a FREE account.
SELLING LOW-CONTENT BOOKS – Selling low-content and no-content books on Amazon can be a great way to boost your online income. Im using Book Bolt to do the research, get pre-made interiors, and create covers. And you can try the platform for free.
Take your POD business to the next level. If you are serious about selling your designs on t-shirts, mugs, and other products, you need to sell them on the biggest marketplaces like Etsy or Amazon. You should also sell for the best prices through on-demand fulfillment companies like Printul or Printify.
Disclosure: Some of the links above may contain affiliate partnerships, meaning, at no additional cost to you, NechEmpire may earn a commission if you click through to make a purchase.