I'm Miroslav, a passionate graphic designer and AI enthusiast. At NechEmpire, I'm here to equip you with the knowledge and skills to turn your design...Read more
(Last Updated On: September 23, 2023)
Have you ever wanted to cross something out in Canva but couldn't figure out how? I've been there too!
As a Canva user myself, I was frustrated when I realized there was no strikethrough tool or font. But with a bit of creativity, we can mimic the strikethrough effect in Canva.
In this article, I'll walk you through a simple workaround to strikethrough text in Canva. I'll also share some tips to make your designs stand out.
Why Strikethrough Text is Helpful
First, let's talk about why strikethrough text can be useful in graphic design.
Strikethrough text allows you to cross something out, indicating it's no longer relevant or should be ignored. This is helpful when:
Showing corrections, revisions or edits
Indicating something is sold out or no longer available
Crossing out mistakes
Showing a change in information
Visually crossing something out grabs the reader's attention and clarifies the meaning.
So strikethrough can be an important tool in your design toolbox. Let's look at how to mimic it in Canva.
The Workaround Number #1: Use Ready-Made Strikethrough Text
Since Canva doesn't have a built-in strikethrough feature, we need to get creative.
The easiest workaround is to use a strikethrough text generator online.
Here's how it works:
Go to a strikethrough generator site like Strikethrough Text Generator.
Type your text into the form.
Copy the strikethrough text it generates.
Paste the text into your Canva design.
Customize the font, color, and size as needed.
And that's it! The text will appear with a strikethrough, mimicking Canva's missing feature.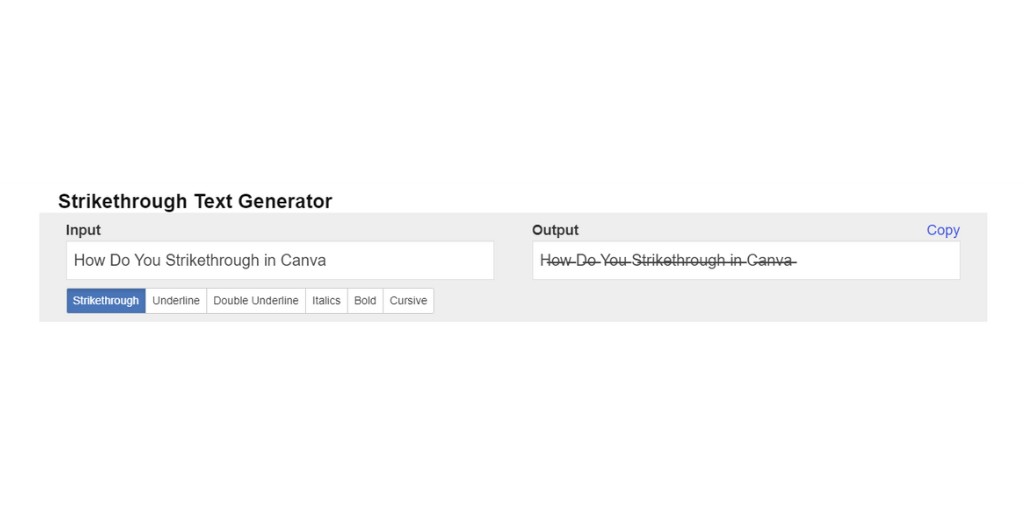 This workaround only takes a minute, and lets you cross out text in Canva designs.
The Workaround Number #2: Put a Line Through the Text
Another method is to manually put a line through your text using a line element:
Type out your text as usual in Canva.
Go to the Elements panel and find the Lines section.
Drag and drop a solid or dashed line onto your text.
Resize and angle the line to cross out your text.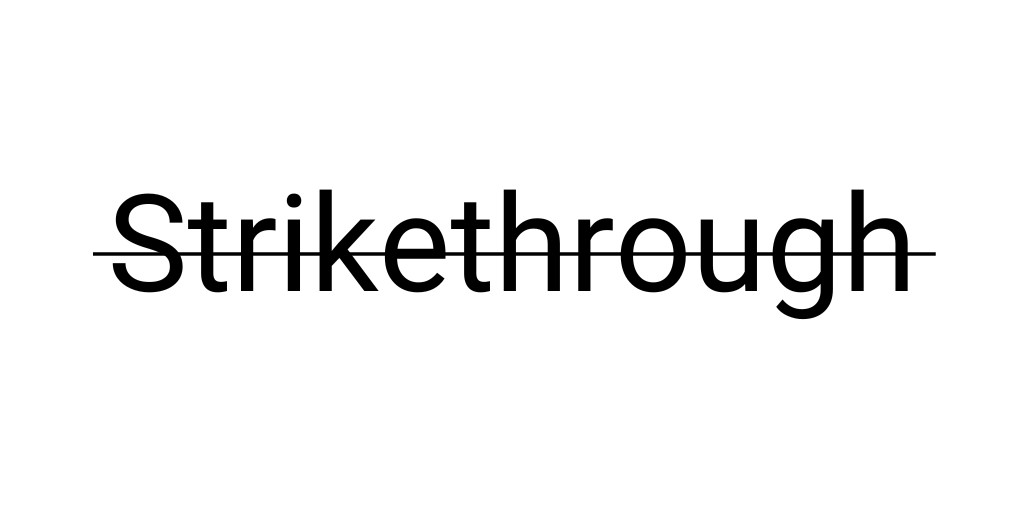 While this takes a few more steps than the text generator method, it gives you more customizability. You can control the color, width, angle, and style of the line.
Tips for Using Strikethrough in Canva
Now that you know how to strikethrough text in Canva, let's go over some tips for using it effectively:
Use sparingly. Don't overdo it with too much crossed out text. Use it selectively to maximize impact.
Make it proportional. Make sure the line thickness suits the font size. A thin line can disappear on large text.
Try different angles. Angled strikethrough lines can be more eye-catching than horizontal ones.
Use color. Colored lines will stand out more than black. Match or contrast the color with your font.
Add emphasis. Use bold or italic text to further emphasize the crossed-out text.
Utilize layers. Put the strikethrough line and text on separate layers for more control.
With the right techniques, you can use simulated strikethrough to great effect in your Canva designs.
BONUS FOR YOU: Unleash your potential as a print-on-demand entrepreneur with this free guide – download now!
Read more interesting articles about design and print-on-demand on my Medium blog.
Creative Uses for Strikethrough in Canva
Now let's explore some creative ways to use strikethrough in your Canva projects:
Show Pricing Revisions
Cross out old prices and write new ones to highlight sales or price drops. The strikethrough helps viewers instantly process the change.
Indicate Sold Out Products
Cross out sold out products on menus, store signs, posters and other promotions. Visually marking them as gone will prevent confusion.
Share Updates and Corrections
Share the latest information by crossing out old details and writing the new ones. Show your viewers what's changed at a glance.
Create To-Do Lists
Cross off completed tasks on stylish to-do lists and checklists. The strikethrough adds satisfying visual proof of your progress.
Show Edit Histories
On documents and reports, use strikethrough to show editing revisions and maintain clear version histories.
With creative thinking, the possibilities are endless!
With the workaround above, you can start using strikethrough to create similar graphics in your own Canva projects.
Frequently Asked Questions
Here are answers to some common questions about strikethrough in Canva:
Is there a strikethrough tool built into Canva?
Unfortunately no, Canva does not have a built-in strikethrough text feature. The workaround using a text generator is the easiest way to mimic it.
Can you strikethrough in Canva on mobile?
Yes, the same workaround works in the Canva mobile app. Generate the text on your desktop, copy it, then paste it into your Canva mobile designs.
Does the strikethrough generator work with different fonts?
The ready-made strikethrough text will match whatever font you're using in Canva. You can customize the font, size, color, etc.
Can you create angled or wavy strikethrough lines in Canva?
The text generator will only create straight horizontal strikethrough lines. But in Canva you can rotate, warp or transform the line to create angled or wavy effects.
Will Canva add a native strikethrough tool in the future?
It's not confirmed, but hopefully! Many users have requested this feature. Until then, the workaround above will do the job.
BONUS FOR YOU: Unleash your potential as a print-on-demand entrepreneur with this free guide – download now!
Here Are Some of My Favorite Tools For Print-on-demand
DESIGNS: For getting started, I like Kittl. It is a fantastic place with highly professional templates, that can be edited and used for print-on-demand. In my opinion, it is a go-to place for anyone who wants to make money with POD.
Another of my favorites is Creative Fabrica. They have millions of cheap graphics that can elevate your t-shirt design. If you are not the most skillful designer, then try Placeit or Vexels. These are platforms, where you can find thousands of pre-made t-shirt designs you can easily edit and publish on any print-on-demand platform. I recommend Placeit for beginners and after you get some sales move to Vexels.
GET UNLIMITED DIGITAL ASSETS – Envato Elements is a subscription-based digital assets platform that provides a wide range of digital assets. Whether you're in need of fonts, stock videos, photos, motion graphics, mock-ups, overlays, or brushes – you name it – Envato Elements is likely to have it. It's your one-stop service for all types of creative resources.
SELLING GRAPHIC DESIGNS – Freepik makes it simple to get your design in front of a huge audience of paying customers. It's a set-it-and-forget-it source of passive income. The earnings per download may seem small, but they can compound into decent money over time. And they are also accepting AI designs. Try it for free.
SELLING LOW-CONTENT BOOKS – Selling low-content and no-content books on Amazon can be a great way to boost your online income. I'm using Book Bolt to do the research, get pre-made interiors, and create covers. And you can try the platform for free.
Take your POD business to the next level. If you are serious about selling your designs on t-shirts, mugs, and other products, you need to sell them on the most significant marketplaces like Etsy or Amazon. It would be best if you also sold for the best prices through on-demand fulfillment companies like Printul or Printify.
Disclosure: Some of the links above may contain affiliate partnerships, meaning, at no additional cost to you, NechEmpire may earn a commission if you click through to make a purchase.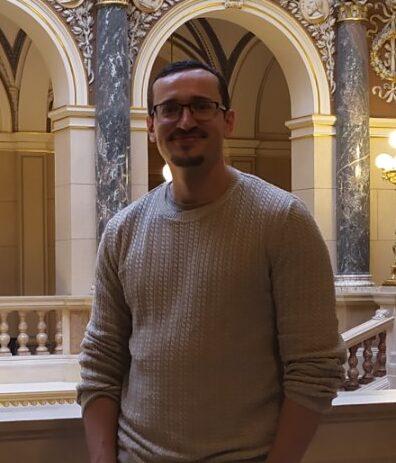 I'm Miroslav, a passionate graphic designer and AI enthusiast. At NechEmpire, I'm here to equip you with the knowledge and skills to turn your design passion into a thriving online business.
More Posts