I'm Miroslav, a passionate graphic designer and AI enthusiast. At NechEmpire, I'm here to equip you with the knowledge and skills to turn your design...Read more
(Last Updated On: August 30, 2023)
Do you have a great photo that is ruined by text overlayed on top of it?
In fact, that is what happened to all of us.
Luckily, there are tools that can help us with this issue.
And you don't even need to be a skilled graphic designer.
With beginner-friendly tools like Canva and their suite of editing tools, you can easily remove text from a photo and restore it to its original beauty.
As a Canva user myself, I was lucky when they introduced the new Magic Eraser tool. It uses AI technology to detect text and erase it with just a few clicks.
No more manual editing is required, mostly.
In this guide, I'll walk you through how to easily remove unwanted text from an image in Canva.
With a few simple steps, you can take any photo from flawed to flawless.
Remove Unwanted Text from an Image in Canva
As mentioned above, removing text from an image or photo can be pretty straightforward.
It can be done in a few steps, which I will describe below.
However, if you prefer a visual explanation, I have also created a video that you can watch below.
Open Canva and Upload Your Image
First, head over to Canva.com and log into your account. Once you're logged in, start a new design and select the dimensions you want for your project.
Next, click 'Upload' and find the image file on your computer that contains the unwanted text. Once uploaded, drag and drop the image onto your blank Canva canvas.
Enter the New Image Editor
In the next step, you need to click on the image you have to drag and drop onto your canvas. This action will open an Edit image or Edit photo option in the menu bar.
Go there and click on this option.
This will open an editor menu where you can see a Magic Eraser tool.
If you are not seeing this tool, it is possible that you are still using Canva's old image editor. To access the new editor tools, simply click on 'Check it out' to easily switch to the improved editor.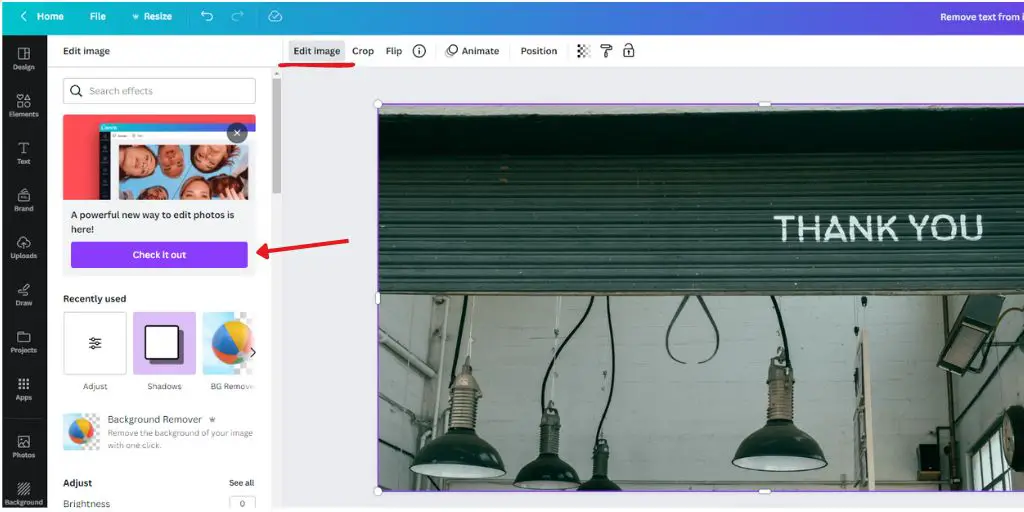 Select the Magic Eraser Tool
In the left toolbar of the editor, you'll see the 'Magic eraser' tool. Click to select it.
When chosen, the icon will have a blue outline around it indicating it is activated. Then adjust the brush size slider until the brush is slightly larger than the text you want to remove.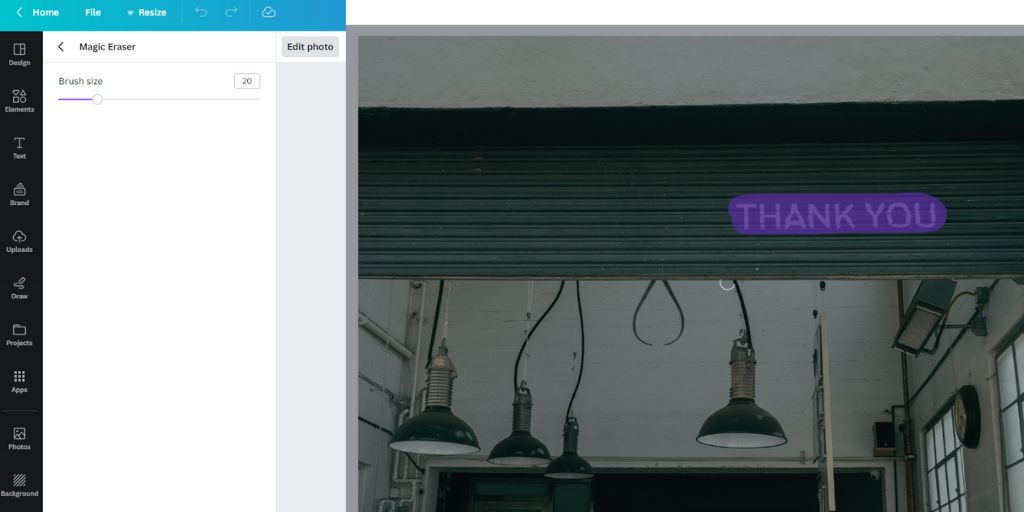 Brush Over the Text to Remove It
With the appropriately sized eraser brush, simply click on the text in your image and brush over it. The clever AI will instantly detect the text and delete it for you!
If the first removal is not perfect, just keep gently brushing over the text until no trace remains. The AI learns with each pass to improve its accuracy.
Admire Your Photo, Text-Free!
Once you've brushed away all the text, take a moment to admire your image. With the undesirable words and letters removed, your photo has been restored to its original glory!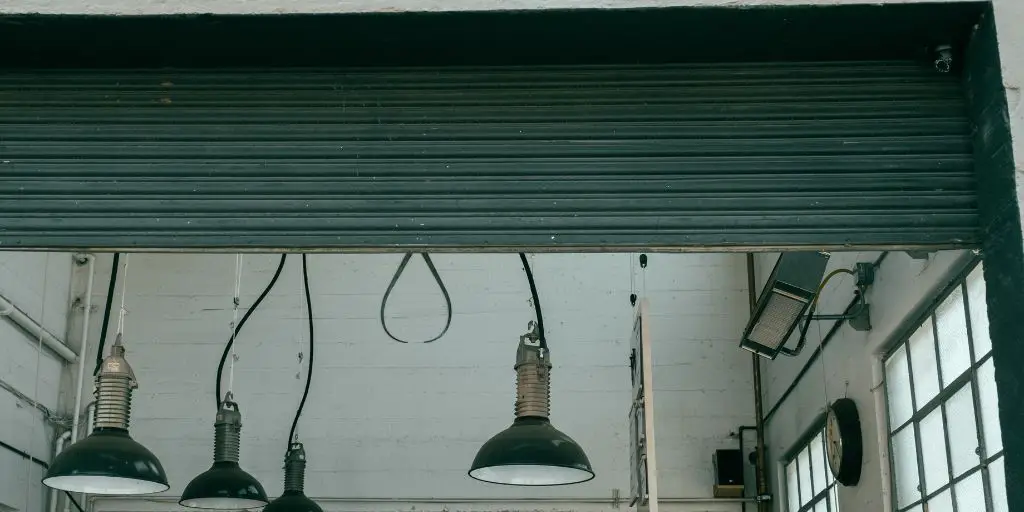 Feel free to continue editing the image by cropping, adding filters, adjusting brightness, and more. Or, if you're satisfied, go ahead and download your text-free masterpiece.
Troubleshooting Tips
Removing text with Canva's Magic Eraser is usually quick and foolproof. But here are some tips in case you run into any issues:
If the AI eraser misses some text, slowly brush back and forth over the area. The more you erase, the better it gets at detecting text.
For very small text, zoom your image in closer so you can precisely erase individual letters.
Adjust the eraser brush size as needed – bigger for large text, and smaller for tiny text.
If the text has a complex background, try erasing it in short strokes rather than long brush strokes.
You may need to manually touch up any leftover fragments using other editing tools for extremely stubborn text.
More Handy Uses for the Magic Eraser
While clearing away text is the eraser's forté, it can also magically erase other unwanted elements in your photos:
Remove distracting objects and blemishes in the background of an image.
Delete logos, watermarks, or date stamps you don't want.
Erase people or objects that are ruining the composition of a photo.
Delete creases, stains, or other marks on an old printed photo you've scanned.
As you can see, Canva's AI-powered Magic Eraser takes the frustration out of removing text and other unwanted elements from your images.
No longer will you have to manually spot heal or tediously trace text character-by-character. With just a few clicks, you can restore images to their original, unmarred beauty.
Conclusion
So, have any photos languishing on your computer or phone with ugly text you want to erase?
Just open up Canva and give the Magic Eraser a chance.
It works like magic and even an absolute beginner can do it.
I hope you found this tutorial helpful for learning how to easily remove text from images with the new Canva photo editor.
Let me know if you have any other questions! I'm always happy to help fellow Canva users master their skills.
BONUS FOR YOU: Unleash your potential as a print-on-demand entrepreneur with this free guide – download now!
Here Are Some of My Favorite Tools For Print-on-demand
DESIGNS: For getting started, I like Kittl. It is a fantastic place with highly professional templates, that can be edited and used for print-on-demand. In my opinion, it is a go-to place for anyone who wants to make money with POD.
Another of my favorites is Creative Fabrica. They have millions of cheap graphics that can elevate your t-shirt design. If you are not the most skillful designer, then try Placeit or Vexels. These are platforms, where you can find thousands of pre-made t-shirt designs you can easily edit and publish on any print-on-demand platform. I recommend Placeit for beginners and after you get some sales move to Vexels.
GET UNLIMITED DIGITAL ASSETS – Envato Elements is a subscription-based digital assets platform that provides a wide range of digital assets. Whether you're in need of fonts, stock videos, photos, motion graphics, mock-ups, overlays, or brushes – you name it – Envato Elements is likely to have it. It's your one-stop service for all types of creative resources.
SELLING GRAPHIC DESIGNS – Freepik makes it simple to get your design in front of a huge audience of paying customers. It's a set-it-and-forget-it source of passive income. The earnings per download may seem small, but they can compound into decent money over time. And they are also accepting AI designs. Try it for free.
SELLING LOW-CONTENT BOOKS – Selling low-content and no-content books on Amazon can be a great way to boost your online income. I'm using Book Bolt to do the research, get pre-made interiors, and create covers. And you can try the platform for free.
Take your POD business to the next level. If you are serious about selling your designs on t-shirts, mugs, and other products, you need to sell them on the most significant marketplaces like Etsy or Amazon. It would be best if you also sold for the best prices through on-demand fulfillment companies like Printul or Printify.
Disclosure: Some of the links above may contain affiliate partnerships, meaning, at no additional cost to you, NechEmpire may earn a commission if you click through to make a purchase.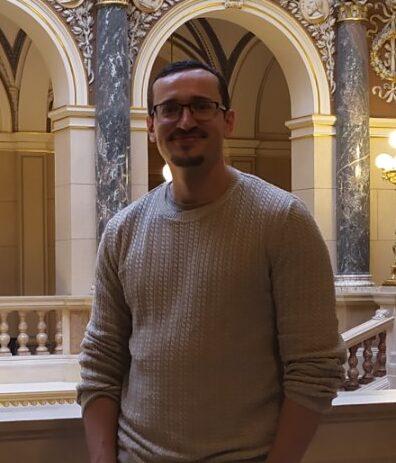 I'm Miroslav, a passionate graphic designer and AI enthusiast. At NechEmpire, I'm here to equip you with the knowledge and skills to turn your design passion into a thriving online business.
More Posts