I'm Miroslav, a passionate graphic designer and AI enthusiast. At NechEmpire, I'm here to equip you with the knowledge and skills to turn your design...Read more
(Last Updated On: July 16, 2023)
As a creative person, you've probably heard of Creative Fabrica.
A marketplace full of design resources, including fonts, graphics, and SVG files.
While Creative Fabrica does offer a subscription service, which is very affordable, today I'm going to focus on the free assets they offer.
That's right, this marketplace offers completely free resources that you can use even for your commercial projects.
So let's explore some free graphics from Creative Fabrica.
Free SVG Section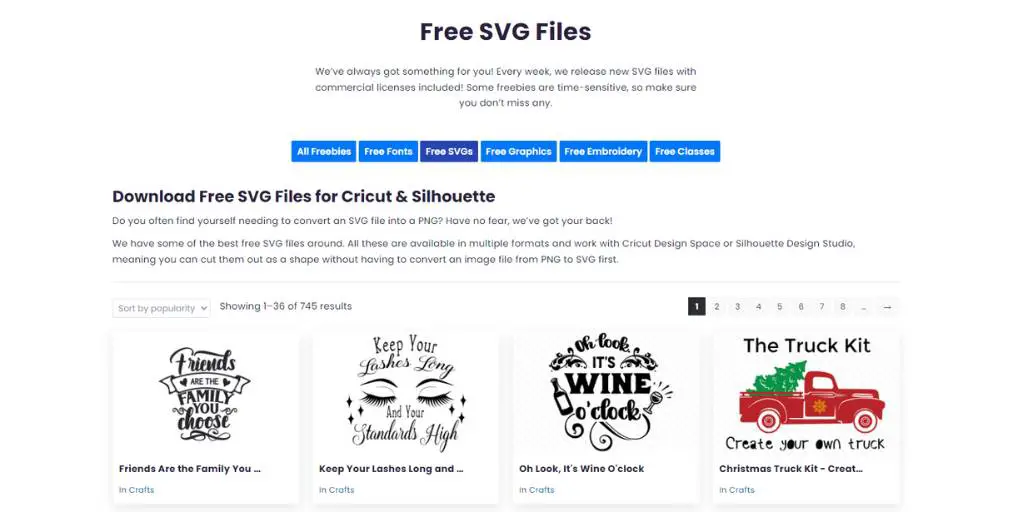 The first freebie I'll look at is the Free SVG section.
As you probably know, SVG stands for Scalable Vector Graphic, and it's perfect for those with digital cutting machines or laser cutters.
Let's say you've found a design like the "Snow Flake" SVG file. By downloading it, you can make it as big or as small as you want without losing quality.
However, keep in mind that you can't simply upload it to print-on-demand sites for commercial use.
Instead, you HAVE TO customize the design by editing it using software like Photoshop or Canva. Remove or add elements, change colors, and make it uniquely yours.
Once you're satisfied, you can save it as a PNG file and use it on various physical products to sell.
BONUS: In partnership with NechEmpire, Creative Fabrica gives you unlimited access to over 4 million fonts, graphics, & digital crafting resources for free! Get all access now.
Free Fonts Section
Next up, we have Fonts and boy, do they make a difference in your designs.
Fonts can be quite pricey, but Creative Fabrica offers a vast collection of high-quality free fonts.
With over 2,000 options, you're sure to find something that catches your eye.
Let's say you stumble upon the "Anastasia" font. After downloading and installing it on your computer, you can easily incorporate it into your design software. Whether you're creating a catchy headline or designing a logo, the right font can elevate your project to the next level.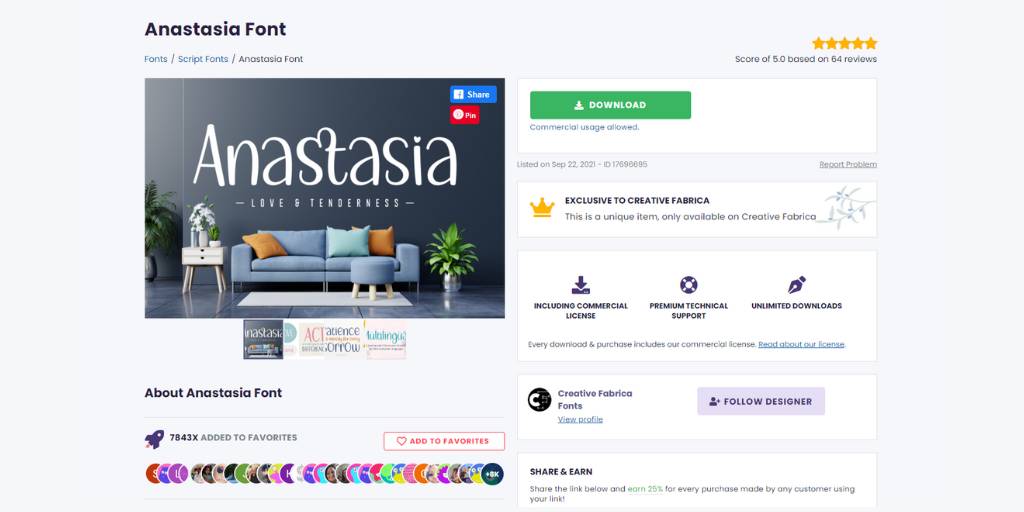 Remember, if the font comes with a commercial license, there is no need to customize it. By writing with the font, you are already personalizing it to your content.
BONUS FOR YOU: Unleash your potential as a print-on-demand entrepreneur with this free guide – download now!
Free Graphics Section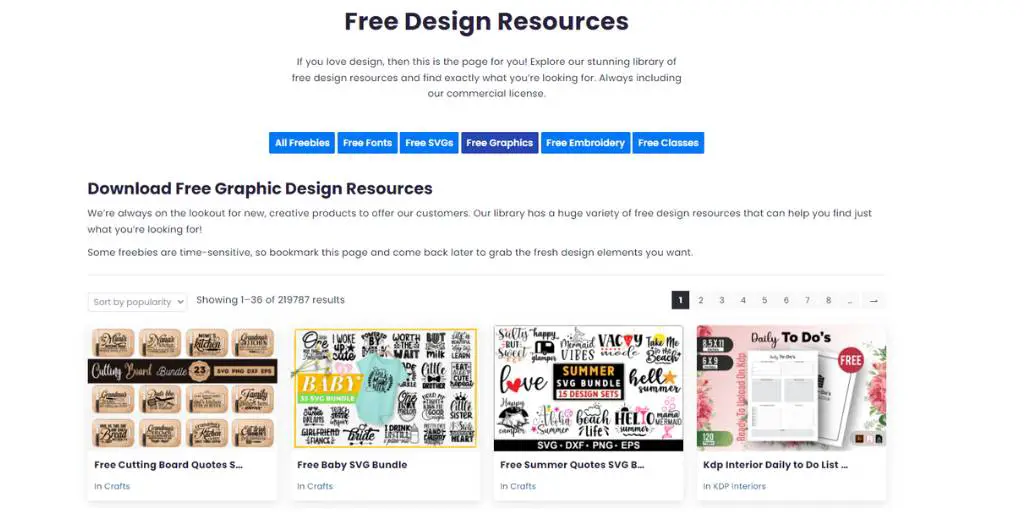 Last, but not least, I want to mention the free Graphics section.
This is not a small section, I'm talking about a staggering 200,000+ free graphics.
These include bundles, crafting papers, brush strokes, and more.
Imagine the possibilities!
Let's say you spot an adorable cat clipart that's perfect for a kid's room poster.
After downloading the ZIP file and extracting its contents, you'll find various file formats to work with.
Whether you're using Photoshop or any other design software, you can incorporate the graphics into your project. Customize, combine, and create something truly unique.
Conclusion
Creative Fabrica's freebies are an interesting section for creatives on a budget.
With a huge range of SVG files, fonts, and graphics, you can let your imagination run wild.
Remember, these free resources come with a commercial license, allowing you to use them in your physical product designs for sale.
Just make sure to modify the designs to make them your own.
If you find a particular freebie you love, don't worry about losing it.
Your downloads are safely stored in your Creative Fabrica account under the "My Downloads" section, ready for future use.
While the subscription plan on Creative Fabrica offers access to everything for a reasonable price, the freebies alone are worth exploring.
If you're interested in the subscription, here is a link where you can learn more.
BONUS FOR YOU: Unleash your potential as a print-on-demand entrepreneur with this free guide – download now!
Here Are Some of My Favorite Tools For Print-on-demand
DESIGNS: For getting started, I like Kittl. It is a fantastic place with highly professional templates, that can be edited and used for print-on-demand. In my opinion, it is a go-to place for anyone who wants to make money with POD.
Another of my favorites is Creative Fabrica. They have millions of cheap graphics that can elevate your t-shirt design. If you are not the most skillful designer, then try Placeit or Vexels. These are platforms, where you can find thousands of pre-made t-shirt designs you can easily edit and publish on any print-on-demand platform. I recommend Placeit for beginners and after you get some sales move to Vexels.
GET UNLIMITED DIGITAL ASSETS – Envato Elements is a subscription-based digital assets platform that provides a wide range of digital assets. Whether you're in need of fonts, stock videos, photos, motion graphics, mock-ups, overlays, or brushes – you name it – Envato Elements is likely to have it. It's your one-stop service for all types of creative resources.
SELLING GRAPHIC DESIGNS – Freepik makes it simple to get your design in front of a huge audience of paying customers. It's a set-it-and-forget-it source of passive income. The earnings per download may seem small, but they can compound into decent money over time. And they are also accepting AI designs. Try it for free.
SELLING LOW-CONTENT BOOKS – Selling low-content and no-content books on Amazon can be a great way to boost your online income. I'm using Book Bolt to do the research, get pre-made interiors, and create covers. And you can try the platform for free.
Take your POD business to the next level. If you are serious about selling your designs on t-shirts, mugs, and other products, you need to sell them on the most significant marketplaces like Etsy or Amazon. It would be best if you also sold for the best prices through on-demand fulfillment companies like Printul or Printify.
Disclosure: Some of the links above may contain affiliate partnerships, meaning, at no additional cost to you, NechEmpire may earn a commission if you click through to make a purchase.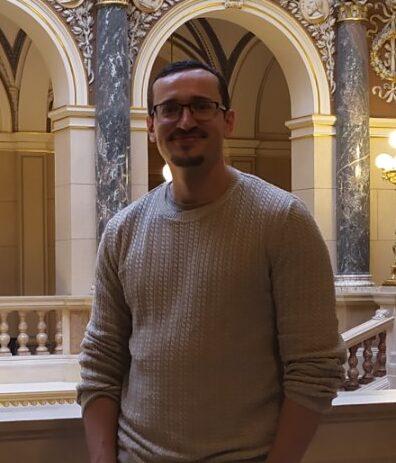 I'm Miroslav, a passionate graphic designer and AI enthusiast. At NechEmpire, I'm here to equip you with the knowledge and skills to turn your design passion into a thriving online business.
More Posts