I'm Miroslav, a passionate graphic designer and AI enthusiast. At NechEmpire, I'm here to equip you with the knowledge and skills to turn your design...Read more
(Last Updated On: July 31, 2023)
Today, I'm thrilled to bring you something truly groundbreaking.
I'm about to show you an incredible new method to transform your photos or designs into vector graphics with a free AI vectorizer.
And believe me, it's a piece of cake!
At least with this tool.
You may be wondering why you should even bother to turn your image into a vector.
Here's the scoop: images designed with Canva or AI generators often appear pixelated when upscaled.
And let's be honest, that's not exactly synonymous with high quality.
Boost Your Image Quality with Vectorization
However, converting your designs into a crisp and precise vector format can dramatically boost the quality of your prints.
So, before you sent your images to any print-on-demand platform, it's wise to convert them into a modifiable vector SVG format.
And today, I'm going to show just how effortless it can be with this free AI vectorizer tool.
Introducing Vectorizer.ai: Your Free AI Vectorizer
Firstly, navigate your way to Vectorizer.ai. This website does all the heavy lifting for you and delivers superior results compared to other platforms I've experimented with previously.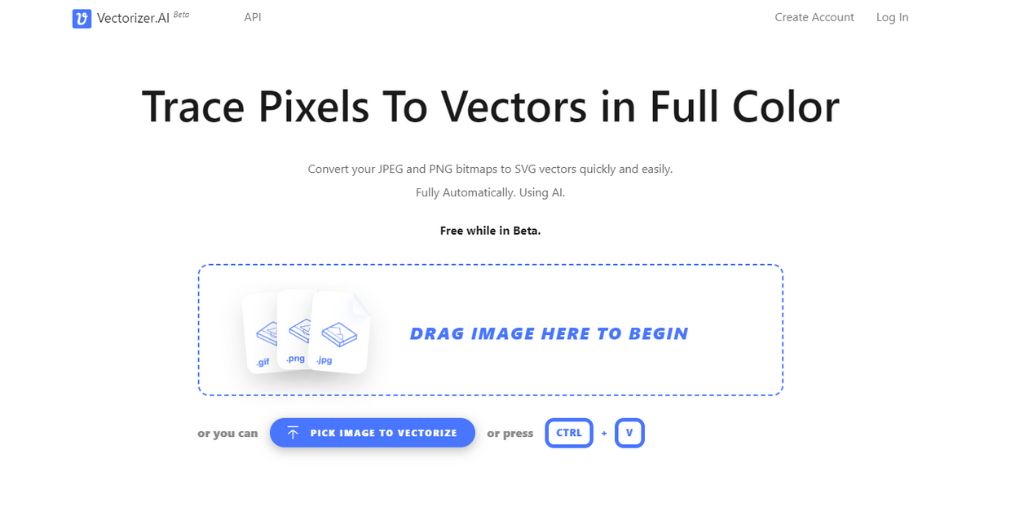 Vectorizer.ai is specifically designed to convert JPG and PNG images into modifiable vector SVG format, which allows for adaptable and editable resizing
The cherry on top? This tool is currently in its beta phase and absolutely free to use.
How to Use the Free AI Vectorizer
Once you've landed on the site, all you have to do is click on the "Upload Image" button and select the image file you wish to convert into a vector.
Now, it's crucial to mention that while this website generates exceptional results, it does come with a few restrictions.
It's not designed for converting real-world images or any 3D images. Its primary objective is to aid with straightforward digital images.
But let's circle back to the conversion process.
Witness the Transformation
Upon completion of the conversion, you'll see the original image on the left and the vectorized version on the right.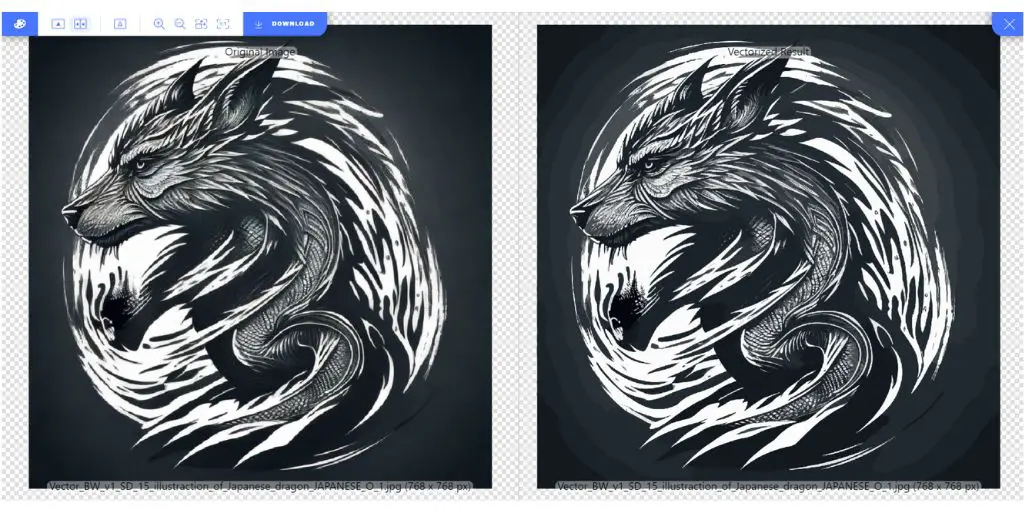 If you desire a more detailed view of the results, simply click on the magnify option at the top. As you can see when I zoom in slightly, the precision of the lines in the new vectorized image is astounding.
Once you're content with everything, just click on "Download."
The website will supply your image in an SVG format, also referred to as a scalable vector graphic.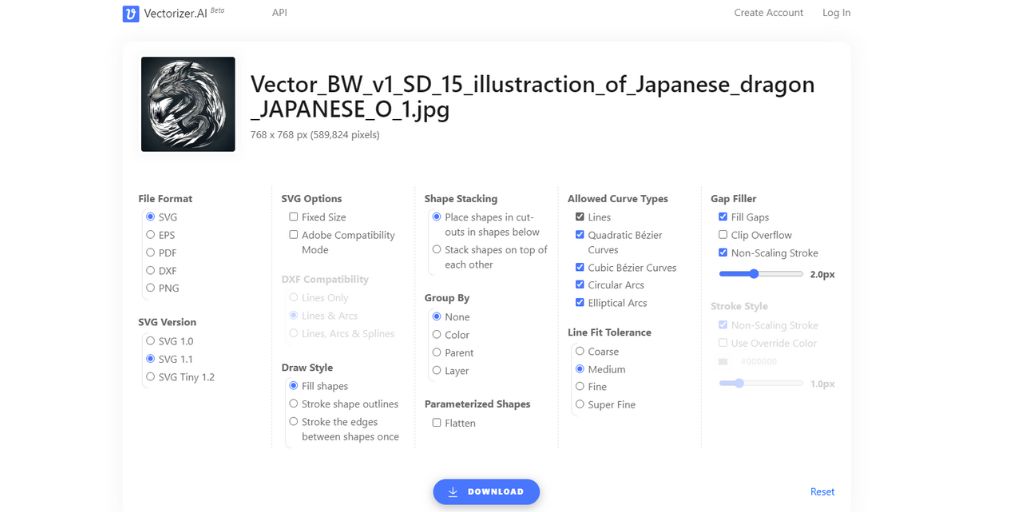 This file type guarantees that your image will never pixelate again, regardless of how much you magnify it. It's ideal for employing your SVG images in various applications, from Photoshop to Canva.
However, it's worth mentioning that most print-on-demand platforms don't accept SVG file formats. So, if you plan to upload your design to one of those sites, you'll need to export it as a PNG with a transparent background.
Conclusion
Now, go forth and explore Vectorizer.ai for yourself and test it with your projects. It's blazingly fast and yields extraordinary results. I strongly encourage you to give this free AI vectorizer a try and test it as often as you want.
Remember, transforming your images into vectors can elevate your designs to an unprecedented level of professionalism. And with Vectorizer.ai, it's a cinch.
FAQs
What Exactly is a Vector Graphic?
A vector graphic is a unique kind of image that uses mathematical formulas, which means you can change its size or shape without losing any quality or detail. They're super flexible and always look sharp, no matter how much you resize them!
Why Would I Want to Change My Images into Vectors?
When you change your images into vectors, you're giving your prints a major quality upgrade. Because vectors can be scaled without losing quality, they're perfect for designs that need to be shown at different sizes.
Can You Explain What a Free AI Vectorizer is?
Sure, a free AI vectorizer is a nifty tool that uses artificial intelligence to change regular images (like JPG and PNG) into vector images. Vectorizer.ai is one such tool, and it's designed to turn your JPG and PNG images into editable vector SVG format.
What Kind of File Formats Can I Change with a Free AI Vectorizer?
With a free AI vectorizer like Vectorizer.ai, you can change JPG and PNG images into vector SVG format. This means you can tweak and adjust your images however you like.
Can I Change Any Image with a Free AI Vectorizer?
While Vectorizer.ai does an amazing job, it does have a few limitations. It's not really built for changing real-world images or any 3D images. It's best at helping with simple digital images.
What Programs Can I Use Vector Images In?
Vector images are super versatile and can be used in a bunch of programs, from Photoshop to Canva. Any program that can handle SVG format will work. But keep in mind, most print-on-demand platforms don't take SVG file formats. If that's where you're headed, you'll need to export it as a PNG with a transparent background.
BONUS FOR YOU: Unleash your potential as a print-on-demand entrepreneur with this free guide – download now!
Here Are Some of My Favorite Tools For Print-on-demand
DESIGNS: For getting started, I like Kittl. It is a fantastic place with highly professional templates, that can be edited and used for print-on-demand. In my opinion, it is a go-to place for anyone who wants to make money with POD.
Another of my favorites is Creative Fabrica. They have millions of cheap graphics that can elevate your t-shirt design. If you are not the most skillful designer, then try Placeit or Vexels. These are platforms, where you can find thousands of pre-made t-shirt designs you can easily edit and publish on any print-on-demand platform. I recommend Placeit for beginners and after you get some sales move to Vexels.
GET UNLIMITED DIGITAL ASSETS – Envato Elements is a subscription-based digital assets platform that provides a wide range of digital assets. Whether you're in need of fonts, stock videos, photos, motion graphics, mock-ups, overlays, or brushes – you name it – Envato Elements is likely to have it. It's your one-stop service for all types of creative resources.
SELLING GRAPHIC DESIGNS – Freepik makes it simple to get your design in front of a huge audience of paying customers. It's a set-it-and-forget-it source of passive income. The earnings per download may seem small, but they can compound into decent money over time. And they are also accepting AI designs. Try it for free.
SELLING LOW-CONTENT BOOKS – Selling low-content and no-content books on Amazon can be a great way to boost your online income. I'm using Book Bolt to do the research, get pre-made interiors, and create covers. And you can try the platform for free.
Take your POD business to the next level. If you are serious about selling your designs on t-shirts, mugs, and other products, you need to sell them on the most significant marketplaces like Etsy or Amazon. It would be best if you also sold for the best prices through on-demand fulfillment companies like Printul or Printify.
Disclosure: Some of the links above may contain affiliate partnerships, meaning, at no additional cost to you, NechEmpire may earn a commission if you click through to make a purchase.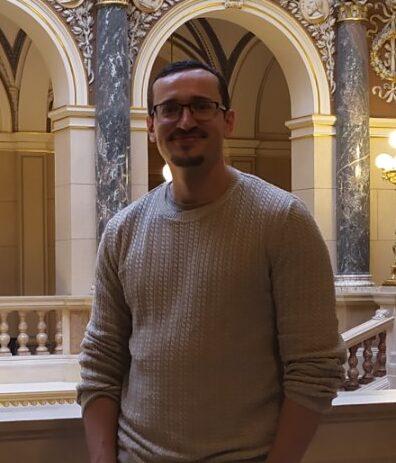 I'm Miroslav, a passionate graphic designer and AI enthusiast. At NechEmpire, I'm here to equip you with the knowledge and skills to turn your design passion into a thriving online business.
More Posts