(Last Updated On: April 2, 2023)
Canva is trying to combine AI technology with its current tools to give users a more convenient experience when designing.
I like this approach because I enjoy using artificial intelligence when I work.
Canva's latest addition is the Magic Edit tool, a simple technology that allows you to replace any object in a photo with an AI-generated element.
And in this article, I will show you how easy it is to use this Canva Magic Edit tool and how you can remove and add new objects to your photos.
I have also created a video tutorial about this topic. So, if you want a more visual explanation, then watch the video below.
What is Magic Edit on Canva?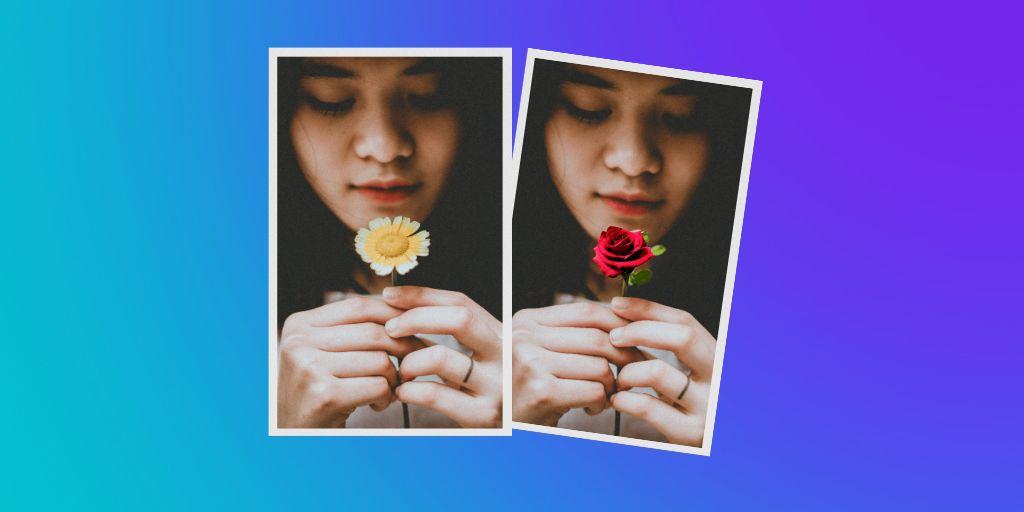 Canva's Visual Suite offers many interesting tools and one of them is the Magic Edit feature that simplifies image editing and gives you more freedom in the creative process.
You can simply choose a pre-existing object on your photo and replace it with another one. All without relying on complicated software or advanced knowledge.
In other words, this feature can be used to transform an existing image into an AI-generated image of your choice and imagination.
Who Can Use Magic Edit on Canva?
At the time of writing, the Magic Edit feature is in beta, and available for anyone with a Canva account. You don't need to have paid subscription to use this feature.
Note: Magic Edit is not yet available to Canva for Education students and users based in China.
As I already mentioned, you have to sign up on Canva, to enjoy this feature, so if you don't have an account, you can sign up using an email address, Facebook, or Google account.
How to Use Magic Edit on PC
Just upload or use any photo in your project window.
I have uploaded an image of a young woman holding a white flower, and my idea is to replace the flower with a red rose.
With Magic Edit, this is quite simple to do.
All you need to do is click on the main image to view the Edit Photo feature in the upper bar.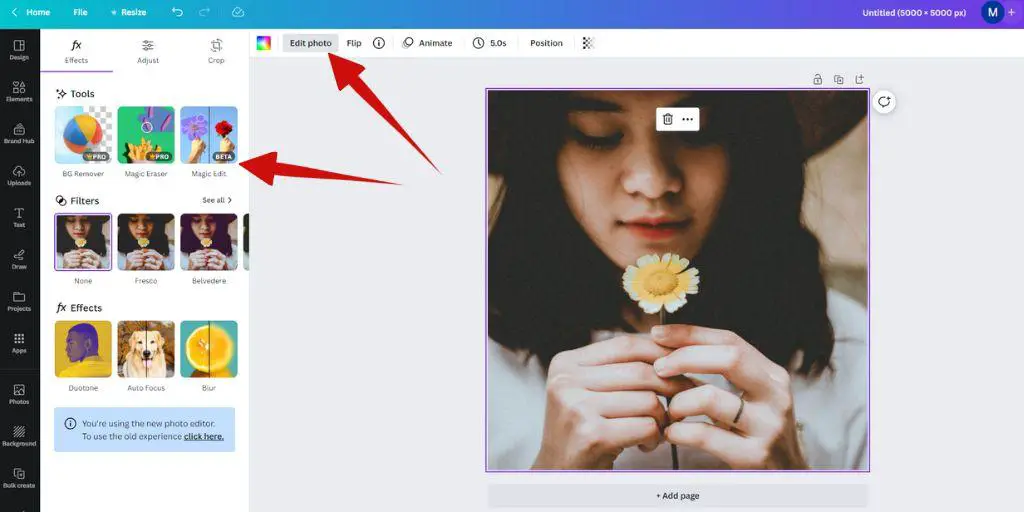 Once the Edit Photo feature is available, click on it to view a list of tools you can use. Then, locate the Magic Edit option.
Replacing an object is easy – just use your brush tool and select the area of the object you want to replace. Change the size of your brush and highlight the desired area for a smooth editing experience.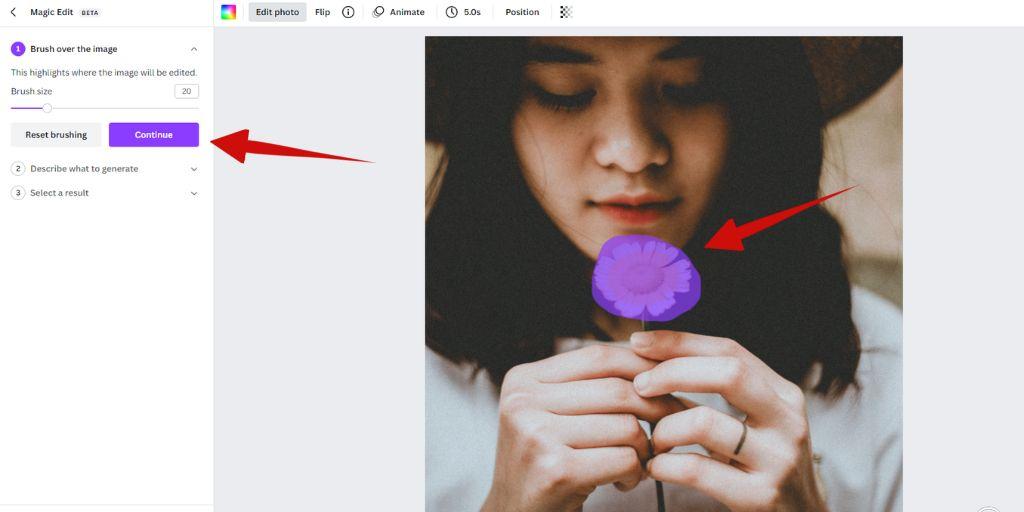 When you're ready, click the Continue button in the left sidebar and write a text prompt that accurately describes what object you want to add instead of replacing it. This helps ensure your image contains exactly what you desire!
I wanted to create something unique, so I typed "red rose" into the AI writer and hit the Generate button.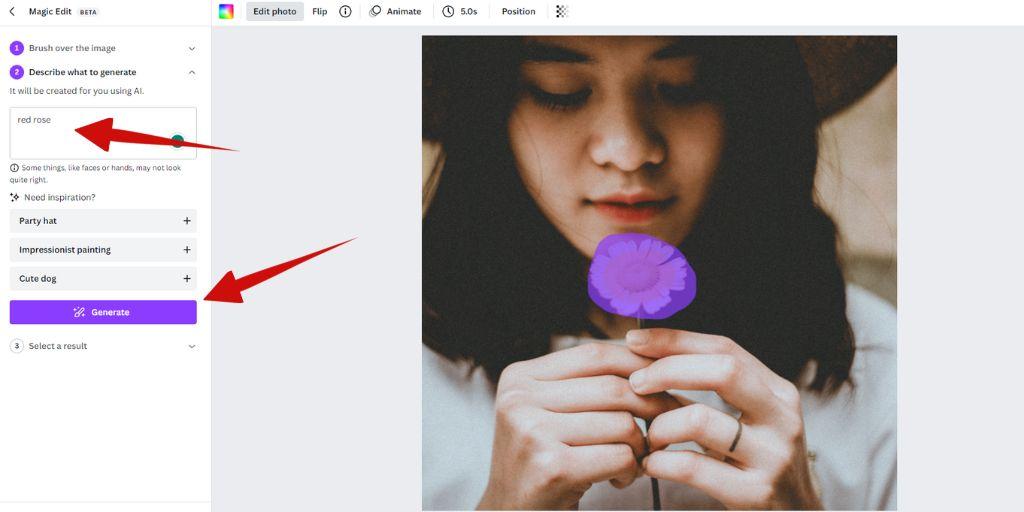 Note: If you're stuck for ideas, Canva can be a great source of inspiration. Simply click on the "Need Inspiration" section to access an array of suggested replacements and get your creative juices flowing! 
Moments later, I was presented with four completely different variants of my original prompt – all in one go!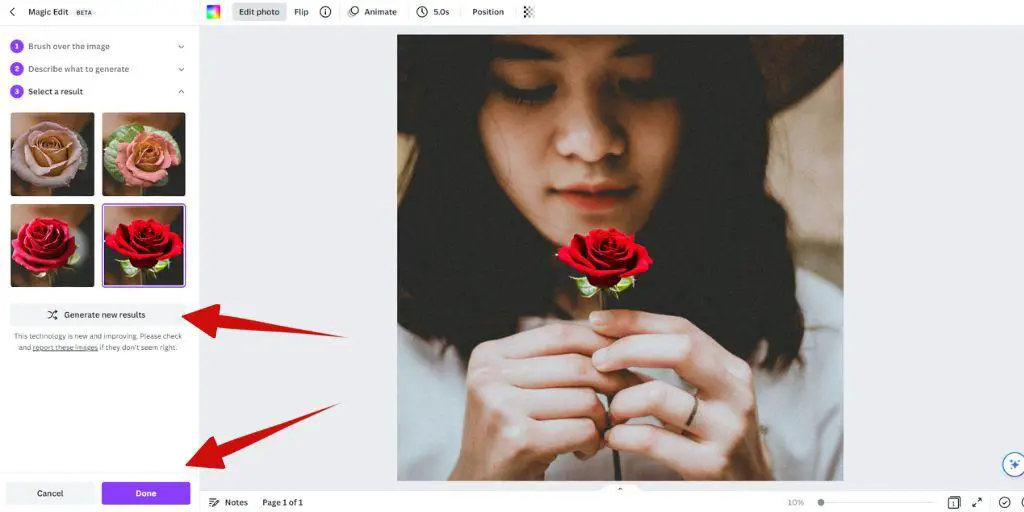 As you can see, I can select from four aesthetically pleasing red roses (not all are red), and when I click on each of these images, I can see them replacing the white flower in my original photo.
If you're not OK with the four images that have been generated, you can always create new versions by simply clicking on the Generate new results button.
But in my case, I'm quite happy with the result, so all I need to do is hit the Done button and I can use it, share it or download it.
So easy it is.
How to Use Magic Edit on Mobile (Canva App)
For easy editing on your phone, make sure you have the Canva app installed from Apple Store (for iPhone) or Play Store (for Android).
Open the app and log into your account or create a new one to start using Magic Edit.
It's a simple process and you can never go wrong with it!
The Projects tab located at the top of the app is where you need to go to select an ongoing project that you'd like to edit images inside.
If you wish to use the Magic Edit feature for a new project, press on the + icon located at the center bottom, and then create a new project with your desired image.
When you choose a project, it'll appear in full size on the following page. To edit an image with Magic Edit, just tap on the one you want to change.
This will reveal the edges of that selected image on your screen.
With this image selected, simply press Effects from the bottom toolbar to begin editing!
Access the Effect menu at the bottom and choose Magic Edit.
Now you can access the Magic Edit mode and replace objects with ease!
Just brush over the desired part of your image, swiping your finger along where it is occupied by the object you'd like to switch out.
After highlighting the entire object, press the Continue button at the bottom right corner.
Canva will then ask for a text prompt that describes the new object you want to use instead of the one you want to remove.
After you write the text prompt, click on generate and you will get a set of 4 replacement objects to choose from.
If you're not satisfied with any of the four options presented, you can quickly check out the others just by tapping on them.
Preview using their expanded view above or simply tap Generate new results at the bottom for more options.
When you have found the perfect replacement, simply click on its thumbnail to view the entire image.
Once you are satisfied with it, tap Done at the top right corner of the Magic Edit menu to apply your changes.
That is all; the new image can now be downloaded.
Conclusion
That's all you need to know about using Magic Edit to replace objects inside images on Canva.
As you can see, this feature is incredibly easy to use and can create a new image in no time.
But if you have anything on your mind, I have compiled a list of some questions you may ask.
Canva Magic Edit Tool – FAQs
In this section, I will attempt to answer some frequently asked questions.
Are There Any Limitations When Using Magic Edit?
You can use Magic Edit up to 25 times per day.
AI-generated results don't always reflect the expected direction, color palette, or style desired by the user at times.
Unfortunately, there may be times when the output you receive is empty, unexpected, or different than what you had in mind.
The untouched area of your photo appears more grainy than the other visible elements in the image.
Is Canva Moderating Magic Edit Tool?
Canva holds itself to very high standards when it comes to product development, community interactions, and global impact.
Their goal is to make sure their users experience a safe and comfortable environment while using the platform and creating content.
Canva has made sure to include various safety mechanisms to provide a pleasant, secure experience for all community members.
Automated reviews are conducted for any potential triggering terms so that inappropriate images won't be generated.
Additionally, it's possible to report unsafe visuals if needed.
BONUS FOR YOU: Unleash your potential as a print-on-demand entrepreneur with this free guide – download now!
Here Are Some of My Favorite Tools For Print-on-demand
DESIGNS: For getting started, I like Kittl. It is a fantastic place with highly professional templates, that can be edited and used for print-on-demand. In my opinion, it is a go-to place for any person, who wants to make money with POD.
Another of my favorites is Creative Fabrica. They have millions of cheap graphics that can elevate your t-shirt design. If you are not the most skillful designer, then try Placeit or Vexels. These are platforms, where you can find thousands of pre-made t-shirt designs you can easily edit and publish on any print-on-demand platform. I recommend Placeit for beginners and after you get some sales move to Vexels.
I also use a platform called Simplified, which is an all-in-one tool that combines an AI writer, design editor, video editor, and social content planner into one simple platform. I love it. Just like Canva, Simplified has a free version, so you can try it here.
FREE DESIGNS: I love Canva. I'm using this platform almost every day. With Canva, you can create stunning t-shirt designs, they already have an entire section, where you can make your artwork from scratch or use some pre-made templates and edit them. Canva comes with two main pricing plans: FREE and PRO. And if you are a beginner, then I recommend the free plan, it should be enough for you.
SELL YOUR ART – Start selling your graphics, vectors, or photography on Wirestock to save time and make more money. Its Wirestock Program allows you to submit to multiple stock agencies and marketplaces in a single click. It is currently partnered with Shutterstock, Adobe, Alamy, Dreamstime, Pond5, and Depositphotos. Get a FREE account.
SELLING LOW-CONTENT BOOKS – Selling low-content and no-content books on Amazon can be a great way to boost your online income. Im using Book Bolt to do the research, get pre-made interiors, and create covers. And you can try the platform for free.
Take your POD business to the next level. If you are serious about selling your designs on t-shirts, mugs, and other products, you need to sell them on the biggest marketplaces like Etsy or Amazon. You should also sell for the best prices through on-demand fulfillment companies like Printul or Printify.
Disclosure: Some of the links above may contain affiliate partnerships, meaning, at no additional cost to you, NechEmpire may earn a commission if you click through to make a purchase.