I'm Miroslav, a passionate graphic designer and AI enthusiast. At NechEmpire, I'm here to equip you with the knowledge and skills to turn your design...Read more
(Last Updated On: August 2, 2023)
I'm thrilled to share another enlightening tutorial with you.
Today, we're going to unravel the mystery of how to add a text bubble on Canva, enhancing your designs with a touch of creativity and fun.
Table of Contents
Add a Text Bubble on Canva
Let's jump right in!
Picture this scenario: you have a captivating piece of text and you're looking to improve it within a text bubble. To achieve this, we'll need to go into the elements options, in the left-hand corner of the Canva interface.
Here, write in the keywords 'text bubble' to unveil all the options at your disposal.
Note: I have made a video tutorial on this topic. You can watch the video below.
Choose Your Text Bubble
A huge number of graphics and images featuring text bubbles will spring to life on your screen. Take a moment to check all and then select the one that resonates with your creative vision.
You'll find a mix of both lifelike and cartoon graphics.
Some might carry a 'Pro' badge, indicating a subscription requirement, while others are free of charge. For this guide, let's go with a complimentary text bubble graphic.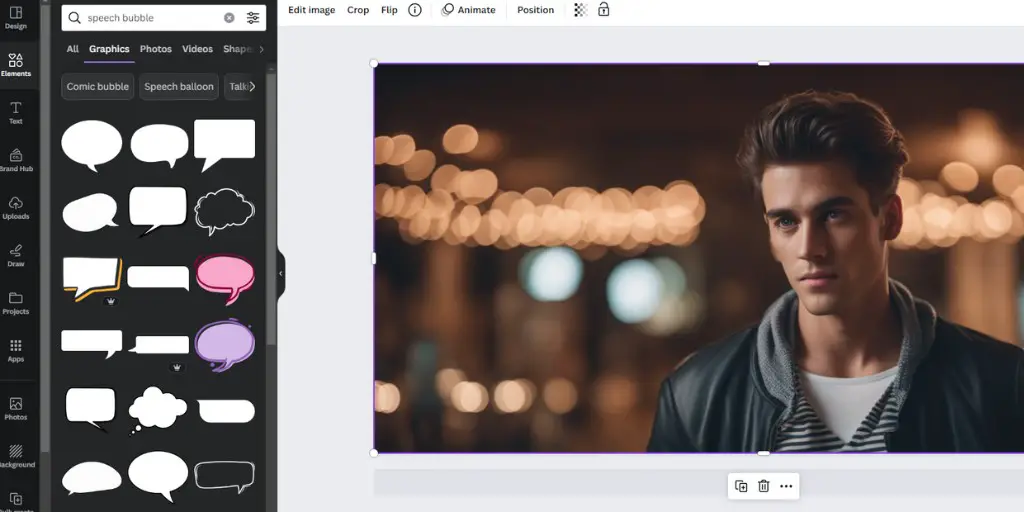 Position Your Text Bubble
Once you've made your pick, it's as simple as dragging and dropping the text bubble onto your image. You might find the text bubble a bit on the small side but don't worry.
Canva offers intuitive resizing options. You can easily enlarge it by adjusting the dimensions to your liking.
Layer Your Elements
Now, let's address common issues you might encounter. If your text is hidden by the text bubble, just give the bubble a slight nudge, right-click on the text, and select the "Bring Forward" option. By tweaking the layers, your text will pop to the forefront.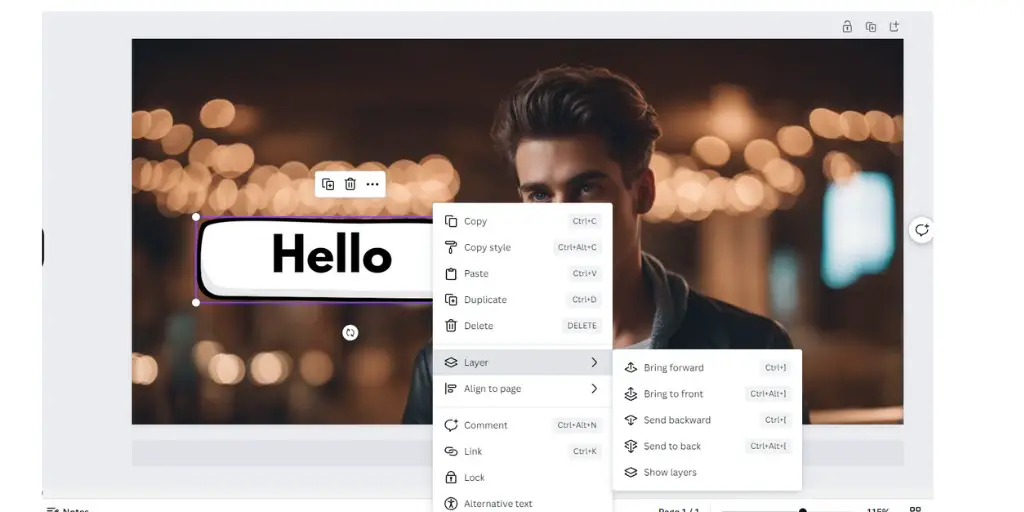 Final Touches
Take a moment to position the text within the text bubble, enhancing its visual appeal. As you can see, with just a few simple steps, you've learned how to add a text bubble on Canva.
Unleash Your Creativity
This technique is an interesting way to boost the visual impact of your text and inject a dose of creativity. You can also explore other creative avenues, such as using frames or weaving images into your text bubbles.
Canva offers a broad spectrum of free and premium resources to stoke your creative fires.
FAQs
What's the process for inserting a text bubble in Canva?
Incorporating a text bubble into your Canva design is a breeze. You just need to head over to the elements options, which you'll find in the left-hand corner of the Canva interface. From there, type 'text bubble' into the search bar to reveal a variety of options. Pick the one that best fits your design, then simply drag and drop it onto your image. You can then adjust its size and position to your liking.
Is it possible to alter the size of a text bubble in Canva?
Absolutely! Once you've added a text bubble to your design, you can easily adjust its size. Just click on the text bubble and drag its corners until it's the perfect size for your design. It's as simple as that!
How can I make my text appear in front of the text bubble in Canva?
If your text is getting lost behind the text bubble, don't worry, there's a quick fix. Just click on the text, right-click, and then choose the "Bring Forward" option. This will ensure your text pops out in front of the text bubble, making it easy to read.
Does Canva offer all its elements for free?
While Canva does offer a wide range of free elements, some are part of the 'Pro' package and require a subscription. This includes certain text bubbles. But don't worry, there are plenty of free elements available that can help you create stunning designs.
What are some creative ways to enhance my Canva design?
There's no limit to creativity in Canva! Adding a text bubble is just one way to make your design stand out. You can also try using frames, incorporating images into your text bubbles, or playing around with different fonts and colors. The sky's the limit!
How do I manage the layering of elements in Canva?
Layering elements in Canva is a piece of cake. Just drag and drop your chosen elements onto your design. If you find that an element is hidden, you can bring it to the front by right-clicking on it and selecting the "Bring Forward" option. This gives you full control over the layering of your design elements.
Is there a way to try Canva Pro for free?
Canva offers a free trial for its Pro subscription. This gives you the chance to explore a wider range of resources and tools, including premium text bubbles and other elements. You can find a link to the Canva free trial version in the video description below. Give it a go and see how it can elevate your designs!
BONUS FOR YOU: Unleash your potential as a print-on-demand entrepreneur with this free guide – download now!
Here Are Some of My Favorite Tools For Print-on-demand
DESIGNS: For getting started, I like Kittl. It is a fantastic place with highly professional templates, that can be edited and used for print-on-demand. In my opinion, it is a go-to place for anyone who wants to make money with POD.
Another of my favorites is Creative Fabrica. They have millions of cheap graphics that can elevate your t-shirt design. If you are not the most skillful designer, then try Placeit or Vexels. These are platforms, where you can find thousands of pre-made t-shirt designs you can easily edit and publish on any print-on-demand platform. I recommend Placeit for beginners and after you get some sales move to Vexels.
GET UNLIMITED DIGITAL ASSETS – Envato Elements is a subscription-based digital assets platform that provides a wide range of digital assets. Whether you're in need of fonts, stock videos, photos, motion graphics, mock-ups, overlays, or brushes – you name it – Envato Elements is likely to have it. It's your one-stop service for all types of creative resources.
SELLING GRAPHIC DESIGNS – Freepik makes it simple to get your design in front of a huge audience of paying customers. It's a set-it-and-forget-it source of passive income. The earnings per download may seem small, but they can compound into decent money over time. And they are also accepting AI designs. Try it for free.
SELLING LOW-CONTENT BOOKS – Selling low-content and no-content books on Amazon can be a great way to boost your online income. I'm using Book Bolt to do the research, get pre-made interiors, and create covers. And you can try the platform for free.
Take your POD business to the next level. If you are serious about selling your designs on t-shirts, mugs, and other products, you need to sell them on the most significant marketplaces like Etsy or Amazon. It would be best if you also sold for the best prices through on-demand fulfillment companies like Printul or Printify.
Disclosure: Some of the links above may contain affiliate partnerships, meaning, at no additional cost to you, NechEmpire may earn a commission if you click through to make a purchase.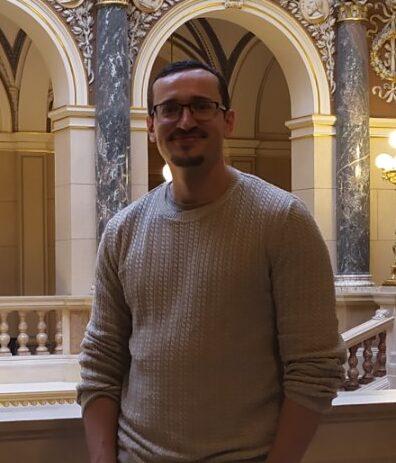 I'm Miroslav, a passionate graphic designer and AI enthusiast. At NechEmpire, I'm here to equip you with the knowledge and skills to turn your design passion into a thriving online business.
More Posts