I'm Miroslav, a passionate graphic designer and AI enthusiast. At NechEmpire, I'm here to equip you with the knowledge and skills to turn your design...Read more
(Last Updated On: July 16, 2023)
Kittl continues to blow us away with its remarkable features, and now they've added an artificial intelligence (AI) feature that takes your designs to a whole new level.
In this tutorial, I'll share a few tips on how you can maximize the AI feature inside Kittl.
So, without wasting your precious time, let's take a look at what AI inside the platform has to offer.
Kittl AI Tutorial
To start, create a new project and select a standard artboard size of 1200 by 1272 pixels.
Remember, you can always increase the DPI to 300 when you're ready to download your images. Once you have your artboard, locate the AI feature on the left-hand side, right at the bottom.
Click on "Kittl AI," and you'll see options for image styles, clipart styles, and vector styles.
Here's a quick walkthrough of how it works.
STEP 1: At the top, type in what you want the image to be or depict, what it's doing, and the style you prefer.
STEP 2: You can either type it into the prompt or choose from the image styles below. For example, let's say you want a dog sitting in an empty street in the style of an oil painting. Enter your description and click "Generate Image."
STEP 3: In a few seconds, the image pops up, and you have the freedom to resize, move, and rotate it as you please.
Use predefined styles
Make use of the predefined styles within Kittl. If you're satisfied with the design but want to change the style, simply remove the style from the prompt and explore the different image styles available.
Let's say you're thrilled with the dog image but want to try a steampunk style.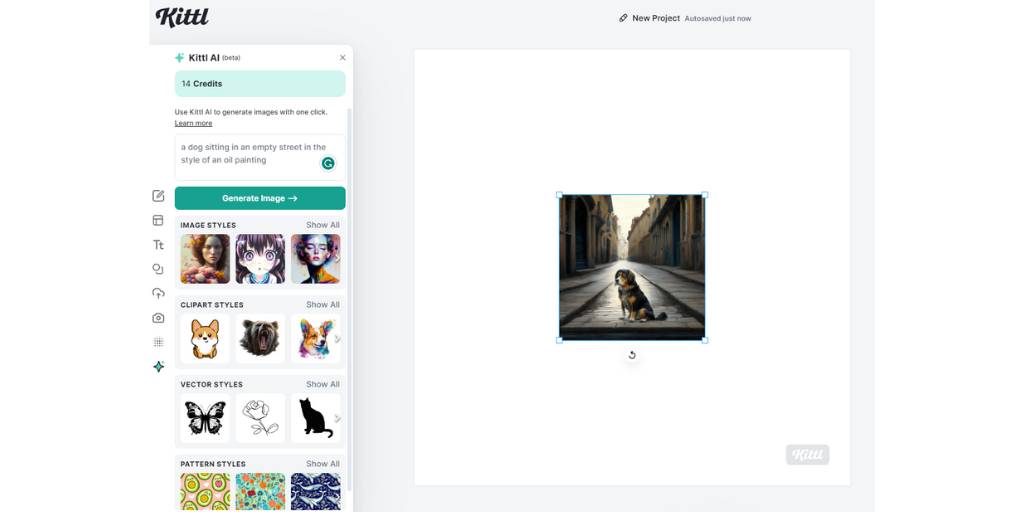 Go to the image styles section, select "Steampunk," and click "Generate Image" again. Wow, that's one fierce and eye-catching dog, what do you mean?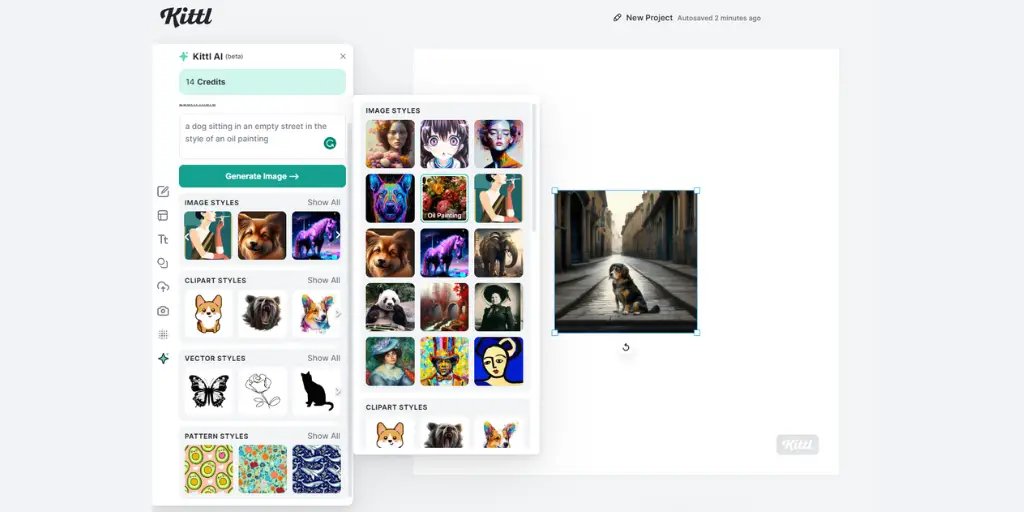 You can switch between styles effortlessly, giving you more creativity.
Play With Image Adjustments
Now, let's move on to tip number two: Don't overlook the image adjustments.
After selecting your image, you can explore the modes and image settings on the right-hand side. This will allow you to fine-tune the brightness, contrast, and saturation of the image, helping you create the perfect visual artwork you desire.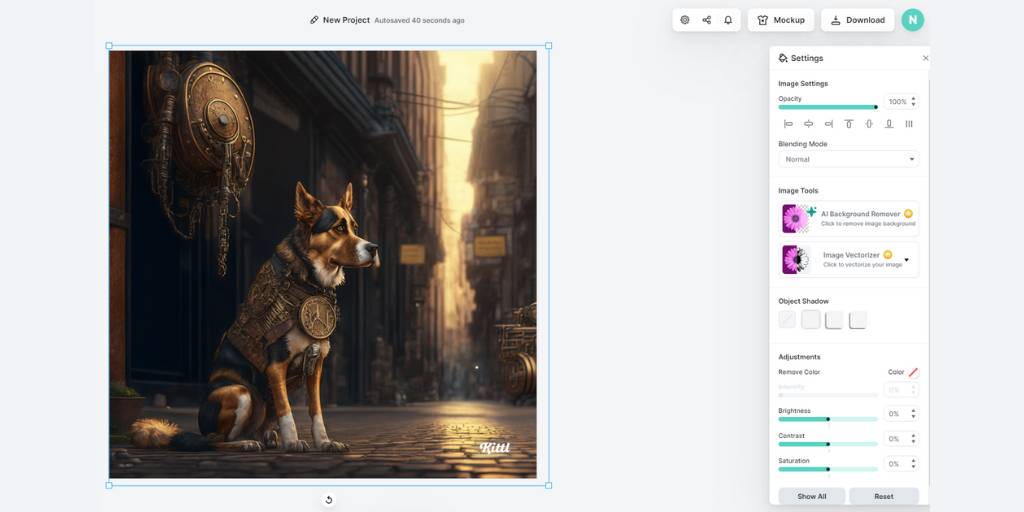 Take your time and play with these adjustments to find what you like.
Check Your Uploads
Another great feature of using Kittl AI is that you have complete control over your previous designs, even if you accidentally delete them.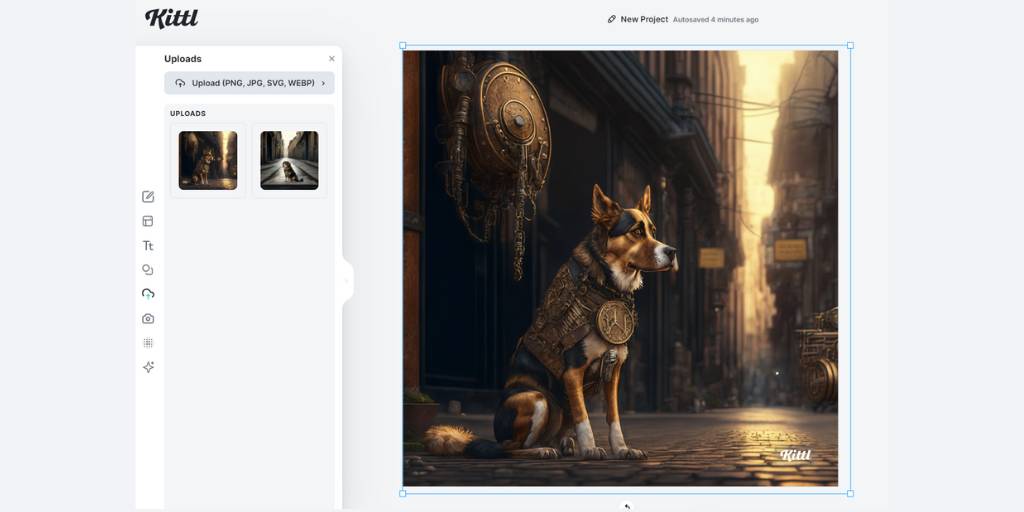 Simply go to the "Uploads" section on the left-hand side, and you'll find all your previously created designs. Click on the desired design, and it's ready for action again.
Discover the Vector Section
Did you know that with Kittl you can easily create a vector version of your prompt? I took the dog sitting prompt and clicked on the Vector Styles section.
There are various vector styles to choose from, such as vector art, silhouette, icon, or line art. Once you've made your selection, click "Generate Image."
What's great about vectors is their infinite scalability and easy color editing.
Play around with the object color on the right-hand side, and witness the transformation. You can create stunning designs with just a few clicks.
Use Templates
Lastly, tip number five: Take advantage of the templates.
Kittl offers a range of amazing templates that can inspire your creativity.
Select a template, find a keyword you want to use, and choose to use that design t-shirt, logo, or poster).
If you want to replace or modify elements within the template, simply click on them and make the necessary changes. You can even search for different clipart styles or add your own text to personalize the design further.
Remember, you have control over the image background, object color, and other settings to make the design truly yours. The templates serve as a starting point for your imagination to run wild.
Conclusion
Kittl AI provides an incredible platform for creating captivating designs. The graphical interfaces, templates, and features offer endless combinations and possibilities.
If you haven't tried it yet, I highly recommend giving Kittl a go.
You can find a link to a free Kittl account here. Just a heads up, it's an affiliate link, which means I may receive a small commission if you make a purchase.
I hope you enjoy using Kittl as much as I do.
Thank you for joining me in this tutorial, and if you're eager to supercharge your print-on-demand journey, be sure to check out another article on how to make the most of Kittl.
FAQ
Q: What is Kittl AI?
A: Kittl AI is a feature that has been added to the Kittl platform, providing users with an artificial intelligence capability to enhance their designs.
Q: Can I switch between different image styles effortlessly?
A: Yes, you can easily switch between different image styles within Kittl. Simply remove the current style from the prompt and explore the various image styles available to find the one that suits your vision.
Q: How can I make adjustments to my images within Kittl?
A: After selecting your image, you can find modes and image settings on the right-hand side. These settings allow you to fine-tune the brightness, contrast, and saturation of your image, enabling you to create the perfect visual artwork.
Q: What if I accidentally delete a design in Kittl?
A: Kittl has a feature called "Uploads" where you can find all your previously created designs. Simply navigate to the "Uploads" section on the left-hand side, click on the desired design, and it will be ready for use again.
Q: How can I create vector versions of my designs in Kittl?
A: Kittl offers a vector section where you can easily create vector versions of your designs. Choose from various vector styles such as vector art, silhouette, icon, or line art. You can then generate the image and make further adjustments to colors and other settings.
Q: Can I use templates in Kittl?
A: Yes, Kittl provides a range of templates to spark your creativity. You can select a template based on your desired design, whether it's a t-shirt, logo, or poster. Modify and personalize the elements within the template by clicking on them and making the necessary changes.
Q: How can I access Kittl?
A: You can access Kittl by following the link provided here. Please note that it is an affiliate link, and any purchase made through it may result in a small commission for the provider.
BONUS FOR YOU: Unleash your potential as a print-on-demand entrepreneur with this free guide – download now!
Here Are Some of My Favorite Tools For Print-on-demand
DESIGNS: For getting started, I like Kittl. It is a fantastic place with highly professional templates, that can be edited and used for print-on-demand. In my opinion, it is a go-to place for anyone who wants to make money with POD.
Another of my favorites is Creative Fabrica. They have millions of cheap graphics that can elevate your t-shirt design. If you are not the most skillful designer, then try Placeit or Vexels. These are platforms, where you can find thousands of pre-made t-shirt designs you can easily edit and publish on any print-on-demand platform. I recommend Placeit for beginners and after you get some sales move to Vexels.
GET UNLIMITED DIGITAL ASSETS – Envato Elements is a subscription-based digital assets platform that provides a wide range of digital assets. Whether you're in need of fonts, stock videos, photos, motion graphics, mock-ups, overlays, or brushes – you name it – Envato Elements is likely to have it. It's your one-stop service for all types of creative resources.
SELLING GRAPHIC DESIGNS – Freepik makes it simple to get your design in front of a huge audience of paying customers. It's a set-it-and-forget-it source of passive income. The earnings per download may seem small, but they can compound into decent money over time. And they are also accepting AI designs. Try it for free.
SELLING LOW-CONTENT BOOKS – Selling low-content and no-content books on Amazon can be a great way to boost your online income. I'm using Book Bolt to do the research, get pre-made interiors, and create covers. And you can try the platform for free.
Take your POD business to the next level. If you are serious about selling your designs on t-shirts, mugs, and other products, you need to sell them on the most significant marketplaces like Etsy or Amazon. It would be best if you also sold for the best prices through on-demand fulfillment companies like Printul or Printify.
Disclosure: Some of the links above may contain affiliate partnerships, meaning, at no additional cost to you, NechEmpire may earn a commission if you click through to make a purchase.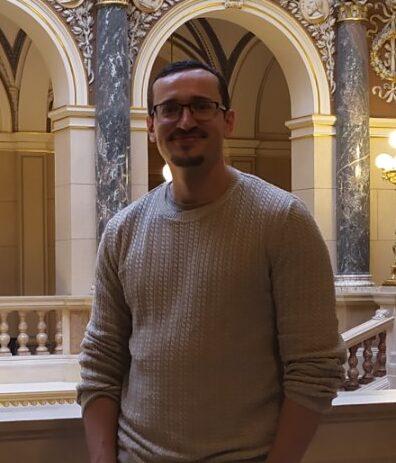 I'm Miroslav, a passionate graphic designer and AI enthusiast. At NechEmpire, I'm here to equip you with the knowledge and skills to turn your design passion into a thriving online business.
More Posts