I'm Miroslav, a passionate graphic designer and AI enthusiast. At NechEmpire, I'm here to equip you with the knowledge and skills to turn your design...Read more
(Last Updated On: November 19, 2022)
Creating a logo is a design process that takes time and talent. Finding the perfect font, colors, and layout for your logo can be difficult. It's a never-ending struggle to get it just right.
Meet Kittl!
With Kittl, anyone can design a professional logo without any required design skills! It is an intuitive, easy-to-use editor that helps you create beautiful designs (and logos) using an online editing tool.
Here's a look at Kittl editor and tips for creating a logo in under 5 minutes.
The good thing?
You don't need to be a professional designer – it's actually really easy!
What is Kittl?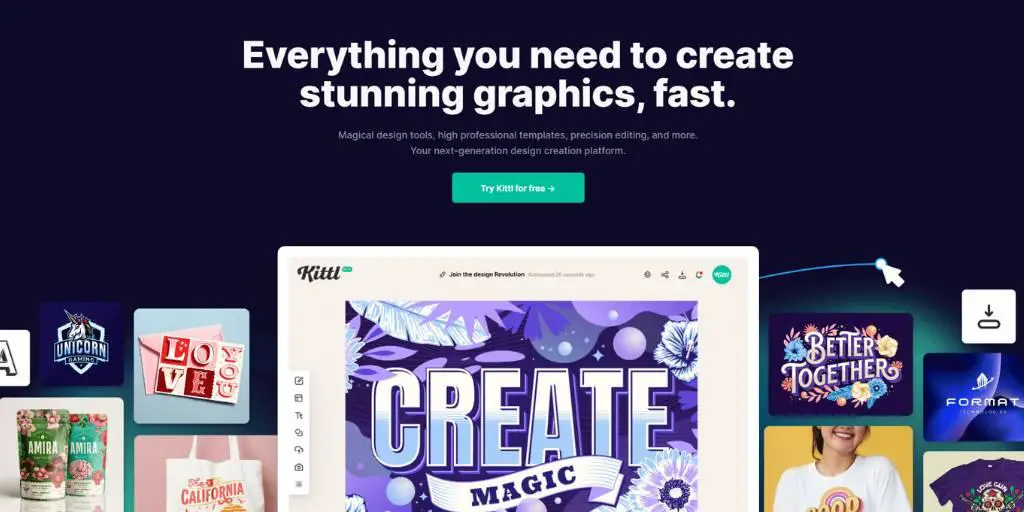 Designers are always looking for new tools to help them create artwork.
Kittl is a new editor for designers that helps you create professional and artistic designs for your brand or print-on-demand business.
It is an incredibly intuitive and beginner-friendly platform where you can create anything from album art to logos, posters, or t-shirt designs with just a few clicks.
While you can start designing from scratch, as a non-designer, you will love to use any of the 1000+ ready-to-use templates that are completely editable.
You also get access to illustrations, vector, and font libraries to help you find the correct elements for your logo project.
To be more exact, Kittl offers more than 1000+ editable templates, 10,000+ design assets, 180+ fonts, and much more. All with a full commercial license that is valid even for print-on-demand.
Beginner-Friendly Intuitive Interface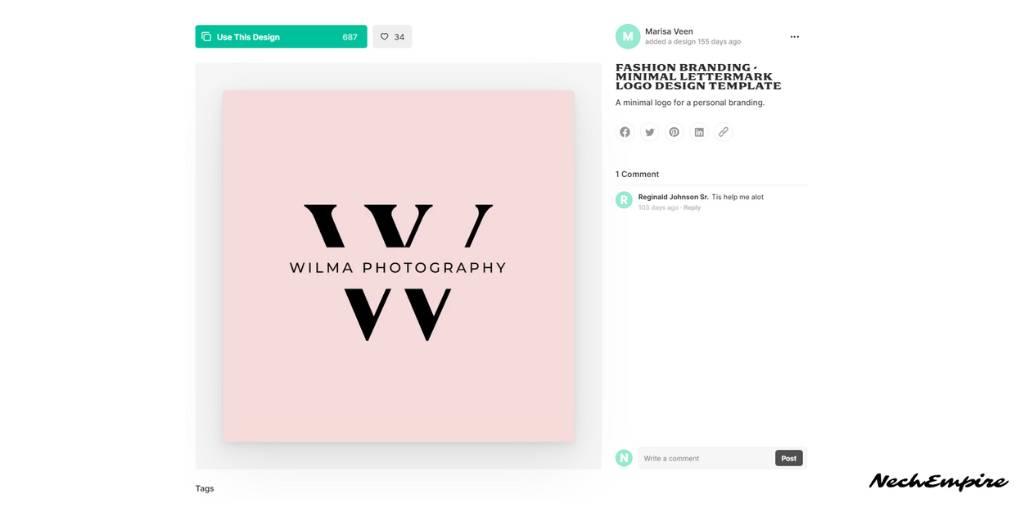 Kittl is an online platform that allows you to create original content with just a few clicks.
You can access it anywhere you have an internet connection. Just log in and start designing.
When designing, you have two options – starting from scratch, or using a pre-made template.
The benefit of choosing a template is that all the elements in such template are editable and can be quickly changed to meet your needs.
Designers have long known that one of the most valuable tools in their arsenal is the ability to make changes on the fly. This is made possible by a system known as real-time designing.
The real-time design allows designers to make changes immediately, by seeing those changes applied in real-time. This has enabled designers to create more visually compelling projects, and more quickly than ever before.
Kittl – What are the Key Features
Kittl is an online editor that focuses on making the design process as easy as possible.
Here are the most important features:
1000+ ready-to-use fully editable templates,
Huge library of graphic assets
Download for any use case, print or digital (PNG, JPG, PDF, SVG)
Easy to use even for non-designers
180+ fonts
No design experience required
Interesting tutorials and engaging communities
Commercial license suited for print-on-demand
Kittl – Pricing
Is Kittl free? To get you a more detailed answer I have prepared a simple pricing overview. And yes, Kittl has a free plan, where you can work on up to 100 designs per month, and get access to a limited library of fonts, illustrations, and graphic elements.
That said, Kittl has 4 pricing plans: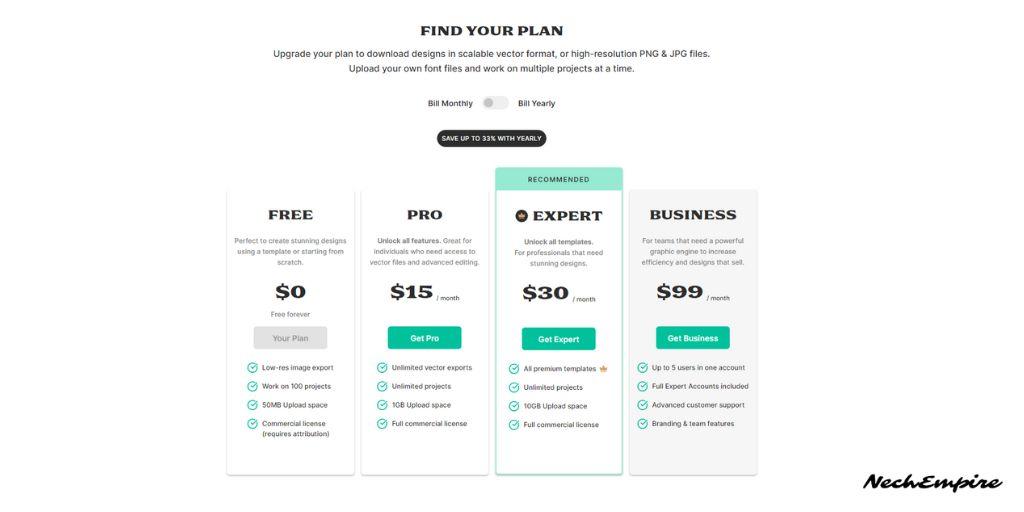 Free: You can choose to work on up to 100 projects with 50MB of storage, access all of the design templates, have full access to the elements library, and it comes with a commercial license (but you need to give Kittl the attribution).
Pro ($15 per month): Work on as many projects as possible with 1GB of storage. You'll also get access to template designs, the full elements library, and your projects' commercial licenses. Plus, you can export your stuff in high-res JPG and PNG formats, as well as vector formats like PDF and SVG
Expert ($30 per month): Work on unlimited projects with 10GB of upload space with access to all design templates, full elements library, and a commercial license.
Business ($99 per month): Up to 5 users can access one account, with advanced customer support, branding, and team features.
Conclusion
Kittl is a new and interesting online graphic editor that has a main focus on t-shirts, logos, and poster designs. It allows you to use ready-made templates that are easily editable and can be used for private or commercial purposes.
You can customize your design using the tools available in the platform and make it as good as you want.
BONUS FOR YOU: Unleash your potential as a print-on-demand entrepreneur with this free guide – download now!
Here Are Some of My Favorite Tools For Print-on-demand
DESIGNS: For getting started, I like Kittl. It is a fantastic place with highly professional templates, that can be edited and used for print-on-demand. In my opinion, it is a go-to place for anyone who wants to make money with POD.
Another of my favorites is Creative Fabrica. They have millions of cheap graphics that can elevate your t-shirt design. If you are not the most skillful designer, then try Placeit or Vexels. These are platforms, where you can find thousands of pre-made t-shirt designs you can easily edit and publish on any print-on-demand platform. I recommend Placeit for beginners and after you get some sales move to Vexels.
GET UNLIMITED DIGITAL ASSETS – Envato Elements is a subscription-based digital assets platform that provides a wide range of digital assets. Whether you're in need of fonts, stock videos, photos, motion graphics, mock-ups, overlays, or brushes – you name it – Envato Elements is likely to have it. It's your one-stop service for all types of creative resources.
SELLING GRAPHIC DESIGNS – Freepik makes it simple to get your design in front of a huge audience of paying customers. It's a set-it-and-forget-it source of passive income. The earnings per download may seem small, but they can compound into decent money over time. And they are also accepting AI designs. Try it for free.
SELLING LOW-CONTENT BOOKS – Selling low-content and no-content books on Amazon can be a great way to boost your online income. I'm using Book Bolt to do the research, get pre-made interiors, and create covers. And you can try the platform for free.
Take your POD business to the next level. If you are serious about selling your designs on t-shirts, mugs, and other products, you need to sell them on the most significant marketplaces like Etsy or Amazon. It would be best if you also sold for the best prices through on-demand fulfillment companies like Printul or Printify.
Disclosure: Some of the links above may contain affiliate partnerships, meaning, at no additional cost to you, NechEmpire may earn a commission if you click through to make a purchase.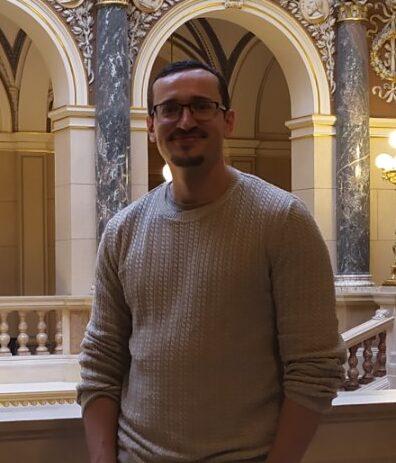 I'm Miroslav, a passionate graphic designer and AI enthusiast. At NechEmpire, I'm here to equip you with the knowledge and skills to turn your design passion into a thriving online business.
More Posts