I'm Miroslav, a passionate graphic designer and AI enthusiast. At NechEmpire, I'm here to equip you with the knowledge and skills to turn your design...Read more
(Last Updated On: March 11, 2023)
Artificial intelligence has been in the news lately and is a hot topic. One example of artificial intelligence is art generators, such as OpenAI's popular DALL-E 2, Midjourney, or Stable Diffusion.
These tools create original art by analyzing paintings or photos according to instructions set by the user.
As these tools become more widespread, some people are forecasting the end of human artists. But there are some people who think the opposite.
And I'm one of the people who think that art generators will help people to express their creativity more.
But in this article, I would like to focus on the fact that an incredible amount of these tools have emerged recently.
AI Art Generators Are Everywhere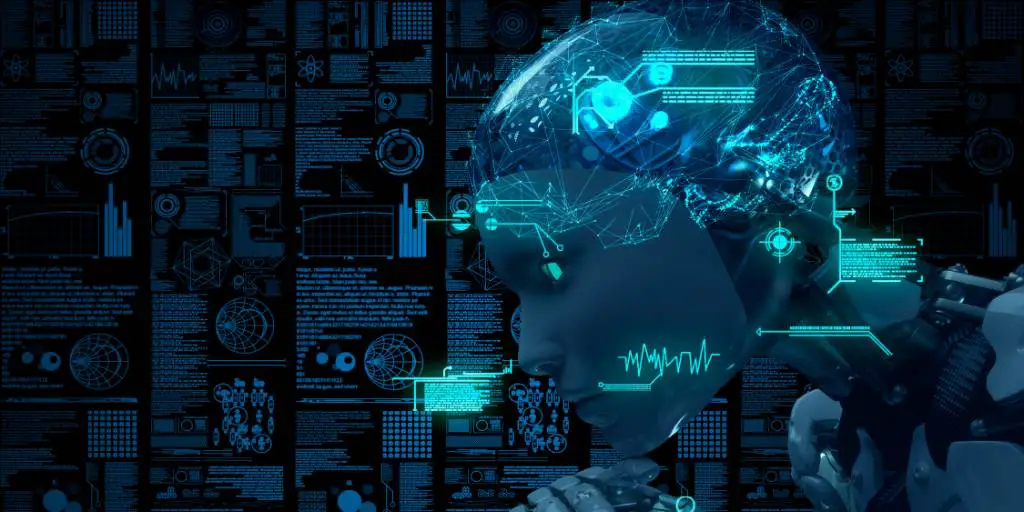 And that's something that really freaked me out a little bit.
It's no longer just a handful of programs, lately, almost every graphic software came with an AI-powered image generator.
I'm talking about Canva, Photoshop, and Creative Fabrica, but I have also seen other tools I'm using for my websites come with such tools.
I am mainly a blogger who owns a portfolio of websites, and to be more efficient, I use AI writing tools like Rytr or Jasper to improve the quality of my articles and boost my productivity.
These AI tools are specially designed to help writers, but now even these AI writers come with the ability to create images from text prompts.
And these are only a few of the tools I'm currently using, such as Rytr and Jasper, I can't imagine how many other tools are also including this feature.
And the most interesting thing is that they are not bad at all.
AI Art Generator in Rytr
Just take a look at Rytr, a tool I'm using for content production.
When you create a sentence in Rytr's interface, you can highlight it to access a few magic commands that help you improve the content.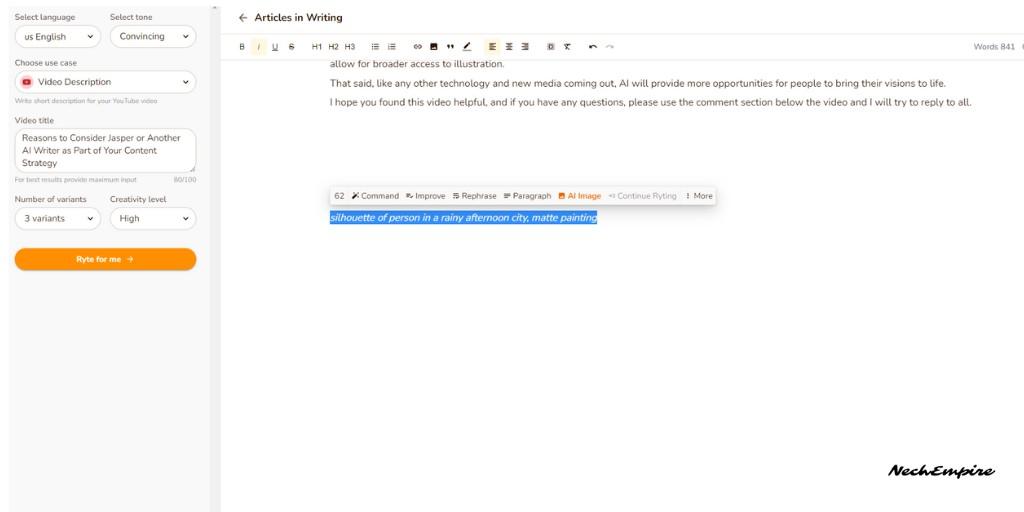 There are a few useful features here, but now they've included an AI Image generator in this menu bar.
And let's test it. For example, I will use this sentence:
silhouette of person in a rainy afternoon city, matte painting
After I highlight the prompt and click on the AI Image feature, it takes a few seconds and it gives me one image.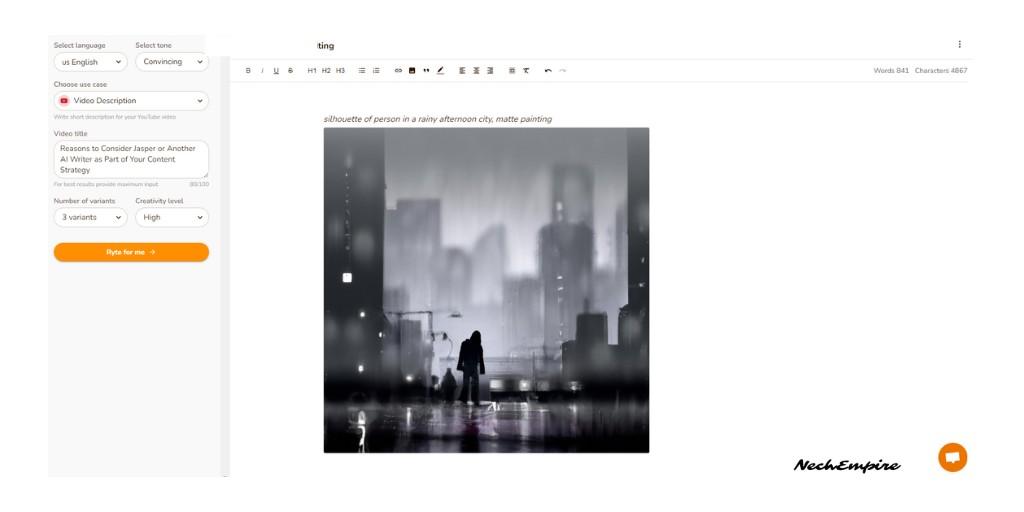 The result is quite decent. It also makes it easy to change the size of the image by dragging the white arrow in the right bottom corner.
I understand the idea behind it. When you write a blog post, you can use the same interface and create original images for the article.
It's pretty convenient, I would say.
But, if my favorite AI writer has such a feature, how many other AI-powered writing assistants do too?
Why We Have So Many AI Image Generators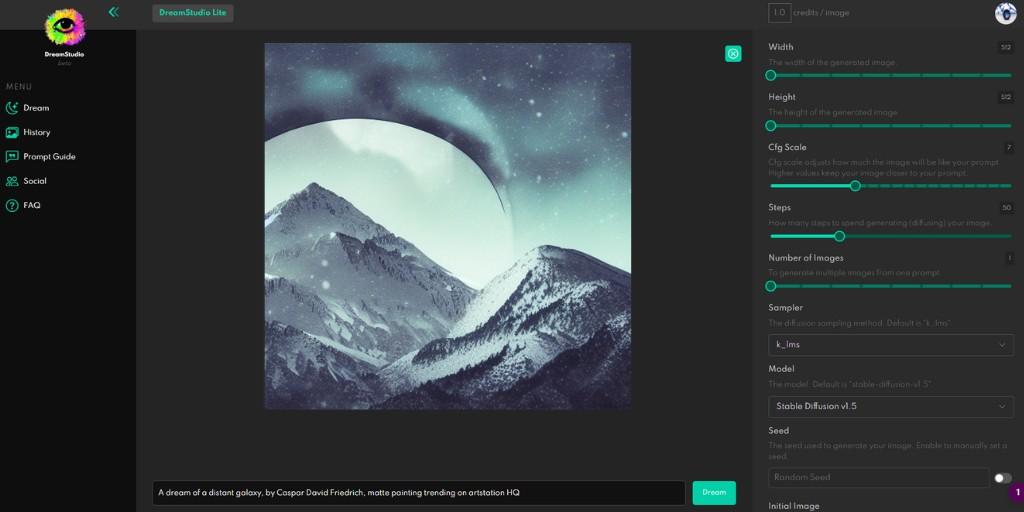 In my opinion, there are already too many AI image generators on the market and we need some sort of consolidation.
It's the same with AI writers; there are so many of them that it can't be possible that they all are profitable.
So, we need to wait a few years to see which of them will remain and which will disappear.
However, we will need to understand that AI art is here to stay, and we need to accept it.
Currently, the generated art has its limitations, and it will take a long time to be more outstanding.
In my opinion, in the future, AI will be able to take on the role of an artist's creative partner and help them create art that is more personal, as well as more marketable.
And marketable is the ideal word here.
Because right now, it is quite difficult to sell such art.
While AI-generated art is still in its infancy, it is a growing segment of the art market. This trend is expected to continue and it will surely become a billion-dollar industry.
But when that will happen is difficult to predict.
I think that AI is changing the way we create, consume, and appreciate art.
Artists are still needed in this new era of artificial creativity, but they will have to learn how to make their work more valuable and also find new ways to monetize their art.
The End of Creativity?
It's true that AI technologies can have both positive and negative impacts depending on how they are used.
And art is no exception,
I believe that recent developments in AI-generated art are bringing us to a new era in which technology will create new types of artists and allow for broader access to illustration.
That said, like any other technology and new media coming out, AI will provide more opportunities for people to bring their visions to life.
I hope you found this video helpful, and if you have any questions, please use the comment section below the video and I will try to reply to all.
BONUS FOR YOU: Unleash your potential as a print-on-demand entrepreneur with this free guide – download now!
Here Are Some of My Favorite Tools For Print-on-demand
DESIGNS: For getting started, I like Kittl. It is a fantastic place with highly professional templates, that can be edited and used for print-on-demand. In my opinion, it is a go-to place for anyone who wants to make money with POD.
Another of my favorites is Creative Fabrica. They have millions of cheap graphics that can elevate your t-shirt design. If you are not the most skillful designer, then try Placeit or Vexels. These are platforms, where you can find thousands of pre-made t-shirt designs you can easily edit and publish on any print-on-demand platform. I recommend Placeit for beginners and after you get some sales move to Vexels.
GET UNLIMITED DIGITAL ASSETS – Envato Elements is a subscription-based digital assets platform that provides a wide range of digital assets. Whether you're in need of fonts, stock videos, photos, motion graphics, mock-ups, overlays, or brushes – you name it – Envato Elements is likely to have it. It's your one-stop service for all types of creative resources.
SELLING GRAPHIC DESIGNS – Freepik makes it simple to get your design in front of a huge audience of paying customers. It's a set-it-and-forget-it source of passive income. The earnings per download may seem small, but they can compound into decent money over time. And they are also accepting AI designs. Try it for free.
SELLING LOW-CONTENT BOOKS – Selling low-content and no-content books on Amazon can be a great way to boost your online income. I'm using Book Bolt to do the research, get pre-made interiors, and create covers. And you can try the platform for free.
Take your POD business to the next level. If you are serious about selling your designs on t-shirts, mugs, and other products, you need to sell them on the most significant marketplaces like Etsy or Amazon. It would be best if you also sold for the best prices through on-demand fulfillment companies like Printul or Printify.
Disclosure: Some of the links above may contain affiliate partnerships, meaning, at no additional cost to you, NechEmpire may earn a commission if you click through to make a purchase.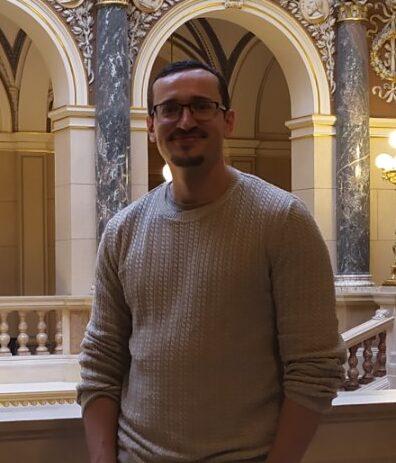 I'm Miroslav, a passionate graphic designer and AI enthusiast. At NechEmpire, I'm here to equip you with the knowledge and skills to turn your design passion into a thriving online business.
More Posts