(Last Updated On: March 11, 2023)
It's getting harder and harder to find original art.
With AI and machine learning, art is generated at an alarming rate; making it harder and harder to tell what has been created by humans and what has been made by AI.
I personally have nothing against it. I think that AI art won't just disappear, on the contrary, it will keep improving.
As a designer, you have to be prepared for that.
At the moment, we are seeing the rise of AI art generators and it is no longer just a fight between Dall-E 2, MidJourney, or Stable Diffusion. We are seeing how popular software and platforms are using AI to improve their services.
I have already introduced you to the AI feature in Canva, and Photoshop and now it is time to take a closer look at Creative Fabrica.
For people who never heard of Creative Fabrica before, then you should know that this is a fantastic website where you can find almost anything you need for design creation.
I'm talking about fonts, graphics, icons, and other elements.
They are still running the All Access promotion where you get access to all their assets for 1 dollar in the first month.
And what is best, is that most of the graphics and fonts on this website come with a print-on-demand license, so you can use these elements on your all the designs you want to sell online.
Creative Fabrica is not only a website where you can find graphics or fonts, but they also have plenty of useful tools that can help you improve your design skill.
How to Use CF Spark?
One of the newest features is called CF Spark and it is a simple text-to-image AI generator. You can access this feature by aiming at the main menu, clicking on the tool section, and then clicking on the Create your own designs option.
This way, you are opening the Creative Fabrica Spark image generator.
The Spark is just another AI art generator where you type a prompt, which is a detailed text command, and the generator will create a unique image from the prompt.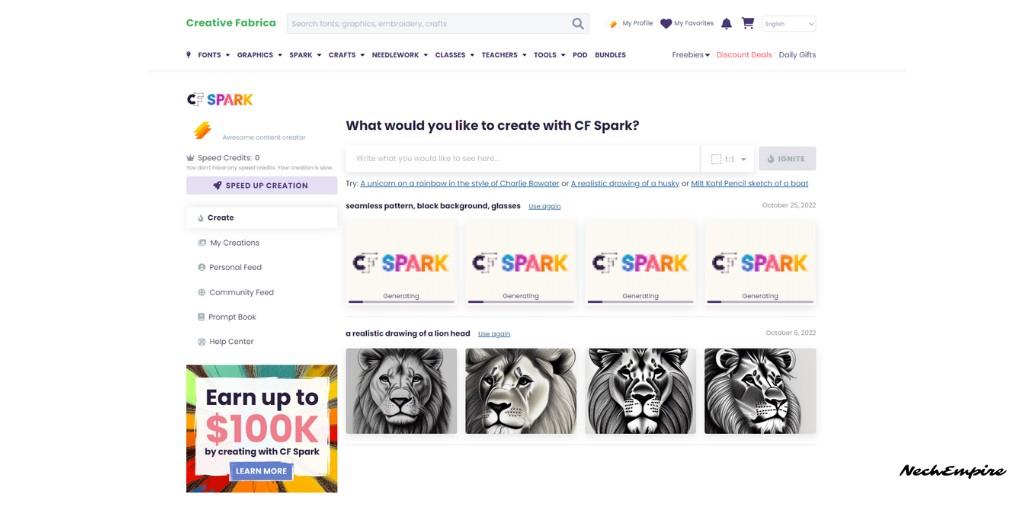 So, if you want to try this generator, simply put your text prompt into the bar and click on Ignite button.
The first thing you'll notice is that this generator is used by a huge number of people and the image generation is slow. While you can speed up the creation by buying speed credits, it is not necessary.
When the creation is finished, you get four options, and if you like some of these designs, you can click on the publish button and then download this image with a full POD license.
However, this is true only when you have an All Access subscription because this feature is part of this subscription.
That said, you can use Spark on Creative Fabrica for free, but you cannot download your creation until you become a paying member.
That sounds fair, I think, and I like the fact that I don't have to pay for anything else. Yes, you can buy credits to jump to the top of the queue, but you don't need to. However, you should expect that the image generation will take some time.
Key Takeaways
CF Spark is a text-to-image AI generator
It is free to use, but you need to have a Creative Fabrica subscription to download generated images.
You can also speed up the process of image creation by buying a Spark monthly subscription.
CF Spark Personal and Community Feed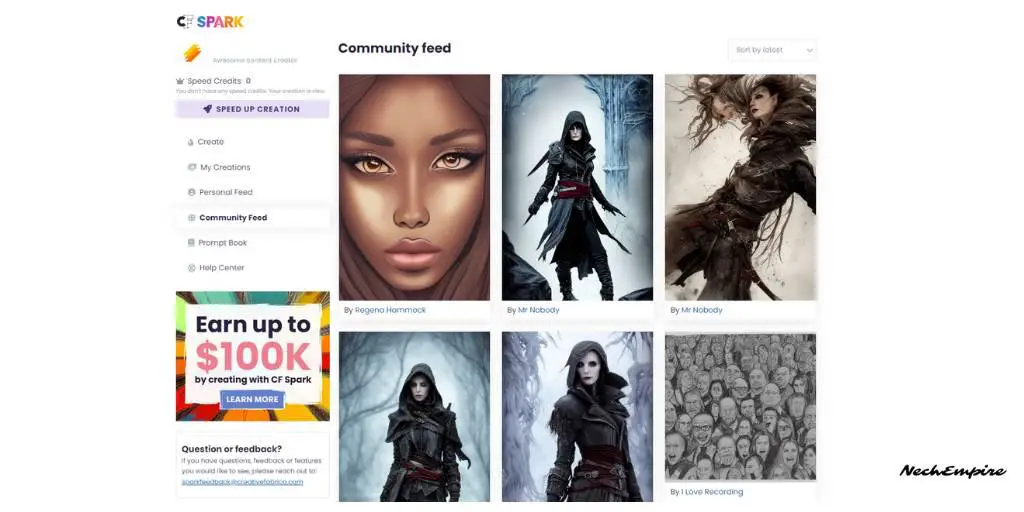 Another great thing about Spark is the fact you can easily find inspiration by using the Feed options. If you follow someone on Creative Fabrica, you can click on the Personal Feed section and take a look at what they are creating with Spark.
Or you can click on the Community Feed and take get the latest inspiration from Creative Fabrica members.
And the last cool fact about Spark is that Creative Fabrica is working on a model where you will get paid when someone will download your generated images. However, this is still a matter of months.
Right now, you can test this amazing new feature or you can use it to create interesting images with the help of AI.
CF Spark Pricing 
As I already mentioned in this article, CF Spark is free to use, but if you want to download images you created with this feature, you need to have an All Access subscription.
However, even members of Creative Fabrica are limited by the speed of image generation. If you want to speed up the process, you need to get a $9 monthly subscription that will give you 1000 speed points to jump to the top of the queue.
And if you want to use only the CF Spark AI art generator, you can pay only the CF Spark Creator subscription of $9/month.
Bottom Line
If you want to make money by selling your artwork online, Creative Fabrica is a great place to get graphic elements, shapes, or fonts. I like this website, and I like the fact, that it is constantly evolving and giving its members new and new features.
BONUS FOR YOU: Unleash your potential as a print-on-demand entrepreneur with this free guide – download now!
Here Are Some of My Favorite Tools For Print-on-demand
DESIGNS: For getting started, I really like Kittl. It is a fantastic place with highly professional templates, that can be edited and used for print-on-demand. In my opinion, it is a go-to place for any person, who wants to make money with POD.
Another of my favorites is Creative Fabrica. They have millions of cheap graphics that can elevate your t-shirt design. If you are not the most skillful designer, then try Placeit or Vexels. These are platforms, where you can find thousands of pre-made t-shirt designs you can easily edit and publish on any print-on-demand platform. I recommend Placeit for beginners and after you get some sales move to Vexels.
FREE DESIGNS: I love Canva. I'm using this platform almost every day. With Canva, you can create stunning t-shirt designs, they already have an entire section, where you can make your artwork from scratch or use some pre-made templates and edit them. Canva comes with two main pricing plans: FREE and PRO. And if you are a beginner, then I recommend the free plan, it should be enough for you.
SELLING LOW-CONTENT BOOKS – Selling low-content and no-content books on Amazon can be a great way to boost your online income. Im using Book Bolt to do the research, get pre-made interiors and create covers. And you can try the platform for free.
HOSTING FOR YOUR E-SHOP – At some point, you should take control of your online sales. I like Bluehost hosting – the smart, secure, and user-friendly solution for building your own online store with top-notch performance. Learn more.
Take your POD business to the next level. If you are serious about selling your designs on t-shirts, mugs, and other products, you need to sell them on the biggest marketplaces like Etsy or Amazon. You should also sell for the best prices through on-demand fulfillment companies like Printul or Printify.
Disclosure: Some of the links above may contain affiliate partnerships, meaning, at no additional cost to you, NechEmpire may earn a commission if you click through to make a purchase.