(Last Updated On: March 11, 2023)
AI-generated art is becoming more and more popular, and it's quite logical that we're seeing plenty of tools that allow us to generate artwork from text inputs in a matter of seconds.
Basically, it can be said that everyone can find the tool that suits them best, and for me, it is a tool called DreamStudio AI.
DreamStudio AI is an online tool based on Stable Diffusion's text-to-image AI technology, which is similar to DALL-E 2 and works on any PC, Mac, or smartphone.
Unlike DALL-E 2, DreamStudio is much cheaper and more convenient to use.
This online art generator is using a Stable Diffusion image model, that was for free on Discord, it is a little bit disappointing, you have to pay for image generation.
Despite this fact, in this article, I want to show you how to use this incredible tool and how to force it to generate fantastic art.
Dream Studio AI Tutorial
To use DreamStudio AI, you need to open an account, and then you get 200 free credits to test the possibilities of this art generator.
NOTE: There are people, who like to watch tutorial instead of reading it, so for such people, I have made a video tutorial you can watch below.
When you open the DreamStudio, you are welcome with a clear interface, with few sliders on the right side.
But first, let's take a look at the left side, where you will find a menu. We have got here a Dream option, which I will talk about later. Then we have a History, which means, all your creations would be stored here.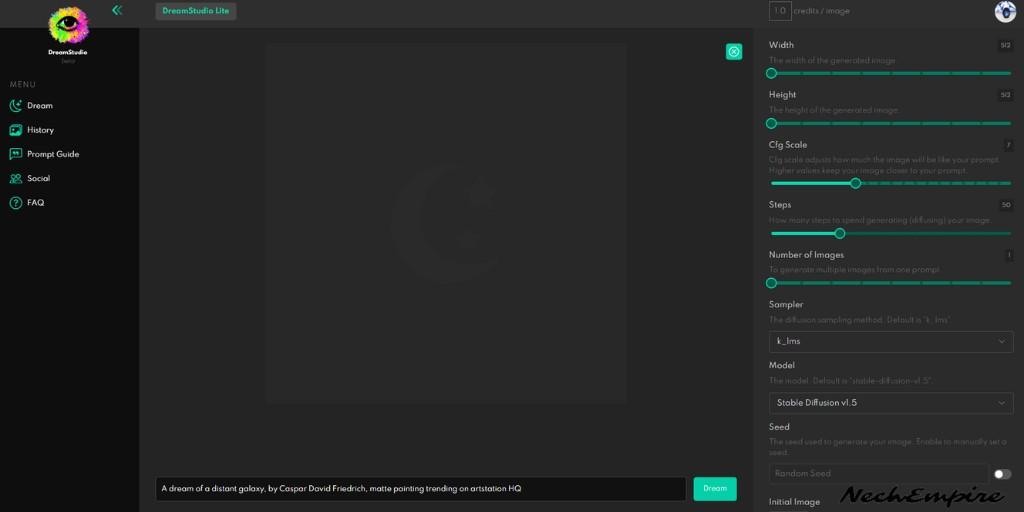 The next is a Prompt Guide, an introduction to the basics of prompt creation. And the last two options in the menu are Social information and a short FAQ section.
This was just a short overview of the menu, but let's go to the more interesting part of this article.
Most Important Features of DreamStudio AI
Let's go back to the Dream interface, which is a screen that has most of the features you need for your artwork generation.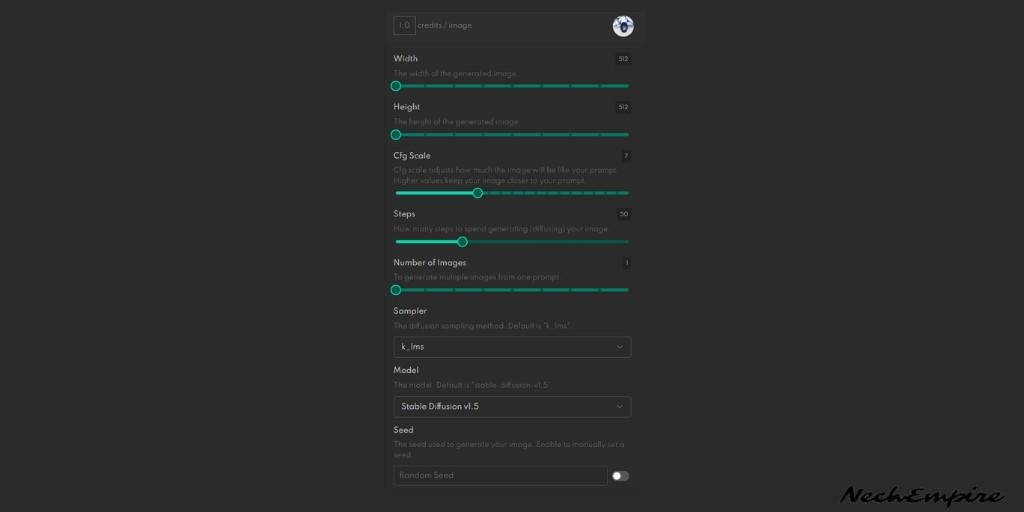 On the right side of the screen, you can see different sliders with a few features that affect the quality of the generated artwork, as well as the price of it.
As I already mentioned, if you open an account, you get free credits to test the quality of the AI art generator. However, after you spend all the credits, you need to buy more credits to continue using DreamStudio.
Luckily, the pricing model is reasonable and much cheaper than the main competitor, DALL-E 2, which provides similar results, if I'm talking about the quality of designs.
With the basic settings, you can generate up to 9 images from one prompt for a price of 1 cent per image.
This is fantastic news for everyone who cannot use the Stable Diffusion code on the computer, because of the graphics card limitation.
Let's go back to the different sliders and talk about how important some of them are for the resulting design.
The first two sliders are the width and height of the image. While you can use them to get a maximum pixel image size of 1024 x 1024, as you can see here in this tab, it will cost you more credits.
I'm using the default, cheapest image size (512 x 512 pixels) because I know how to upscale images with free AI tools without losing quality.
The next useful slider in DreamStudio is for the CFG Scale feature. With the CFG Scale, you can force the AI to follow exactly your prompt.
However, you don't want to set the slider to the maximal value, because you'll get too many repetitive results. But you don't want to set it to the minimum value either because this gives the AI too much creative freedom and it will generate an image that is not following the prompt at all.
I would recommend you play with it and find the sweet spot for your designs. Using this feature does not cost you any credits.
And finally, I want to talk about the most important feature when it comes to artwork quality. The Steps slider is saying AI how many steps to spend generating your image.
If you want to get a more detailed and complex image, then you should use the most steps possible. However, this would cost you more credits. In my opinion, 50 steps should be OK for most generations.
The next slider is giving you the opportunity to generate more images from one prompt, and it doesn't cost any credits at all.
The next feature is the Sampler and I would recommend leaving it as it is. This is a too much-advanced feature, and the default k lms sampler is working great.
And even the Model of generation should be left on the default value.
Seed, this is the last feature and it simply means, that every image you generate, is getting a unique seed and can be used to find a tune for the prompts we are using.
DreamStudio is quite easy to use the tool and while you know the basics of how to use it, let's give it a chance to generate some images.
Finding Prompts for Stable Diffusion
The magic of using any AI art generator is to find the right prompt. This can be quite difficult to learn, especially for beginners. But for such people, or for everyone who needs to find a style or get inspiration, I introduce you to Lexica.
Lexica is a free tool that is searching a database of Stable Diffusion prompts used by other creators. And it is quite easy to use. Just put any keyword in the search bar and get related results.
If you like any image from the search, just click on it and copy the prompt.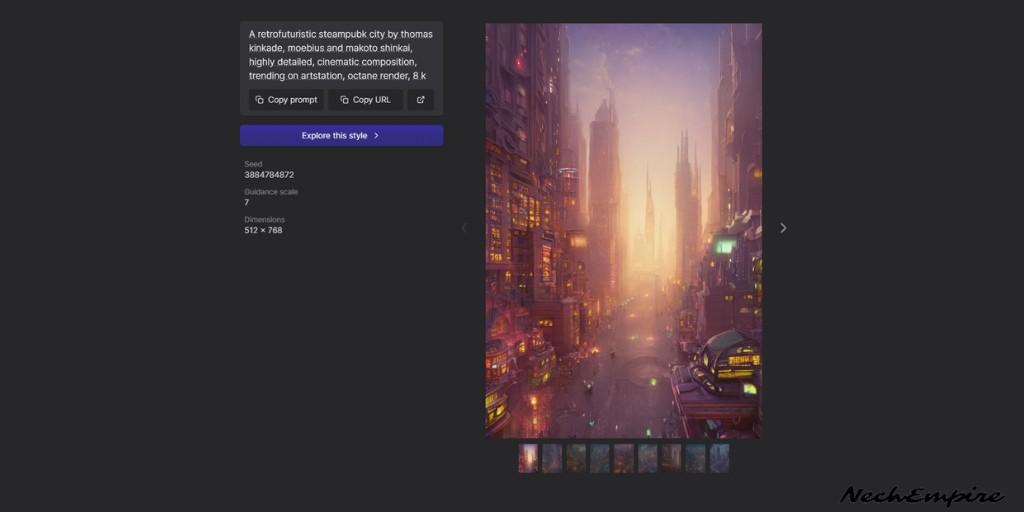 In the next step, you should copy the prompt and paste it to DreamStudio.
And let the Stable Diffusion generator technology works.
I think DreamStudio is a fantastic, user-friendly tool that will find many happy users. If you want to try it for free, they are giving you 200 free credits to test the tool.
BONUS FOR YOU: Unleash your potential as a print-on-demand entrepreneur with this free guide – download now!
Here Are Some of My Favorite Tools For Print-on-demand
DESIGNS: For getting started, I like Kittl. It is a fantastic place with highly professional templates, that can be edited and used for print-on-demand. In my opinion, it is a go-to place for any person, who wants to make money with POD.
Another of my favorites is Creative Fabrica. They have millions of cheap graphics that can elevate your t-shirt design. If you are not the most skillful designer, then try Placeit or Vexels. These are platforms, where you can find thousands of pre-made t-shirt designs you can easily edit and publish on any print-on-demand platform. I recommend Placeit for beginners and after you get some sales move to Vexels.
I also use a platform called Simplified, which is an all-in-one tool that combines an AI writer, design editor, video editor, and social content planner into one simple platform. I love it. Just like Canva, Simplified has a free version, so you can try it here.
FREE DESIGNS: I love Canva. I'm using this platform almost every day. With Canva, you can create stunning t-shirt designs, they already have an entire section, where you can make your artwork from scratch or use some pre-made templates and edit them. Canva comes with two main pricing plans: FREE and PRO. And if you are a beginner, then I recommend the free plan, it should be enough for you.
SELL YOUR ART – Start selling your graphics, vectors, or photography on Wirestock to save time and make more money. Its Wirestock Program allows you to submit to multiple stock agencies and marketplaces in a single click. It is currently partnered with Shutterstock, Adobe, Alamy, Dreamstime, Pond5, and Depositphotos. Get a FREE account.
SELLING LOW-CONTENT BOOKS – Selling low-content and no-content books on Amazon can be a great way to boost your online income. Im using Book Bolt to do the research, get pre-made interiors, and create covers. And you can try the platform for free.
Take your POD business to the next level. If you are serious about selling your designs on t-shirts, mugs, and other products, you need to sell them on the biggest marketplaces like Etsy or Amazon. You should also sell for the best prices through on-demand fulfillment companies like Printul or Printify.
Disclosure: Some of the links above may contain affiliate partnerships, meaning, at no additional cost to you, NechEmpire may earn a commission if you click through to make a purchase.