I'm Miroslav, a passionate graphic designer and AI enthusiast. At NechEmpire, I'm here to equip you with the knowledge and skills to turn your design...Read more
(Last Updated On: March 11, 2023)
DreamStudio has been released to the public with the open beta version, and this simply means, that anyone even without a powerful computer can use a Stable Diffusion machine learning model.
DreamStudio is my favorite AI image-generating software. It is a direct competitor to DALL-E 2 and MidJourney, but it generates fantastic images for as low as one cent per image.
And if you open an account on DreamStudio, you get 200 free credits to test the AI generator.
On one hand, this is cool, because you can generate up to 200 images for free, but on the other hand, Stable Diffusion, a text-to-image generator that is the base of the DreamStudio, was completely free on Discord.
Unfortunately, there is no way to make images with Stable Diffusion on Discord, so you have to use the website or run the Stable Diffusion code on your computer, but you need a powerful graphics card with at least 6 VRAM.
For those who don't have a powerful computer at home, DreamStudio provides a cheap solution.
Key Takeaways
DreamStudio AI is a direct competitor to DALL-E 2 and MidJourney.
Generation of an image is much cheaper than with the competitors – around 1 cent per image.
When you open the DreamStudio AI account, you get 200 free credits (generations) which are equivalent to 200 generated images.
In this article, I want to focus on the way to get the most out of your credits when generating images.
DreamStudio AI – Use Free Credits Wisely
Let's open the DreamStudio and on the right side of the screen are a few sliders that are important for successful image generation, and also affect the cost of the images.
So, if you want to save some credits, use the default 512 by 512 image dimension and lower the Steps feature to 10 or 15.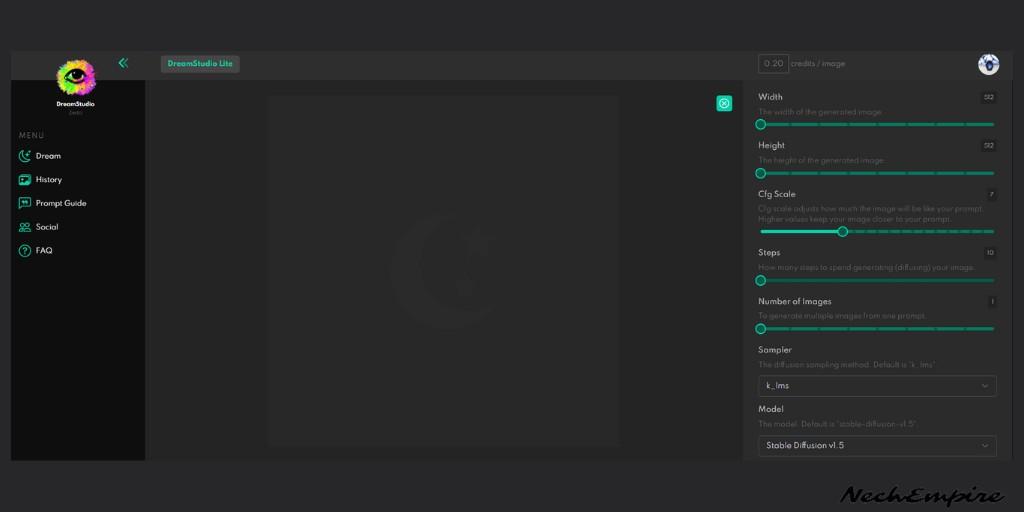 The Steps feature in this case determines how long the program will be spent trying to generate the image. If you want to make a more complex and detailed image, then increase the Steps value, which will result in better results.
And if you turn it all the way down, your images may not be as high quality.
For a better understanding, let's compare the mountain with the moon.
NOTE: Watch the video below, to better understand the difference between images created with 10 steps and 50 steps.
It is important to understand, that if you command the AI to use fewer Steps, then the details on the image are not pretty. Increase the steps to get a more detailed image.
But it cost more credits because you get a more realistic design, which looks better overall.
Save Credits When Testing Prompts
Everyone who has used a text-to-image generator knows how difficult it is to find a good prompt.
So, if you want to test a new prompt and don't want to waste credits, just reduce the Steps value and increase the number of images you are trying to generate.
When you use prompt, the tool gives me only a few interesting designs. And if you see an image you like, use its seed number, and increase the steps up to 50.
This is a method that is giving you better image output, but you are saving credits.
You should also try to play with other features, most of them don't cost you credits.
So, if you are starting with DreamStudio and testing different prompts to generate images, you should use your credits wisely. This way you can play with the tool much longer and generate more images.
BONUS FOR YOU: Unleash your potential as a print-on-demand entrepreneur with this free guide – download now!
Here Are Some of My Favorite Tools For Print-on-demand
DESIGNS: For getting started, I like Kittl. It is a fantastic place with highly professional templates, that can be edited and used for print-on-demand. In my opinion, it is a go-to place for anyone who wants to make money with POD.
Another of my favorites is Creative Fabrica. They have millions of cheap graphics that can elevate your t-shirt design. If you are not the most skillful designer, then try Placeit or Vexels. These are platforms, where you can find thousands of pre-made t-shirt designs you can easily edit and publish on any print-on-demand platform. I recommend Placeit for beginners and after you get some sales move to Vexels.
GET UNLIMITED DIGITAL ASSETS – Envato Elements is a subscription-based digital assets platform that provides a wide range of digital assets. Whether you're in need of fonts, stock videos, photos, motion graphics, mock-ups, overlays, or brushes – you name it – Envato Elements is likely to have it. It's your one-stop service for all types of creative resources.
SELLING GRAPHIC DESIGNS – Freepik makes it simple to get your design in front of a huge audience of paying customers. It's a set-it-and-forget-it source of passive income. The earnings per download may seem small, but they can compound into decent money over time. And they are also accepting AI designs. Try it for free.
SELLING LOW-CONTENT BOOKS – Selling low-content and no-content books on Amazon can be a great way to boost your online income. I'm using Book Bolt to do the research, get pre-made interiors, and create covers. And you can try the platform for free.
Take your POD business to the next level. If you are serious about selling your designs on t-shirts, mugs, and other products, you need to sell them on the most significant marketplaces like Etsy or Amazon. It would be best if you also sold for the best prices through on-demand fulfillment companies like Printul or Printify.
Disclosure: Some of the links above may contain affiliate partnerships, meaning, at no additional cost to you, NechEmpire may earn a commission if you click through to make a purchase.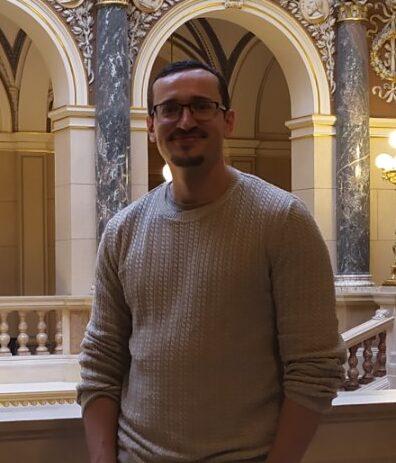 I'm Miroslav, a passionate graphic designer and AI enthusiast. At NechEmpire, I'm here to equip you with the knowledge and skills to turn your design passion into a thriving online business.
More Posts