(Last Updated On: May 24, 2023)
If you're a designer like me, chances are you're already familiar with Midjourney.
It's an extremely popular text-to-image tool that has been around for a while now.
But today, I wanted to introduce you to a fresh and exciting alternative I've come across.
Enter Leonardo AI, a great alternative to Midjourney.
Now, don't get me wrong, I absolutely love Midjourney and it's practically become a staple in my creative toolbox.
I mean, I use it all the time!
I'm a big fan of this AI image model, and I like it more than Stable Diffusion lately.
But you know me, always on the lookout for something even better.
After all, no AI-powered tool can claim perfection. There's always room for improvement, right?
And let me tell you, the world of AI is moving at lightning speed!
It seems like there's always some new and interesting tool just waiting to be released.
That's why I get excited when I started hearing people talking about Leonardo AI.
I didn't have sky-high expectations, of course, because Midjourney has really set the bar up there.
But hey, I was curious. I wanted to give Leonardo a try and see what it brings to the table.
So, let's take a look at the Leonardo AI image generator and answer this burning question.
Is Leonardo a worthy contender for Midjourney?
Well, that's exactly what I intend to find out.
Join me on this little journey of discovery as we explore the features and creative potential of Leonardo.
In fact, Leonardo AI could be the fresh breath of air you've been looking for in your image generation adventures.
Trust me, I'm just as excited as you are to see if it's a match made in design heaven!
Leonardo Tutorial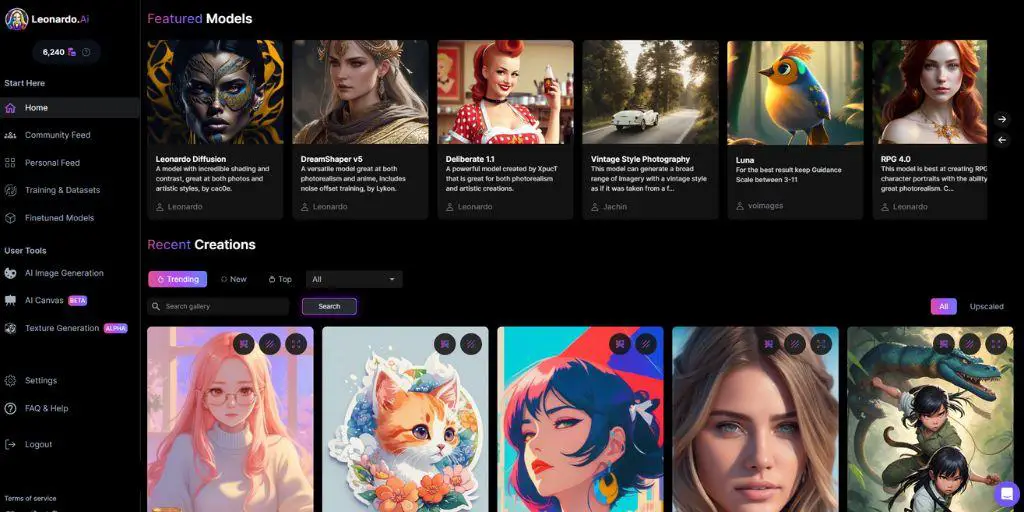 But before I get into the detailed Leonardo tutorial, let me walk you through the simple process of signing up for the Leonardo platform.
Note: I understand that watching videos can sometimes be better than reading text, so I have created a video tutorial about Leonardo. You can watch it below.
First things first, go ahead to the official Leonardo AI website. Once you are there, keep your eyes on the sign-up form.
At the time of the review, it was still offering exclusive early-bird access.
Just enter your email address into the form, hit that submit button, and you're good to go!
Once you've submitted your email, the Leonardo team will send you an email message.
In their email, they'll fill you in on all the details about the platform. You'll feel like one of the chosen few who snagged early access to their product suite.
Oh, but wait, there's more!
The email also encourages you to be an active member of the Leonardo community, so you can get early access to all those exciting upcoming features.
But if you're thinking about the priority status when I've got a little secret for you.
You can join their Discord server, and there, you'll find a special invitation form waiting just for you.
That's what I did, and guess what? In four days, my email address got whitelisted, and I was granted full access to the incredible Leonardo app.
So, now you know the inside scoop.
It's time to grab your spot in the Leonardo community and unleash your creativity like never before.
Trust me, it's an adventure you won't want to miss out on!
How to Use Leonardo Image Generator
First things first, open up the Leonardo AI app and take a look at the community feed.
You'll be blown away by the quality of the images generated here, just like the ones crafted by Midjourney.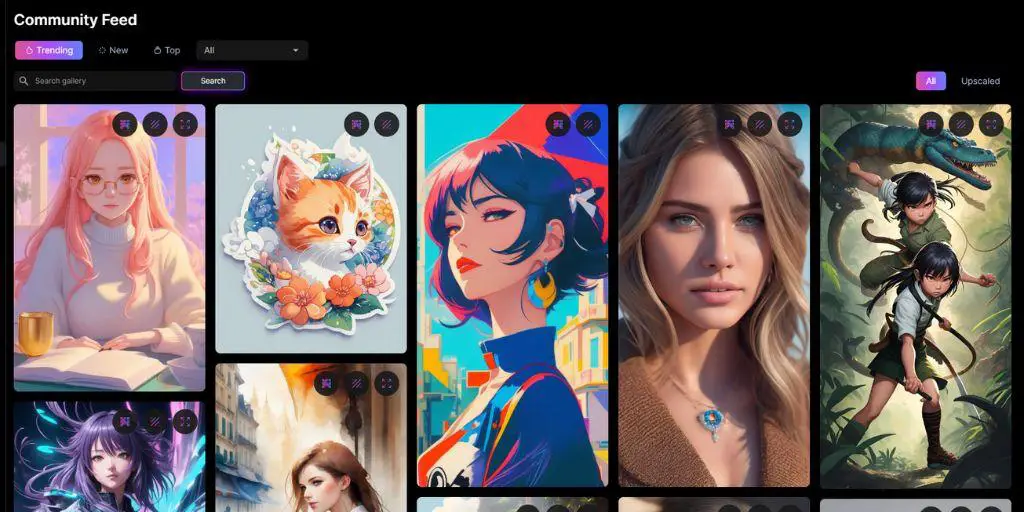 Once you're on the homepage of the app, you'll notice a few platform models awaiting your selection.
Each model comes with its own description and a collection of sample images to get your creative inspiration flowing.
When you click on a model, you will see the prompt, and image sizes, and even set the guidance scale.
And when you feel that the model is good to use, all it takes is a simple tap on the "Generate" button to generate some images.
Now it is time to explore the basic principles and elements of Leonardo's image generator functionality.
On the left panel, you'll spot a number that shows how many tokens you have left.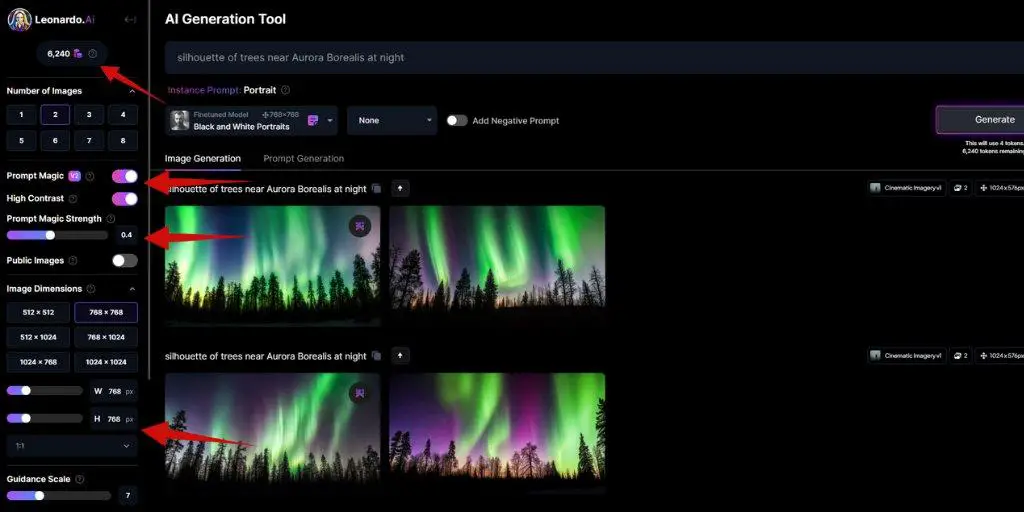 And don't worry, if you need a few more tokens, every time you can upgrade to a higher pricing plan.
But keep in mind, though, that the cost of generation may increase as you create more images, so choose your generations wisely.
Ah, now we come to one of my absolute favorite features: Prompt Magic.
It's like having a magician at your fingertips!
With Prompt Magic, you gain extra control over how closely the image generator follows your prompts.
It's like having a direct line to your creative vision, ensuring that the images you generate are exactly what you're looking for.
If you're on a paid plan, Leonardo has the option to keep your generated images private.
As someone who's currently selling some of my artistic creations, I definitely appreciate this privacy feature.
Last but certainly not least, let's talk about image resolution. In the next section of the left panel, you'll find a slider that allows you to effortlessly adjust the size of your images.
As you can see, this tool has a super user-friendly and easy-to-use interface.
Now, it is time to take a closer look at the central panel of the Leonardo app.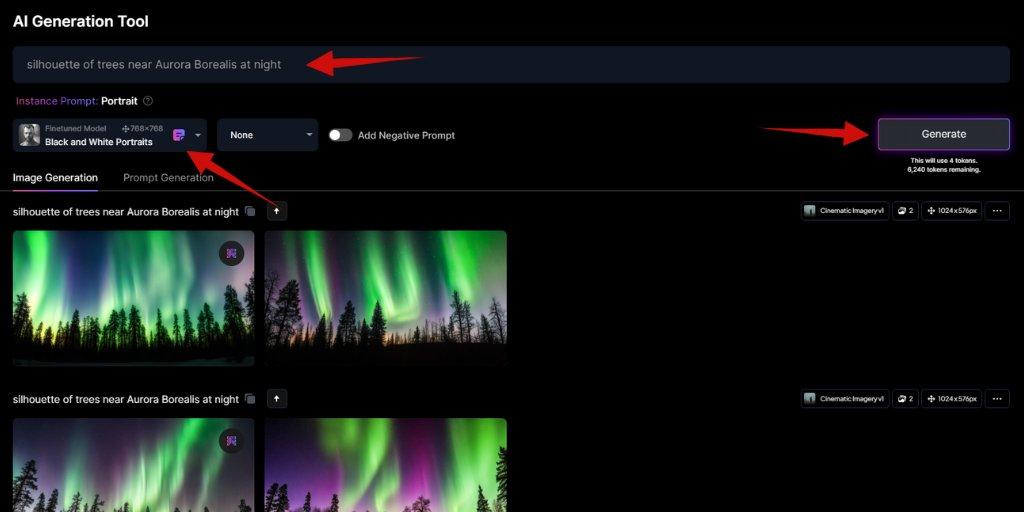 In this section, you'll find a space where you can unleash your creativity by entering your prompt.
Not only that, you have full control to choose the image generation mode and style that perfectly suits your artistic vision.
Leonardo gives you also the power to write negative prompts. What does that mean, you ask?
Well, it's simple.
You can specify the things you don't want to appear in your images.
Now, the best part.
When you're all set and ready to generate new images, just click that Generate button.
And boom!
The image generation kicks off instantly, and don't forget to take a peek at the button itself – it let you know how many tokens this generation will cost.
However, the most important here (except the prompt field), is the Finetuned Panel.
Once you click on it, a list of fine-tuned models unveils before your eyes.
These models hold interesting power – they influence the resulting image output, giving it that extra touch of uniqueness.
Every Leonardo user receives a set of pre-made models, but if you're looking for something even more specific, you can hit that Select Custom Model option. It's opening the library of Community models, waiting for you to explore and uncover hidden gems.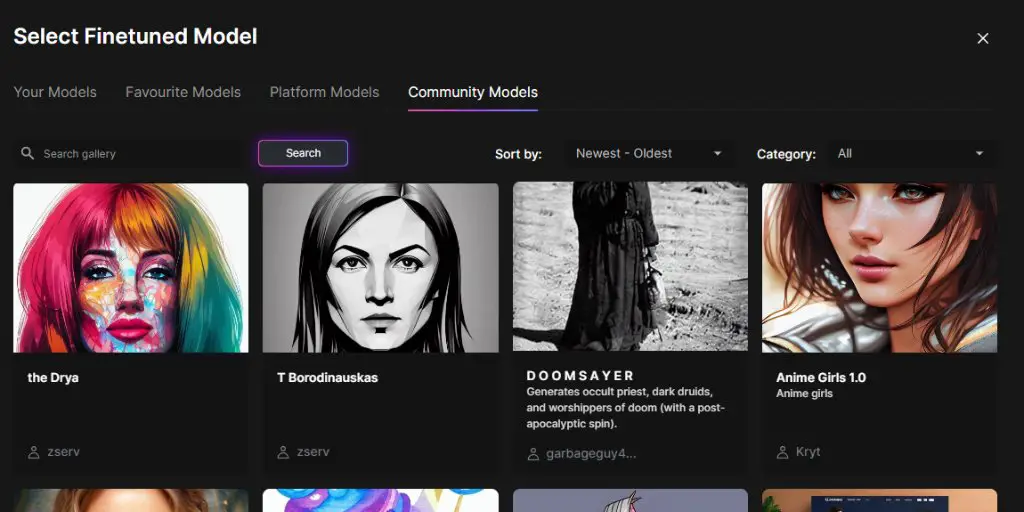 And you can bookmark your favorite fine-tuned models.
If you stumble upon a model that you like, simply click that bookmark button, and it'll be saved in your Favorite Models section.
You can also create your very own model, but it is not a part of this tutorial.
I've been playing around with Leonardo and some text prompts, and let me tell you, this tool works like lightning when it comes to generating images from those prompts.
It's seriously impressive!
Here are a few examples of images and prompts I have used to generate them.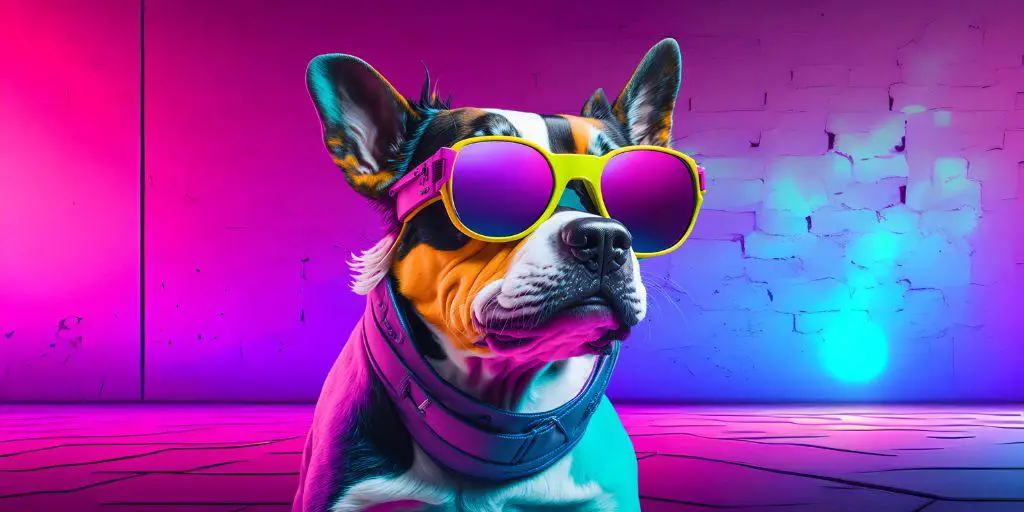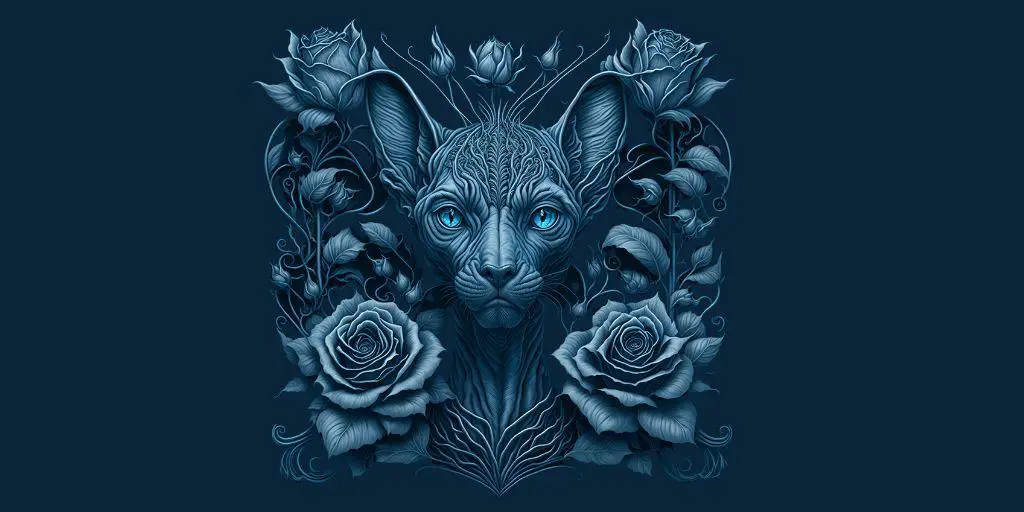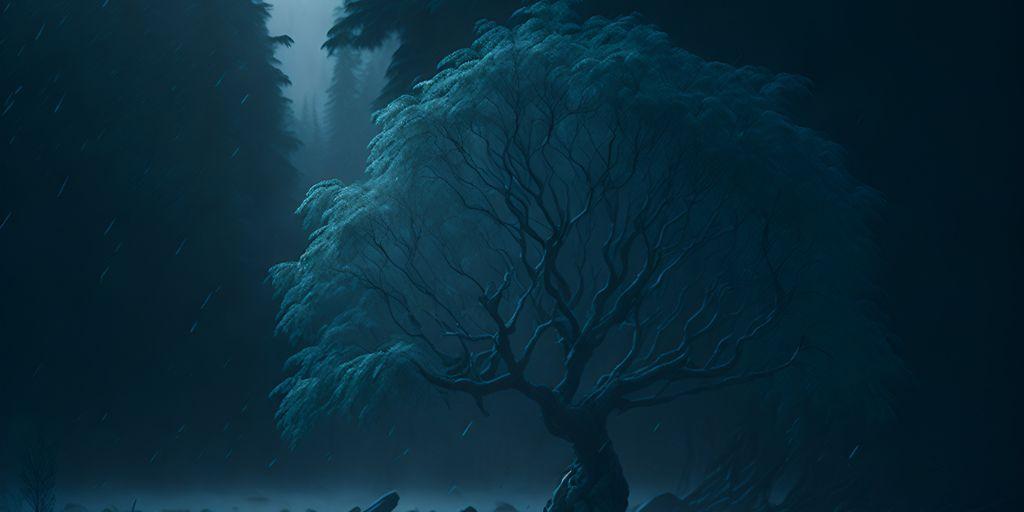 Once you've found the images you like, you have the option to upscale them. Leonardo has multiple upscale options, each tailored for different types of images.
It's like giving your creations a little boost of awesomeness!
And here's a neat little trick.
You can even compare each of the upscaled images sides by side, allowing you to spot those subtle differences and choose the one that truly captures your artistic vision.
Leonardo Pricing
Now, let's talk about the burning question on everyone's mind: Leonardo AI pricing model.
Honestly, as of this article writing, Leonardo offers a free plan that gives you a generous 150 rapid generations per day.
But I love this tool so much that I decided to go all-in and pay $12 per month for over 8000 tokens.
And you know what?
It's worth every penny!
You see, I'm currently using Leonardo for my print-on-demand business, and let me tell you, it has exceeded my expectations.
The power, the ease of use, and the incredible results, all is worth the investment.
Conclusion
To sum it all up, if you're on the look for a Midjourney alternative, user-friendly, and yes, free image editing tool that harnesses the cutting-edge power of AI technology, then Leonardo AI should be in your arsenal of tools.
Trust me, it's a game-changer.
So go ahead, sign up for your free account today, and take your image editing skills to new heights.
Get ready to unleash your creativity and watch your artistic visions come to life!
BONUS FOR YOU: Unleash your potential as a print-on-demand entrepreneur with this free guide – download now!
Here Are Some of My Favorite Tools For Print-on-demand
DESIGNS: For getting started, I like Kittl. It is a fantastic place with highly professional templates, that can be edited and used for print-on-demand. In my opinion, it is a go-to place for any person, who wants to make money with POD.
Another of my favorites is Creative Fabrica. They have millions of cheap graphics that can elevate your t-shirt design. If you are not the most skillful designer, then try Placeit or Vexels. These are platforms, where you can find thousands of pre-made t-shirt designs you can easily edit and publish on any print-on-demand platform. I recommend Placeit for beginners and after you get some sales move to Vexels.
I also use a platform called Simplified, which is an all-in-one tool that combines an AI writer, design editor, video editor, and social content planner into one simple platform. I love it. Just like Canva, Simplified has a free version, so you can try it here.
FREE DESIGNS: I love Canva. I'm using this platform almost every day. With Canva, you can create stunning t-shirt designs, they already have an entire section, where you can make your artwork from scratch or use some pre-made templates and edit them. Canva comes with two main pricing plans: FREE and PRO. And if you are a beginner, then I recommend the free plan, it should be enough for you.
SELL YOUR ART – Start selling your graphics, vectors, or photography on Wirestock to save time and make more money. Its Wirestock Program allows you to submit to multiple stock agencies and marketplaces in a single click. It is currently partnered with Shutterstock, Adobe, Alamy, Dreamstime, Pond5, and Depositphotos. Get a FREE account.
SELLING LOW-CONTENT BOOKS – Selling low-content and no-content books on Amazon can be a great way to boost your online income. Im using Book Bolt to do the research, get pre-made interiors, and create covers. And you can try the platform for free.
Take your POD business to the next level. If you are serious about selling your designs on t-shirts, mugs, and other products, you need to sell them on the biggest marketplaces like Etsy or Amazon. You should also sell for the best prices through on-demand fulfillment companies like Printul or Printify.
Disclosure: Some of the links above may contain affiliate partnerships, meaning, at no additional cost to you, NechEmpire may earn a commission if you click through to make a purchase.