(Last Updated On: March 11, 2023)
Designing from scratch can be time-consuming and require a lot of skill and expertise. Even when you have those skills, it's hard to create something that appeals to the masses quickly.
Having great images is critical both for personal branding and marketing purposes. That is why I love Canva.
As a design tool, Canva is already a game-changer in the way people are able to create visuals that they can use on social media or in their presentations. But now there's more- Canva just launched AI-powered design technology so you can automatically create awesome images with just one click!
And in this article, I want to show you how to use the AI-powered text-to-image feature on Canva to create stunning visuals in seconds, and without any need for design expertise or painstaking image editing.
The Rise of AI Art Generators
AI art generators have a significant potential to change the way we interact with traditional painting and drawing. They effectively turn any person into an artist, by using AI algorithms that automatically create original artwork from text inputs.
The next generation of artists can now be anyone who has access to an AI generator on a computer or mobile device. This opens up many possibilities for the future of art, from amateur hobbyists to professional artists.
AI Text-to-Image Feature on Canva
At the moment, we are seeing that even popular graphic programs are trying to incorporate text-to-image features into their platforms.
And even Canva, my favorite graphics tool, is using a feature that is still in beta to make images from simple text prompts. This feature, called Text-to-Image, uses the Stable Diffusion generation model to give Canva users a taste of AI art.
And it is quite simple to use.
Just open any design in Canva, go ahead to the left sidebar, and click on the three horizontal dots. With this action, you will open a library of features where you should click on the Text-to-Image option and it will open a simple interface in the sidebar.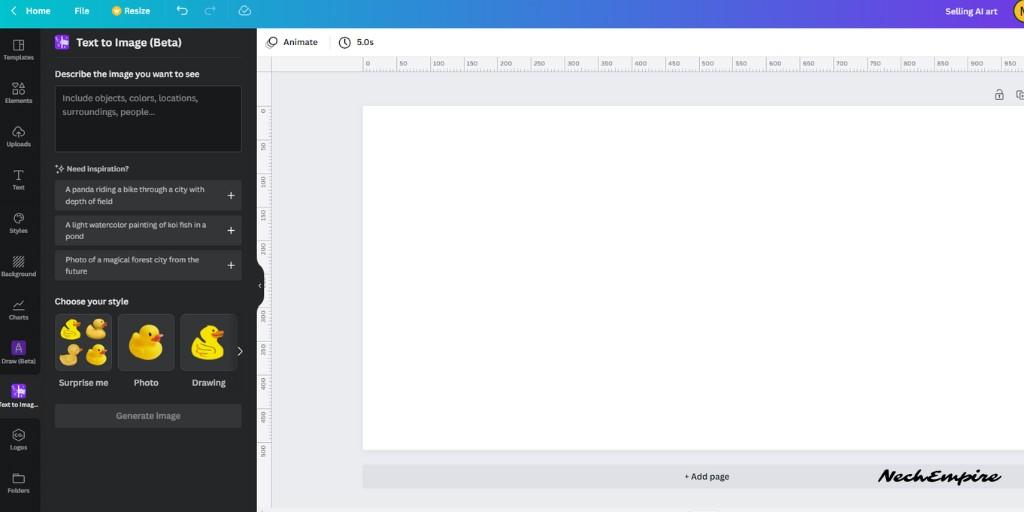 And this is a really simple interface, where you can type your prompt, which is the most important thing when creating AI images, and you can also choose from various styles, from photos, drawings, paintings, and even patterns.
So, let's test this simple prompt – forest in a fog, red leaves, matte painting
To make a comparison, I will use the same prompt on DreamStudio which is my favorite AI tool and uses also the Stable Diffusion generation model.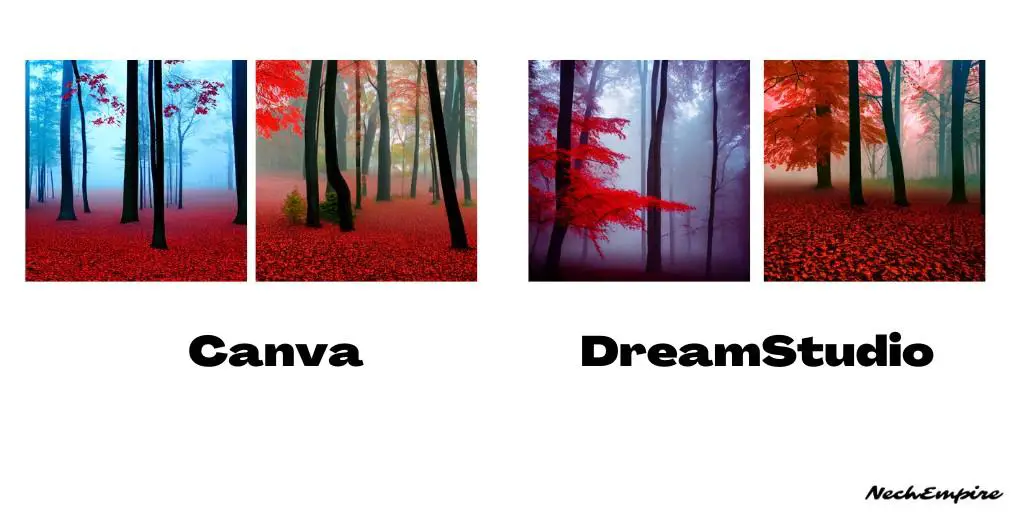 Because the Canva AI art generator is still in beta, you get only two image outputs with pretty low quality, I think.
I don't know if Canva is using the latest Stable Diffusion 1.5 engine, but the results compared to Stable Diffusion are not the best.
At the moment, you can only generate 24 images per day with this feature, but you get full rights to use such generated images in commercial projects.
This is similar to any other AI generator because these tools cannot copyright such images, but you can't either.
Just a simple look at the license terms of this new Canva feature will show you what I mean.
"You are responsible for any output you create using Text to Image. Canva will not make any copyright claim over the output you create and does not have the ability to license or release the use of that output to you.
When using output in your Canva designs, we ask that you attribute output to your own name, and explain to any person who might be viewing or using your design that the output is AI-generated.
Canva assumes no liability for any output that you create using Text to Image. In the event that your output is alleged to be unlawful or otherwise in breach of these terms, you acknowledge that Canva may disclose such output to law enforcement or other governmental authorities."
This simply means, that this feature, Canva cannot claim the design as theirs, they cannot copyright it or license it. But because it is AI art, you also cannot copyright it and license it.
This is good to know if we talking about selling such artwork on print-on-demand platforms or on Etsy.
If you want, just play with the new Canva AI art generator, and try to find out if it is good enough.
BONUS FOR YOU: Unleash your potential as a print-on-demand entrepreneur with this free guide – download now!
Here Are Some of My Favorite Tools For Print-on-demand
DESIGNS: For getting started, I really like Kittl. It is a fantastic place with highly professional templates, that can be edited and used for print-on-demand. In my opinion, it is a go-to place for any person, who wants to make money with POD.
Another of my favorites is Creative Fabrica. They have millions of cheap graphics that can elevate your t-shirt design. If you are not the most skillful designer, then try Placeit or Vexels. These are platforms, where you can find thousands of pre-made t-shirt designs you can easily edit and publish on any print-on-demand platform. I recommend Placeit for beginners and after you get some sales move to Vexels.
FREE DESIGNS: I love Canva. I'm using this platform almost every day. With Canva, you can create stunning t-shirt designs, they already have an entire section, where you can make your artwork from scratch or use some pre-made templates and edit them. Canva comes with two main pricing plans: FREE and PRO. And if you are a beginner, then I recommend the free plan, it should be enough for you.
SELLING LOW-CONTENT BOOKS – Selling low-content and no-content books on Amazon can be a great way to boost your online income. Im using Book Bolt to do the research, get pre-made interiors and create covers. And you can try the platform for free.
HOSTING FOR YOUR E-SHOP – At some point, you should take control of your online sales. I like Bluehost hosting – the smart, secure, and user-friendly solution for building your own online store with top-notch performance. Learn more.
Take your POD business to the next level. If you are serious about selling your designs on t-shirts, mugs, and other products, you need to sell them on the biggest marketplaces like Etsy or Amazon. You should also sell for the best prices through on-demand fulfillment companies like Printul or Printify.
Disclosure: Some of the links above may contain affiliate partnerships, meaning, at no additional cost to you, NechEmpire may earn a commission if you click through to make a purchase.