(Last Updated On: March 11, 2023)
Get ready to explore the amazing world of digital art creation with Stable Diffusion!
In this article, I'm going to be guiding you on how to unleash your inner artist, and create stunning digital masterpieces using a free art generator called Mage.Space.
Stable Diffusion is the perfect text-to-image model to help realize the full potential of your creations, and it doesn't matter if you are an experienced digital artist or if you are just starting out.
So, let's explore this amazing free tool with its up-to-date Stable Diffusion 2.1 model and skyrocket your artwork!
Mage Space Tutorial and Tips
To begin with, this tool is totally free to use (at the time of writing) and you don't even have to register an account in order to take advantage of it.
While it's possible to use Stable Diffusion version 1.5 without signing up for an account, if you want to experience the newest version 2.1, you'll need a free account.
It's definitely worth taking advantage of this great opportunity!
Mage Art Generator Pricing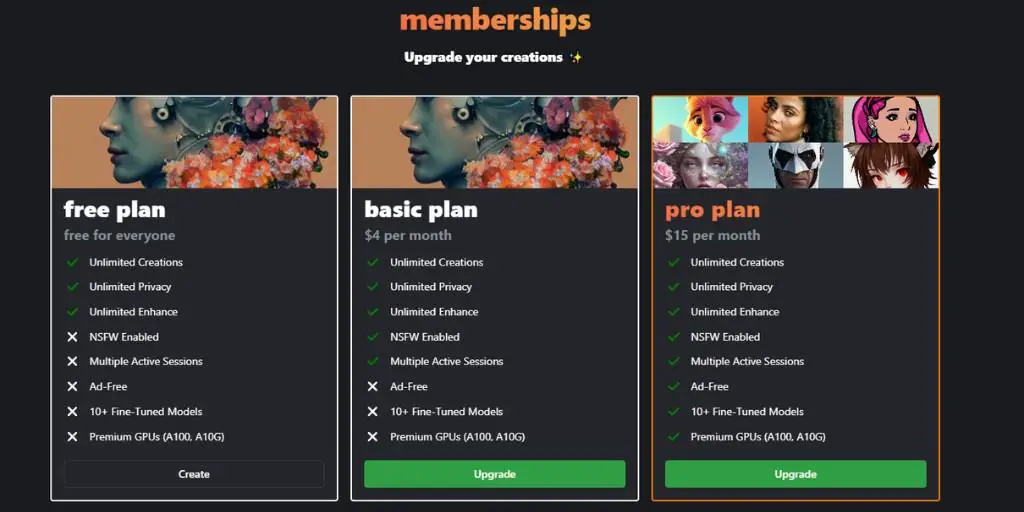 Before you take the plunge and start using the tool, it's important to understand its pricing model. The good news is that Mage.Space is free and offers unlimited image generation capability.
Then you get a basic plan for 4 USD per month, which is ideal for those of you who need to create multiple designs simultaneously. This plan allows doing so by opening multiple tabs in your browser.
And the last one is a Pro plan, that gives you 10+ fine-tune models that can improve your creations, and cost 15 USD per month.
Features of the Mage AI Art Generator
When you land on the homepage, you can enter your text prompt in the prompt bar.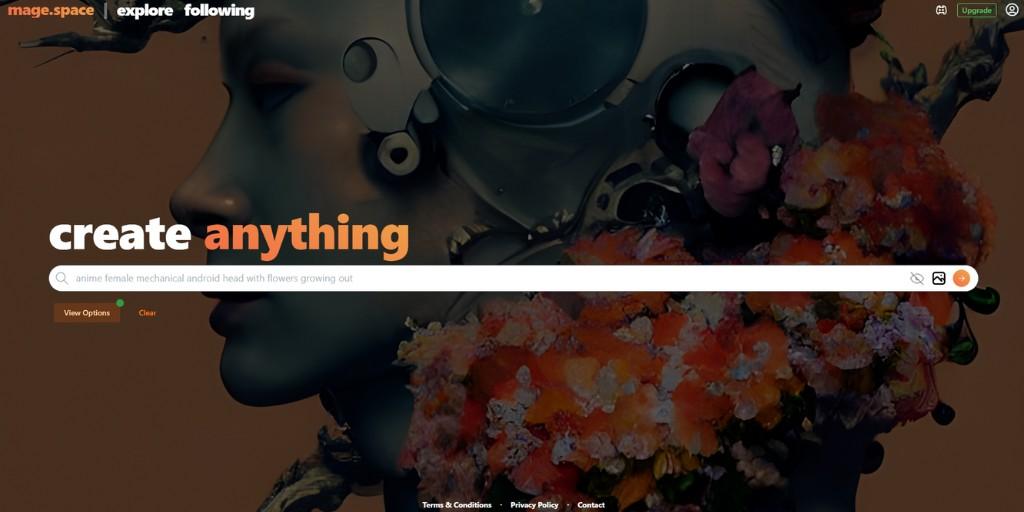 As you can see from the image, the prompt bar is the most significant element on the homepage.
Underneath the bar, there's a View Options button that lets you pick from a variety of fine-tuned models to use for your designs.
This makes image generation even more convenient for beginners; however, to get the full advantages of all the fine-tuned models, one needs to be a Pro plan user.
The next section is for the aspect ratio of your image, where you can change the width and height.
In addition, also the quality and guidance scale play a huge role in the image generation process. The quality defines how many steps the AI takes when creating an image and more steps taken will result in a higher level of detail for that image.
On the contrary, the guidance scale determines how much liberty the AI is given while producing text. The higher you set it, the less freedom it has when it comes to being creative.
For starters, these tools are all you need. More experienced users can go to the Advanced section and customize their images using the adjustable bars. This will give them a more precise result.
Furthermore, you can enable privacy mode to generate your visuals and keep them from being copied by the general public.
I won't talk about the seed function, but the negative prompt allows you to exclude certain elements from generating your images.
For example, if you're creating a mountain image and don't want it to include sun or trees, all you have to do is list it in the negative prompt; it's that easy!
So, enough talking; let's create an image from this prompt – deep in a biomechanical forest, approaching sinister thunderstorm on horizon, photorealism, hyperrealism, ultra detailed, 4 k, wide angle, dramatic lighting, lightning in distance, cinematic atmosphere
As soon as you finish your image generation, a pop-up window will show up with the generated image.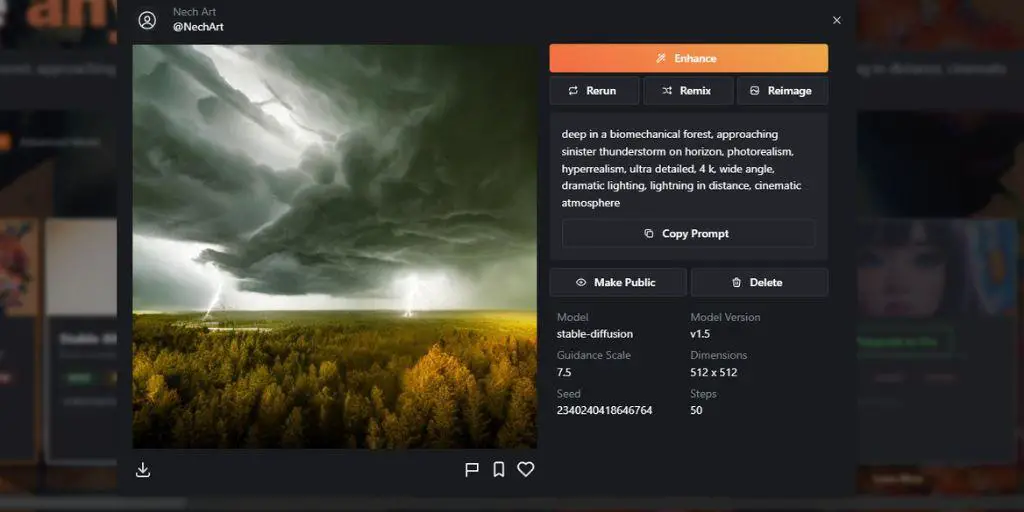 With a few clicks, you can download your desired picture to your device. You can even use the enhancement feature to make it higher quality if needed.
Examining the generated image reveals intricate details and when you click on Show more, a negative prompt appears. It's an incredibly useful function that allows users to have access to more information than ever before.
The AI art generator will also allow you to experience the power of rerun and remix, giving you a brand-new image each time. Plus, with reimage, it will even activate the image-to-image feature!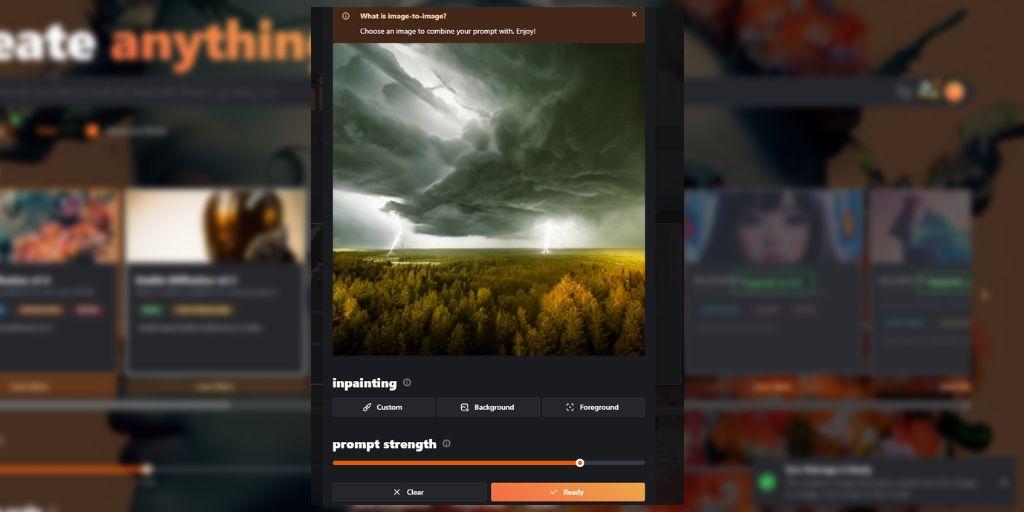 Activating this feature is a breeze – just click the image on the prompt bar and you'll have access to inpainting options. This way, you can fine-tune your image effortlessly and make it look perfect with the given prompt.
Conclusion
With the Mage.Space AI generator, users can easily utilize the Stable Diffusion model without any additional cost. It is a great tool for those who are new to image generation, as it is simple and straightforward to use.
If you want to find out more about Mage, here are some extra questions that you could ask yourself.
MageSpace FAQs
Can you upgrade or downgrade your membership?
Absolutely! You can switch your membership plan anytime you want. If you decide to upgrade your plan, the new one will be charged at a proportional rate based on the remaining days of the current month.
Is it easy to cancel your membership?
You can cancel your plan whenever you want. Mage partners with Stripe for billing purposes, and you can access their secure customer portal through your profile at any given time.
Can you use images generated by Mage for commercial purposes?
Absolutely, you can reference Mage in any of the work you have generated, but it is not required.
What is an active session in the Mage image generator?
For the paid members, Mage offers the ability to have multiple active sessions – this means that you can open as many browser tabs or windows with Mage running in each one. Allowing for an even faster and more efficient image-generating experience!
Why is NSFW a paid feature in Mage?
To protect the community from abuse, NSFW content needs to be monitored and moderated extra carefully. This not only ensures the safety of members but also encourages responsible access by appropriate audiences.
BONUS FOR YOU: Unleash your potential as a print-on-demand entrepreneur with this free guide – download now!
Here Are Some of My Favorite Tools For Print-on-demand
DESIGNS: For getting started, I like Kittl. It is a fantastic place with highly professional templates, that can be edited and used for print-on-demand. In my opinion, it is a go-to place for any person, who wants to make money with POD.
Another of my favorites is Creative Fabrica. They have millions of cheap graphics that can elevate your t-shirt design. If you are not the most skillful designer, then try Placeit or Vexels. These are platforms, where you can find thousands of pre-made t-shirt designs you can easily edit and publish on any print-on-demand platform. I recommend Placeit for beginners and after you get some sales move to Vexels.
I also use a platform called Simplified, which is an all-in-one tool that combines an AI writer, design editor, video editor, and social content planner into one simple platform. I love it. Just like Canva, Simplified has a free version, so you can try it here.
FREE DESIGNS: I love Canva. I'm using this platform almost every day. With Canva, you can create stunning t-shirt designs, they already have an entire section, where you can make your artwork from scratch or use some pre-made templates and edit them. Canva comes with two main pricing plans: FREE and PRO. And if you are a beginner, then I recommend the free plan, it should be enough for you.
SELL YOUR ART – Start selling your graphics, vectors, or photography on Wirestock to save time and make more money. Its Wirestock Program allows you to submit to multiple stock agencies and marketplaces in a single click. It is currently partnered with Shutterstock, Adobe, Alamy, Dreamstime, Pond5, and Depositphotos. Get a FREE account.
SELLING LOW-CONTENT BOOKS – Selling low-content and no-content books on Amazon can be a great way to boost your online income. Im using Book Bolt to do the research, get pre-made interiors, and create covers. And you can try the platform for free.
Take your POD business to the next level. If you are serious about selling your designs on t-shirts, mugs, and other products, you need to sell them on the biggest marketplaces like Etsy or Amazon. You should also sell for the best prices through on-demand fulfillment companies like Printul or Printify.
Disclosure: Some of the links above may contain affiliate partnerships, meaning, at no additional cost to you, NechEmpire may earn a commission if you click through to make a purchase.