I'm Miroslav, a passionate graphic designer and AI enthusiast. At NechEmpire, I'm here to equip you with the knowledge and skills to turn your design...Read more
(Last Updated On: August 2, 2023)
In this guide, I'll take a closer look at a popular AI image generator called BlueWillow!
Specifically, I will focus on the practical use of the BlueWillow image to image feature.
This fascinating tool allows you to transform your uploaded images into different formats and variations.
Image to Image Feature on BlueWillow
Let's take a closer look at this feature to understand it better and explore how you can maximize its potential.
To kick things off, you'll have to open BlueWillow. If you haven't registered yet, the process is a breeze, and you can establish a new account in a few quick steps.
I've already created a tutorial on this, you can read the BlueWillow tutorial here or watch a video below if you like more visual content.
But, if you're an existing member of the BlueWillow community, simply log in with your details.
Once you're in BlueWillow, make your way to the Discord server. On the left-hand side, you'll find the channels for beginners.
Nevertheless, as I prefer generating designs in a more private setting, I have established my private BlueWillow server.
If you're not familiar with this, you can follow my BlueWillow tutorial mentioned above to understand more about this.
Note: Keep in mind that linking your server to the BlueWillow bot and setting it up can sometimes be challenging. However, once set up, the function remains the same, no matter which server you select or build.
Now, it's time to get to grips with the Image to Image feature.
To exploit this feature, you need to upload the image from which you want to generate other visuals. Click on the plus icon in Discord and select "Upload a file."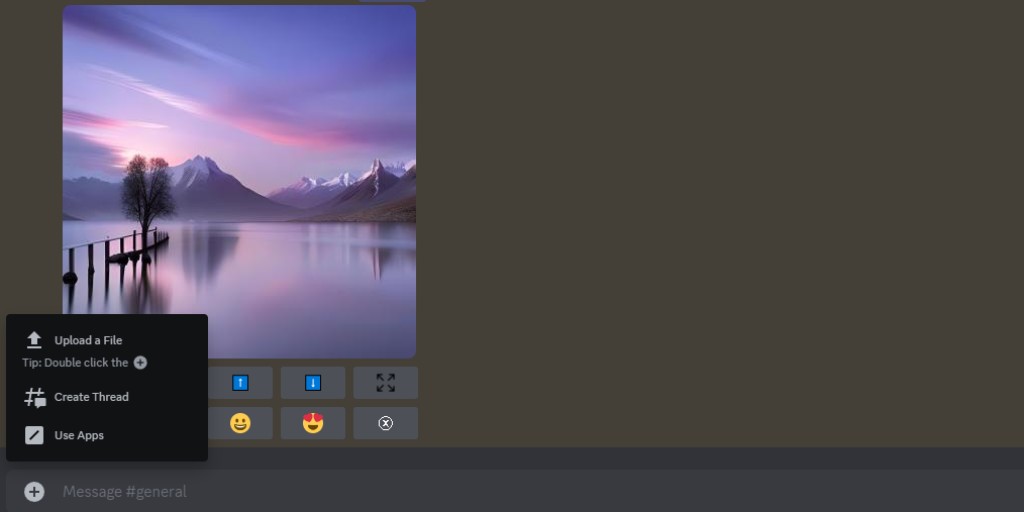 Navigate through your computer to pick the image you want to use. When the image appears on Discord, press enter to start the upload process.
Once the image has been uploaded successfully, type "/imagine" in the chat, followed by dragging the image file into the dialogue box. It's paramount to confirm that the image URL ends with a legitimate extension such as PNG, JPG, or other compatible formats.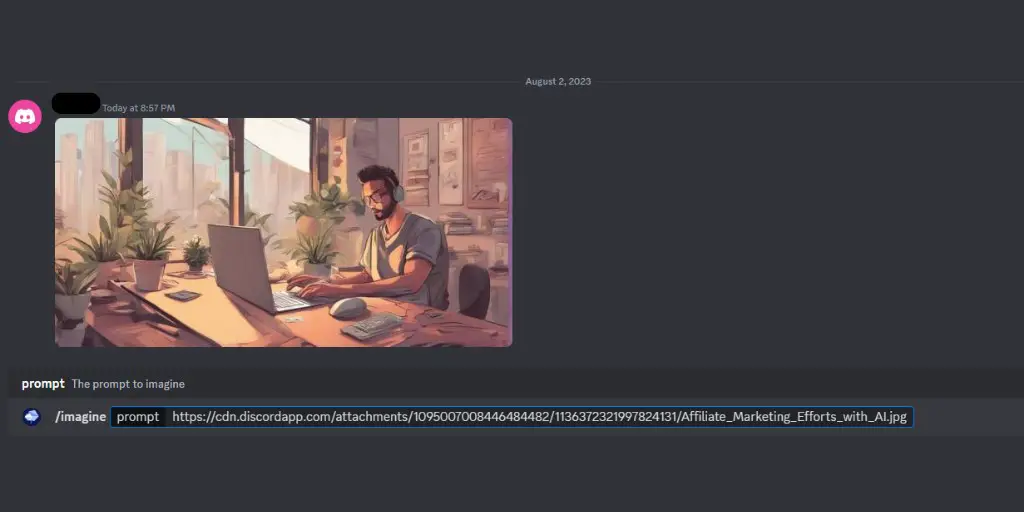 At this stage, you should insert a text prompt describing the image and select a style for the image generation process. If you have a specific look or idea, feel free to incorporate them.
However, if you're aiming to generate an image purely based on the existing one, you can leave the dialogue box empty.
When you're all set, press enter and let BlueWillow do the rest. In a few moments, your 4 newly created images will be ready for your perusal and pleasure.
That's it, you've effectively used the Image to Image feature on BlueWillow.
It's as straightforward and productive as that.
Now, unleash your creative prowess, experiment with different styles, and uncover a range of formats and possibilities for your images.
FAQs
Can you provide an overview of BlueWillow?
Think of BlueWillow as a savvy artist with a tech twist. It's an AI-powered image generator that helps you breathe life into new images, guided by a base image or text cues, or even both!
Could you explain the Image to Image feature in BlueWillow?
Imagine having a magic wand that could metamorphose one image into a variety of others – that's exactly what the Image to Image feature in BlueWillow does! It gives you the power to change your uploaded images into different versions and formats.
How can I harness the Image to Image feature in BlueWillow?
It's as easy as pie! Once you're in BlueWillow and on the Discord server, you just need to upload your chosen image. You kick-start the generation process by typing "/imagine" in the chat and dropping the image file into the dialogue box. You also have the option to insert a text prompt and select a unique style to guide the image generation process.
Is it possible to create a personal server on BlueWillow?
BlueWillow lets you have your private playground by setting up personal servers for image generation. It can be a bit tricky getting it all hooked up with the BlueWillow bot, but once it's up, you're all set to let your creativity flow.
What kinds of image formats are compatible with BlueWillow?
BlueWillow is versatile and works with several standard image formats such as PNG, JPG, and more. Remember, when you're using the Image to Image feature, make sure your image URL finishes with a valid extension.
Can I opt to leave the dialogue box empty when I use the Image to Image feature?
If you wish to see the magic unfold based purely on the image you uploaded, feel free to leave the dialogue box empty when using the Image to Image feature.
How many new images can I get from one image using the Image to Image feature?
Once you initiate the Image to Image feature, BlueWillow typically conjures up four fresh, fascinating images from your original image.
Do I need to sign up to use BlueWillow?
Yes, to join the exciting world of BlueWillow, you need to create an account. But don't worry, it's a simple process and won't take much time. Soon enough, you'll be all set to unleash your creativity!
BONUS FOR YOU: Unleash your potential as a print-on-demand entrepreneur with this free guide – download now!
Here Are Some of My Favorite Tools For Print-on-demand
DESIGNS: For getting started, I like Kittl. It is a fantastic place with highly professional templates, that can be edited and used for print-on-demand. In my opinion, it is a go-to place for anyone who wants to make money with POD.
Another of my favorites is Creative Fabrica. They have millions of cheap graphics that can elevate your t-shirt design. If you are not the most skillful designer, then try Placeit or Vexels. These are platforms, where you can find thousands of pre-made t-shirt designs you can easily edit and publish on any print-on-demand platform. I recommend Placeit for beginners and after you get some sales move to Vexels.
GET UNLIMITED DIGITAL ASSETS – Envato Elements is a subscription-based digital assets platform that provides a wide range of digital assets. Whether you're in need of fonts, stock videos, photos, motion graphics, mock-ups, overlays, or brushes – you name it – Envato Elements is likely to have it. It's your one-stop service for all types of creative resources.
SELLING GRAPHIC DESIGNS – Freepik makes it simple to get your design in front of a huge audience of paying customers. It's a set-it-and-forget-it source of passive income. The earnings per download may seem small, but they can compound into decent money over time. And they are also accepting AI designs. Try it for free.
SELLING LOW-CONTENT BOOKS – Selling low-content and no-content books on Amazon can be a great way to boost your online income. I'm using Book Bolt to do the research, get pre-made interiors, and create covers. And you can try the platform for free.
Take your POD business to the next level. If you are serious about selling your designs on t-shirts, mugs, and other products, you need to sell them on the most significant marketplaces like Etsy or Amazon. It would be best if you also sold for the best prices through on-demand fulfillment companies like Printul or Printify.
Disclosure: Some of the links above may contain affiliate partnerships, meaning, at no additional cost to you, NechEmpire may earn a commission if you click through to make a purchase.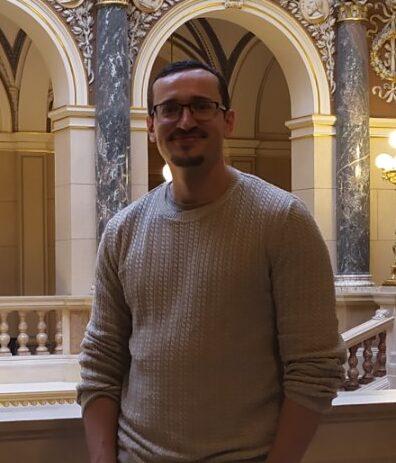 I'm Miroslav, a passionate graphic designer and AI enthusiast. At NechEmpire, I'm here to equip you with the knowledge and skills to turn your design passion into a thriving online business.
More Posts