(Last Updated On: January 14, 2023)
Don't panic if you're in a jam with your Creative Fabrica account or stuck on a design project – help is on the way!
Creative Fabrica's customer support team is ready to help you out with anything you need – big or small. In this guide, I'm going to provide all the contact info and resources you'll need to get in touch and find information quickly on their website.
Let's get started!
How to Access Customer Support for Creative Fabrica?
Creative Fabrica is the mecca of design resources – a treasure trove of fonts, graphics, crafts, and more. It caters to professional designers and creative hobbyists alike, so you can get everything you need in one spot!
It has everything you need to bring your creative visions to life, from A-Z! Plus, their website is super user-friendly, making it a breeze for anyone looking for the perfect design.
Now, onto customer support!
The Creative Fabrica team is dedicated to ensuring your journey is as smooth and enjoyable as possible.
They make sure you get out of any tricky situation with their helpful advice and solutions. Plus, they can always lend an ear to listen to all your worries!
I'm speaking from my own experience as a Creative Fabrica subscriber since 2021.
Here are a few ways you can get in touch with customer support:
Email: If you have a complex query or issue that needs addressing, shoot an email over to hi@creativefabrica.com! You'll get an answer from the support team in almost no time.
Submit a request: If you have a simple request, you can use the forum section to find answers to the latest questions. Alternatively, you can submit your own request and wait for a response from a CF representative.
Live chat: Another great option is live chat, which is available in the Creative Fabrica help section. Just look for the chat bubble icon in the bottom right corner of the page and click to start chatting with a customer support representative.
Additionally, Creative Fabrica not only provides multiple contact options but also a massive library of useful resources. If you're just looking for quick answers, the FAQ page is definitely worth a visit.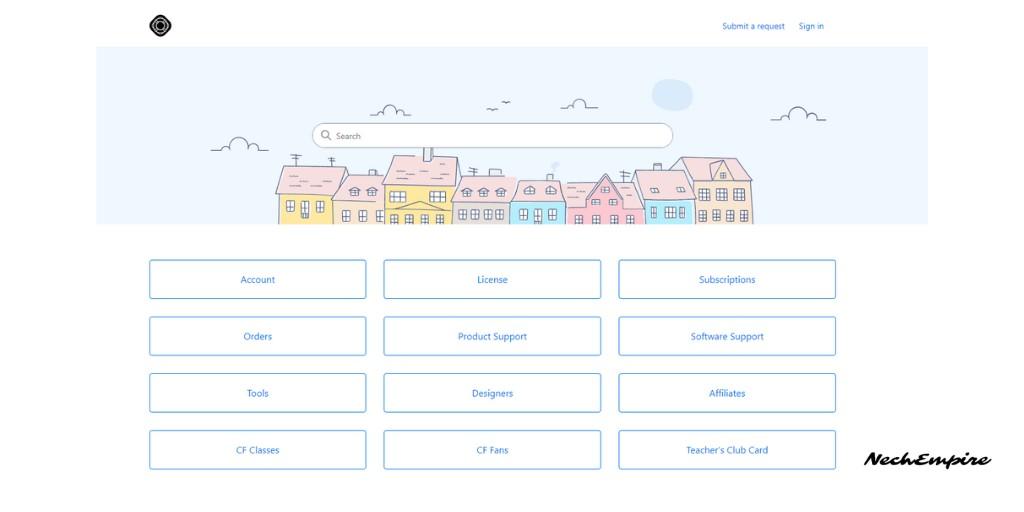 The Knowledge Base offers detailed information on specific topics, and the community forum is an ideal place to get answers or connect with users of CF.
Quick Tip: If you need help from customer support, make sure to be clear and concise when describing your problem. The more information you supply, the higher chance of the support team being able to help you quickly and effectively. Otherwise, it's just a whole lot of confusing back-and-forth!
And always remember to be kind and considerate – the support team is here for you and they'll work hard to get your problem sorted out quicker than you can say "please!"
Conclusion
So, if you find yourself stuck and in need of some help, Creative Fabrica has your back! You can get in touch with their support team by using any of their multiple methods like chatting, emailing, or asking a community.
For any problems you have, the website provides all the resources needed to quickly find solutions.
So don't be shy and ask away – their team is more than ready to help you turn your creative ideas into reality in no time!
BONUS FOR YOU: Unleash your potential as a print-on-demand entrepreneur with this free guide – download now!
Here Are Some of My Favorite Tools For Print-on-demand
DESIGNS: For getting started, I like Kittl. It is a fantastic place with highly professional templates, that can be edited and used for print-on-demand. In my opinion, it is a go-to place for any person, who wants to make money with POD.
Another of my favorites is Creative Fabrica. They have millions of cheap graphics that can elevate your t-shirt design. If you are not the most skillful designer, then try Placeit or Vexels. These are platforms, where you can find thousands of pre-made t-shirt designs you can easily edit and publish on any print-on-demand platform. I recommend Placeit for beginners and after you get some sales move to Vexels.
I also use a platform called Simplified, which is an all-in-one tool that combines an AI writer, design editor, video editor, and social content planner into one simple platform. I love it. Just like Canva, Simplified has a free version, so you can try it here.
FREE DESIGNS: I love Canva. I'm using this platform almost every day. With Canva, you can create stunning t-shirt designs, they already have an entire section, where you can make your artwork from scratch or use some pre-made templates and edit them. Canva comes with two main pricing plans: FREE and PRO. And if you are a beginner, then I recommend the free plan, it should be enough for you.
SELL YOUR ART – Start selling your graphics, vectors, or photography on Wirestock to save time and make more money. Its Wirestock Program allows you to submit to multiple stock agencies and marketplaces in a single click. It is currently partnered with Shutterstock, Adobe, Alamy, Dreamstime, Pond5, and Depositphotos. Get a FREE account.
SELLING LOW-CONTENT BOOKS – Selling low-content and no-content books on Amazon can be a great way to boost your online income. Im using Book Bolt to do the research, get pre-made interiors, and create covers. And you can try the platform for free.
Take your POD business to the next level. If you are serious about selling your designs on t-shirts, mugs, and other products, you need to sell them on the biggest marketplaces like Etsy or Amazon. You should also sell for the best prices through on-demand fulfillment companies like Printul or Printify.
Disclosure: Some of the links above may contain affiliate partnerships, meaning, at no additional cost to you, NechEmpire may earn a commission if you click through to make a purchase.