I'm Miroslav, a passionate graphic designer and AI enthusiast. At NechEmpire, I'm here to equip you with the knowledge and skills to turn your design...Read more
(Last Updated On: August 11, 2023)
Are you a designer or an aspiring entrepreneur looking to establish your personal identity?
If so, finding a distinct signature font for your logo could give you that extra edge and make you stand out.
Keep in mind that creating a clear brand identity is crucial in capturing your audience's attention.
Enter the world of signature fonts.
They provide a distinctive flair to your digital persona.
They excel when used as a logo font, imbuing your logo with an essence of you. Fields such as photography, graphic design, and fashion are some of the industries where signature fonts are commonly used in logos.
If you're looking for high-quality fonts that mimic handwritten signatures, you're in luck!
In this article, I will be sharing with you a list of fonts that look like signatures, so you can help your brand make a strong impression.
So, What Exactly is a Signature Font?
Signature fonts have a unique charm that mimics the appearance of handwritten text. They are perfect for creating a personalized look for your brand, designing logos, and adding an individual touch to various types of designs.
These fonts are special typefaces that include decorative elements like swashes, loops, and other embellishments. These features give them a resemblance to personal signatures. If you're looking to add a cursive or calligraphic touch to your designs or logos, signature fonts are the perfect choice for you.
What's more, signature-like fonts, commonly found in Serif, handwritten, and calligraphy font families, offer distinct aesthetics that can enhance your typography.
Fonts That Look Like Signatures
Arabella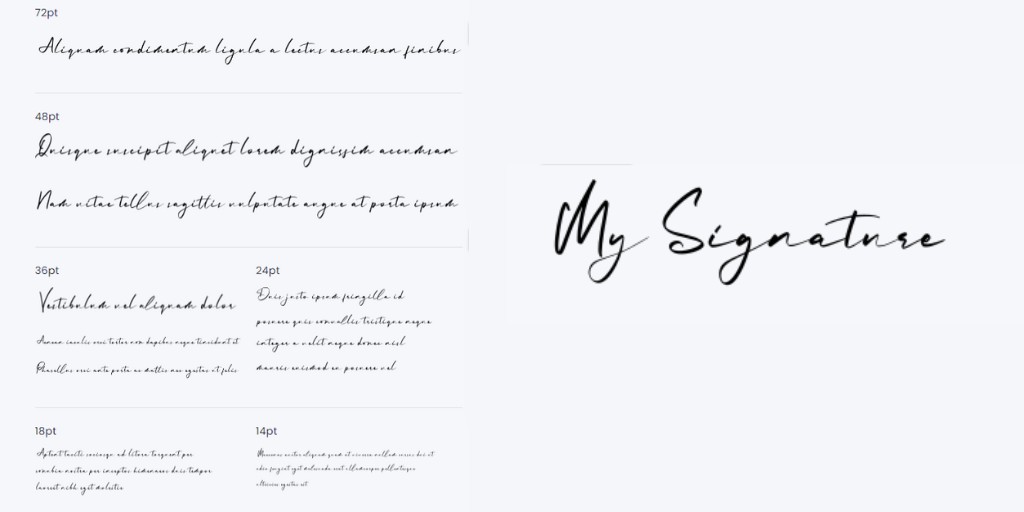 Arabella is a font that effortlessly combines charm and elegance. This stylish script font pays homage to the timeless art of calligraphy. With its varying baseline, smooth lines, beautiful glyphs, and stunning alternates, Arabella is sure to captivate your audience and add a touch of sophistication to any project.
Agattamy Script Font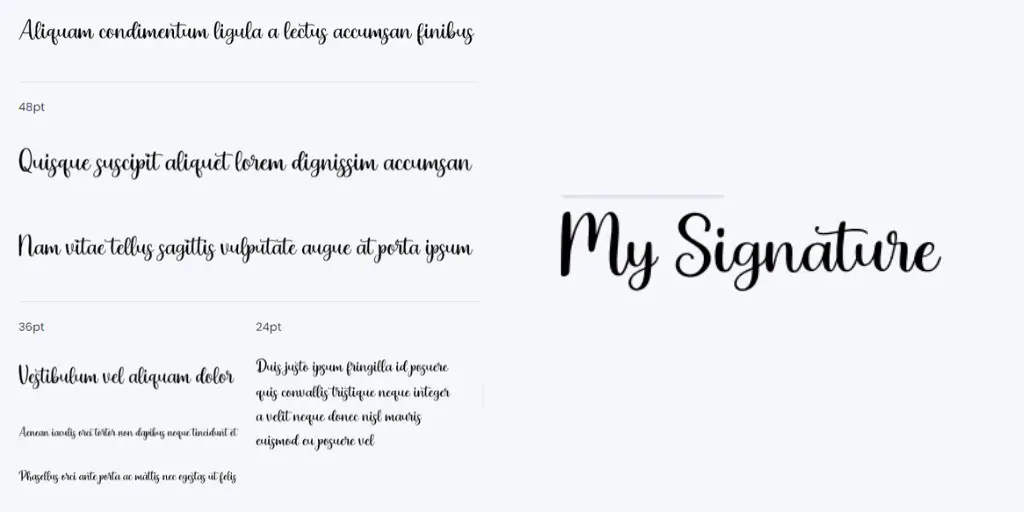 Introducing Agattamy Script, a beautifully crafted handwritten font that is sure to become your new favorite. With its contemporary and fresh style, this font is perfect for any design project you have in mind.
Whether it's creating stunning visuals or adding a unique touch to your creative endeavors, Agattamy Script will make your work stand out from the rest. Don't miss the opportunity to enhance your projects with this exceptional font!
Anderson Signature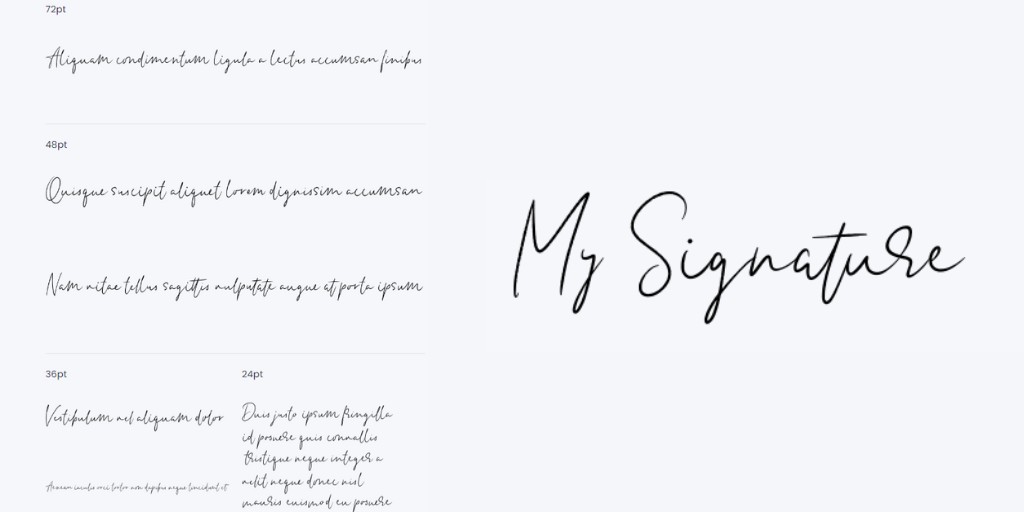 Anderson Signature is an appealing script font that combines modernity with a playful touch. Crafters and designers will find it particularly useful for their projects. One of its notable features is the PUA encoding, which allows easy access to all the unique glyphs and swashes available in this font.
Asturria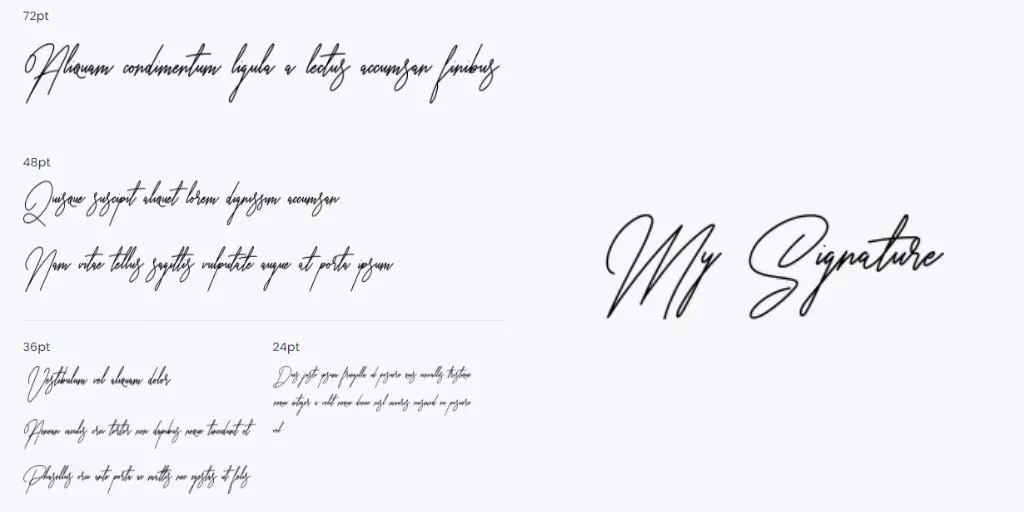 Asturria is a new script font that exudes a refreshing and casual charm. It has a down-to-earth quality that makes it highly readable and incredibly versatile. Whether placed on busy backgrounds or used as a standalone headline, Asturria will undoubtedly make an outstanding visual impact in any context.
Bradley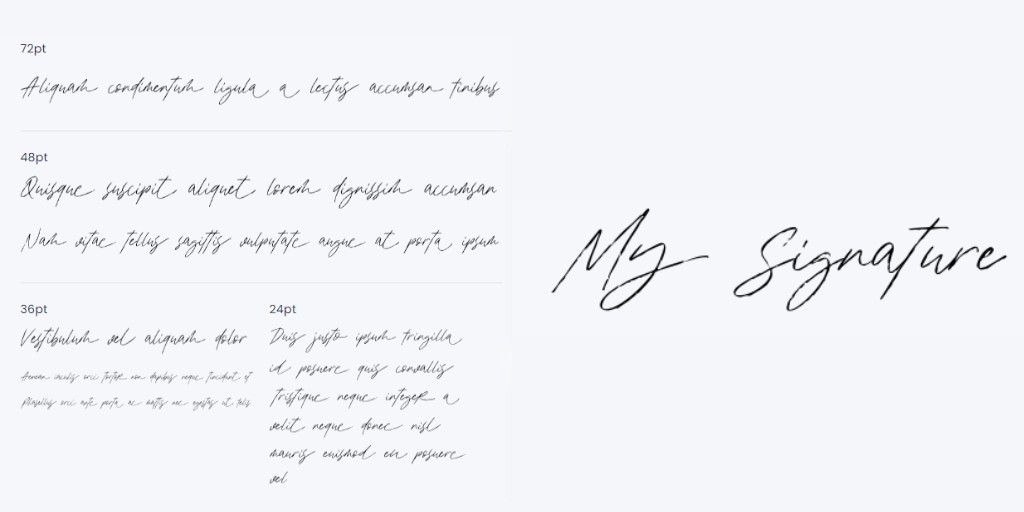 Bradley Signature is an exquisite handwritten font that offers a timeless appeal. Its elegantly crafted lines and authentic details make it an ideal choice for various purposes, including signatures, magazines, headlines, websites, packaging, wedding cards, and more. With its versatility and aesthetic charm, Bradley Signature can enhance the visual appeal of any project or design.
Brittany Signature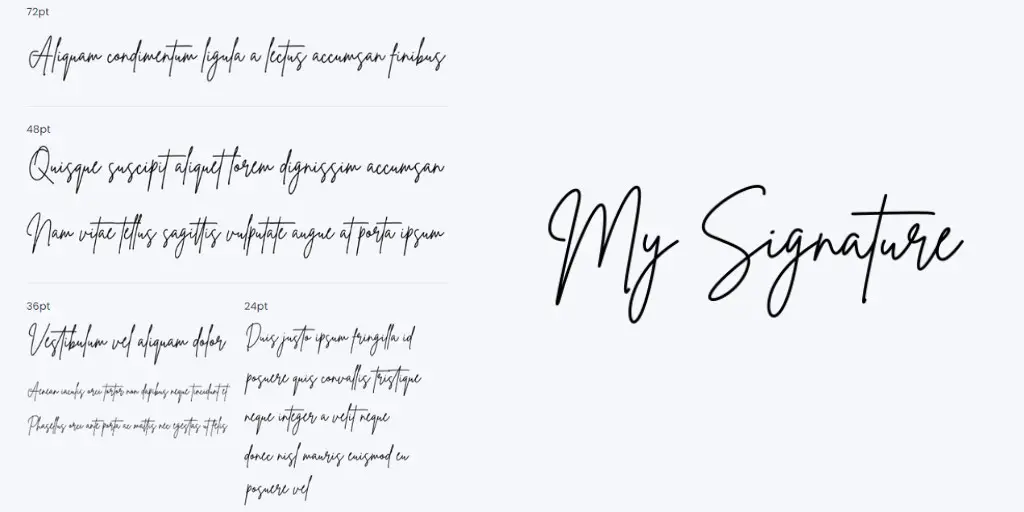 The Brittany Signature font is a remarkable choice for those seeking a script font. Its sophisticated and fashionable signature style displays distinctive curves, lending an elegant inky flow.
This versatile font is ideal for a wide range of design projects, including branding, logo creation, wedding designs, social media posts, advertisements, product packaging, and any other project that requires a handwritten touch.
Charlotte Bella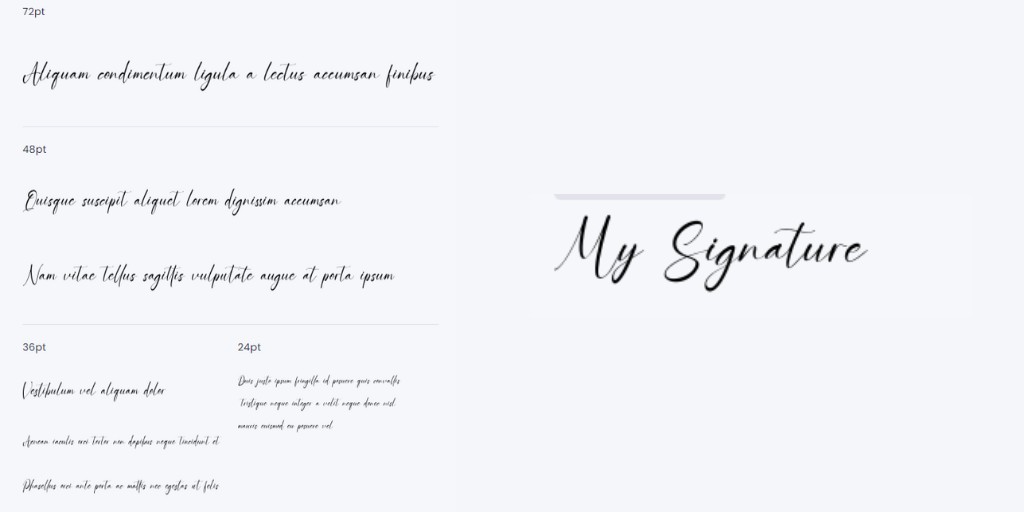 Charlotte Bella is a delightful and modern script font that adds a playful touch to any design. Its versatility makes it ideal for various branding projects, such as logos, t-shirt printing, and creative products. Regardless of the context, this font is guaranteed to make your projects look extraordinary.
Saio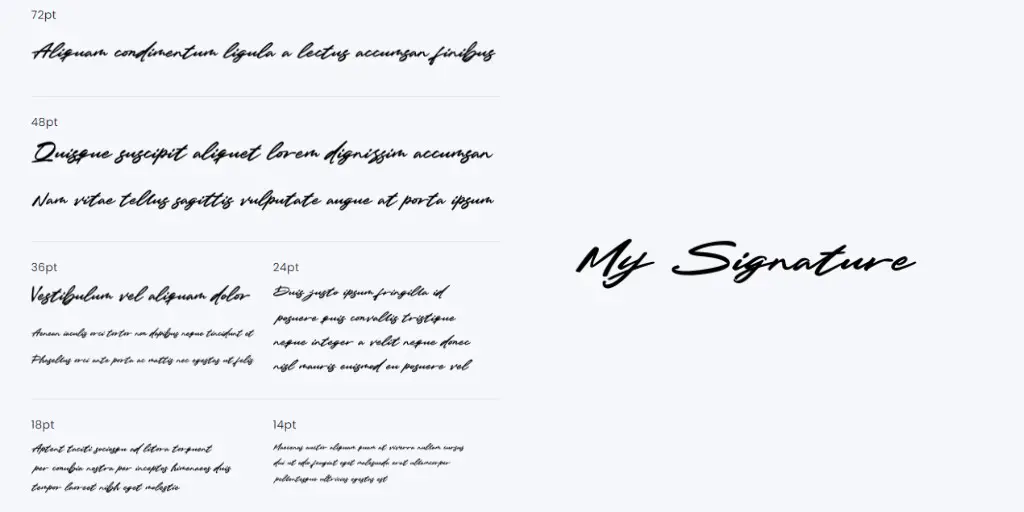 Saio is a visually appealing paintbrush script font that adds a touch of elegance to various design projects. Its cursive style enhances the aesthetic appeal and makes it ideal for invitations, poster designs, book layouts, branding materials, logos, and more. With Saio, you can create stunning visuals that capture attention and leave a lasting impression.
Manly Signature Font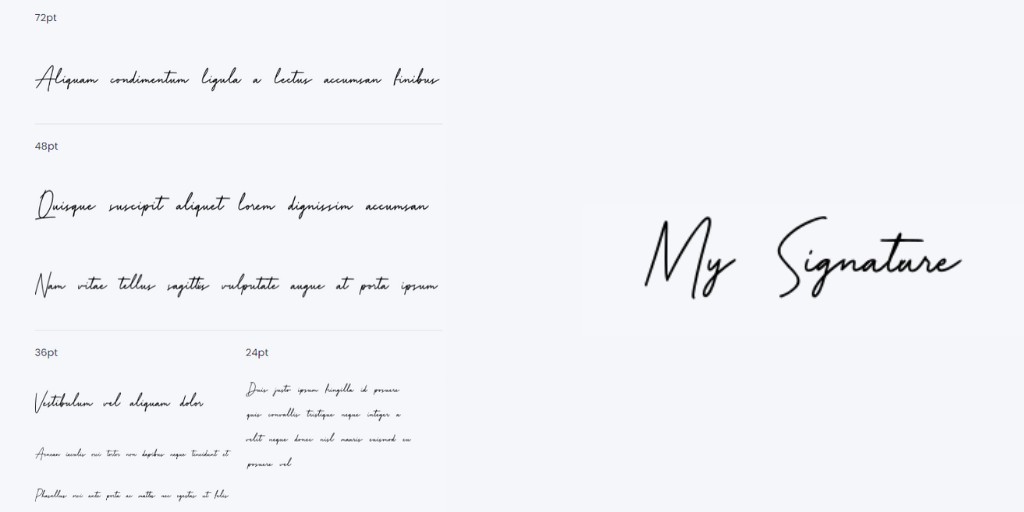 Manly Signature is an elegant script font that exudes sophistication and refinement. With its stylish alternates and ligatures, this font is an ideal choice for any project. Additionally, it is PUA encoded, allowing you to easily access all of the glyphs and swashes available in the font.
Mistral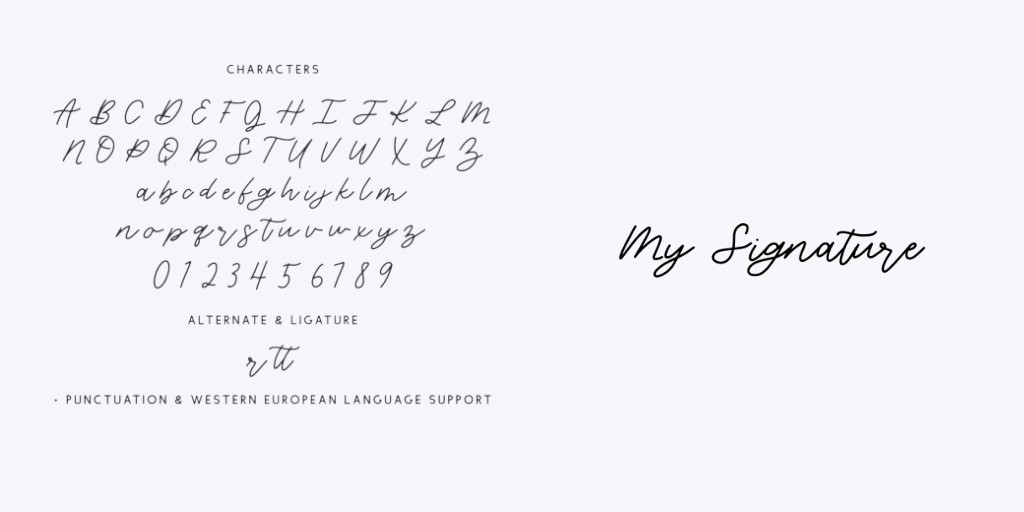 Meet Mistral, a contemporary handwriting font perfect for various uses. It is particularly well-suited for wedding invitations, favors, and decor, as well as feminine and crafty projects.
Additionally, it can be used effectively in logos, branding materials, website design, quote graphics for social media platforms, and even on feminine graphic tee shirts or other apparel items.
Over Thinking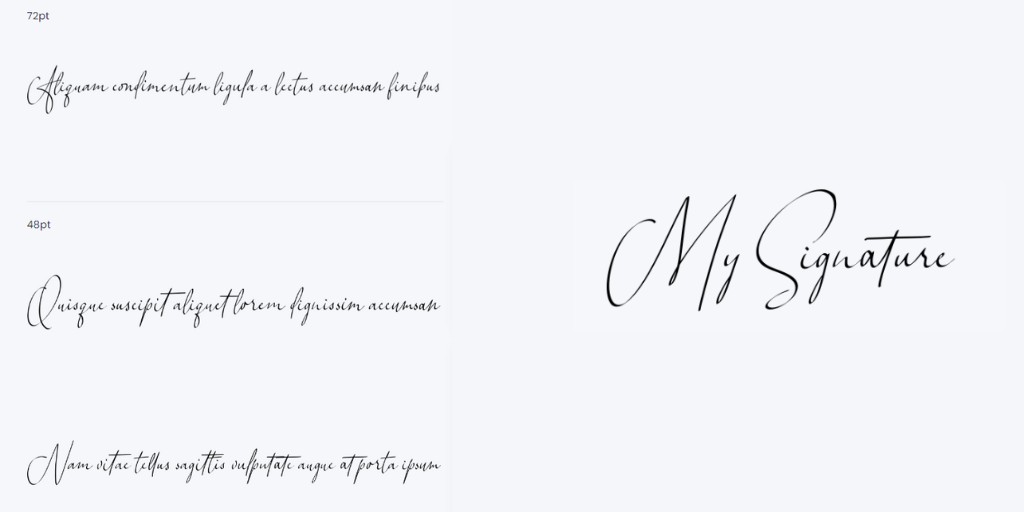 Over Thinking is a delightful handwritten script font that adds a playful and modern touch to your designs. It's particularly well-suited for crafters and designers who want to inject personality into their projects.
By incorporating this font, you can confidently enhance the overall aesthetics, resulting in eye-catching and appealing outcomes that you'll surely love.
Vintage Signature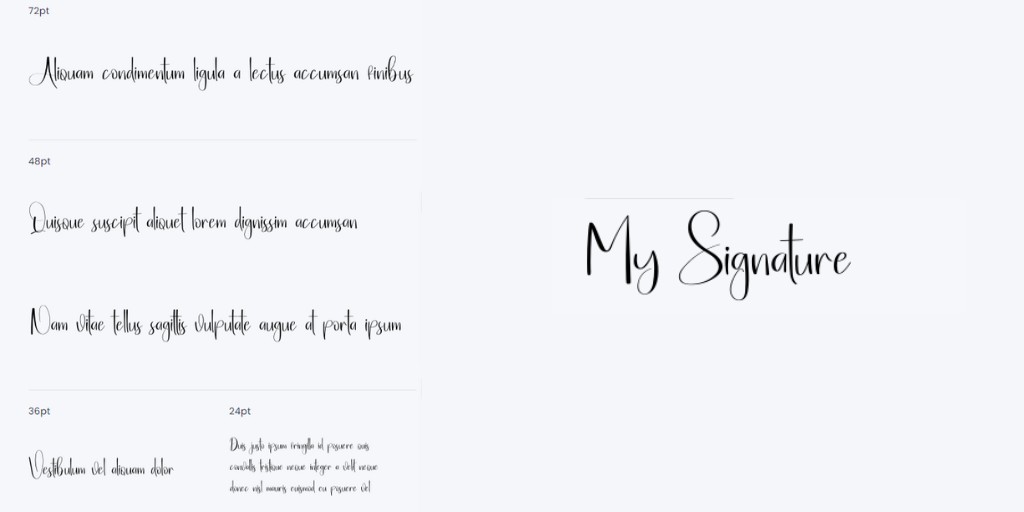 Vintage Signature is a captivating handwritten font that adds a touch of enchantment to any project. Its versatility allows it to be used in various applications, from greeting cards to headlines. With its romantic flair, this font guarantees to bring extra charm to your next creative endeavor.
Breathine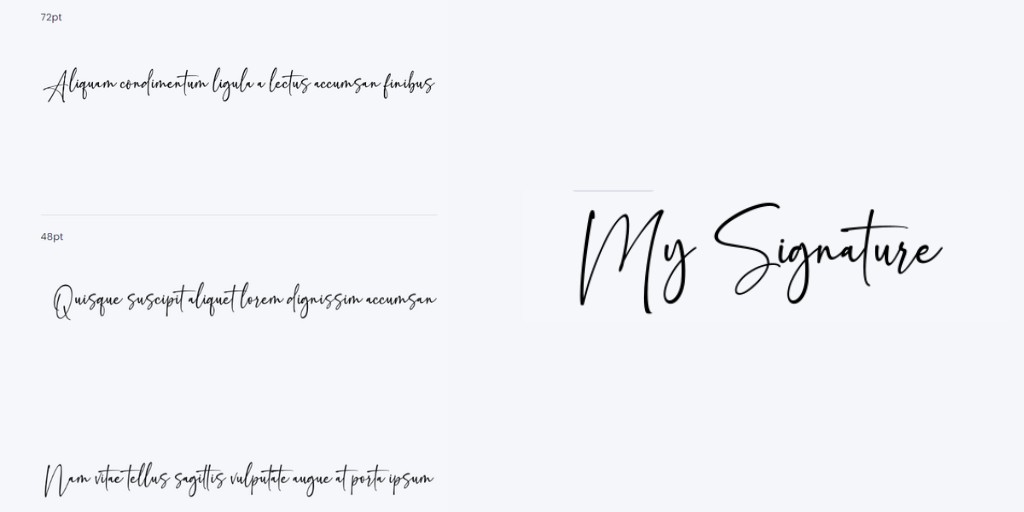 Breathine is a script font that exudes elegance. It has been meticulously crafted to add a touch of magic to any design. This versatile font is perfect for various purposes, whether you need fonts for your Instagram posts or calligraphy scripts for your DIY projects. With Breathine, you can transform any creative idea into a stunning piece of art!
BONUS FOR YOU: Unleash your potential as a print-on-demand entrepreneur with this free guide – download now!
Here Are Some of My Favorite Tools For Print-on-demand
DESIGNS: For getting started, I like Kittl. It is a fantastic place with highly professional templates, that can be edited and used for print-on-demand. In my opinion, it is a go-to place for anyone who wants to make money with POD.
Another of my favorites is Creative Fabrica. They have millions of cheap graphics that can elevate your t-shirt design. If you are not the most skillful designer, then try Placeit or Vexels. These are platforms, where you can find thousands of pre-made t-shirt designs you can easily edit and publish on any print-on-demand platform. I recommend Placeit for beginners and after you get some sales move to Vexels.
GET UNLIMITED DIGITAL ASSETS – Envato Elements is a subscription-based digital assets platform that provides a wide range of digital assets. Whether you're in need of fonts, stock videos, photos, motion graphics, mock-ups, overlays, or brushes – you name it – Envato Elements is likely to have it. It's your one-stop service for all types of creative resources.
SELLING GRAPHIC DESIGNS – Freepik makes it simple to get your design in front of a huge audience of paying customers. It's a set-it-and-forget-it source of passive income. The earnings per download may seem small, but they can compound into decent money over time. And they are also accepting AI designs. Try it for free.
SELLING LOW-CONTENT BOOKS – Selling low-content and no-content books on Amazon can be a great way to boost your online income. I'm using Book Bolt to do the research, get pre-made interiors, and create covers. And you can try the platform for free.
Take your POD business to the next level. If you are serious about selling your designs on t-shirts, mugs, and other products, you need to sell them on the most significant marketplaces like Etsy or Amazon. It would be best if you also sold for the best prices through on-demand fulfillment companies like Printul or Printify.
Disclosure: Some of the links above may contain affiliate partnerships, meaning, at no additional cost to you, NechEmpire may earn a commission if you click through to make a purchase.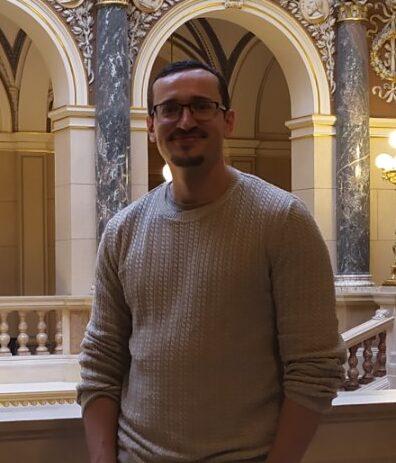 I'm Miroslav, a passionate graphic designer and AI enthusiast. At NechEmpire, I'm here to equip you with the knowledge and skills to turn your design passion into a thriving online business.
More Posts