(Last Updated On: January 9, 2023)
Need an upgrade to your design game without spending too much? Look no further, Creative Fabrica has the perfect solution for you!
It's an amazing platform not only because you can purchase impressive design resources for a reasonable price, but also because they offer a great selection of free options!
So, are there any free designs available on Creative Fabrica?
The short answer is YES, Creative Fabrica (CF) has a free section called Freebies, where you can get stylish designs without having to pay for them.
The coolest fact is that some of these free designs on Creative Fabrica come with a commercial license.
Consequently, they are ready to be used for any commercial project you want.
Pricing and Payment Options on Creative Fabrica
Before we go further, let me explain Creative Fabrica and its pricing.
CF is an online storehouse of creative tools and elements. You can access a range of stylish vectors and fonts, craft files, and more – all in one spot.
And most of the elements on this marketplace have a simple commercial and POD license.
Whatever design element you require for your project, is sure to be found here!
Their payment options are incredibly flexible, so you can buy specific resources as per your requirements or go for a subscription to access their entire library.
I personally use the benefits of the All Access Subscription, where I'm paying $19 per month (special deal) for access to all the tools, elements, and crafts available on this platform. And I get POD licenses for all of them.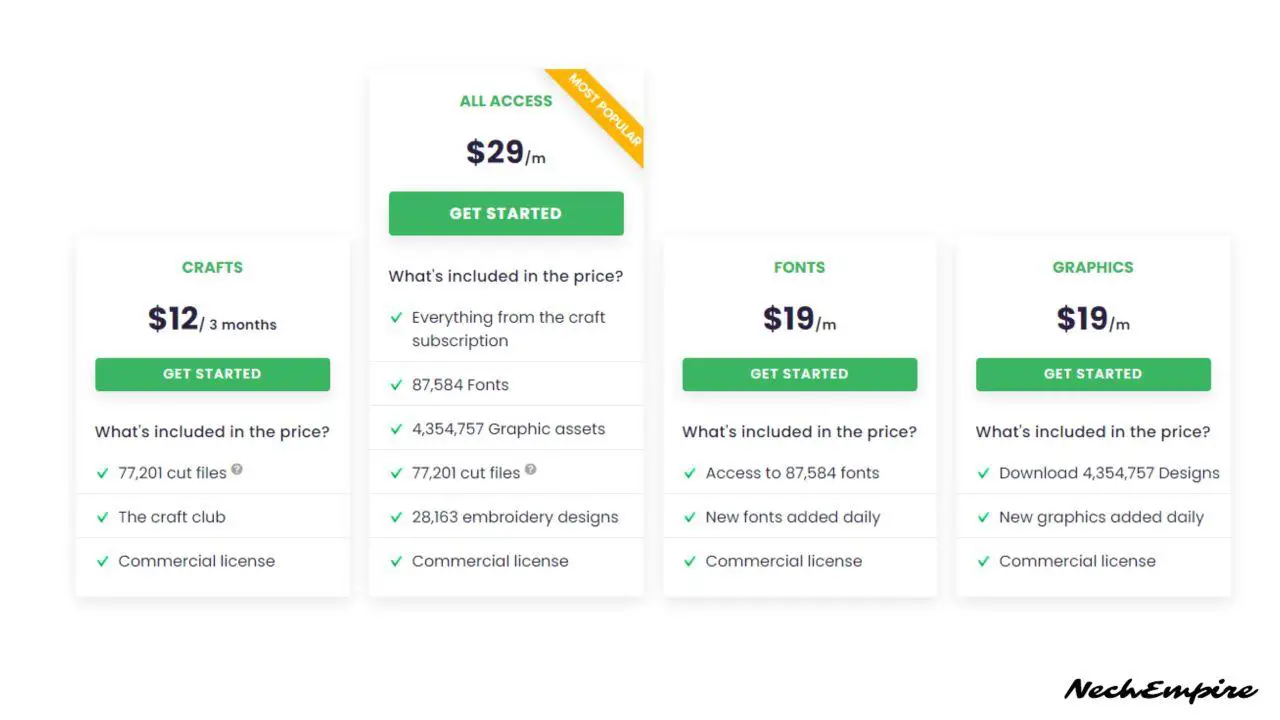 BONUS: In partnership with NechEmpire, Creative Fabrica gives you unlimited access to over 4 million fonts, graphics, & digital crafting resources for just $1! Get all access now.
Types of Free Designs Available on Creative Fabrica
Don't fret if you're on a limited budget. Creative Fabrica has got your back with its selection of affordable options.
Creative Fabrica gives everyone access to a huge range of design resources, all for free! Plus, it's totally free to sign up for an account – what could be better?
There is an abundance of free designs to choose from. Vector graphics, fonts, craft files, and bundles are all available to download. It's a great way to get creative with your projects!
These free resources can be ideal for giving your project an extra spark or adding a unique flair to your website and social media pages.
How to Access Free Designs
But how do you access all of these amazing free designs, you may ask? It's easy!
All you need to do is create an account and you're good to go.
On Creative Fabrica there is a section called Freebies, where you will find all the free elements available. You can also search for a specific keyword and then use filters to get only free items related to that keyword.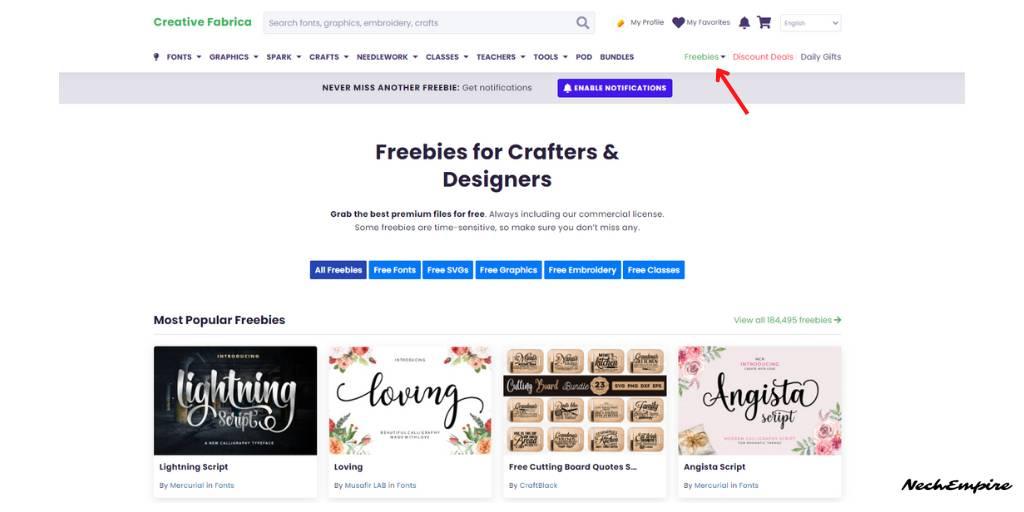 Once you've found a design you love, simply download it and get to work!
Please note, you can download any of these designs only if you have an account on CF.
Limitations of Free Designs
Keep in mind that free designs from Creative Fabrica are not completely unrestricted. Usage rights and proper licensing must be observed to use them for commercial purposes.
So, always check for the license on every single element you want to download.
Additionally, you should understand how the license on Creative Fabrica works.
I have written an article and recorded a video on this topic.
Conclusion
Despite certain restrictions, the free designs on Creative Fabrica are a great resource for inspiration. Plus, there are plenty of options if you choose to upgrade and purchase paid stuff that will meet all your creative requirements!
Time to get creative!
Take a look at Creative Fabrica's extensive library of free designs, and find something that will ignite your imagination.
You won't regret it – there are lots to choose from!
BONUS FOR YOU: Unleash your potential as a print-on-demand entrepreneur with this free guide – download now!
Here Are Some of My Favorite Tools For Print-on-demand
DESIGNS: For getting started, I like Kittl. It is a fantastic place with highly professional templates, that can be edited and used for print-on-demand. In my opinion, it is a go-to place for any person, who wants to make money with POD.
Another of my favorites is Creative Fabrica. They have millions of cheap graphics that can elevate your t-shirt design. If you are not the most skillful designer, then try Placeit or Vexels. These are platforms, where you can find thousands of pre-made t-shirt designs you can easily edit and publish on any print-on-demand platform. I recommend Placeit for beginners and after you get some sales move to Vexels.
I also use a platform called Simplified, which is an all-in-one tool that combines an AI writer, design editor, video editor, and social content planner into one simple platform. I love it. Just like Canva, Simplified has a free version, so you can try it here.
FREE DESIGNS: I love Canva. I'm using this platform almost every day. With Canva, you can create stunning t-shirt designs, they already have an entire section, where you can make your artwork from scratch or use some pre-made templates and edit them. Canva comes with two main pricing plans: FREE and PRO. And if you are a beginner, then I recommend the free plan, it should be enough for you.
SELL YOUR ART – Start selling your graphics, vectors, or photography on Wirestock to save time and make more money. Its Wirestock Program allows you to submit to multiple stock agencies and marketplaces in a single click. It is currently partnered with Shutterstock, Adobe, Alamy, Dreamstime, Pond5, and Depositphotos. Get a FREE account.
SELLING LOW-CONTENT BOOKS – Selling low-content and no-content books on Amazon can be a great way to boost your online income. Im using Book Bolt to do the research, get pre-made interiors, and create covers. And you can try the platform for free.
Take your POD business to the next level. If you are serious about selling your designs on t-shirts, mugs, and other products, you need to sell them on the biggest marketplaces like Etsy or Amazon. You should also sell for the best prices through on-demand fulfillment companies like Printul or Printify.
Disclosure: Some of the links above may contain affiliate partnerships, meaning, at no additional cost to you, NechEmpire may earn a commission if you click through to make a purchase.