I'm Miroslav, a passionate graphic designer and AI enthusiast. At NechEmpire, I'm here to equip you with the knowledge and skills to turn your design...Read more
(Last Updated On: August 29, 2023)
As a Photoshop user, having control over magnification is essential for optimizing your workflow.
Whether you're editing at the pixel level or viewing the full image, seamless zooming allows you to navigate images with precision and ease.
Different Methods to Zoom In and Out in Photoshop
In this guide, I'll be sharing the main methods for zooming in Photoshop so you can get the most out of this invaluable tool.
With some practice, you'll be able to zoom and pan around your images like a pro.
Note: I have made a video tutorial about different methods to zoom in Photoshop. You can watch the video below.
The Basic Zooming Feature in Photoshop
Let's start with the fundamentals.
In the bottom left corner of your Photoshop window is a percentage indicator that displays your current zoom level.
You can click directly on this percentage to manually enter your desired zoom level. This is useful for jumping directly to set magnifications like 100% or 50%.
Keep in mind that zooming beyond 100% will make your image look increasingly pixelated as you go beyond the native resolution.
Using Keyboard Shortcuts for Precise Zooming
One of the quickest ways to zoom in on Photoshop is by using simple keyboard shortcuts.
This keeps your hands on the keyboard for smooth, instant zooming.
Ctrl + + (⌘ + + on Mac) to zoom in
Ctrl + – (⌘ + -) to zoom out
Ctrl + 0 (⌘ + 0) to fit image to screen
With just a few keystrokes, you can zoom in and out of your image for precision editing or scale it to fit nicely on your monitor.
The Zoom Tool for Click-to-Zoom Functionality
The Zoom tool, which looks like a magnifying glass, can be found in Photoshop's left toolbar.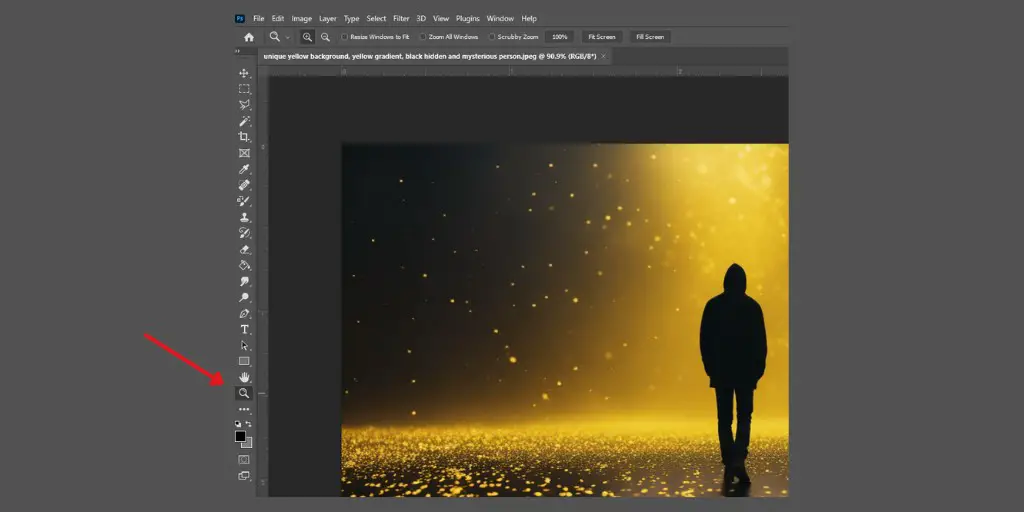 This gives you click-to-zoom functionality for easy navigation.
Click to zoom in
Alt/Option + click to zoom out
Enabling the 'Animated Zoom' preference allows for continuous zooming simply by clicking and dragging with the Zoom tool.
The Zoom tool also has a Scrubby Zoom feature which lets you drag right to zoom in and left to zoom out.
This is perfect for making subtle zoom adjustments.
The Navigator panel provides a handy overview of your entire image, with a red outline showing your current view.
Use the Zoom slider at the top for precision zooming, or click on the mountain icons to quickly jump between zoomed in and zoomed out views.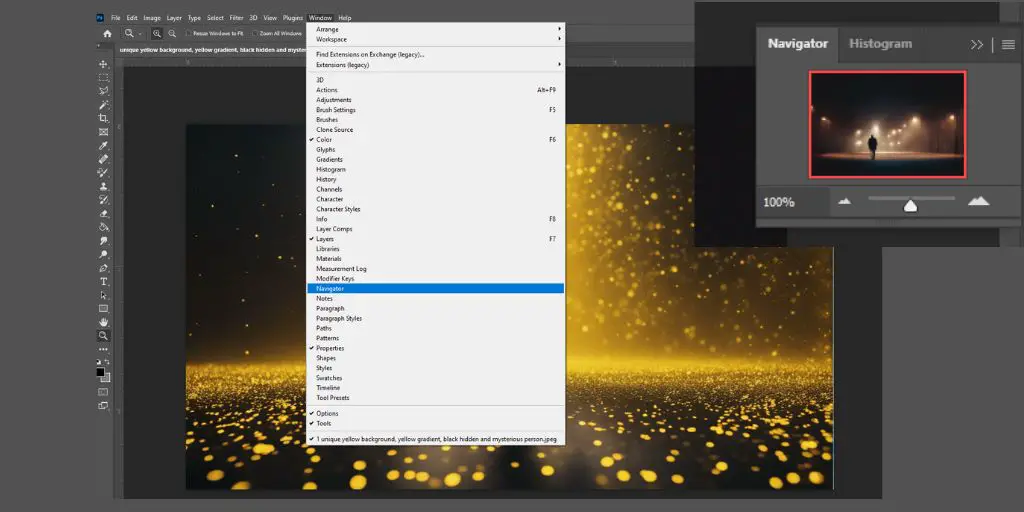 The Navigator also lets you click and drag to pan around your image while zoomed in so you can seamlessly inspect every area at high magnification.
Harness Your Scroll Wheel for Intuitive Zooming
In Adobe Photoshop, there is a convenient feature called "Zoom with Scroll Wheel" that can significantly enhance your workflow if you prefer using your mouse.
By enabling this option in Photoshop's Preferences, you can effortlessly zoom in and out by simply scrolling up or down with your mouse wheel.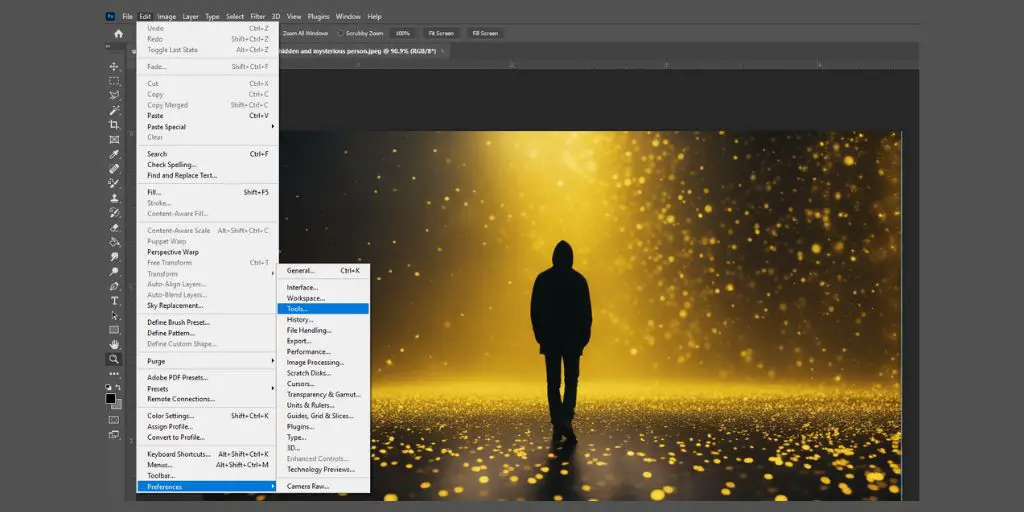 Once this feature is turned on, you will experience a smooth and intuitive zooming experience.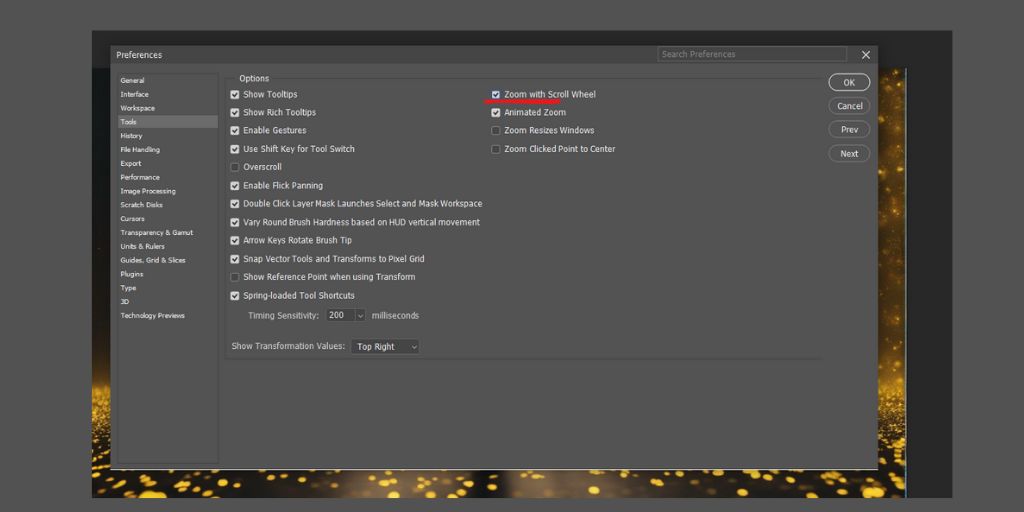 Scrolling up will smoothly zoom in, allowing you to focus on intricate details of your design or image.
Conversely, scrolling down will seamlessly zoom back out, giving you an overview of the entire canvas.
View 100% Zoom for Pixel-Perfect Editing
It's important to view your image at 100% magnification periodically so you can evaluate true pixel quality as you edit.
You can jump straight to 100% zoom in several quick ways:
Double-click the Zoom tool
Select 100% from the View menu
Use the keyboard shortcut Ctrl/⌘ + 1
Don't forget to zoom out periodically to assess how your edits look at smaller scales too.
Customize Your Workspace for Efficient Zooming
To enhance your zooming workflow further, you can customize your Photoshop workspace for efficiency:
Display the zoom percentage in your toolbar so it's always visible
Optimize hotkey positioning so zoom shortcuts are close by
Add zoom buttons to the Quick Access Toolbar for 1-click access
With your workspace configured for optimal zooming, you'll be able to inspect and edit images faster than ever.
Common Uses Cases for Zooming In Photoshop
Now that you're equipped with all the tools to zoom like a pro, let's discuss some common use cases.
Precision Editing
Zoom way in for close-up editing at the pixel level, like when correcting blemishes or retouching. Zoom out occasionally to double-check check your edits look good at smaller sizes.
Adjustment Layers
Zoom out to assess your full image when applying adjustments like levels or curves. Zoom back in to see the effect at the pixel level.
Mask Refinement
Pan and zoom around masks to refine edges. The Navigator and 100% views are great for ensuring accuracy.
Details Inspection
Zoom in tight to inspect details like hair, fabric textures, or jewelry when editing.
Cropping and Transformations
Zoom to find the perfect crop or get a transformed element precisely aligned.
Final Tips for Mastering Zoom in Photoshop
Here are some final tips for taking your Photoshop zooming skills to the next level:
Use keyboard shortcuts to zoom rapidly while editing
Scrubby Zoom for fine control when zoomed way in
Toggle quickly between overview and zoomed-in detail
Mind your resolution when zooming past 100%
Customize your workspace for fast access to the Zoom tool
Pan around while zooming in to inspect every pixel
With practice, you'll gain the zooming instincts that mark all Photoshop pros.
Seamless navigation will accelerate your editing and give you a flexible overview of images large and small.
The core tools are all there – now it just takes using them repetitively to build up zooming muscle memory.
You'll be zooming and panning like an expert before you know it!
So try out these tips the next time you use Photoshop. Faster workflows and more precise edits await you.
BONUS FOR YOU: Unleash your potential as a print-on-demand entrepreneur with this free guide – download now!
Here Are Some of My Favorite Tools For Print-on-demand
DESIGNS: For getting started, I like Kittl. It is a fantastic place with highly professional templates, that can be edited and used for print-on-demand. In my opinion, it is a go-to place for anyone who wants to make money with POD.
Another of my favorites is Creative Fabrica. They have millions of cheap graphics that can elevate your t-shirt design. If you are not the most skillful designer, then try Placeit or Vexels. These are platforms, where you can find thousands of pre-made t-shirt designs you can easily edit and publish on any print-on-demand platform. I recommend Placeit for beginners and after you get some sales move to Vexels.
GET UNLIMITED DIGITAL ASSETS – Envato Elements is a subscription-based digital assets platform that provides a wide range of digital assets. Whether you're in need of fonts, stock videos, photos, motion graphics, mock-ups, overlays, or brushes – you name it – Envato Elements is likely to have it. It's your one-stop service for all types of creative resources.
SELLING GRAPHIC DESIGNS – Freepik makes it simple to get your design in front of a huge audience of paying customers. It's a set-it-and-forget-it source of passive income. The earnings per download may seem small, but they can compound into decent money over time. And they are also accepting AI designs. Try it for free.
SELLING LOW-CONTENT BOOKS – Selling low-content and no-content books on Amazon can be a great way to boost your online income. I'm using Book Bolt to do the research, get pre-made interiors, and create covers. And you can try the platform for free.
Take your POD business to the next level. If you are serious about selling your designs on t-shirts, mugs, and other products, you need to sell them on the most significant marketplaces like Etsy or Amazon. It would be best if you also sold for the best prices through on-demand fulfillment companies like Printul or Printify.
Disclosure: Some of the links above may contain affiliate partnerships, meaning, at no additional cost to you, NechEmpire may earn a commission if you click through to make a purchase.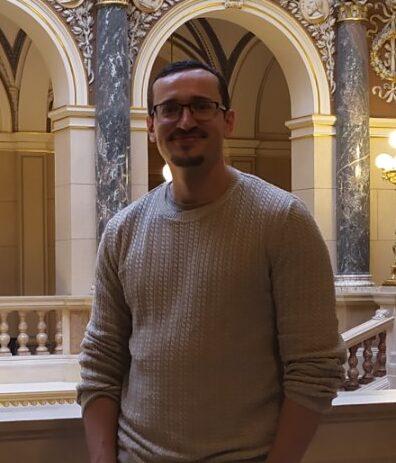 I'm Miroslav, a passionate graphic designer and AI enthusiast. At NechEmpire, I'm here to equip you with the knowledge and skills to turn your design passion into a thriving online business.
More Posts