I'm Miroslav, a passionate graphic designer and AI enthusiast. At NechEmpire, I'm here to equip you with the knowledge and skills to turn your design...Read more
(Last Updated On: August 30, 2023)
As a Canva user, you may have created designs that you no longer need or want in your account.
Deleting these old designs can help free up storage space and keep your account organized.
And in this article, I'll show you how to permanently delete Canva designs in just a few easy steps.
I'll also cover what happens after deletion, so you know exactly what to expect.
Why You Might Want to Delete Canva Designs
Here are some of the top reasons why you may want to permanently delete Canva designs:
Free up storage space – Canva offers limited storage, so deleting old designs can help free up room for new projects. This is especially useful for Canva Free users.
Maintain privacy – If a design contains private or sensitive information, deleting it can help protect that information from being accessed.
Keep things organized – Deleting old and unused designs can help declutter your Canva account and keep it neat and tidy.
Comply with laws – In some cases, privacy laws may require you to delete users' personal data. Deleting designs containing this data allows you to comply.
Before deleting any Canva design, it's important to double-check that you won't need it again in the future.
While deleted designs can't be recovered, you may be able to find copies that were downloaded or shared previously.
Step-by-Step Guide to Deleting Canva Designs
If you're sure you want to permanently delete a Canva design, follow these simple steps:
STEP 1: Log in to your Canva account
Go to Canva.com and log in using your email and password. This will take you to your Canva dashboard.
STEP 2: Locate the design
Click "Projects" in the left menu bar. Here, you'll see thumbnail previews of all your Canva designs. Locate the specific design you want to delete.
STEP 3: Select the design
Hover your mouse over the design thumbnail and click the checkbox that appears in the top left corner. This selects the design for deletion.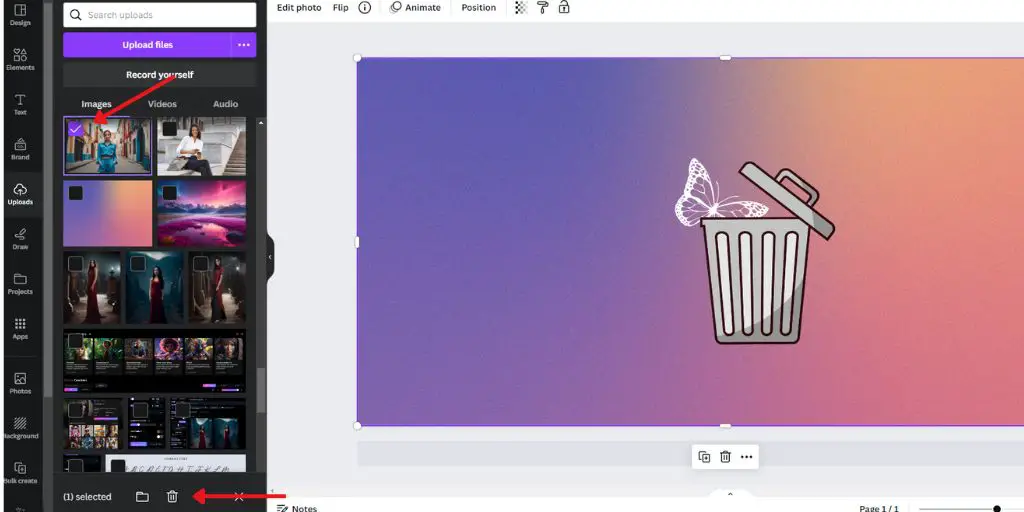 STEP 4: Click Delete
At the bottom of the page, click the "Delete" button. A pop-up will appear asking you to confirm deletion.
STEP 5: Confirm permanent deletion
In the pop-up, click the "Delete Permanently" button. This will immediately delete the selected design from your Canva account.
And that's it!
The design is now gone for good. Just repeat the steps above to delete additional Canva projects as needed.
What Happens When You Permanently Delete a Design
When you permanently delete a design from Canva:
The design is removed from your Canva account and cannot be recovered.
Any copies of the design that were downloaded or shared previously will still exist. Deleting the design does not delete these copies.
If you're a Canva Pro user, deleting a design does not free up storage space. Your storage limit is based on your subscription plan.
The design could still be cached on search engines if it was publicly shared. But it will eventually disappear as search engines recrawl the deleted link.
If you accidentally delete a design, you may be able to recover it from the Trash folder within 30 days. After that, it's gone forever.
So in summary, deleted Canva designs are erased from your account and cannot be recovered.
However, any existing copies or caches of the design will not be automatically deleted.
Tips for Safely Deleting Canva Designs
To ensure you permanently delete designs with confidence, follow these tips:
Double-check before deleting that you won't need the design again in the future.
Download a copy before deleting it if you might want the design for reference later.
Share responsibly and avoid making designs fully public if they contain private information.
Act promptly if you need to delete a design for privacy reasons, don't delay.
Clear caches if required, and ask search engines to remove deleted pages from their indexes.
Use your Trash folder to recover recently deleted designs within 30 days.
Frequently Asked Questions
Here are answers to some common questions about permanently deleting Canva designs:
Can I recover a deleted Canva design?
No, there is no way to recover a permanently deleted Canva design. However, you may be able to find and restore deleted designs from your Trash folder within 30 days.
Does deleting a design free up space?
Only if you are a Canva Free user. For Canva Pro users, storage limits are set by your subscription plan and do not change when deleting designs.
What happens to copies of my design?
Any existing copies or downloads of your design will not be deleted. Only the version in your Canva account will be erased.
How do I delete designs from Canva quickly?
You can select and delete multiple Canva designs at once for quicker bulk deletion. Simply check the box beside each design you want to delete before clicking "Delete".
Can other Canva users see my deleted designs?
No, when you delete your own private designs in Canva they are gone for good and are not visible to anyone else.
Final Thoughts
Now you know exactly how to permanently delete your Canva designs when you need to. Follow the step-by-step process outlined above.
Remember to double-check that you won't need a design again before deleting it forever.
Use your Trash folder to recover recently deleted designs if you change your mind.
Deleting old designs is an easy way to maintain privacy, free up storage space, and keep your Canva account clean and organized.
Just be certain before you delete, as deleted designs cannot be recovered.
BONUS FOR YOU: Unleash your potential as a print-on-demand entrepreneur with this free guide – download now!
Here Are Some of My Favorite Tools For Print-on-demand
DESIGNS: For getting started, I like Kittl. It is a fantastic place with highly professional templates, that can be edited and used for print-on-demand. In my opinion, it is a go-to place for anyone who wants to make money with POD.
Another of my favorites is Creative Fabrica. They have millions of cheap graphics that can elevate your t-shirt design. If you are not the most skillful designer, then try Placeit or Vexels. These are platforms, where you can find thousands of pre-made t-shirt designs you can easily edit and publish on any print-on-demand platform. I recommend Placeit for beginners and after you get some sales move to Vexels.
GET UNLIMITED DIGITAL ASSETS – Envato Elements is a subscription-based digital assets platform that provides a wide range of digital assets. Whether you're in need of fonts, stock videos, photos, motion graphics, mock-ups, overlays, or brushes – you name it – Envato Elements is likely to have it. It's your one-stop service for all types of creative resources.
SELLING GRAPHIC DESIGNS – Freepik makes it simple to get your design in front of a huge audience of paying customers. It's a set-it-and-forget-it source of passive income. The earnings per download may seem small, but they can compound into decent money over time. And they are also accepting AI designs. Try it for free.
SELLING LOW-CONTENT BOOKS – Selling low-content and no-content books on Amazon can be a great way to boost your online income. I'm using Book Bolt to do the research, get pre-made interiors, and create covers. And you can try the platform for free.
Take your POD business to the next level. If you are serious about selling your designs on t-shirts, mugs, and other products, you need to sell them on the most significant marketplaces like Etsy or Amazon. It would be best if you also sold for the best prices through on-demand fulfillment companies like Printul or Printify.
Disclosure: Some of the links above may contain affiliate partnerships, meaning, at no additional cost to you, NechEmpire may earn a commission if you click through to make a purchase.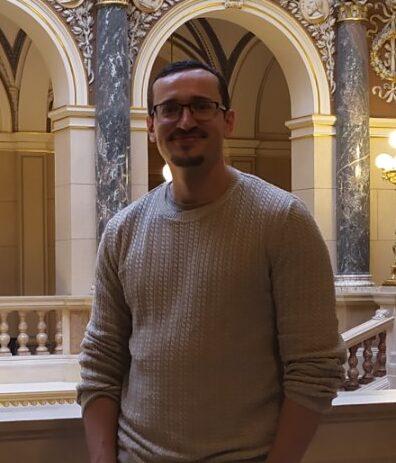 I'm Miroslav, a passionate graphic designer and AI enthusiast. At NechEmpire, I'm here to equip you with the knowledge and skills to turn your design passion into a thriving online business.
More Posts