I'm Miroslav, a passionate graphic designer and AI enthusiast. At NechEmpire, I'm here to equip you with the knowledge and skills to turn your design...Read more
(Last Updated On: August 30, 2023)
Have you ever struggled to make a transparent shape while designing a logo, presentation slides, or online ads?
As a beginner, you may think transparent shapes are too complex to create.
But I have great news for you!
Making transparent shapes is actually quite simple with Canva, the user-friendly graphic design platform.
And in this step-by-step guide, I'll show you exactly how to make transparent shapes in Canva, and I will explain it even a beginner can understand it.
Soon, you'll be adding transparent shapes to elevate all your designs!
Why Use Transparent Shapes in Canva?
Before jumping in, let's first go over why you'd want to use transparent shapes in your Canva designs:
Logos: Transparent shapes can add visual interest to logos without hiding the background. This creates a clean, professional look.
Presentations: Adding transparent shape overlays is an easy way to jazz up presentation slides. They draw the viewer's eye without being distracting.
Online ads: For online ads, transparent shapes help focal points stand out. This catches the reader's attention against varied web backgrounds.
Accent elements: Transparent shapes make excellent accent elements on images, graphics, and text blocks. They add flair without obscuring other design elements.
Now that you know why transparent shapes are useful, let's get into how to make them in Canva. Keep reading this beginner's guide to learn the quick, easy steps.
Note: I have made a video about this topic, so you can watch it below.
Access Canva and Start a New Project
First, go to the Canva website and log into your account. If you don't have an account yet, sign up for free.
Once logged in, start a new Canva project by clicking "Create a Design". Choose any dimensions you like for your project.
Search for a Shape in the Elements Tab
On the left sidebar in Canva is the "Elements" tab. Click this tab, then search for "shapes" in the search bar.
A wide selection of shapes will appear. Browse until you find one you like.
Drag Your Selected Shape onto the Canvas
When you've found the perfect shape, click and drag it onto your canvas. Place it wherever you want in your design.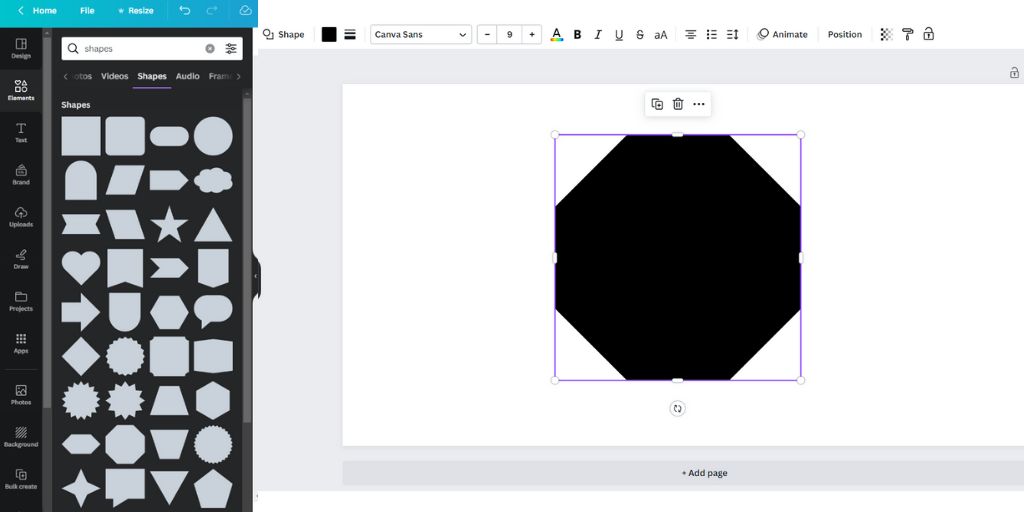 Resize the shape as needed by dragging the corners or edges. Make it any size that fits your project.
Customize the Shape's Border
Now, we'll customize the shape's border or outline:
STEP 1: Go to the top toolbar and click the Border tab.
STEP 2: Adjust the border thickness slider to your desired weight. For a bold outline, try 20px.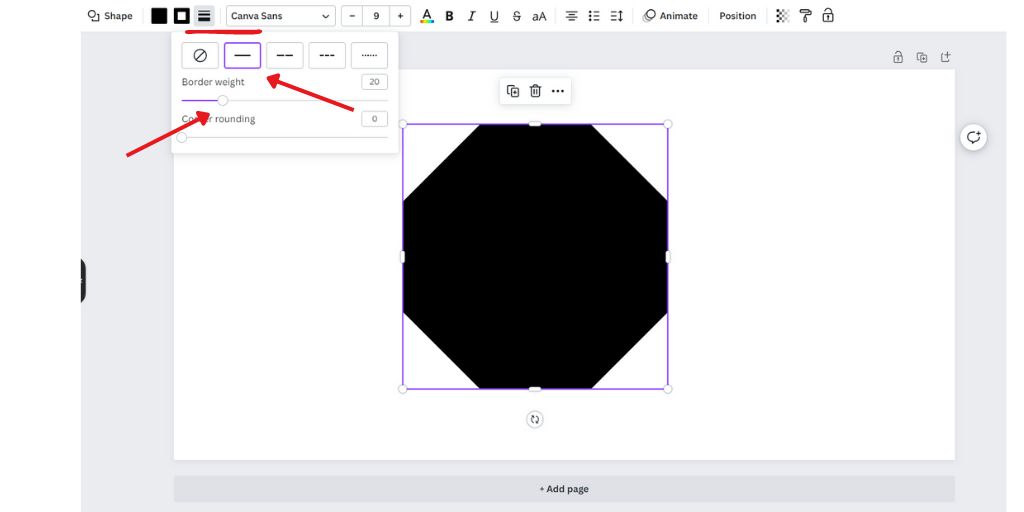 STEP 3: Next, click the Border color tab in the toolbar. Choose a color that matches your design style. For this example, let's pick black.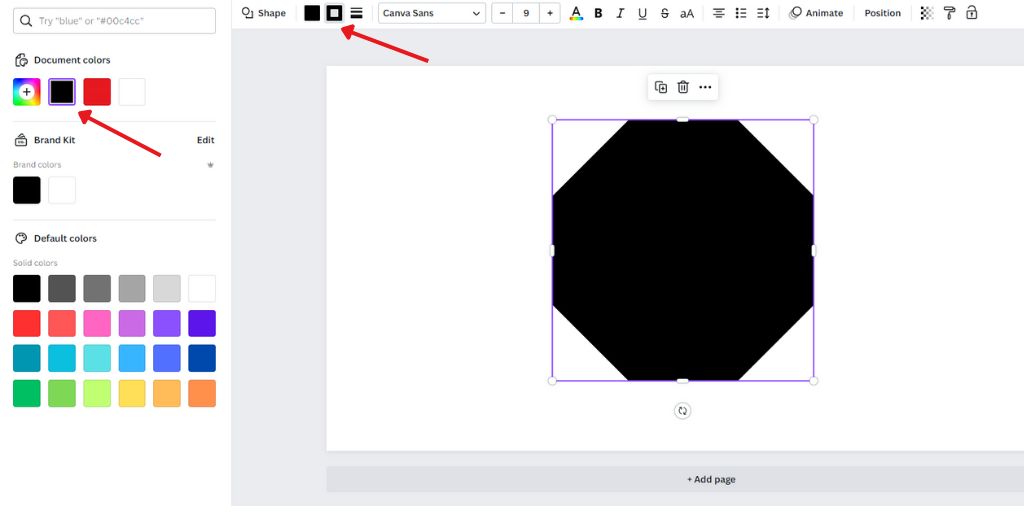 Make the Shape Transparent
For the final step, it's time to make the shape transparent:
STEP 1: In the top toolbar, click the Color tab.
STEP 2: Select the No color option.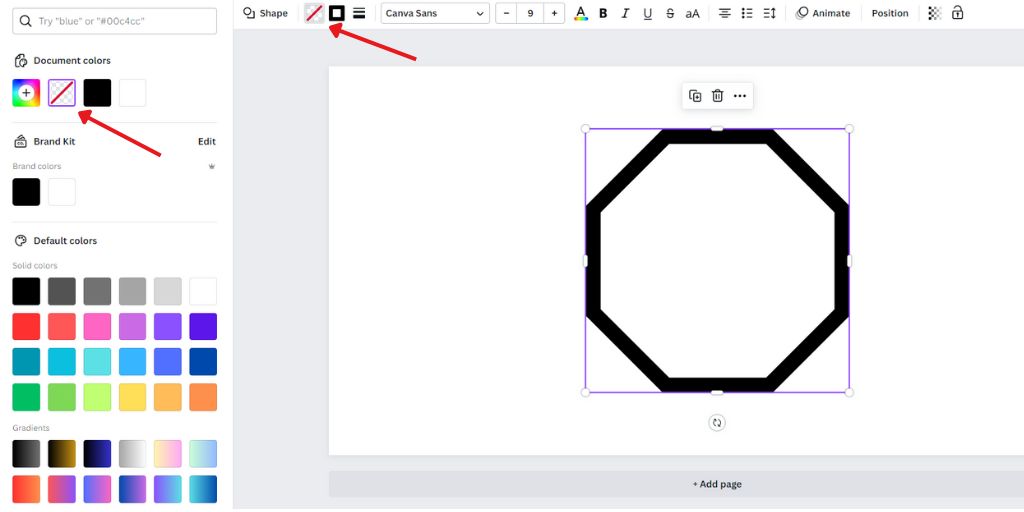 Just like that, your shape is now transparent! The colored border remains, but the inner part is see-through.
Customizing Your Transparent Shape Further
Feel free to keep customizing your transparent shape:
Try different border weights and colors.
Experiment with layering multiple transparent shapes.
Overlap shapes onto text or images.
Rotate or flip shapes for new angles.
Animate your shape's transparency for presentations.
The options are endless once you master transparent shapes in Canva!
Become a Pro at Making Transparent Shapes
As you can see, it's easy for beginners to start making transparent shapes in Canva.
With just a few simple steps, you can add transparent shapes to elevate all your designs.
Here are a few tips to help you master transparent shapes like a pro:
Stick to thick borders so the shapes stand out when transparent.
Avoid busy backgrounds so your shapes don't get lost.
Add shadows for extra dimension.
Overlap multiple shapes for interest.
Use shapes that relate to your design style and brand.
Soon, you'll be using transparent shapes seamlessly in your Canva designs like a graphic design expert!
Conclusion
Now that you know how to easily make transparent shapes as a beginner in Canva, it's time to put your skills into action!
Try using transparent shapes the next time you:
Design a logo, poster, or ad
Make presentation slides
Create social media posts and banners
Build an infographic, brochure, or report cover
I hope this beginner's guide helps you master transparent shapes quickly. Don't be afraid to experiment and find creative new uses for transparent shapes in your Canva projects!
Let me know if you have any other Canva questions. I'm always happy to help fellow beginners learn graphic design skills.
BONUS FOR YOU: Unleash your potential as a print-on-demand entrepreneur with this free guide – download now!
Here Are Some of My Favorite Tools For Print-on-demand
DESIGNS: For getting started, I like Kittl. It is a fantastic place with highly professional templates, that can be edited and used for print-on-demand. In my opinion, it is a go-to place for anyone who wants to make money with POD.
Another of my favorites is Creative Fabrica. They have millions of cheap graphics that can elevate your t-shirt design. If you are not the most skillful designer, then try Placeit or Vexels. These are platforms, where you can find thousands of pre-made t-shirt designs you can easily edit and publish on any print-on-demand platform. I recommend Placeit for beginners and after you get some sales move to Vexels.
GET UNLIMITED DIGITAL ASSETS – Envato Elements is a subscription-based digital assets platform that provides a wide range of digital assets. Whether you're in need of fonts, stock videos, photos, motion graphics, mock-ups, overlays, or brushes – you name it – Envato Elements is likely to have it. It's your one-stop service for all types of creative resources.
SELLING GRAPHIC DESIGNS – Freepik makes it simple to get your design in front of a huge audience of paying customers. It's a set-it-and-forget-it source of passive income. The earnings per download may seem small, but they can compound into decent money over time. And they are also accepting AI designs. Try it for free.
SELLING LOW-CONTENT BOOKS – Selling low-content and no-content books on Amazon can be a great way to boost your online income. I'm using Book Bolt to do the research, get pre-made interiors, and create covers. And you can try the platform for free.
Take your POD business to the next level. If you are serious about selling your designs on t-shirts, mugs, and other products, you need to sell them on the most significant marketplaces like Etsy or Amazon. It would be best if you also sold for the best prices through on-demand fulfillment companies like Printul or Printify.
Disclosure: Some of the links above may contain affiliate partnerships, meaning, at no additional cost to you, NechEmpire may earn a commission if you click through to make a purchase.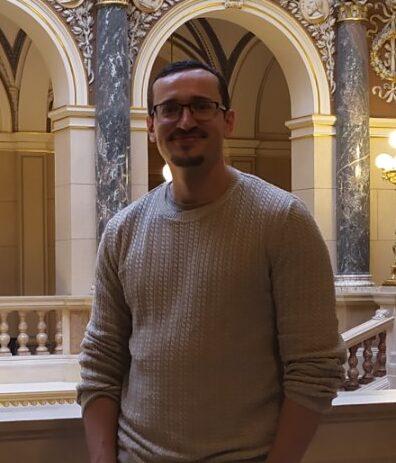 I'm Miroslav, a passionate graphic designer and AI enthusiast. At NechEmpire, I'm here to equip you with the knowledge and skills to turn your design passion into a thriving online business.
More Posts