(Last Updated On: January 22, 2022)
Redbubble is a platform for artists and designers to sell their products on the Internet.
Their goal is to democratize design by giving anyone with an idea the power to upload and share their work online.
Today I'm going to talk about how you can sell kids and baby clothes on Redbubble.
Redbubble Baby Clothes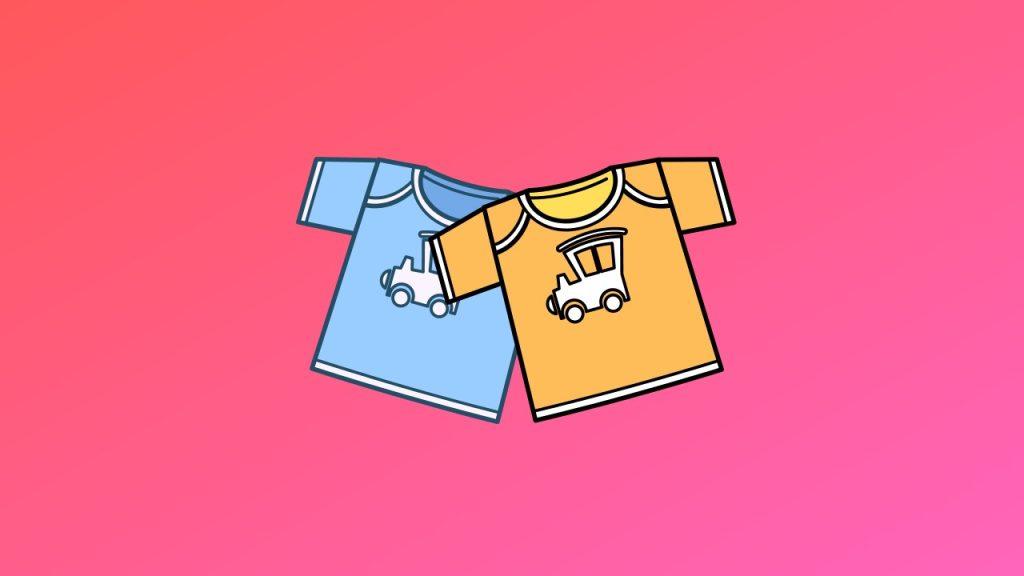 Each year, Redbubble is launching new products you can put your designs on. And one of the newest products is kids and toddler pullover hoodies.
With new additions to the standard kids and baby t-shirts, the variety is even more diverse and there's something for everyone.
These t-shirts and hoodies are fun, cute, and made with high-quality material. They come in a variety of colors and designs that will please both children and parents.
How to Add Kids and Baby Clothes to Your Shop
The issue is, that many designers are not subscribed to the Bubblemail, which are official emails from Redbubble where you can read news, updates, and much more.
So, sometimes they are missing newly launched products.
With kid's clothes, there is also another problem… this is a hidden product.
What do I mean by this?
When you upload a design on Redbubble and enable it on products, with kids clothes and hoodies, you have to go into the subsection of t-shirts and manually enable it.
To make it simpler, follow these steps:
STEP 1: Go to your Redbubble account, and click on your account logo.
STEP 2: In the menu, select Manage Portfolio.
STEP 3: Choose any of your designs and click on the Edit option.
STEP 4: In the Edit section, scroll down until you see the Standard Print Clothing product.
STEP 5: Click on the Edit button and select the Availability and Markup tab.
STEP 6: In this section, activate all products, including kids' clothes, and kids and toddler pullover hoodies.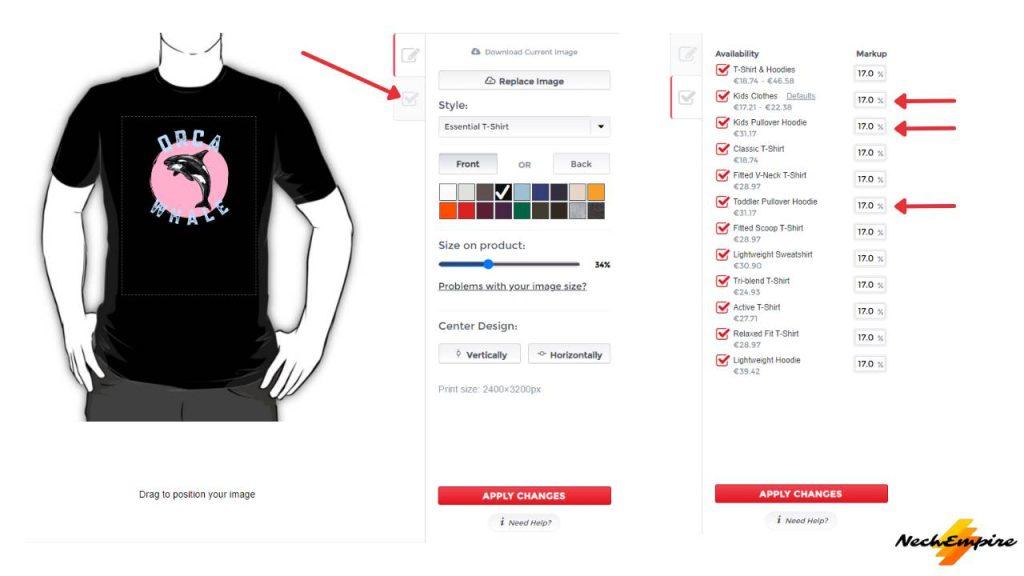 STEP 7: Scroll down to the bottom of the page, check the box next to I have the right to sell products statement, and then click the Save work button.
STEP 8: Done, your designs are now available on kids' and toddlers' clothes.
Kids and Toddler Hoodies on Redbubble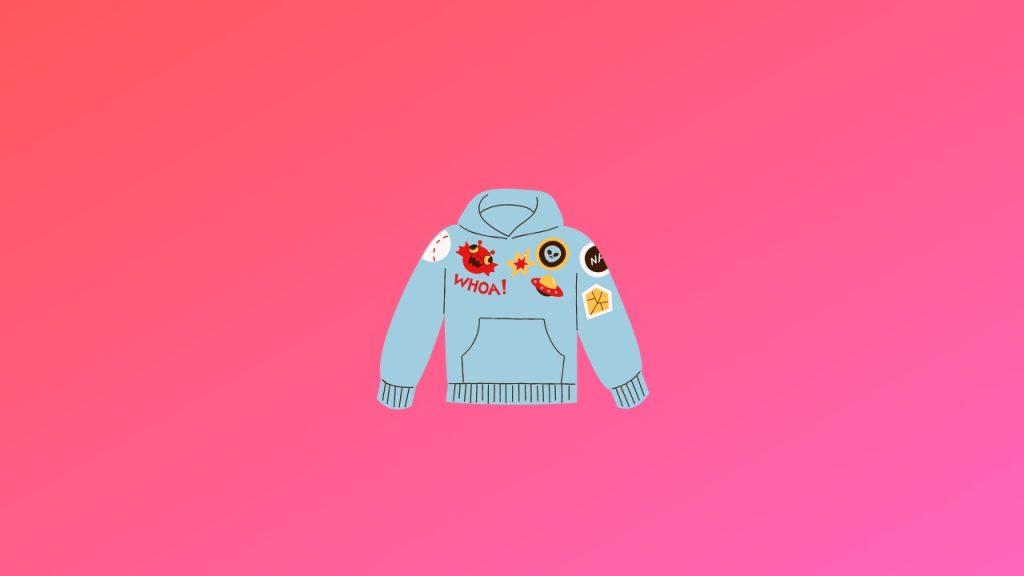 Redbubble's kids and toddler hoodies are perfect for your little one. Redbubble has a large selection of unique hoodies that are guaranteed to keep your child warm, comfortable, and looking stylish. Your child will love wearing their new favorite hoodie every day.
They come with a unisex fit and are made from an ethically sourced 60% cotton, 40% polyester mid-weight fleece.
They have a hood, front pouch pocket, ribbed edge cuffs & hem. These comfortable kids hoodies are available in 5 colors – black, heather grey, navy, pink, and purple.
Toddler Hoodies come in 3 sizes: 
2T – 1 – 2 years
4T – 3 – 4 years
5T – 5 – 6 years
Kids Hoodies come in 5 sizes: 
Extra Small – 4 – 5 years
Small – 6 – 8 years
Medium – 9 – 10 years
Large – 11 – 12 years
Extra Large – 13 – 14 years
Why Should You Sell Kids and Baby Clothes on Redbubble
In my opinion, Redbubble is a great place to sell kids and baby clothes.
They are a few reasons behind my statement. Firstly, not many designers don't know about these products. As I already mentined, kids and toddler clothes are hidden and have to be enabled manually.
This makes kids clothes less saturated in comparison of other products.
The second reason is that you set your own pricing for each product including kids and baby clothes and hoodies. This gives you a way to be creative with pricing.
Conclusion
Redbubble offers an online platform where people can upload their designs and sell them on the site.
They have become one of the leading sites in the custom-made clothing industry because they offer a wide variety of products, from standard t-shirts, pillows, mugs, posters to kids' and baby clothes.
When you take into account that the kids and baby clothes industry is booming, then enabling designs on kids' products makes sense.
Selling kids and baby clothes on Redbubble is a great way to have your products seen by people who are looking for them.
It's an easy process to get started. You just need to upload your designs, set the price, and choose which items you want to sell.
And you can set an entire store around just for kids. Yes, it is a great time for designers to get creative and make some extra money by selling their artwork on kids and baby clothes on Redbubble.
BONUS FOR YOU: Unleash your potential as a print-on-demand entrepreneur with this free guide – download now!
Here Are Some of My Favorite Tools For Print-on-demand
DESIGNS: For getting started, I like Kittl. It is a fantastic place with highly professional templates, that can be edited and used for print-on-demand. In my opinion, it is a go-to place for any person, who wants to make money with POD.
Another of my favorites is Creative Fabrica. They have millions of cheap graphics that can elevate your t-shirt design. If you are not the most skillful designer, then try Placeit or Vexels. These are platforms, where you can find thousands of pre-made t-shirt designs you can easily edit and publish on any print-on-demand platform. I recommend Placeit for beginners and after you get some sales move to Vexels.
I also use a platform called Simplified, which is an all-in-one tool that combines an AI writer, design editor, video editor, and social content planner into one simple platform. I love it. Just like Canva, Simplified has a free version, so you can try it here.
FREE DESIGNS: I love Canva. I'm using this platform almost every day. With Canva, you can create stunning t-shirt designs, they already have an entire section, where you can make your artwork from scratch or use some pre-made templates and edit them. Canva comes with two main pricing plans: FREE and PRO. And if you are a beginner, then I recommend the free plan, it should be enough for you.
SELL YOUR ART – Start selling your graphics, vectors, or photography on Wirestock to save time and make more money. Its Wirestock Program allows you to submit to multiple stock agencies and marketplaces in a single click. It is currently partnered with Shutterstock, Adobe, Alamy, Dreamstime, Pond5, and Depositphotos. Get a FREE account.
SELLING LOW-CONTENT BOOKS – Selling low-content and no-content books on Amazon can be a great way to boost your online income. Im using Book Bolt to do the research, get pre-made interiors, and create covers. And you can try the platform for free.
Take your POD business to the next level. If you are serious about selling your designs on t-shirts, mugs, and other products, you need to sell them on the biggest marketplaces like Etsy or Amazon. You should also sell for the best prices through on-demand fulfillment companies like Printul or Printify.
Disclosure: Some of the links above may contain affiliate partnerships, meaning, at no additional cost to you, NechEmpire may earn a commission if you click through to make a purchase.