I'm Miroslav, a passionate graphic designer and AI enthusiast. At NechEmpire, I'm here to equip you with the knowledge and skills to turn your design...Read more
(Last Updated On: August 26, 2023)
Adding a grainy gradient background is a simple yet effective way to improve your design projects.
By incorporating this technique, you can add depth and texture to your designs, making them visually appealing and unique.
And in this article, I will show you a simple technique on how to create a grainy gradient background in Photoshop, so you can add it to your projects.
A grainy gradient background consists of a blend of colors that gradually transition from one shade to another, combined with subtle grain or noise effects.
This combination creates a visually interesting backdrop that can make your designs stand out from the crowd. It is ideal to use whether you are designing websites, posters, social media graphics, or any other form of visual content.
I would recommend you use a grainy or noisy gradient background to improve the overall aesthetic of your design and captivate your audience's attention.
Create a Grainy Gradient Background in Photoshop
Here is a step-by-step tutorial on creating a grainy gradient background using Photoshop in just a few simple steps.
Note: If you prefer to watch a video tutorial instead, I have created a video for you. You can watch it below.
Set Up Your Project
STEP 1: Open Photoshop and open a new file by pressing Ctrl + N or go to File and New.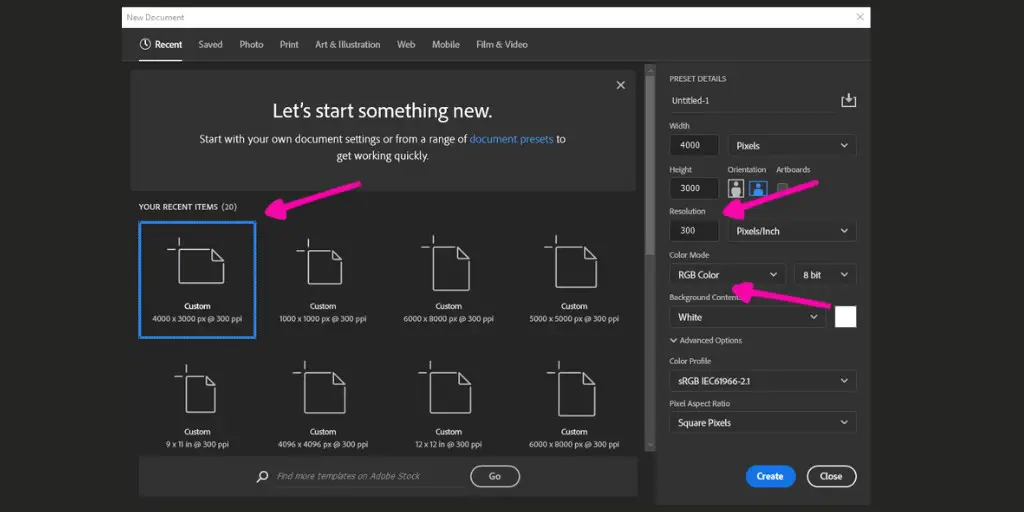 STEP 2: Set the canvas size to any dimension. For example to 4000×3000.
STEP 3: Then set the resolution to 300 DPI and choose RGB for the color mode.
Create the Gradient
STEP 1: When you open the new project, it is time to unlock the background layer.
STEP 2: Now, double-click on the layer to open the Layer Style window.
STEP 3: In the Layer Style window, go to Gradient Overlay.
STEP 4: Set the style to Angle and the angle degree to 90.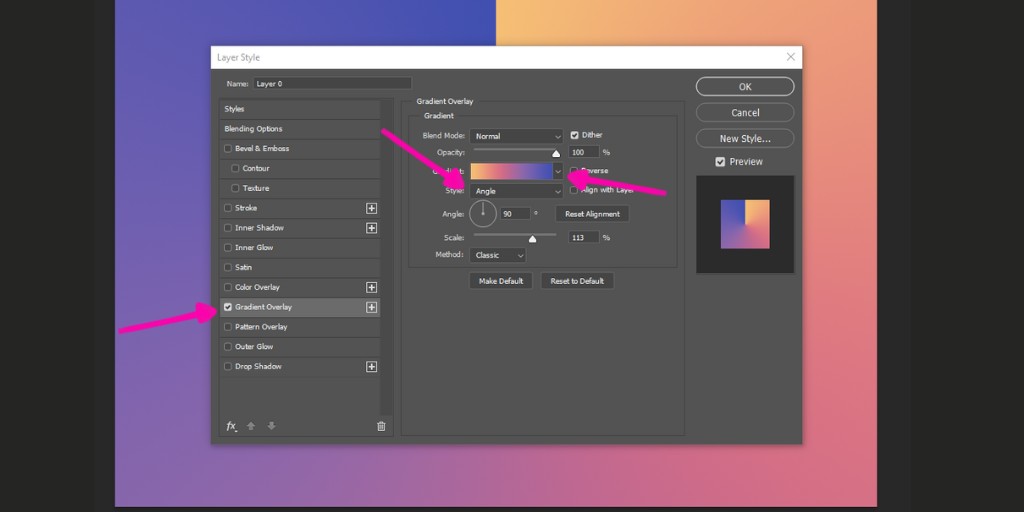 STEP 5: Choose a gradient with contrasting colors. This will help in blurring the image later on.
STEP 6: Once satisfied with your gradient, click OK.
STEP 7: Right-click on the layer and choose Rasterize Layer Style.
Blur the Gradient and Add the Noise
STEP 1: Now it is time to blur the gradient. Go to Filter, find Blur, and select Gaussian Blur.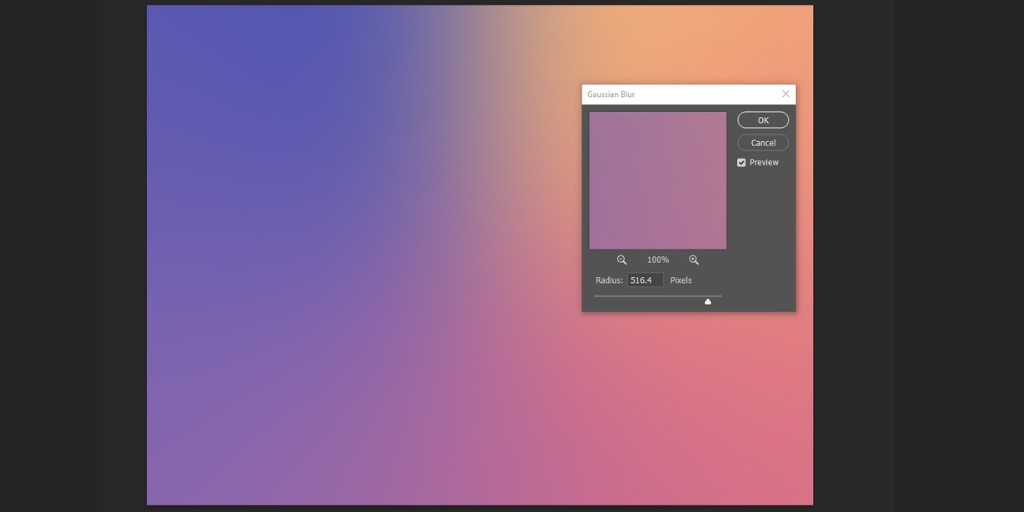 STEP 2: Adjust the radius until the gradient looks natural and the lines between colors are not too distinct. I like to use a value above 500.
STEP 3: To add a noisy effect, go to Filter, find Noise, and select Add Noise option.
STEP 4: Here, choose a low amount of noise, between 5 – 30, and ensure that the noise type is set to Uniform.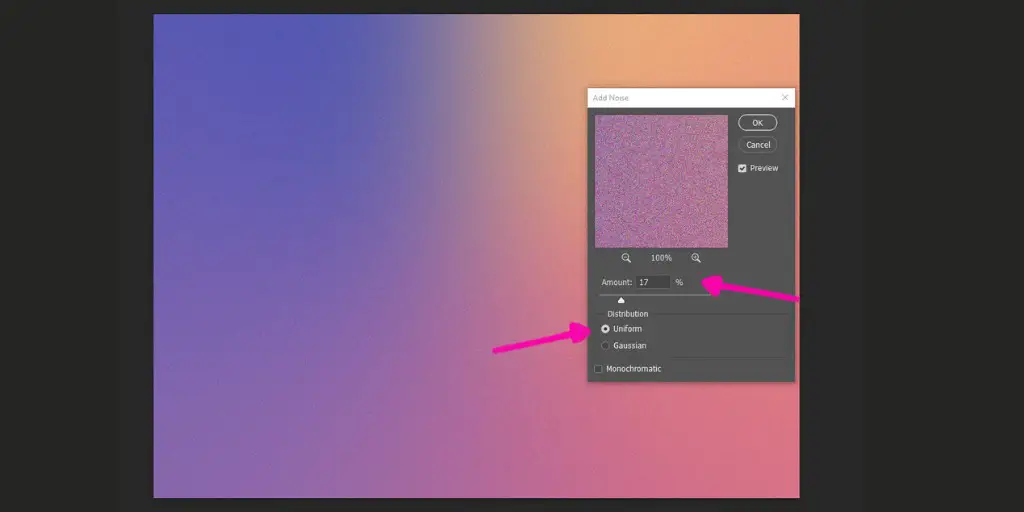 This is a simple method to create a grainy gradient background. As you can see, it is quite easy to do. However, if you want to make it more unique, you can follow the additional steps I will mention below.
Darken the Gradient
STEP 1: Duplicate the layer by pressing Ctrl + J or right-clicking and selecting Duplicate.
STEP 2: Set the blend mode of the duplicated layer to Multiply and adjust the opacity to around 30%.
STEP 3: Create a new layer.
STEP 4: Fill the layer with black color using the Paint Bucket tool.
STEP 5: Go to Filter, find Noise, and Add Noise.
STEP 6: Set the blend mode of this layer to Overlay and reduce its opacity to around 15%.
STEP 7: To blend the noise better, apply a 1-pixel Gaussian Blur to each layer.
STEP 8: If you feel a color or hue is lost, add a Hue and Saturation adjustment layer to tweak the colors.
STEP 9: For more blending without darkening or lightening, add a Contrast adjustment layer and reduce the contrast.
Conclusion
And there you have it! A grainy gradient background that can be used in various designs. This effect is versatile and can be tailored to fit different color schemes and design needs.
BONUS FOR YOU: Unleash your potential as a print-on-demand entrepreneur with this free guide – download now!
Here Are Some of My Favorite Tools For Print-on-demand
DESIGNS: For getting started, I like Kittl. It is a fantastic place with highly professional templates, that can be edited and used for print-on-demand. In my opinion, it is a go-to place for anyone who wants to make money with POD.
Another of my favorites is Creative Fabrica. They have millions of cheap graphics that can elevate your t-shirt design. If you are not the most skillful designer, then try Placeit or Vexels. These are platforms, where you can find thousands of pre-made t-shirt designs you can easily edit and publish on any print-on-demand platform. I recommend Placeit for beginners and after you get some sales move to Vexels.
GET UNLIMITED DIGITAL ASSETS – Envato Elements is a subscription-based digital assets platform that provides a wide range of digital assets. Whether you're in need of fonts, stock videos, photos, motion graphics, mock-ups, overlays, or brushes – you name it – Envato Elements is likely to have it. It's your one-stop service for all types of creative resources.
SELLING GRAPHIC DESIGNS – Freepik makes it simple to get your design in front of a huge audience of paying customers. It's a set-it-and-forget-it source of passive income. The earnings per download may seem small, but they can compound into decent money over time. And they are also accepting AI designs. Try it for free.
SELLING LOW-CONTENT BOOKS – Selling low-content and no-content books on Amazon can be a great way to boost your online income. I'm using Book Bolt to do the research, get pre-made interiors, and create covers. And you can try the platform for free.
Take your POD business to the next level. If you are serious about selling your designs on t-shirts, mugs, and other products, you need to sell them on the most significant marketplaces like Etsy or Amazon. It would be best if you also sold for the best prices through on-demand fulfillment companies like Printul or Printify.
Disclosure: Some of the links above may contain affiliate partnerships, meaning, at no additional cost to you, NechEmpire may earn a commission if you click through to make a purchase.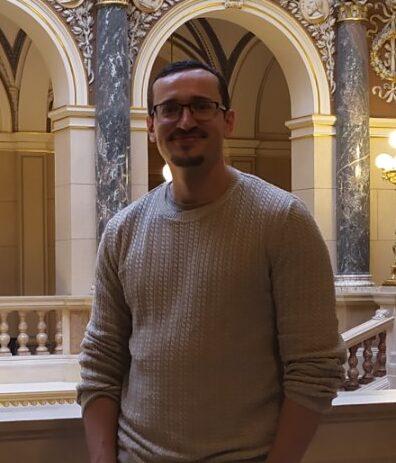 I'm Miroslav, a passionate graphic designer and AI enthusiast. At NechEmpire, I'm here to equip you with the knowledge and skills to turn your design passion into a thriving online business.
More Posts