(Last Updated On: August 5, 2022)
When selling your designs, you need to present them in the best light possible. This is crucial because if you don't, then it will be harder to get people interested and buy it.
When you are promoting your art, it's always good to make sure that the design is easy on the eyes and interesting.
One way to do this is by using mockups.
Mockups are a part of the design process.
They are used to show designs on other products so that buyers can get a better idea of what they are buying.
Mockups make it easier for buyers to visualize your design and also give them a chance to see how it will look in a real environment.
There are a few websites that allow you to put your design on mockups and use them as pictures to promote your artwork on social media or websites.
But not many people know that Canva also has a section called SmartMockups with an interesting library of products.
And it is very easy to use. Like basically everything on Canva.
How do I access Smartmockups in Canva?
Let's take a look at where to find Smartmockups and how to use them.
Firstly make sure, your design is selected, then go to the top left corner and click on the Edit Image option. Scroll down to find the Smartmockups section.
In the next step, you need to click the See all option, which shows you the entire library of all mockups, divided into various categories.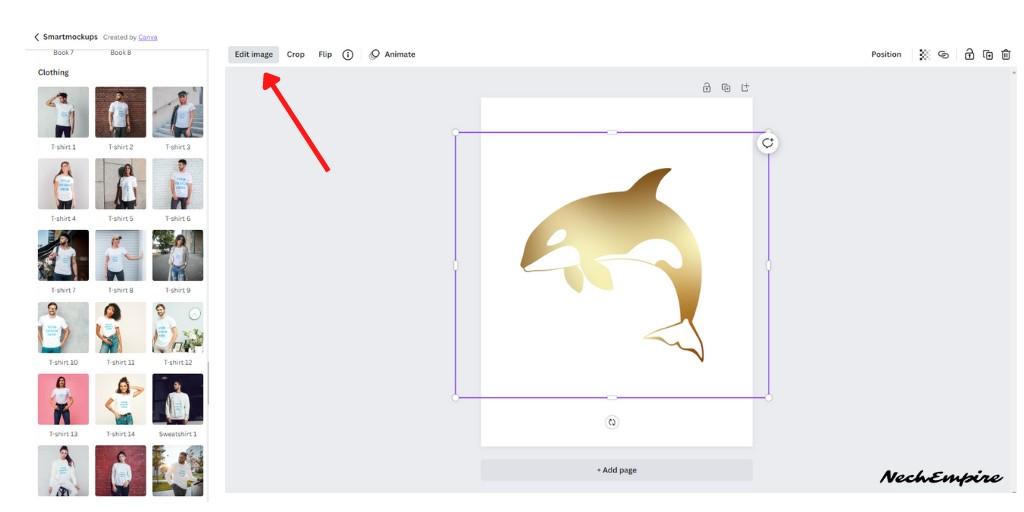 Because the best-selling products on most print-on-demand marketplaces are t-shirts, we should go to the Clothing section. Let's select any mockup with a t-shirt and as you can see, the design I want to use on the t-shirt is stretched.
To customize it, just click on the Adjust feature on the mockup you selected, and this gives you additional options. The first option is filled, the next is Fit and the last option you get is Custom.
So, click on the Custom option, and here you get multiple bars you can use to make sure your design looks best on this t-shirt.
I always customize the size of my design and then I adjust the position.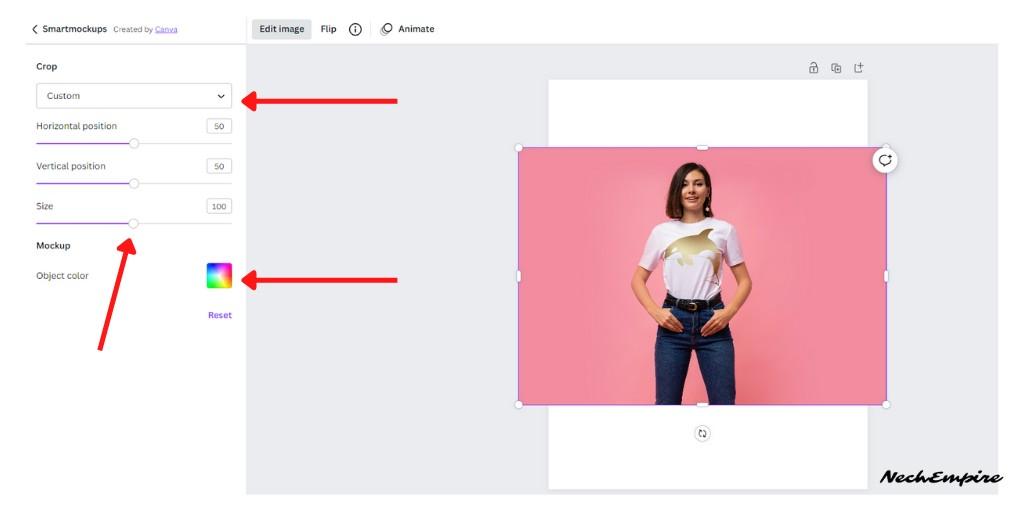 When you are satisfied with the position and look of your design, then you can also change the color of the t-shirt. Just click on the Object color here.
If you are satisfied and everything seems good to you, then click on the button to apply all changes.
The last step is to resize the entire mockup and download it to your computer.
As you can see, using Smartmockups is quite simple and straightforward. This feature is available for both Free and Pro users and gives them access to a wide library of mockups from t-shirts, mugs, electronics, and books.
I highly recommend putting your design on mockups with real people and using them to promote your design on TikTok, Instagram, or Pinterest.
Here Are Some of My Favorite Tools For Print-on-demand
Thank you for reading this article. I hope you found it helpful as you build your own print-on-demand business. Here are some tools I use as a designer that I hope you will also find helpful.
Designs: For getting started, I really like Creative Fabrica. They have millions of cheap graphics that can elevate your t-shirt design. If you are not the most skillful designer, then try Placeit or Vexels. These are platforms, where you can find thousands of pre-made t-shirt designs you can easily edit and publish on any print-on-demand platform. I recommend Placeit for beginners and after you get some sales move to Vexels.
Free Designs: I love Canva. I'm using this platform almost every day. With Canva, you can create stunning t-shirt designs, they already have an entire section, where you can make your artwork from scratch or use some pre-made templates and edit them. Canva comes with two main pricing plans: FREE and PRO. And if you are a beginner, then I recommend the free plan, it should be enough for you.
If you need a fast graphic tool for creating stunning designs, you should try Stencil. This is the web's favorite online graphic design tool. It is an insanely fast and easy-to-use graphic tool similar to Canva.
Disclosure: Some of the links above may contain affiliate partnerships, meaning, at no additional cost to you, NechEmpire may earn a commission if you click through to make a purchase.