I'm Miroslav, a passionate graphic designer and AI enthusiast. At NechEmpire, I'm here to equip you with the knowledge and skills to turn your design...Read more
(Last Updated On: September 8, 2023)
If you've landed on this edition of The Design Nexus newsletter, you're probably curious about becoming a Freepik Contributor.
Well, as a contributor to this stock photo platform, I'm here to share some insider information.
I have been using this underrated source to sell AI-generated images for a few months, and I have already made some money. While it may not be a significant amount, it is just the beginning.
So far, the journey has been interesting, filled with both ups and downs, but ultimately rewarding.
So, grab a cup of coffee, sit back, and let me explain how you can get started.
Thanks to our sponsors, this newsletter is free for you.
In partnership with NechEmpire, Creative Fabrica gives you unlimited access to over 4 million fonts, graphics, & digital crafting resources for free! Get all access now.
When it comes to getting started with print-on-demand (POD), Kittl is a fantastic option. They offer a wide range of highly professional templates that can be easily edited to suit your needs. Whether you're looking to make money or simply want to explore the world of POD, Kittl is definitely a go-to place for beginners and experienced users alike. Get a free account.
What Even is Freepik?
Okay, let's start with the basics.
You might be asking, "What the heck is Freepik?"
Good question!
Freepik is a massive stock image and vector marketplace. If you're a creator like me, it's a goldmine. We're talking royalty-free graphics, illustrations, and even photos.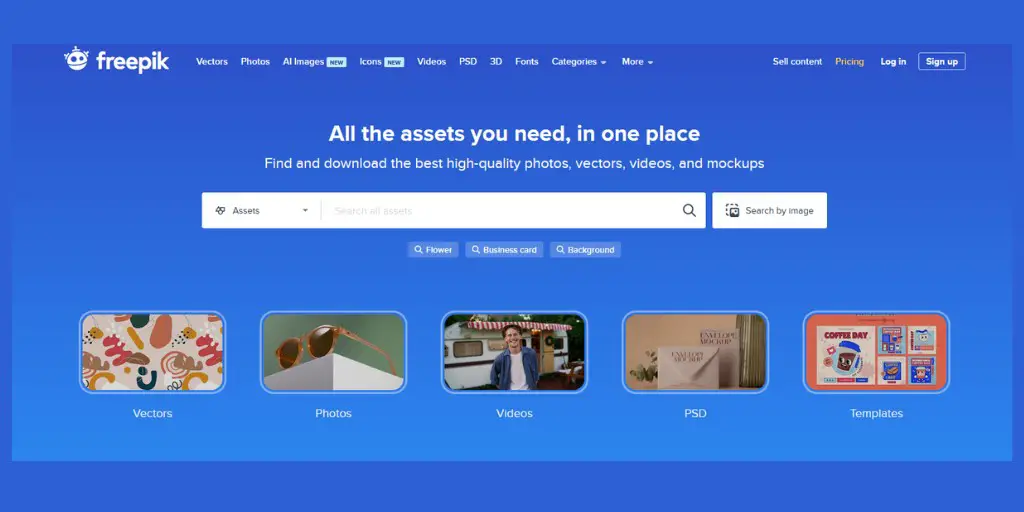 I stumbled upon Freepik a few years ago and let me tell you, it changed my life.
It's among the most popular platforms for selling graphics, and I've never looked back since.
Why I Chose to Become a Freepik Contributor
I've always had a knack for graphic design.
Playing with colors, shapes, and patterns – it's more than just a job for me; it's a passion.
But let's face it, passion doesn't always pay the bills.
That's when I decided to explore various platforms to monetize my skills, and Freepik caught my eye.
Why? Three reasons:
Massive Audience: Freepik boasts millions of monthly visitors. It's like setting up a shop in the middle of Times Square!
Flexibility: I can upload what I want when I want. I'm my own boss.
Revenue Sharing: Their revenue-sharing model is generous, especially when you consider the volume of sales.
So, I took the plunge and became a Freepik Contributor.
Getting Started as a Freepik Contributor
Becoming a Freepik Contributor isn't rocket science, but it does require some groundwork.
First, you'll need to create an account and undergo a simple verification process.
So, go to the website and click "Become a Contributor". Enter your email and choose a professional username – you won't be able to change it later.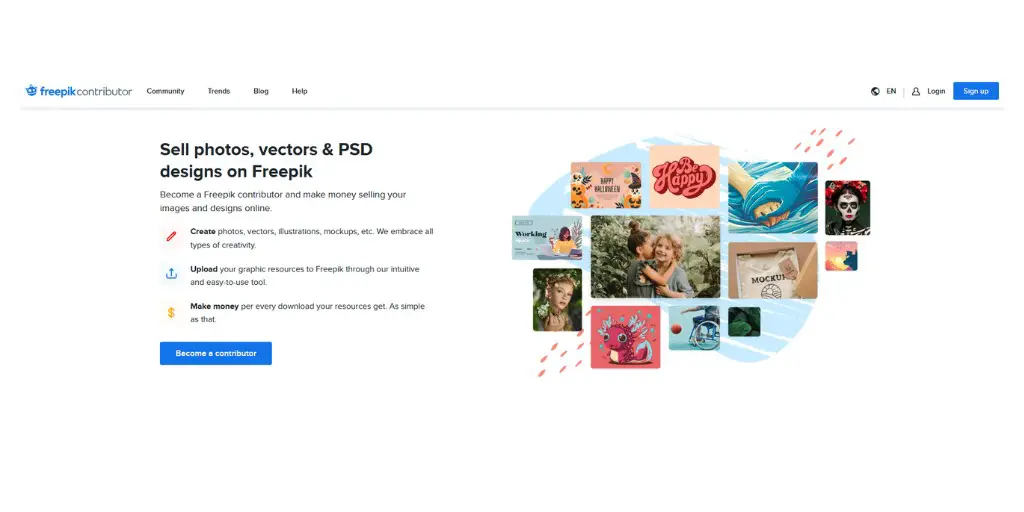 After confirming your email, you'll access the Contributor Dashboard where you'll manage your portfolio and track earnings.
For me, I went ahead and uploaded some AI-generated images. That's right, AI isn't just for self-driving cars and chatbots. You can create mesmerizing designs with the help of AI, and the best part?
Freepik is totally open to it.
Upload Your First AI-Generated Images
Uploading your artwork, including AI-generated images, is a simple and straightforward process. However, there are a few guidelines that you need to follow. Let's discuss the best practices here.
Submit 10 Test Images
As a test, new Freepik Contributors must submit 10 images that meet the guidelines. This ensures you understand Freepik's expectations for quality, keywords, titles, etc.
To upload your test images, simply click "Upload Files" and drag and drop them into the dedicated space.
Add Metadata
Once you have uploaded your images, it is essential to include titles, tags, and descriptions for each one before submitting them for review.
This extra step ensures that your images are properly categorized and identified, making it easier for others to find and understand them.
Remember to provide accurate and relevant information in these fields to enhance the overall user experience.
For AI images, be sure to include the model used and prompt details.
Submit for Review
After successfully adding metadata to all 10 test images, the next step is to submit them for review.
Freepik's review process is prompt and typically takes only a few business days to complete.
Start Uploading More
Once your test images meet the required guidelines, you will be approved as a Contributor. This means you can start uploading your complete AI portfolio.
By adding more content, you increase the potential for downloads and earnings in the long run. So, keep building up your portfolio to maximize your potential success!
Tips for Success on Freepik
So, you've got your account set up and your portfolio reviewed. What now?
Here are some tips that have served me well:
Quality Over Quantity: Focus on uploading high-quality images. Trust me, it pays off in the long run.
SEO is King: Use relevant keywords in your descriptions. This is essential for getting your work discovered.
Engage with the Community: Freepik has an active community of creators. Engage, share tips, and learn from others.
The Financial Aspect: Show Me the Money!
Alright, let's talk numbers. I know you're curious about the earning potential.
The sky's the limit, really.
Depending on the quality and popularity of your work, you could earn anywhere from a few dollars to hundreds or even thousands every month.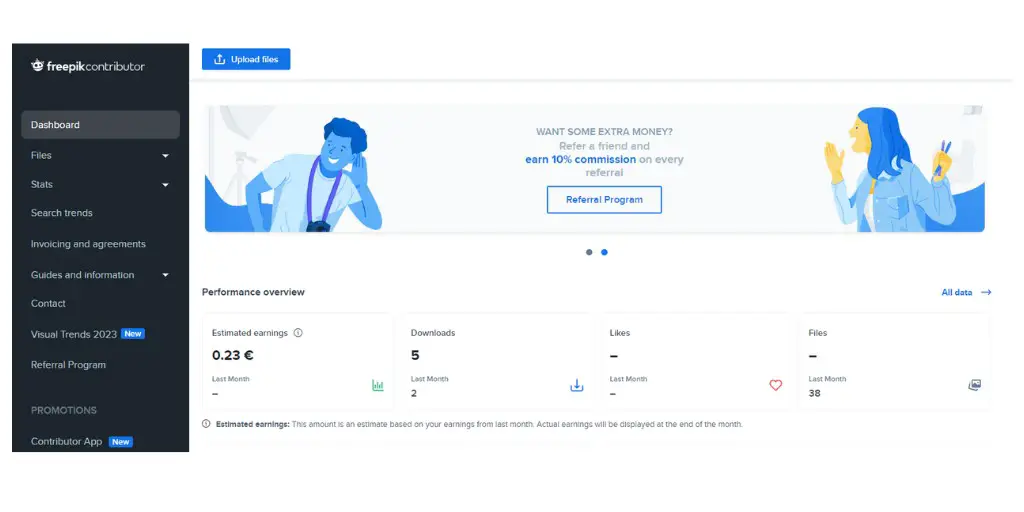 While you are paid for each download, the price for each download is just a few cents, which is less than on other marketplaces.
However, Freepik is a non-exclusive platform, which means you can upload and sell the same images you have already uploaded on other microstock platforms such as Adobe Stock or 123RF.
For me, making money started slow but gradually it is picking up. Consistency is key.
The Downsides: It's Not All Roses
While using AI to generate images has its benefits, it's important to acknowledge the downsides as well.
In a highly competitive marketplace, standing out can be a challenge. Additionally, staying updated with current trends and consistently updating your portfolio is necessary.
However, as they say, no pain, no gain.
Final Thoughts
So, there you have it – my journey as a Freepik Contributor.
If you're a graphic designer looking to monetize your skills, I can't recommend Freepik enough.
It offers a platform to showcase your talent to a global audience while making some good money on the side.
I hope this article has been helpful. If you're considering taking the leap, go for it.
The rewards outweigh the challenges, and the experience is genuinely enriching.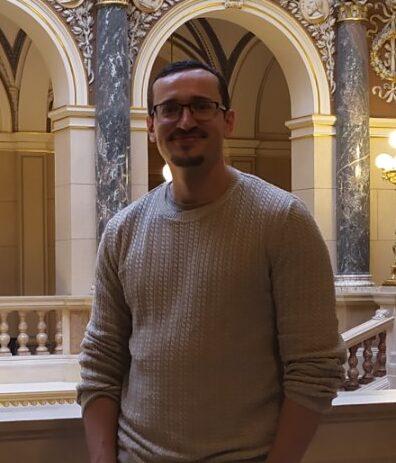 I'm Miroslav, a passionate graphic designer and AI enthusiast. At NechEmpire, I'm here to equip you with the knowledge and skills to turn your design passion into a thriving online business.
More Posts