(Last Updated On: November 28, 2021)
While Photoshop is my number one tool for creating most of my designs, I know, learning to use this photo editor needs a lot of time and effort. 
Luckily, there are tons of designer tools even beginners can use. One of the most important tools you should know and use is Canva. 
And I bet most of you have already heard about this graphic design platform. 
Because Canva is amazing.
It allows you to easily create banners, logos, social posts, and more using pre-made templates.
You can also upload your own photos or graphics and add them to Canva's templates using a drag and drop interface. 
I love Canva.
Even if I'm using Photoshop for my Redbubble designs, I'm still using Canva almost every day for making YouTube thumbnails, Pinterest graphics, various graphics for my articles and social posts, and more. 
With Canva, you can also create stunning t-shirt designs, they already have an entire section, where you can make your artwork from scratch or use some pre-made templates and edit them. 
And they are also running a print-on-demand service, so you can easily create and then print your design on t-shirts without leaving the platform. 
Sounds great. 
However, there is a little issue with Canva. They have a little bit of confusing licenses. And legal stuff, while boring, is important for print-on-demand business. 
That's why, in this article, I want to show you a few tips on how to be legal with Canva. 
But before I get into the article, if you are new at NechEmpire, then you should also check out my YouTube channel, because on this channel I like to talk all about print-on-demand, and helping people to succeed with this business model.
Can You Use Free Images and Graphics from Canva for Print-on-demand?
Let's be clear. Canva wants you to design, they want your stuff to look really good, but they also have guidelines that you need to stick to. 
At Canva, content can be either Free or Pro. They have two main pricing plans, a free plan, where you get access to hundreds of thousands of templates, images, videos, or graphics, but you don't have access to the premium stuff. After you upgrade your free plan to Pro, then you get unlimited access to premium tools and content. 
Let's go to Canva, and create a new document. It doesn't matter what and which size, because I want to show you the different licenses.
At Canva, all the content is either free or pro. So, when you scroll through the elements, you can see that on some graphics there is a free label and the pro content has a golden crown and PRO label.
When I select a premium graphic, it comes with a watermark that can be removed by paying for one design license. But this means, you can use the graphic only one time, and then you need to buy it again.
If this sounds complicated, you can upgrade the Canva plan to PRO, and then all the premium elements come with one design license. 
Let's take a closer look at the free and pro subscription.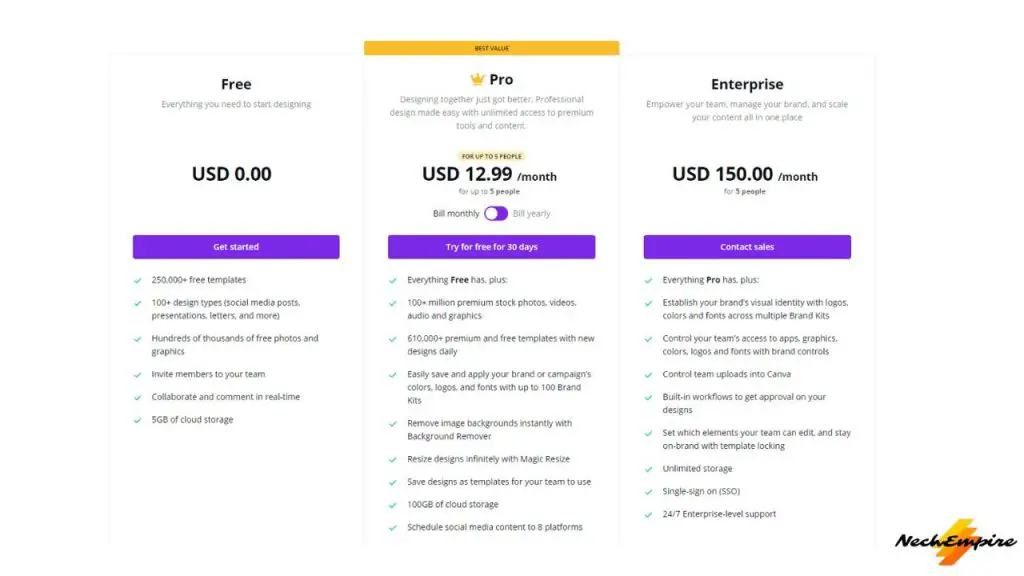 For Canva Free users, the Pro content comes with a watermark and you need to pay one dollar for every watermarked content in your final design. 
If you have Canva Pro, there is nothing to pay for except the subscription, and you can use all the pro content without limits until you pay for the subscription. 
Free Media Licence on Canva
All the free content comes with a Free Media Licence, and you are allowed to use this content for any free or commercial use. You can also modify and edit this content.
However, with the free media license, it is not allowed to sell unchanged copies of such content as a print or on any physical products without adding any value.
And this is the most important part of the license. In other words, you can legally use any free content from Canva, and sell it on any print-on-demand platform such as Redbubble or Merch by Amazon, but you need to create something unique from free content.
You need to change it. I don't know if just changing a color counts as a changed version, but I always recommend playing it safe and being more creative.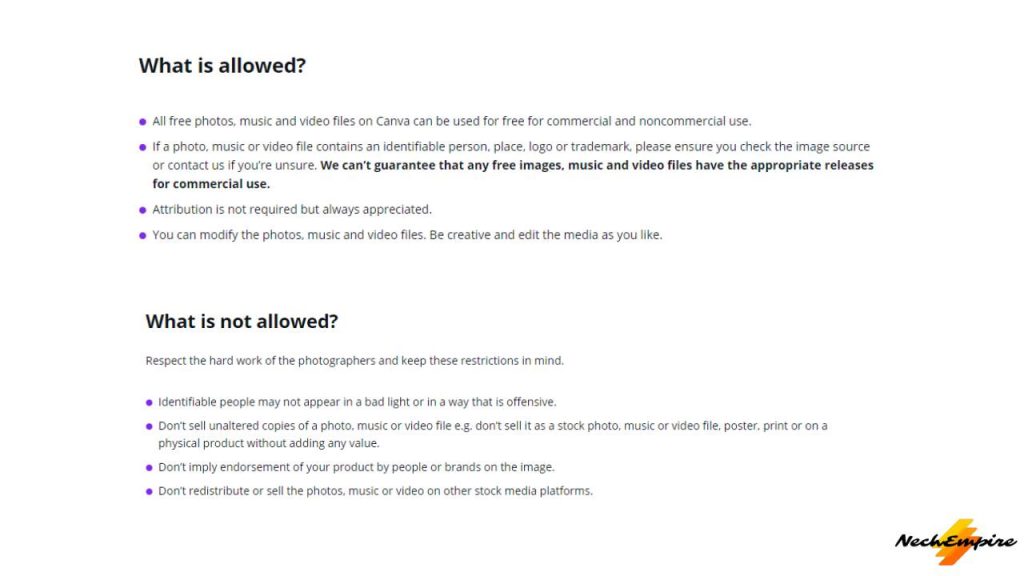 Because with a free plan, each license allows you to use the content in one design, you must pay to obtain a new license each time you'd like to use the same piece of content in a new design. 
If you have a Canva subscription, then a new license is automatically issued to you each time you use content in a new design.
So, if you want to use the Canva subscription, then all things will be more simple. All content available for the Canva Pro subscription is licensed under one design use license. 
Simply put, you can use the pro content on multiple unlimited designs, even for print-on-demand, but only when you create unique designs with these elements. So you need to change them, add text, change color, or make it your own.
And one last thing. All fonts on Canva can be used for any commercial project unless stated otherwise at the time of publishing, Only the Chinese fonts can be used for personal use.  
BONUS FOR YOU: Unleash your potential as a print-on-demand entrepreneur with this free guide – download now!
Here Are Some of My Favorite Tools For Print-on-demand
DESIGNS: For getting started, I like Kittl. It is a fantastic place with highly professional templates, that can be edited and used for print-on-demand. In my opinion, it is a go-to place for any person, who wants to make money with POD.
Another of my favorites is Creative Fabrica. They have millions of cheap graphics that can elevate your t-shirt design. If you are not the most skillful designer, then try Placeit or Vexels. These are platforms, where you can find thousands of pre-made t-shirt designs you can easily edit and publish on any print-on-demand platform. I recommend Placeit for beginners and after you get some sales move to Vexels.
I also use a platform called Simplified, which is an all-in-one tool that combines an AI writer, design editor, video editor, and social content planner into one simple platform. I love it. Just like Canva, Simplified has a free version, so you can try it here.
FREE DESIGNS: I love Canva. I'm using this platform almost every day. With Canva, you can create stunning t-shirt designs, they already have an entire section, where you can make your artwork from scratch or use some pre-made templates and edit them. Canva comes with two main pricing plans: FREE and PRO. And if you are a beginner, then I recommend the free plan, it should be enough for you.
SELL YOUR ART – Start selling your graphics, vectors, or photography on Wirestock to save time and make more money. Its Wirestock Program allows you to submit to multiple stock agencies and marketplaces in a single click. It is currently partnered with Shutterstock, Adobe, Alamy, Dreamstime, Pond5, and Depositphotos. Get a FREE account.
SELLING LOW-CONTENT BOOKS – Selling low-content and no-content books on Amazon can be a great way to boost your online income. Im using Book Bolt to do the research, get pre-made interiors, and create covers. And you can try the platform for free.
Take your POD business to the next level. If you are serious about selling your designs on t-shirts, mugs, and other products, you need to sell them on the biggest marketplaces like Etsy or Amazon. You should also sell for the best prices through on-demand fulfillment companies like Printul or Printify.
Disclosure: Some of the links above may contain affiliate partnerships, meaning, at no additional cost to you, NechEmpire may earn a commission if you click through to make a purchase.